Both men's and women's cross country teams see victory in weekend season opener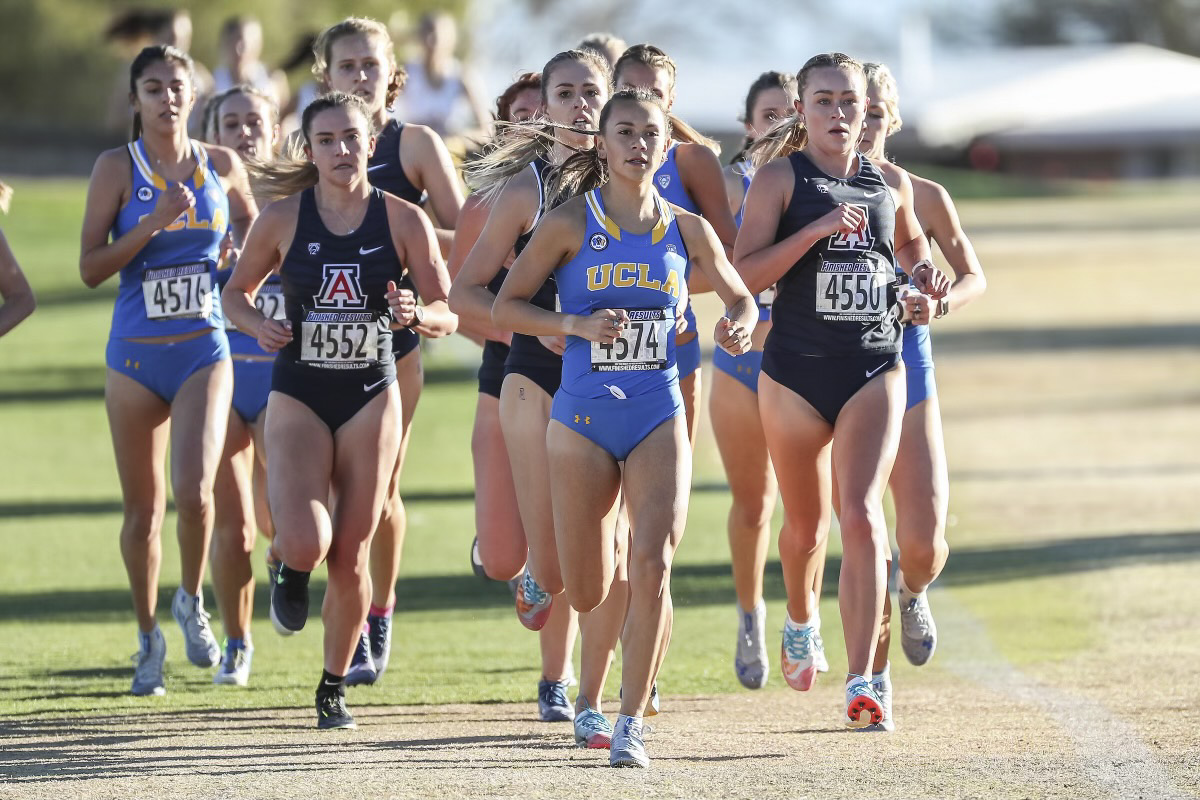 As the Bruins won both the men's 8k and women's 6k races Friday, senior Paige Carter was second among UCLA cross country's women with a 6k time of 22:18.9. (Courtesy of Mike Christy/Arizona Athletics)
After nearly a year-long hiatus, the Bruins are sporting their blue-and-gold jerseys again.
UCLA cross country placed first in both the men's and women's races at the Arizona Invitational in Tucson on Feb. 5 in its season opener.
The Bruin men claimed the top five spots, sweeping the 8K race with a perfect score of 15, while the women's team nabbed five of the top nine spots in the 6K with a score of 23.
The meet was on a smaller scale, featuring a men's 8K and a women's 6K with 17 competitors in each race from UCLA, Arizona and Arizona State.
Senior Paige Carter said the invitational was created to adapt to the pandemic and give the runners an opportunity to race with proper COVID-19 restrictions in place. Carter also expressed her gratitude towards the opportunity, saying that it had been around a year since she and her teammates had toed the start line.
"It's been about a year since I've raced and a little bit more since a lot of other people have raced," Carter said. "A few months ago, we weren't sure if we were going to be able to race or not, so just being able to put on a jersey today was really awesome."
Freshman Michael Mireles finished first for the men, scoring a first-place victory in his first collegiate race with a time of 25:15.3. Within the next 16 seconds, four other Bruin men crossed the finish line, including freshman Ronan McMahon-Staggs, redshirt freshman Peter Herold, sophomore Munir Kabbara and freshman Anthony Stone to solidify the team's perfect score.
Mireles said the highlight of his race was when he and fellow freshman McMahon-Staggs were battling it out for the top finisher in their first college-level competition.
"Towards the end, (McMahon-Staggs) made a move," Mireles said. "It was kind of the first move of the whole race, and he went for the lead. There was that last half of the last loop where we were going back and forth battling it out. That was the highlight. Like, we're all hurting, but who's willing to hurt the most?"
The runner-up in the women's 6,000-meter race, sophomore Emma Tavella, finished with a time of 21:51.6 and came in first for the UCLA women. Tavella said Carter led the race in the beginning before Tavella and an Arizona runner broke away for the finish.
"(Carter) took it out for us, which was awesome," Tavella said. "(The Arizona girl and I) broke away and she drafted behind me the entire time, made me go through the wind, and then sprinted past me at the end."
Despite having trained for only three weeks together before their first travel meet, Tavella said the Bruins turned in a performance to be proud of.
"If we can do this well three weeks into training, then imagine what we can do when we have two or three months under our belt when the races start to actually matter," Tavella said. "I can't wait to see what's in store for us."
UCLA will take a two-week break before returning to Tucson again to compete in the Dave Murray Invitational on Feb. 19.
Yu is currently a Sports contributor on the men's volleyball, track & field and cross country beats.
Yu is currently a Sports contributor on the men's volleyball, track & field and cross country beats.