Women's soccer to begin delayed season on the road against Pepperdine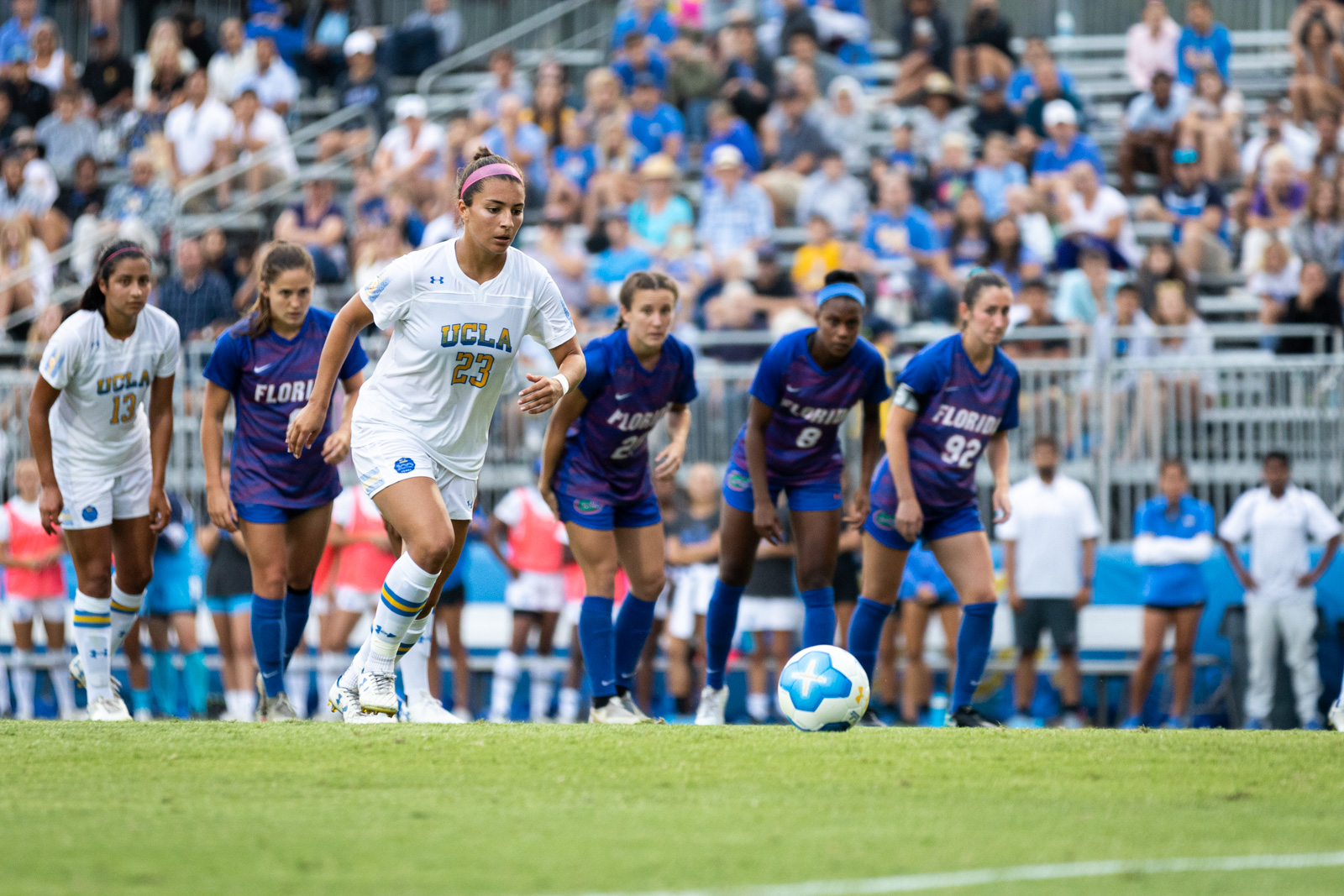 After her junior season ended early because of a knee injury, senior midfielder Marley Canales is healthy again for No. 4 UCLA women's soccer ahead of its season opener. (Ashley Kenney/Assistant Photo editor)
Women's Soccer
---
No. 25 Pepperdine
Sunday, 1 p.m.
Malibu, California
WCC Network
Correction: The original version of this photo incorrectly identified Lucy Parker as Marley Canales.
This post was updated Feb. 9 at 1:03 p.m.
After an extended offseason, the Bruins are finally ready to kick off their season.
No. 4 UCLA women's soccer will face No. 25 Pepperdine on the road Sunday afternoon to begin the 2021 campaign. Initially, both teams were slated to start their seasons Thursday, with UCLA hosting San Diego and Pepperdine traveling to USC. However, because of postponements, both teams will open their seasons in Malibu.
The contest against Pepperdine will be the fourth time these teams have met in as many seasons, with the previous three ending in one UCLA win and two draws. However, regardless of the opponent, coach Amanda Cromwell said she and her players are eager to return to the pitch.
"We're super excited," Cromwell said. "We're ready to go, we've been training hard since August. The girls deserve it, to be given this opportunity. Super excited the NCAA and UCLA and the Pac-12 has done an amazing job just to give us a spring season."
The 2020-2021 spring season has provided extra recovery time for injured players, including senior midfielder Marley Canales, that the fall season would not have. Canales recorded three goals and four assists in 13 games in 2019 before suffering a torn ACL that ended her season.
Canales said the delay allowed her to fully recover in preparation for the season instead of having to potentially rush her return to the field.
"I'm actually planning to come back (next year) since this spring season doesn't count towards our eligibility," Canales said. "For me personally, it was going to be a very large grind to get ready for the fall season, and it really was a blessing in disguise for me to give myself more time to ease back into the game mentally and physically."
For others, it prepared them for their new roles. Redshirt junior goalkeeper Lauren Brzykcy has appeared in 15 games over the past two seasons, working behind Teagan Micah. With Micah, UCLA's second all-time leader in saves, graduating last summer, starting goalkeeper is a vacant position.
"When (Micah) was here, I was always ready just in case anything happened," Brzykcy said. "I'm super stoked, all the hard work I've been putting in will be finally shown and (I) can't wait to see how it goes the first game for sure. I'm super excited."
UCLA's 2019 season ended one game shy of a potential championship as it lost 4-1 to Stanford in the semifinals of the Women's College Cup. Six starters from that fixture are no longer with the team, but Cromwell said she is optimistic the incoming freshmen class, the No. 1 recruiting class in the nation, will ensure depth within the roster. With the season being delayed, the freshmen have had the opportunity to practice with the team for months before appearing in their first match.
"It was a good time for the freshmen to acclimate for sure," Cromwell said. "Coming in after having a crazy end of their senior year, so much going on, it was just good to be together and training."
Regardless of their season starting in the spring and not the fall, Cromwell said the Bruins' goal has remained consistent.
"It's the same goal as always," Cromwell said. "I think what we bring to the table is a team that is always going to compete for championships."
Farinha is currently a Sports contributor on the women's soccer beat.
Farinha is currently a Sports contributor on the women's soccer beat.