Study finds Latino voters were highly influential in 2020 election results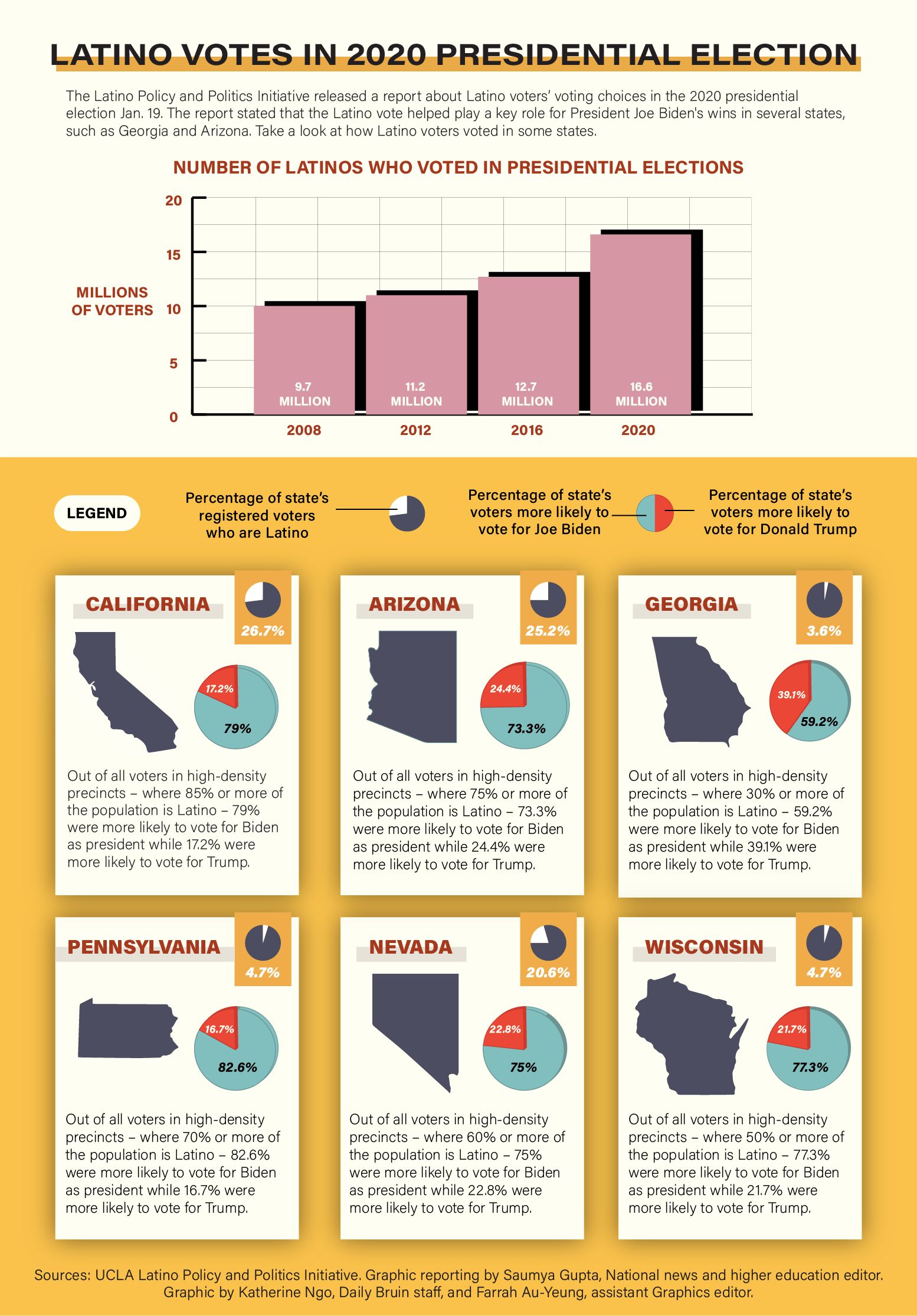 Latino voters played a major role in influencing the results of the 2020 presidential election, UCLA researchers said.
The UCLA Latino Policy and Politics Institute released a study Jan. 19 that found that about 16.6 million Latinos voted during the 2020 presidential election – a 30.9% increase from the 12.7 million Latinos who voted in the 2016 election. This increase was almost double the national growth in voters, according to the study.
The report also found that Latino voters were crucial in tipping the scales in favor of Joe Biden, the Democratic candidate, in swing states like Arizona, Pennsylvania, Nevada and Georgia.
Michael Rios, a co-author of the study and a policy fellow at LPPI, said this study is important in changing the idea that Latino voters tend to vote Republican.
Rios said this idea may have come from Latino voters in the 1970s and 1980s who preferred the immigration policies of Republican candidates at the time. The current electorate, however, seems to have moved on to more progressive ideas, he said.
"The most prominent findings are really kind of reshaping the narratives that came up in past elections … that (Latino voters) are more likely to vote in a voting bloc with white conservative voters," he said. "I think people have kind of failed to shift to the idea that (Latino voters) are becoming much more progressive."
The surge in Latino voting is due to two different factors, said Rodrigo Dominguez-Villegas, director of research at LPPI and a co-author.
First, the recent growth in the Latino population meant Latinos had a larger share of the electorate than in previous years. Second, grassroots organizations, like Mi Familia Vota, helped mobilize more Latino voters this election year by utilizing face-to-face direct engagement and being able to communicate about issues in Spanish.
Since Latino voters tend to vote Democratic, the increase in voter turnout was essential to Joe Biden's victory, he added.
Kassandra Hernandez, a research analyst at LPPI and a co-author, said she believes another reason why Latino turnout was so high for the 2020 election was because voters wanted to see change in national policy.
"In the media, oftentimes (Latinos) are referred to as the 'sleeping giant,' as in, there's a lot of them, they might not be very active, but that's clearly not true," she said. "When it comes down to the issues that influence us, influence our economic well-being, our health, our safety, we see that there's really high numbers of Latinos actually getting out there and being active and proactive."
Hernandez added that she believes many Latinos came out to vote because they were unhappy with Donald Trump's administration's anti-immigrant stance.
Overall, she said she believes Trump made it an unsafe environment to be a Latino, citing his rhetoric about Mexican immigrants being criminals.
Dominguez-Villegas said because this study used data from actual ballots cast over exit polls – which tend to be unreliable – the study's claims about voting behaviors are more accurate.
Precincts that aren't reflective of the actual population and exclude lower-income and non-English speaking voters tend to be surveyed more in exit polls and overrepresent Republican Latino voters, he said.
An example of this happened in Florida, Rios said. Although Latino voters in Miami-Dade County tended to vote Republican, in other high-density Latino counties, the vote share for Biden was around 63%, he added.
Dominguez-Villegas said policymakers should center Latinos in every policy that they make because they make up so much of the electorate. If Latinos don't see their interests being supported by policymakers, they may disengage with the political process, he added.
He said he believes current COVID-19 legislation is a good example of how Latinos can be forgotten during policymaking.
For example, undocumented immigrants and their families were excluded from receiving a stimulus check from the Coronavirus Aid, Relief and Economic Security Act despite the pandemic affecting a large number of Latino households, he said.
Hernandez said she thinks community voter organizations are crucial to keep the momentum going in terms of Latino voter turnout. She added their success can be attributed to being able to connect with constituents in a culturally, socially and linguistically competent way.
"(It's important) knowing the culture, knowing what they need, and how to reach them as opposed to just expecting them to show up and do the dirty work," she said.
Hernandez said she hopes she can continue doing this work to continue to uplift the Latino community.
"I think we're very powerful, we're big, and we are doing, sometimes, the unexpected, even in places that are trying to suppress the votes," she said.