Editorial: UC Regents should endorse doubling Pell Grant to give students necessary support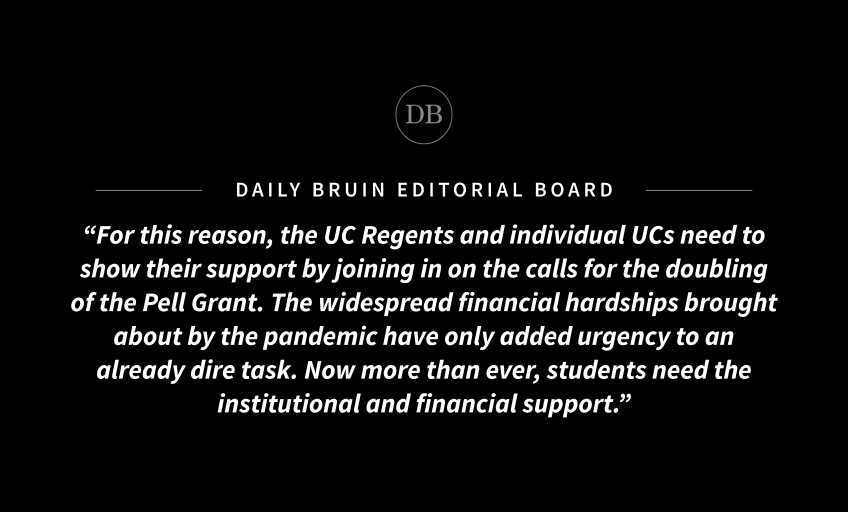 The fight for affordable education has long been an uphill battle that students have traditionally waged.
And the recent campaign by the UC Student Association to increase Pell Grants is no exception.
UCSA has met with federal representatives, nonprofit leaders and University of California students in an effort to lobby President Joe Biden's administration to double the Pell Grant, a federal program that provides low-income students with funds to pay for higher education.
The maximum amount an individual can receive from the program is $6,345 for the 2020-2021 school year – an amount that covers about half the cost of in-state tuition at a UC.
The efforts of the UCSA are admirable, but students shouldn't be alone in advocating for federal aid. Students have long been at the forefront of movements to secure basic resources in higher education and would benefit immensely when they are backed by an institution with ample resources to spare.
For this reason, the UC Board of Regents and individual UCs need to show their support by joining in on the calls for the doubling of the Pell Grant. The widespread financial hardships brought about by the pandemic have only added urgency to an already dire task. Now more than ever, students need the institutional and financial support.
Because let's face it, the UC has a checkered history with providing its students with adequate financial support.
Last March, the UC postponed a vote on a five-year plan to raise tuition, but five out of the nine UC chancellors have all called for tuition increases, even as the economic fallout from COVID-19 continues to disproportionately impact lower-income students.
While throwing support behind the increase in the Pell Grant doesn't address these issues, it would be a significant way for the UC to demonstrate it actually cares about its students as more than just a source of income.
In other words, it would be an opportunity for the school to stop acting like a corporation and more like an institution of higher education.
For the Biden administration, recognizing calls from regents and student organizations can give them a chance to make good on their specific campaign promise to double the Pell Grant. An investment of this degree will help to close the affordability gap, which was a core element of his education platform.
While calls from progressives like Reps. Alexandria Ocasio-Cortez and Ilhan Omar to completely abolish student loan debt would be the more favorable outcome for the millions of financially-burdened college students and graduates, doubling Pell Grant amounts would be a realistic first step.
To be fair, President Biden's first days in office have been booked to the brim as he signs executive order after executive order. While presidential action on college affordability might be inevitable, bolstering student organizations with the support from UC Regents can ensure that Biden fully follows through on his promised actions.
Action is needed sooner rather than later.
Because affording hope and relief now to a nation of struggling college students may be worth more than any financial aid they'll receive in the future.