Students share their experiences of being essential workers in grocery stores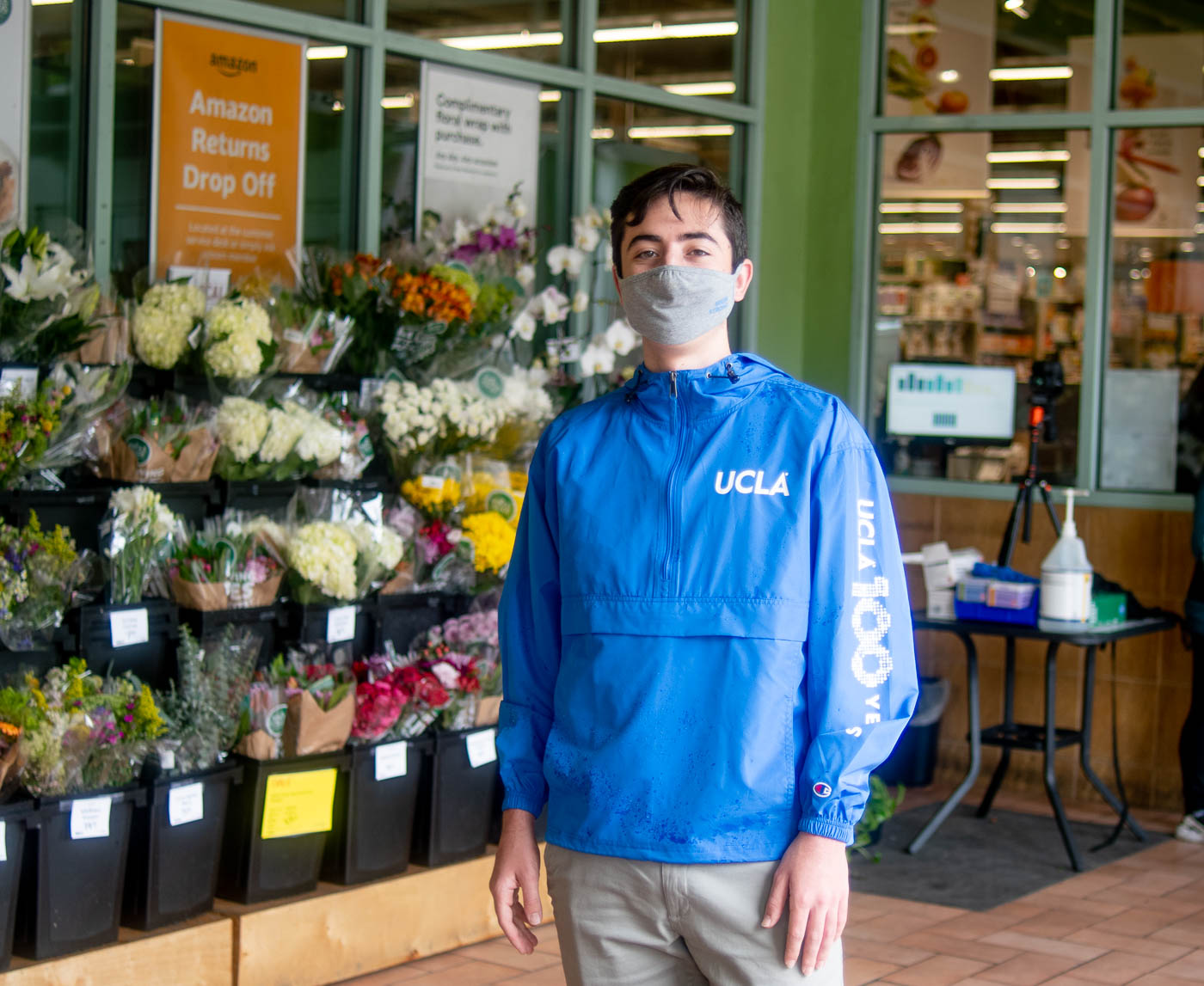 Koray Mentesoglu, who works at Whole Foods Market, and several other students employed at grocery stores do not consider themselves essential workers. For some, the novelty of the term has disappeared. (Lauren Man/Assistant Photo editor)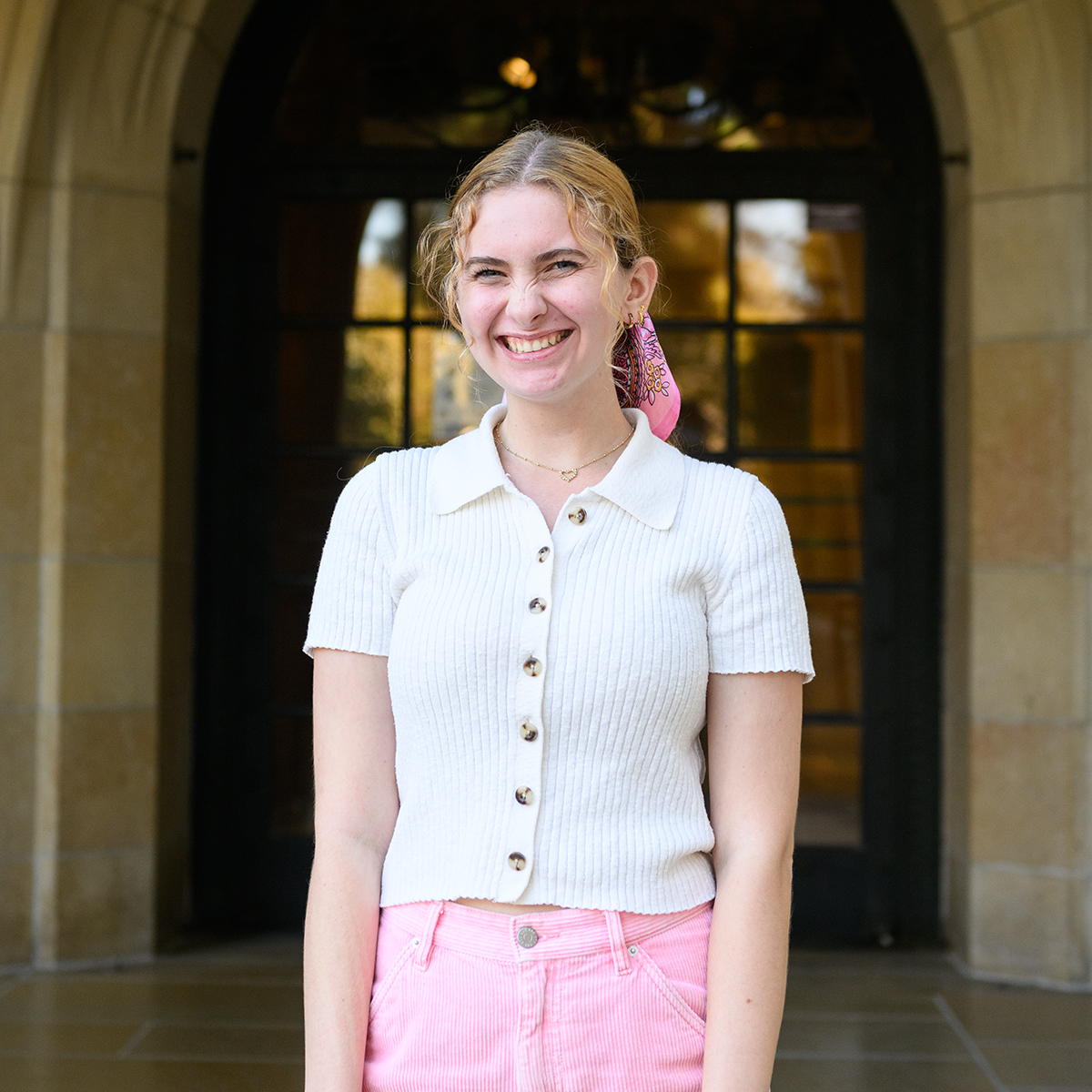 For some students who work at grocery stores, being an essential worker has lost its novelty.
"I didn't even think about me as being an essential worker," said Wanye' Yoakum, a third-year African American studies and theater student who works at Target in Santa Monica. "I just thought about me as being someone who needs to work."
At the onset of the COVID-19 pandemic, many in the United States paid special attention to essential workers, whom the Centers for Disease Control and Prevention defined as people who provide integral services to keep the U.S. functioning, including grocery store employees.
The Google search for "essential workers" spiked in April. For two weeks that month, Google Doodles acknowledged a different group of essential workers each day. Major grocery stores and retail companies – including Stater Bros. Market, Amazon and Target – gave workers additional "hero pay."
But as the pandemic dragged on, many companies revoked the hero pay and essential workers stopped trending online.
Becca Nelson, a first-year microbiology, immunology and molecular genetics student, said she does not think the term "essential worker" applies to her. Nelson worked at the supermarket Raley's in Granite Bay, a suburb of Sacramento, over the summer, and said she feels the public does not value the position as much as it did in the spring.
Nicholas Burgos, a first-year psychobiology student, said he embraces his position as an essential worker, especially because his job at Target in San Diego allows him to help people during the pandemic. Burgos works an average of 20 – sometimes up to 34 – hours per week, helping customers at the register, delivering curbside pickup orders and answering their questions.
"Some customers do say 'Oh, thank you for all you're doing,' or 'Thank you for all your hard work,' and I think hearing that from customers is really nice considering what we're living through," Burgos said.
Koray Mentesoglu, a first-year electrical engineering student, works a fraction of Burgos' hours at a Whole Foods Market in Redondo Beach. Mentesoglu said because he only works once a week, he doesn't consider himself an essential worker. But, he added, he is glad to help out.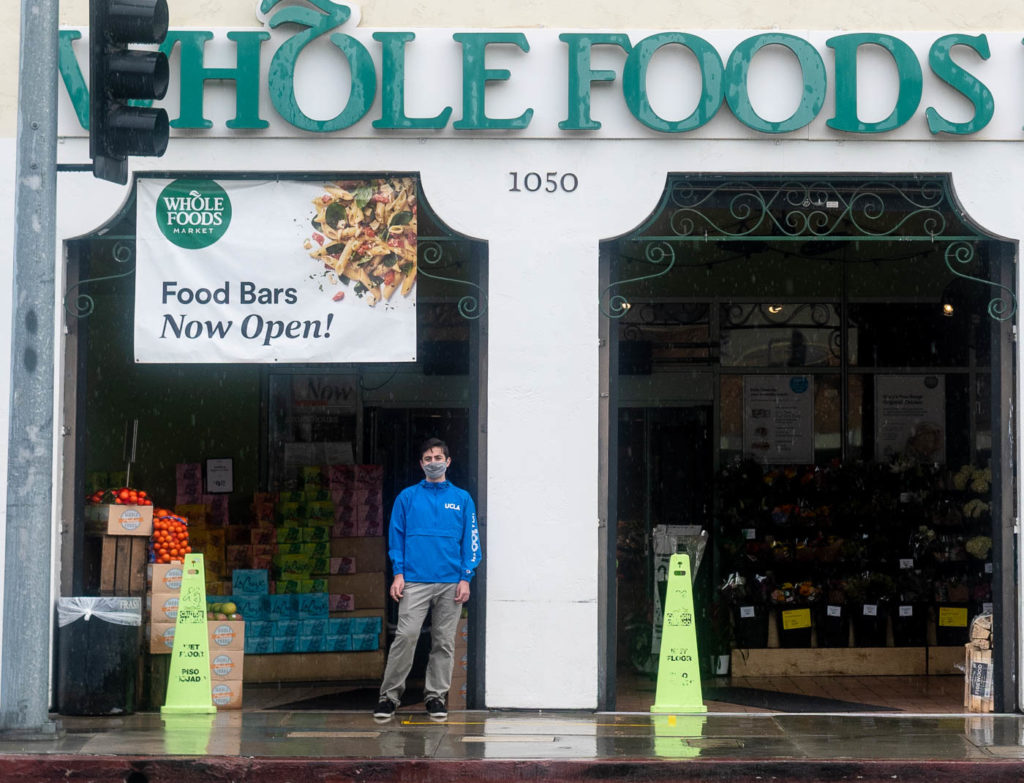 Nelson also said she is happy to help out during the pandemic. Nelson added that because she is young and healthy, working at a grocery store felt like a way she could contribute to her community.
"I've even had people thank me for what I do, which is a really nice feeling," she said. "It doesn't happen very often, but it's very meaningful."
But the job comes with some downsides. Nelson struggles with customers unwilling to comply with COVID-19 safety measures – mainly, customers who refuse to wear masks.
The store she works at installed plexiglass in front of registers as a barrier between customers and employees, she said. Because of the plexiglass, some customers take off their masks to speak to make themselves more audible, she added.
Nelson said she and other workers can't do anything about it because Raley's instructs its employees not to remind customers about the store's mask requirement out of fear of physical altercations between patrons and workers.
There's not much Mentesoglu can do about noncompliant customers either, he said. Some customers who enter the Whole Foods where he works do not bring their own masks and refuse those that are provided by an employee at the door, he added.
"There's little we can do because we want to avoid confrontation," Mentesoglu said.
Once, a mask-free customer was so angered that they jumped the queue outside the limited-capacity store and stormed inside, Mentesoglu said. One of his coworkers confronted them and was pushed into the aisle. The store had to call the police, he said.
Contracting COVID-19 is one of Yoakum's biggest worries at work. She said she fears passing the virus to her roommates and family, especially her aunt, who has lupus, and her brother, who has severe asthma.
To protect people close to her, Yoakum washes her hands as soon as she comes home from work.
"Even before I grab my phone, even before touching anything else, I walk into the house, I go to the sink first," Yoakum said.
More than 17,400 grocery store workers in the United States had been infected or exposed to COVID-19 as of mid-December, according to the United Food and Commercial Workers International Union.
Burgos thinks essential workers are sometimes taken for granted.
"Some people don't remember the importance of essential workers, and that they also have their needs and health and safety to protect," Burgos said.
Siatkowski is the 2022-2023 PRIME director. She was previously the 2021-2022 PRIME content editor and a contributor for the Arts, News, Sports and Outreach sections. She is also a third-year communication student at UCLA.
Siatkowski is the 2022-2023 PRIME director. She was previously the 2021-2022 PRIME content editor and a contributor for the Arts, News, Sports and Outreach sections. She is also a third-year communication student at UCLA.