Revisions to Westwood Village Specific Plan would ease business restrictions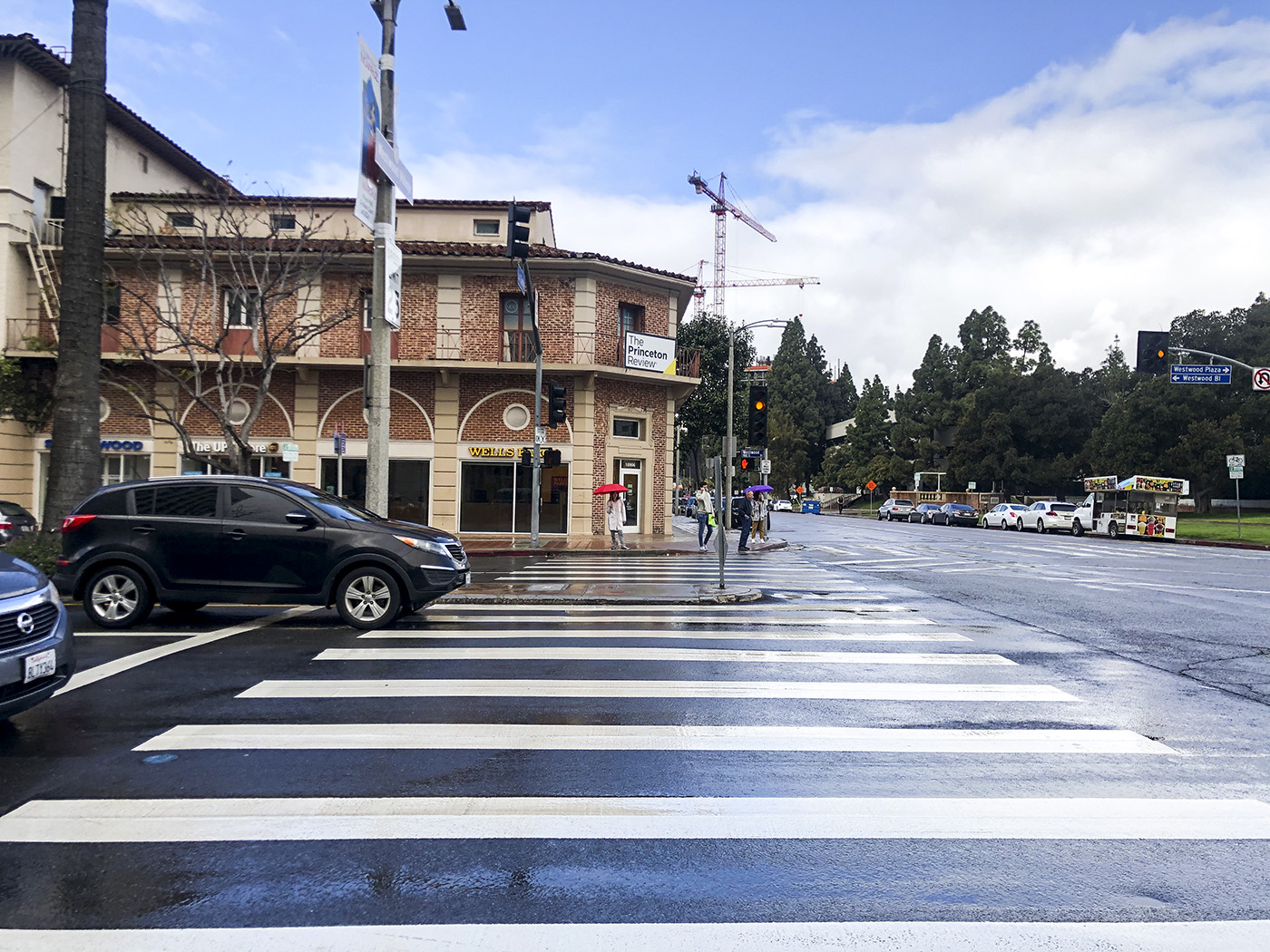 The Westwood Village Improvement Association calls on LA City Planning to speed up the process of easing restrictions for businesses operating in the Westwood Village. (Daily Bruin file photo)
The association that represents Westwood businesses is hoping to expedite amendments to regulations in the Westwood Village Specific Plan that would make it easier for businesses to recover after the COVID-19 pandemic.
The Westwood Village Specific Plan is a master planning document that regulates construction efforts, restricts building development, limits the number and size of businesses allowed in Westwood Village and creates other standards in Westwood Village.
Andrew Thomas, executive director of the Westwood Village Improvement Association, said the Westwood Village Specific Plan restricts businesses operating in Westwood Village and will hinder the recovery period following the COVID-19 pandemic by discouraging entrepreneurs from coming to Westwood.
In September 2019, the Los Angeles City Council approved a motion directing the Los Angeles Department of City Planning to ease the Specific Plan's parking requirements and reduce restrictions on the number of establishments permitted for each category of food establishment.
However, Los Angeles City Planning has not implemented the amendments, as of publication.
WVIA is planning to send a letter to Mayor Eric Garcetti and the director of LA planning requesting these amendments be implemented more quickly, Thomas said. The association will also reach out to other Westwood constituencies and encourage them to contact LA City Planning and the mayor's office to request that the process be expedited, he said.
"Because of limitations, we're not able to compete on a level playing field with everybody around us," Thomas said.
Amendments to the definitions of food establishments would add a section for fast-casual restaurants and allow them to fill some vacant spaces in the village, said Daniel Skolnick, the senior planning deputy for LA City Councilmember Paul Koretz.
The Specific Plan classifies a fast-food establishment as a business that has either a limited menu posted, has payment occur prior to eating, does not provide table service or uses disposable tableware and utensils. Fast-casual restaurants, which are intermediates between fast food and casual dining, are classified as fast food in the Specific Plan.
Thomas said the current definition, which groups fast-casual dining with fast food, is too stringent because it classifies healthy cafes such as Tender Greens and Tocaya Organica as fast food and therefore makes fast-casual restaurants compete with conventional fast food for limited permits on each street.
The other amendment aims to revise parking policies by allowing, for example, businesses to meet parking requirements through community spaces rather than through spaces next to their buildings, Skolnick said.
Even before the pandemic, Thomas said the Specific Plan's regulations caused a higher vacancy rate in Westwood compared to other communities in LA. As of January, around 85 of the Village's 278 storefronts are vacant, he said.
WVIA started campaigning for looser restrictions in 2011, Thomas said. After the council approved the motion in 2019, the LA Planning and Land Use Management Committee began working on drafting the amendments, but the process has been slow, he said.
Nora Frost, LA City Planning's public information director, said that a public hearing about the proposed amendments to food establishment and parking restrictions may happen this spring.
The Westwood community is anxious to expedite amendments to the Specific Plan, said John Heidt, president of Heidt Torres Co., a property development and management company that manages property in Westwood Village.
"The Westwood (Village) Specific Plan is outdated and needs to be rewritten for the 21st century," he said in an emailed statement. "The planning process in Westwood Village is complicated by the fact that there are so many eyes on what is being done."
Thomas said that WVIA will continue to campaign to speed up amendments to the plan, but he added that the association would rather abolish the plan altogether.
"Considering the circumstances now, we're too desperate," Thomas said. "We have to have a significant change. It's not enough just to pick a couple things about the plan that we don't like. We want the plan gone, and we're not alone."
According to a 2020 survey conducted by the WVIA, only 6% of the 2,519 respondents, most of whom were Westwood residents, would like to keep the Specific Plan in its entirety.
Skolnick said that the LA City Council does not wish to eliminate the entire Specific Plan.
"The design requirements that we have in the plan are what's holding (Westwood) together in terms of its character and its nature as a village," he said.
If the Specific Plan was scrapped, vacancies in Westwood Village may be turned into apartment buildings without any commercial activity on the ground floor, Skolnick said.
"Appealing the plan is a double-edged sword," Skolnick said. "It would get rid of some of the regulations that (are) causing some headaches, but then you lose many of the things we love about the village."
Thomas said that WVIA will continue campaigning to eliminate the Specific Plan.
"The good news for Westwood is we have incredibly strong bones," Thomas said. "We have so many advantages going for us that I feel like if these regulations were just normalized with the rest of the city, then we would very quickly recover."