Opinion: Labeling Capitol rioters as terrorists will hurt marginalized communities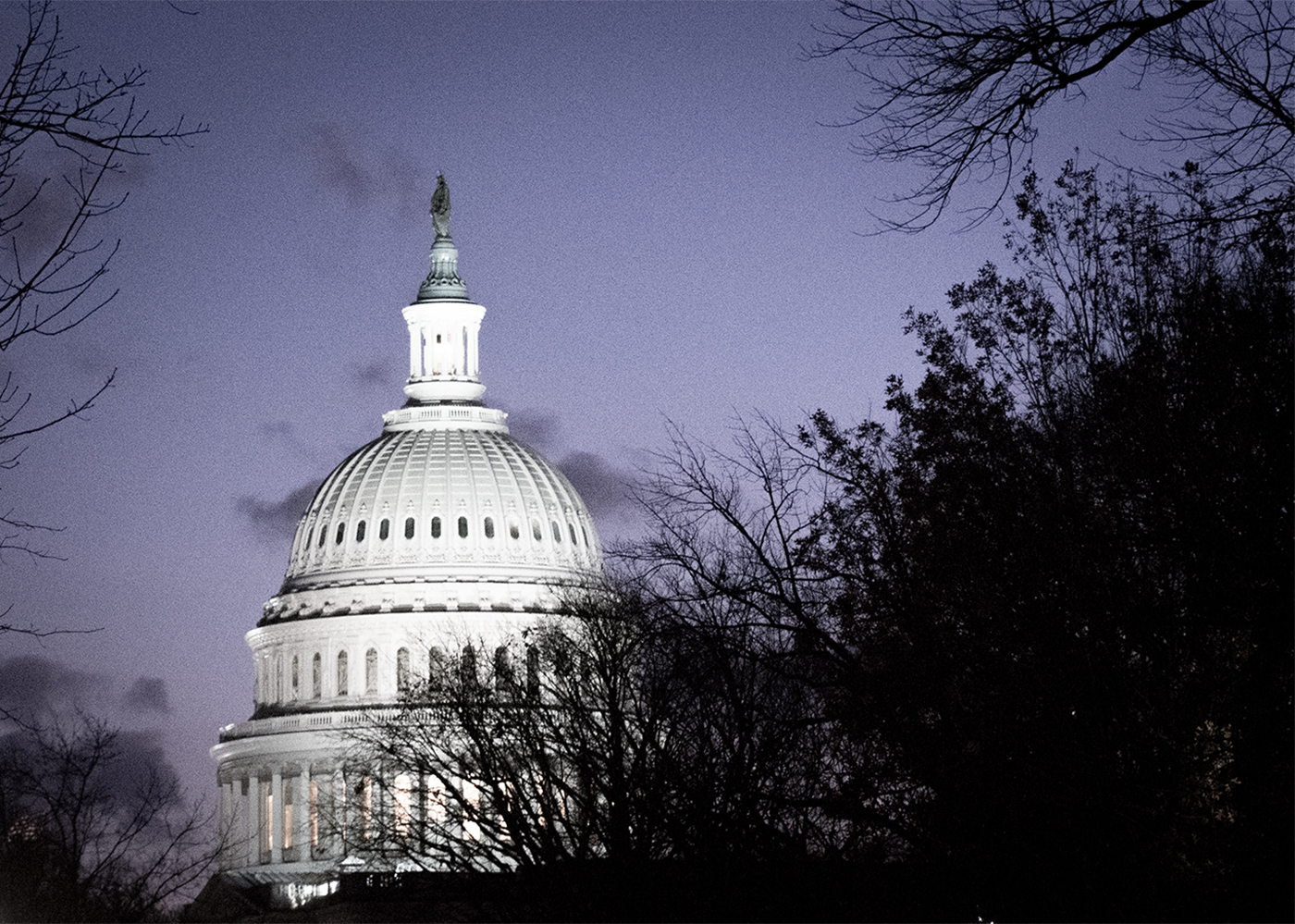 Words have grave implications. As Bruins, we must refrain from using the term "terrorists" to refer to the rioters at the Capitol because it threatens to amplify a power the government has traditionally used to target people of color. (Sakshi Joglekar/Daily Bruin staff)
As rioters decorated in blue flags in support of former President Donald Trump stormed the Capitol on Jan. 6, shattering windows and breaking sacred boundaries, they forced Americans to confront many different feelings: outrage, shame and perhaps most of all, terror.
Finding the right words to describe such an unprecedented event poses a new challenge for all of us.
President Joe Biden called on the country to refer to the individuals as a "riotous mob," "insurrectionists" and "domestic terrorists." However, even amid our strong emotions, we must educate ourselves on why the label "terrorist" is a dangerous choice.
First, it induces fear that precludes a true conversation about the root causes of the insurrection. It also grants the federal government power and reach that it has historically used to unfairly target marginalized communities.
We should use words like rioters, insurrectionists or white supremacists instead.
The assortment of words we use to describe the insurrection is expected, especially since our reactions have been so emotionally charged.
Aidan Arasasingham, the external vice president of UCLA's Undergraduate Students Association Council and a fourth-year global studies student, said his initial feeling toward the riot was shock. After a few days, he said it was replaced with something else.
"I think the shock has kind of gone away now that we've realized that this is the kind of country we live in," he said. "And seeing that in such a stark display, I know different emotions I've been feeling since (include) anger."
And he's not alone.
Third-year political science student Harmonie Yacob said after initially watching the day unfold, she too felt angry.
Yacob said that the words "rioters" and "terrorists" are the words she deemed most appropriate to use for the individuals at the Capitol.
"I mean, (there were) hundreds of them storming a government building and coming in fully armed," she said.
But we must be thoughtful with our rhetoric.
From a discursive perspective, using the word "terrorist" is counterproductive. The word's origins in American history evoke an old fear that prevents the country from grappling with the dangers of Trump's mobilized following of white supremacists, as well as their unique relationships with the state.
And on a bureaucratic level, the word opens up a litany of dangers.
Both Muslim Americans and Black Americans have experienced heightened surveillance in recent years – a repulsive legacy of the government's historical use of "terrorist" to target groups like the Black Panthers or individuals who are Muslim or of Arab descent. This racially skewed use grants heightened power to the state, which may use it for unjust means.
On the surface, it only seems fair that the government go after those responsible for the Capitol riots in the same way, but when the actual implementation of counterterrorism measures are examined, a much different picture emerges.
For one, the use of the word "terrorism" expands the power of the federal government. In fact, Republican governors are already moving to create policy crackdowns on protesters in response to the Capitol mob that aim to target the summer's Black Lives Matter protesters.
Thinking that this growth in government authority won't ultimately target marginalized communities is naive and historically ignorant. Even if new counterterrorism efforts target a predominantly white group, the execution of such policies inevitably ensnares racial minorities.
And as Bruins, we must know better.
Take the sadly relevant example of the Oklahoma bombing of 1995. Shortly following the attack, the administration of former President Bill Clinton crafted the Antiterrorism and Effective Death Penalty Act of 1996. And though the perpetrator was white, marginalized communities ended up paying the price through limited access to appeals and an increase in deportations.
Under the terrorism umbrella, government agencies can redirect more resources and power toward far-reaching efforts that will continue to disproportionately harm Black and Muslim communities.
But in reality, white supremacists may be the biggest safety threat to this country. We need to call them out for what they are. "Insurrectionist," "white supremacist" and "rioter" are labels that can more clearly define the severity of Jan. 6 by recognizing the unique danger of Trump's supporters.
The argument against the "terrorist" label is not to invalidate the terror incited by this angry mob. Our emotional desire for them to be categorized accordingly is completely valid. And certainly, many of us may feel a strong desire for justice to be served. The double standard in police response to the insurrection and protests from the summer is infuriating.
Mary Corey, a senior continuing lecturer in the history department at UCLA, said she thinks the flagrant display exposed our democracy's intertwinement with white supremacy.
"If that had been a BLM demonstration and those things had happened, how many dead people do you think there would be?" she said.
And she's right.
However, the U.S. Department of Justice already has plenty of ways to hold the insurrectionists accountable for their plethora of crimes without invoking the powers of a war on terrorism and opening the door to further harm on marginalized communities.
And the rhetoric we choose, especially as members of the UCLA community, will have long-lasting effects – effects that both on a discursive and federal level will be felt disproportionately by Black, Muslim and immigrant communities.
As Bruins, we commit ourselves to education daily.
So educate yourself, and choose your rhetoric thoughtfully. Refrain from falling into the trap of the word "terrorism."
Weinerth is an Opinion columnist.
Weinerth is an Opinion columnist.