UCLA women's tennis springs into 2021 season hosting ITA Kickoff Weekend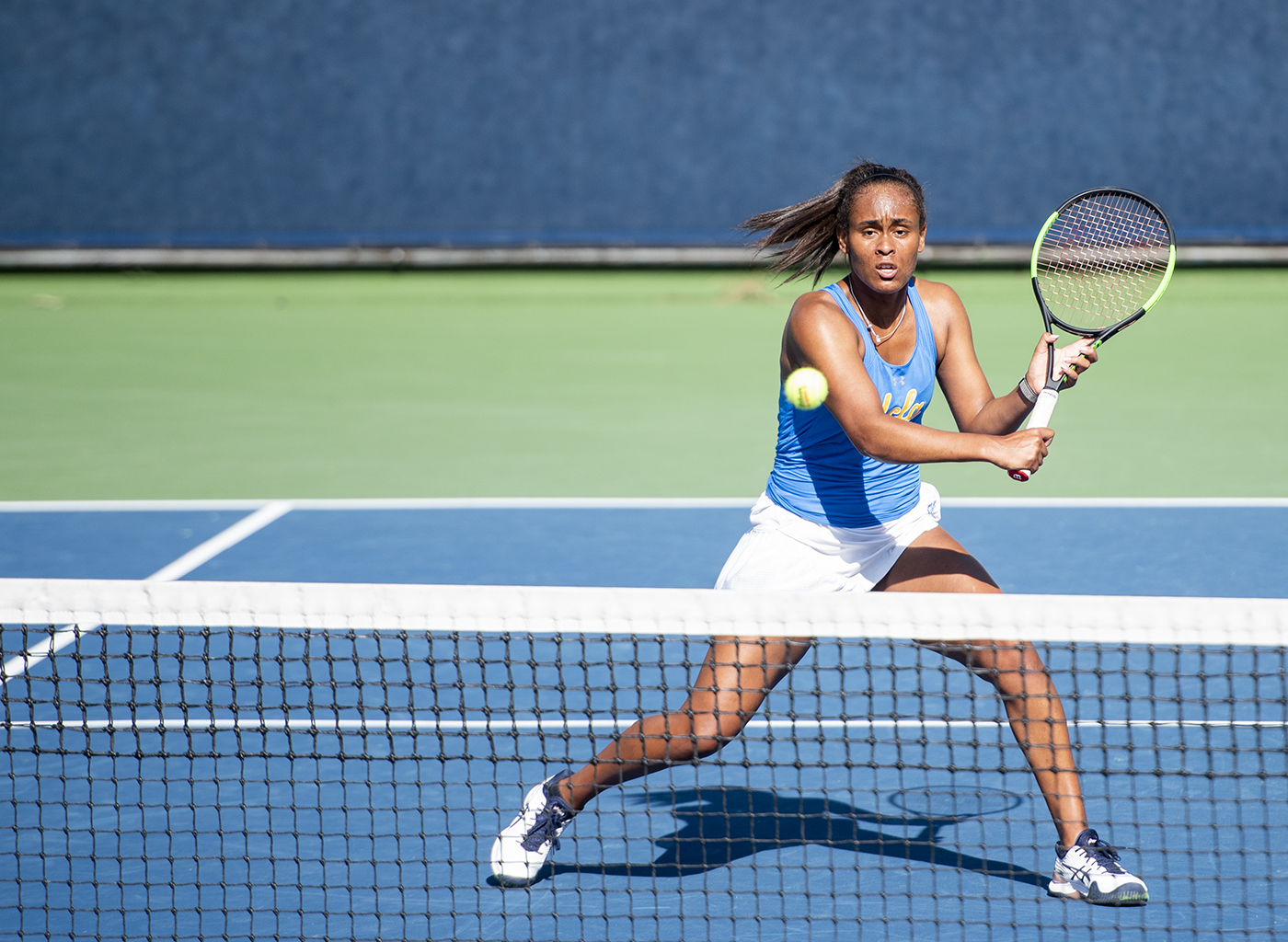 Sophomore Abbey Forbes is currently ranked as the nation's No. 7 singles player and will make her season debut for UCLA women's tennis Saturday. (Daanish Bhatti/Assistant Photo editor)
Women's Tennis
---
ITA Kickoff Weekend
Saturday, 1 p.m.
Los Angeles Tennis Center
UCLA Stream
From Zooming into online classes to finally zooming for balls on the court, the Bruins are back to competition from a 10 month long break.
No. 2 UCLA women's tennis opens its campaign in the ITA Kickoff Weekend on Saturday with a matchup against No. 19 California. UCLA will play either Washington State or Texas A&M on Sunday depending on the results from the day before.
"The beginning is tough," said coach Stella Sampras Webster. "This team is used to challenges, and I think they thrive under challenge."
UCLA holds an all-time record of 47-35 against Cal and is currently on a seven-match winning streak. UCLA also holds a record of 24-2 against Washington, while the Bruins have not faced the Aggies in over five years.
Other than adding newcomers freshman Vanessa Ong and senior Vivian Wolff, a transfer from Georgia, to the roster, the Bruins' roster is virtually unchanged from last year because of extra eligibility given by the NCAA because of the COVID-19 pandemic.
Sophomore Abbey Forbes, currently ranked No. 7 in women's singles in the nation, and the doubles team of junior Elysia Bolton and graduate student Jada Hart, currently ranked No. 1 in the national doubles ranking for the third time, are set to make their season debuts over the weekend. All three achieved All-American status last year.
The doubles pair of Hart and Bolton held a dual match record of 9-1 during the 2019-2020 season. Together, they hold a dual match record of 29-6 over the past two seasons.
"I think having that chemistry over the last couple years has really helped us with the success that we've had and hopefully continue to have," Hart said.
Forbes ended last year with a record of 23-3 during the shortened season of 2019-2020, and said she is excited to have the opportunity to repeat that success in the opening matchup against the Golden Bears.
"I'm going to do whatever I can (and) utilize all these opportunities," Forbes said. "Cal is fun to play – we played them twice last year and they're a great team, and I always enjoy competing against them."
Cal was 3-4 last year, finishing the shortened season ranked No. 38. Cal begins the season with three new freshmen while losing four athletes from the previous year. The Golden Bears have Haley Giavara, a singles All-American and the ITA Northwest Regional Rookie of the Year in 2019-2020.
Fear of upcoming rain over the weekend has also put the players and coaches on their toes. The weather forecast says there is a high chance of rain over the weekend.
"We just have to adapt and be prepared for when we're going to play since I guess right now, maybe the weather may not be in our favor," Hart said.
With a consistent team and a seasoned coach of 25 years, Sampras Webster said the key component to focus on is the match against Cal and taking each match as it comes.
"That is the main thing," said Sampras Webster. "We have to focus on getting ready for our first match and not look ahead of that."
Li is currently a Sports contributor on the women's tennis beat.
Li is currently a Sports contributor on the women's tennis beat.