Women's soccer sees 3 players selected in virtual NWSL Draft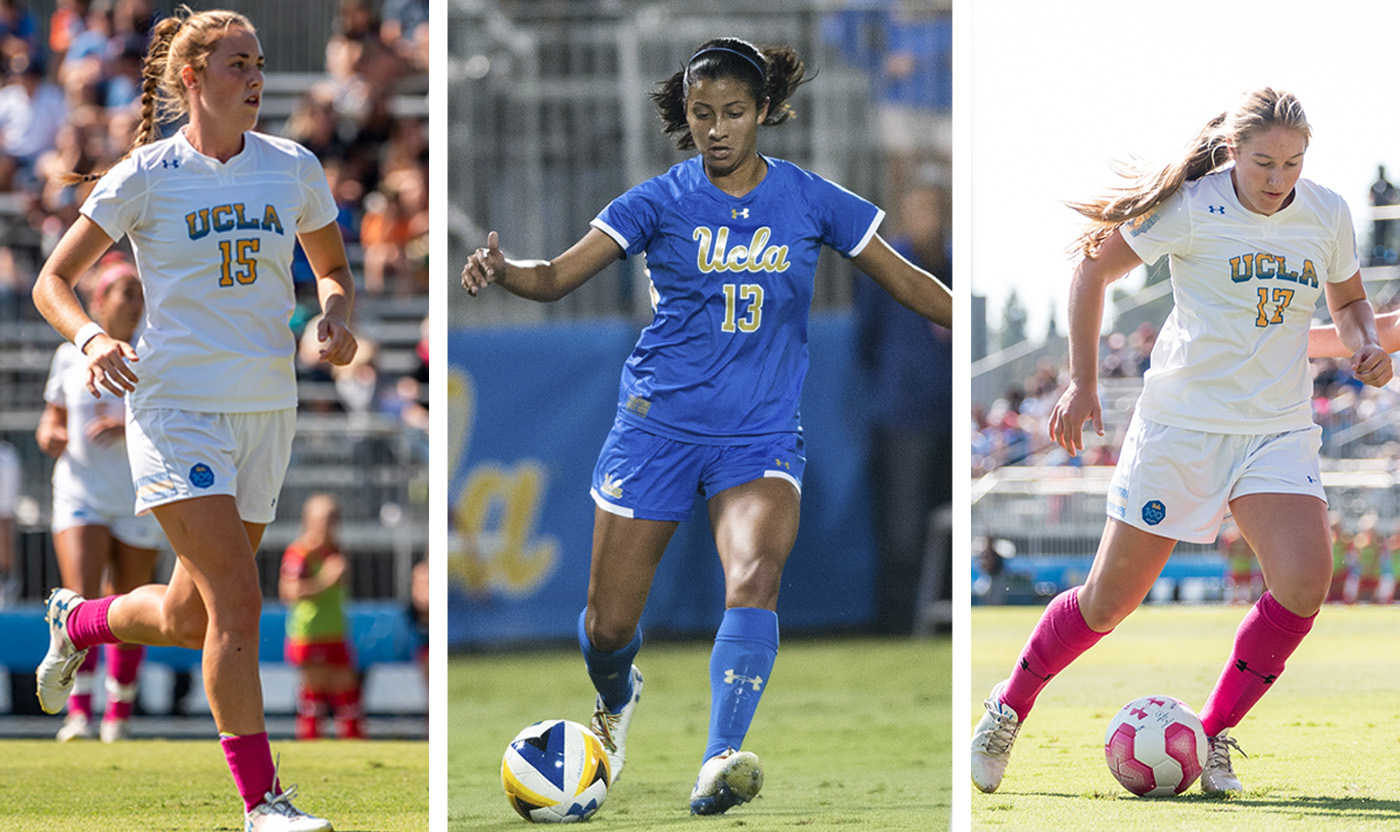 UCLA women's soccer seniors defender Lucy Parker, midfielder Viviana Villacorta and defender Delanie Sheehan were all selected in the NWSL Draft on Jan. 13. (Daily Bruin file photos)
This post was updated Jan. 24 at 9:43 p.m.
The more things change, the more they stay the same.
Although this year's National Women's Soccer League Draft went online because of the ongoing COVID-19 pandemic, for the second consecutive year, three UCLA women's soccer players heard their names called on draft day.
In the 2020 NWSL Draft, forward Ashley Sanchez was the only Bruin selected in the first round as she was picked fourth overall by the Washington Spirit. This year's sole first-rounder was senior midfielder Viviana Villacorta, who was chosen ninth overall by the Orlando Pride. The two Bruins joining Villacorta at the next level are senior defenders Lucy Parker and Delanie Sheehan – drafted in the second and fourth round, respectively.
"When I heard my name called, I was relieved knowing all my hard work over my life has paid off," Villacorta said. "My family has been there to support me and help me through this journey – having them with me was just a special experience."
Villacorta was able to share the moment with her family, as they awaited the eventual announcement of the senior's selection by Orlando from NWSL Commissioner Lisa Baird. The two-time All-Pac-12 honoree started in her last 45 appearances for UCLA spanning the past two seasons. As a junior, the midfielder recorded a career-high eight assists while also scoring three goals as the Bruins made it to the semi-finals of the Women's College Cup.
Ordinarily, the NWSL draft would succeed the NCAA women's soccer fall season; however, since the Pac-12 delayed its season because of COVID-19 concerns, players were drafted before competing in their final collegiate season.
"Obviously we're going to do everything we can to win a national championship but knowing we're on a team gives me a relaxing feeling," Villacorta said. "I'm going to be more free to play the way I want to play and not be so anxious and in my head."
Her fellow teammate Parker was selected by Kansas City NWSL in the second round with the 16th overall pick.
After transferring to UCLA from LSU, Parker started all 24 games for the Bruins in 2019, leading the team in total minutes played. In her first year in Westwood, the England international earned Second-Team All-Pac-12 honors and won two Pac-12 Defensive Player of the Week awards.
Parker has played overseas in her home country of England, in Louisiana for LSU and in California for UCLA. Now she has the opportunity to play for a Kansas City team in its inaugural season after being announced as an expansion team late last year.
"It's just a whole new experience," Parker said. "Aside from soccer, you get to live in a whole new place and take on a whole new challenge. So, for me, I think I'm excited for both the football and the off-the-field."
To round out the Bruins' eventful evening, Sheehan was selected 33rd overall in the fourth round by Sky Blue FC, a team based in Harrison, New Jersey.
"When I got the call, I couldn't stop crying," Sheehan said. "It just didn't really feel real and I don't think it still has really sunk in."
Sheehan accumulated 54 starts during her three years at UCLA, with 23 coming in the 2019 season in which she netted two goals and added three assists. The one-time Pac-12 All-Freshman will join two former Bruins at Sky Blue FC – Caprice Dydasco and McCall Zerboni – in addition to two-time World Cup Champion Carli Lloyd.
The draft placed three UCLA women's soccer players in three different cities – Orlando, Florida, Kansas City, Missouri and Harrison, New Jersey. However, because of the irregular circumstances, the three draftees will remain in Los Angeles to finish their collegiate careers in the spring before beginning their professional ones.
"I think it takes a lot of pressure off of it," Sheehan said. "A lot of times your senior season can be pretty stressful because you're trying to play so good but I think (getting drafted) takes the pressure off that."
Farinha is currently a Sports contributor on the women's soccer beat.
Farinha is currently a Sports contributor on the women's soccer beat.