Men's tennis to bring energy, optimism to first official tournament of the season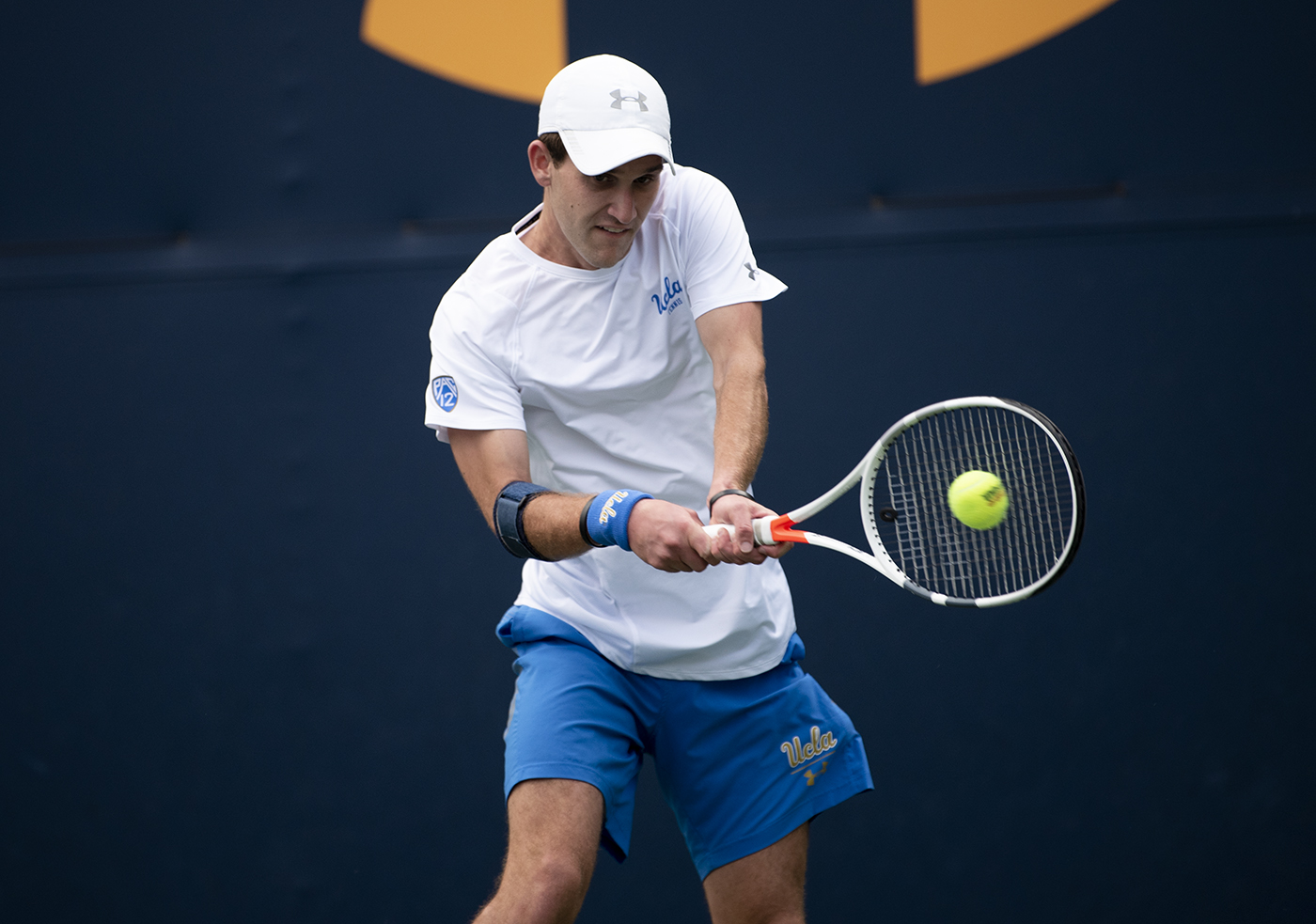 After a 10-month layoff, redshirt senior Ben Goldberg will be back in action this weekend for UCLA men's tennis. Goldberg went 11-8 in singles matches a year ago. (Daily Bruin file photo)
UCLA men's tennis coach Billy Martin recalls March 12, 2020, being an exciting day for the Bruins as they got ready to face USC at home.
The rivalry match was never played, however, and marked a disappointing end to the 2020 men's tennis season for Martin.
"I don't think any of us really realized what might be forthcoming as far as longevity of being away and not being able to compete and (be) at school," Martin said. "It was disappointing, but I think we've all been over that. Just the jubilation of being able to be back on campus and practicing together and looking forward to these competitions, you know, kind of makes us forget about the disappointment."
Since the 2019-2020 season ended prematurely, Martin said there have not been any workouts but the team has been conditioning and playing on their own as they waited for the season to start. In a usual offseason without COVID-19, players and schools would have engaged in summer tournaments that take place around the country.
With an altered offseason schedule, redshirt senior Ben Goldberg admitted there were challenges finding courts initially.
"We're 10 months removed from that sour taste now and we're really happy to be back," Goldberg said. "It was super sad back then, but you know, that was then (and) this is now. I don't want to look back on that moment on March 12 – whatever that was, that was actually horrible. So that's that."
Senior Keegan Smith, on the other hand, said he had no issue working with a trainer consistently throughout the pandemic.
"The beginning of lockdown was kind of tough – they were pretty strict (on) courts and stuff," Smith said. "I still had a trainer I could work with so I'm feeling pretty good personally."
Although this season is different, the Bruins are confident this year's team will be as competitive as years past with the new additions. Freshmen Stefan Leustian and Timothy Li as well as graduate student Sam Feit – a transfer from Gonzaga – have all been praised for their play already by their teammates.
Goldberg said his extended eligibility and the addition of Li – or "Tim-O" as he refers to him – will make the season special for him.
"I've known him since I was a little kid – his mom was one of the team doctors for all the sports here," Goldberg said. "So I've actually known him forever. We weren't supposed to be teammates together, so it's actually something really special to me because I've known Tim-O before tennis was on either of our minds."
UCLA has already seen the effects of COVID-19 on its season, as it had to pull out from the preseason Pepperdine Invite Tournament earlier this month because of possible COVID-19 exposure.
While this year is an altered season, the energy and confidence of the team have not wavered, according to Martin. After going through COVID-19 testing and a team quarantine, the Bruins said they are excited to take the court this weekend at the ITA Kickoff tournament, their first official tournament of the season.
"We're all so excited after not being together very much since last March to … get back into the groove of matches and competition," Martin said. "I think we have the potential to be a force to be reckoned with this year, and as we practice more and get the jitters of competition out of our system that we'll have a very good, successful year. "
Chesney is currently a Sports contributor on the men's tennis beat.
Chesney is currently a Sports contributor on the men's tennis beat.