3-time NCAA champion returns to UCLA men's water polo as assistant coach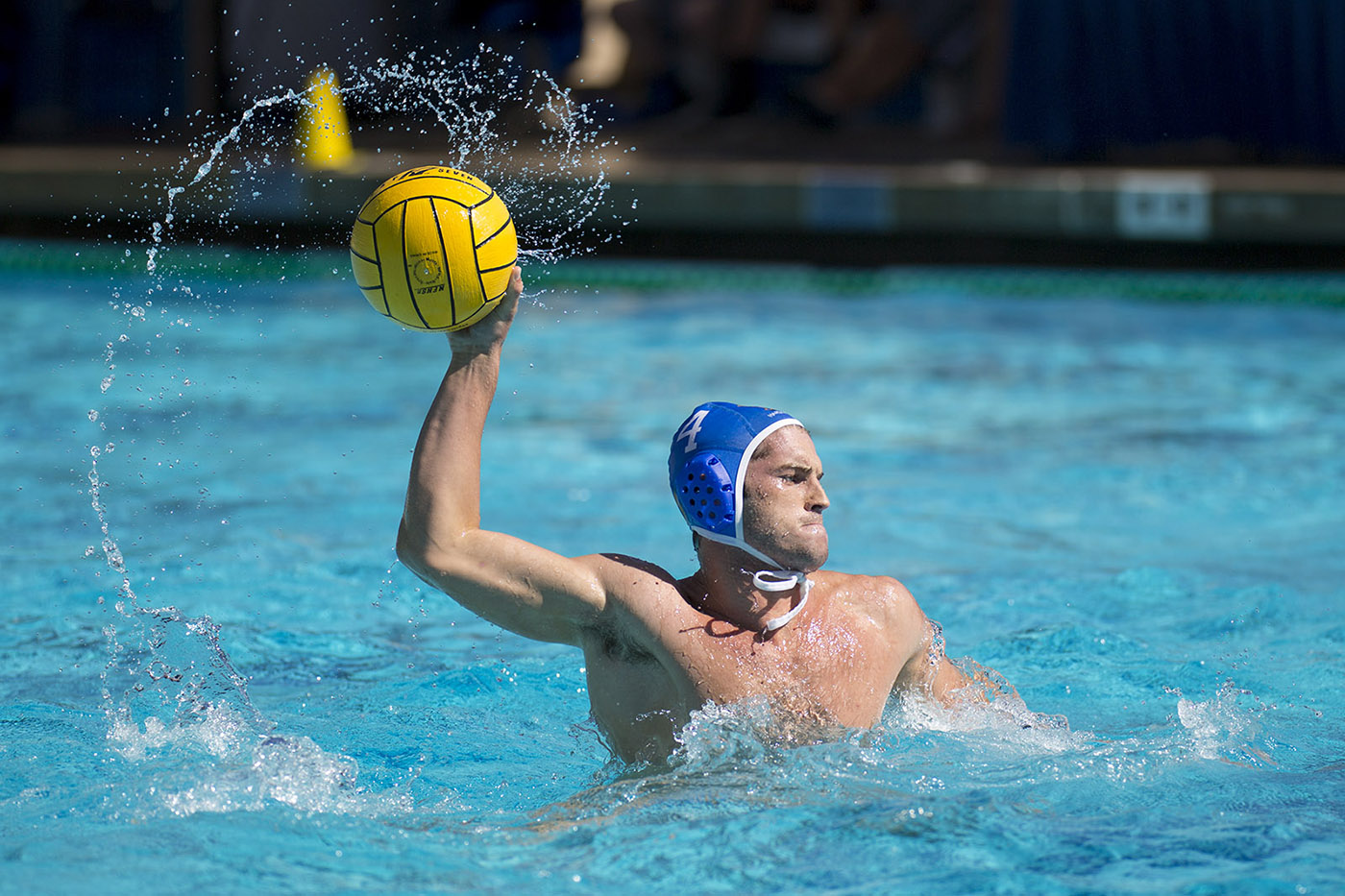 Former UCLA men's water polo attacker and three-time NCAA champion Jack Grover will return to Westwood as an assistant coach to the team after serving the same role for a year in 2018. (Daily Bruin file photo)
A three-time NCAA champion is returning to the pool deck for the Bruins.
Jack Grover – a UCLA men's water polo attacker from 2013 to 2017 – was hired as an assistant coach following a brief stint with the team in the same position in 2018 after his graduation.
Having missed competing in the pool, Grover said he decided to go overseas and continue his playing career. However, amid the COVID-19 pandemic, the league was forced to cancel the rest of its season.
"I took a year off just to go and play overseas because coaching also made me realize how much I've missed and love the sport," Grover said. "So, I got to go and play in Spain for one year in the top league over there, and I've learned a lot that hopefully I can bring back and maybe teach some of these guys some of the things that I learned over there as well."
He ended his Bruin career with 51 goals in 107 games, making 38 starts. Grover's senior class had a career record of 105-10, good for the second-best record by percentage in UCLA history at 91.3%. Additionally, the class held the third-most career wins in UCLA history, trailing only the class of 2015's record of 114 career wins and the class of 2016's record of 112.
Coach Adam Wright said although he was disappointed that Grover's overseas league had to cancel its season, he was excited to have Grover back on his staff.
"(Grover) wanted to really give it a shot and go play in Europe," Wright said. "Unfortunately, the whole year didn't go off with COVID-19, but then when we had the opportunity to have (Grover) back with another year of experience of being overseas, it was the obvious choice. He's such a huge piece of our program."
Grover and Wright have known each other for a long time – Grover said they met when he was 11 as Wright coached his age group water polo team. Their relationship continued when the pair reconnected in Westwood.
Wright said it was a privilege and advantage to have a former player rejoin his staff.
"You're always lucky as a head coach to have players who have played for you – who choose to go into coaching – to have them on your staff because they really know the program through and through," Wright said. "The expectations as a student, the expectations as a person, how we behave, how important our character is outside the pool, … it's just huge for us."
In Grover's senior season, he was named to the All-MPSF second team and earned MPSF All-Academic honors, which he also earned the year prior. Wright said while Grover was not always the biggest or strongest player on the team, he was one of the smartest players in the pool, which has translated to his coaching.
Redshirt sophomore defender Bailey Jarvis said Grover has a good eye for seeing small details and helps players out in an individual way.
"He has a more one-on-one approach with us. … (Grover) picks out he sees something they can work on and he talks to them individually," Jarvis said. "I think that is a really good aspect because … it's more of a personalized help with him there."
Wright said Grover's proximity in age to the current team members gives him a unique perspective about the current experience of being a student-athlete, while also being a model for what it takes to become a national champion.
"As guys that are national champions and for them to understand what it took for us to get to that position as a program, especially outside the pool (is) huge for us," Wright said. "I'm getting older obviously, and (Grover is) more, I guess, attuned to the more current things and they understand how that can blend with what we're trying to do as a program."
The Mountain Pacific Sports Federation announced it will begin its season Saturday with a round-robin weekend. UCLA – which ranked third in the 2020-21 MPSF Men's Water Polo Preseason Coaches' Poll – will face USC and California twice each over the weekend.
Moskowitz is currently a Sports contributor on the men's water polo beat.
Moskowitz is currently a Sports contributor on the men's water polo beat.