Former employees claim Housing Safety endangered student workers, ignored complaints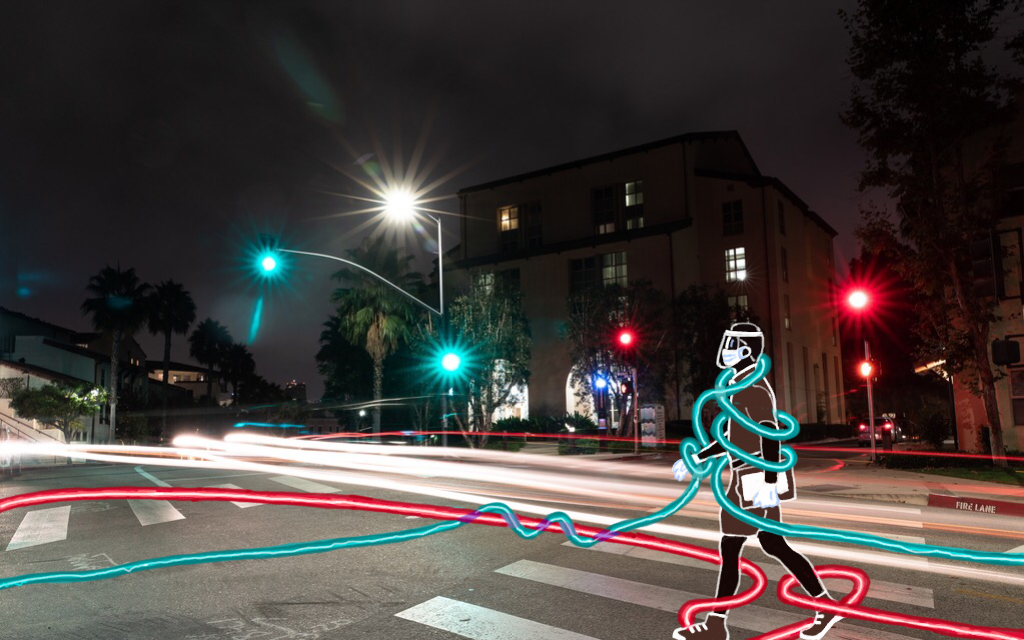 (Photo by Tanmay Shankar/Daily Bruin senior staff. Photo illustration by Shruti Iyer/Daily Bruin senior staff)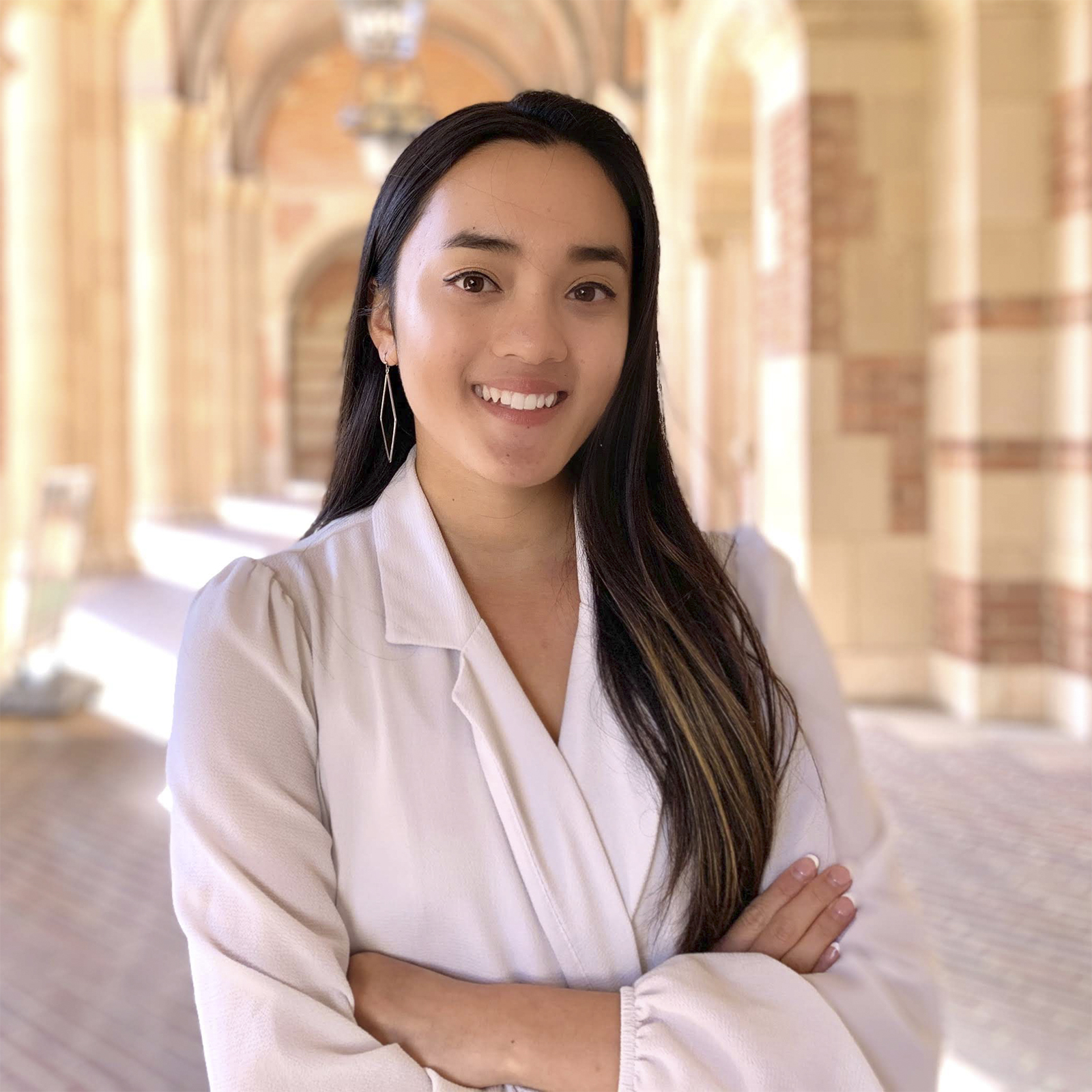 This post was last updated Jan. 20 at 2:23 p.m. to clarify the meaning of the word "transient" in the accompanying graphic.
UCLA Housing Safety dispatched student workers into dangerous situations, ignored workers' complaints and delayed paychecks, former employees said.
Housing Safety employees patrol areas on and off campus each night, including on-campus housing and university apartments. Former student workers said during patrols, managers sometimes ordered student workers to pursue trespassers, even though their job description states that students would not be required to do so. Housing Safety is a unit under UCLA Housing and Hospitality.
Yamilette Lujano, a former Housing Safety student supervisor from 2018 to 2020, said her manager once told her to personally handle a situation involving a trespasser who had entered university housing, despite Lujano's safety concerns.
"Instead of calling UCPD like I asked the manager to do, he told me to go over there," Lujano said. "I was not trained. I'm not a police officer. I had no idea what I was supposed to do if I did find (the trespasser) and he was armed."
UCLA spokesperson Katherine Alvarado said that students were not expected to directly intervene in unsafe situations, in an emailed statement on behalf of Housing Safety. Housing Safety employees are instructed to contact their supervisors, on-duty UCLA Residential Life staff members or UCPD if a serious situation arises, the statement added.
UCLA Housing Safety did not give a comment after multiple requests about whether managers ever forced student workers to follow trespassers or enter dangerous situations.
According to Housing Safety records obtained by the Daily Bruin, student employees completing their rounds reported seeing a man armed with a machete near the University Apartments South complexes on July 29, 2019. The man was biking toward Sepulveda Boulevard while two student workers patrolled nearby, the report read.
The encounter with this individual was not an isolated incident, according to the records. The week before, on July 23, 2019, an individual with a matching description approached Housing Safety patrollers, allegedly trying to lure them out of their patrol car, according to Housing Safety records.
When students raised safety concerns about the armed man to Housing Safety management, the managers jokingly offered to arm students with AK-47 firearms, three former employees said.
The Daily Bruin contacted several current Housing Safety student workers. No current workers gave comment for this story, and several anonymously said their managers had banned them from speaking with the Daily Bruin.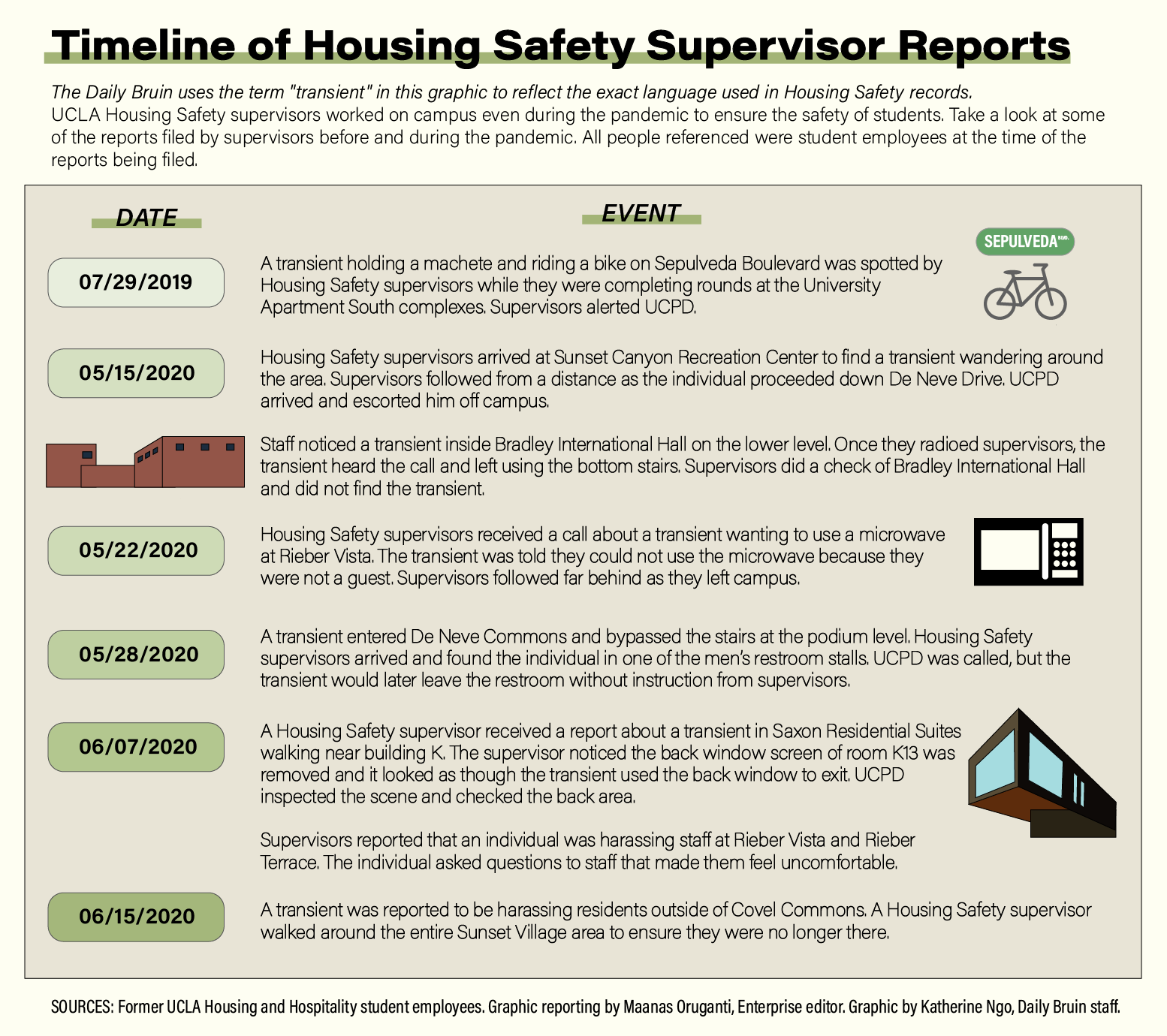 Former employees also said their job responsibilities were often unclear and constantly changing.
Hector Montes, a former student supervisor who worked with Housing Safety from 2018 to 2020, said he felt student workers were expected to do duties outside of their job description.
Martha Martinez, a former student supervisor who worked with Housing Safety from 2017 to 2019, said when she first joined Housing Safety, her tasks were to "observe and report," but they eventually grew to include handling traffic control, patrolling apartments and anything else managers told her to do.
In the summer, Housing Safety's Access Control and Safety Patrol departments merged, leaving some student workers unclear on their new job responsibilities.
After the merger, managers failed to make the new responsibilities of student employees clear despite his requests for clarification on his new role, said Justin Allen, a former Safety Patrol officer from 2018 to 2020 and fourth-year microbiology, immunology and molecular genetics student.
UCLA Housing Safety did not give a comment after multiple requests about if managers felt the communication with student employees has been effective.
Martinez said she felt safety concerns brought to Junji Toshima, the assistant director of UCLA Housing and Hospitality Safety and Emergency Preparedness, were ignored or rarely discussed. Toshima rarely attended quarterly meetings organized by student workers despite being invited to attend, Martinez added.
Alvarado responded to a request for comment about student concerns on Toshima's behalf. All concerns are taken seriously and safety is of paramount concern, Alvarado said in an emailed statement.
However, Lujano said that on multiple occasions, she was harassed by pedestrians who thought they were being followed by the patrol car when she was doing her rounds. Lujano added when she brought harassment complaints to members of management, they told her to be thankful to have a job at all, rather than addressing her complaints.
"They just basically say the same thing, 'Be thankful you have a job," Lujano said. "'You should do (as you're told) because if not, you wouldn't have a job.'"
After repeated safety concerns were allegedly left unresolved for years, students asked managers for training to address their lack of preparedness when being dispatched to handle trespassers, Montes said. He added he felt the training should have been a priority during the two years he was employed with Housing Safety, yet it was not available until after he had left.
Housing Safety implemented new safety protocols for potentially dangerous situations with trespassers during fall quarter, Alvarado said in an emailed statement. The protocol also now requires that all patrols be conducted in pairs or teams in a university vehicle whenever possible, the statement added.
Former employees also alleged management frequently delayed their paychecks, in some cases as often as weekly, because of unexplained changes in the hour-logging system and upper management's unresponsiveness.
Allen, Lujano and Montes said that in addition to being late, their paychecks were frequently incorrect, paying them for fewer hours than they had actually worked.
In one instance, a paycheck was delayed for more than four months because of unexplained errors by managers, Montes said. Another paycheck was about $150 less than what he had actually earned, Allen added.
They said Jonathan Junpradub, UCLA Housing Safety programs manager, incorrectly entered their numbers of hours worked on the hour-logging system Kronos, delaying their paychecks.
"We have had more Kronos corrections from the moment (Junpradub) became a manager … than I ever did in those two years of my life," Montes said. "(As a result,) some employees … were paid in about July for workweeks in March."
Housing Safety said in an emailed statement it welcomes additional information to create a safer working environment and will cooperate with student employees to address concerns.
Former student employees said they hope upper management will respect the safety and value of their workers moving forward.
"Respect the people you work with," Martinez said. "Acknowledge them and listen to them because they're people too and they could bring a lot to the table."