USAC recap — Jan. 12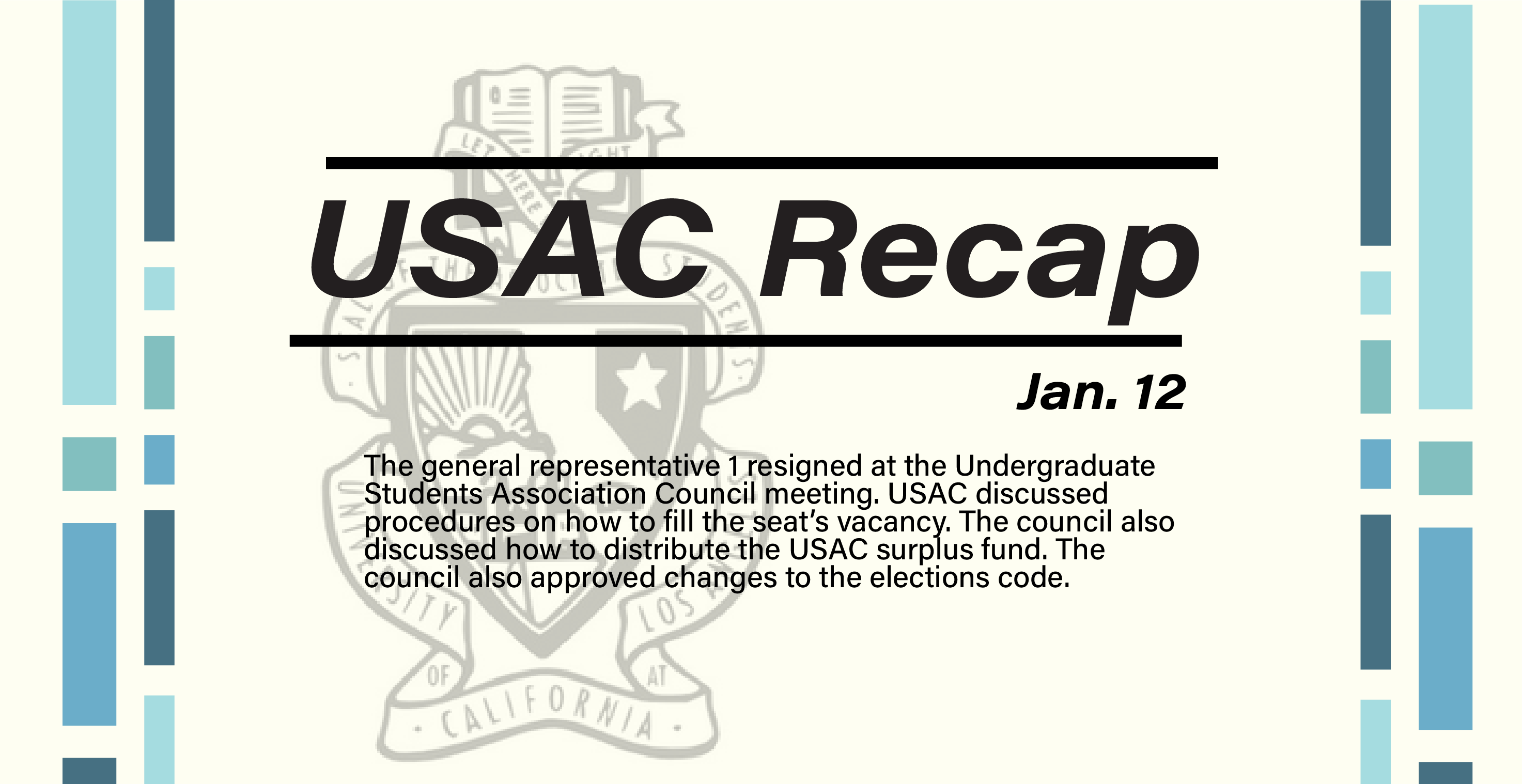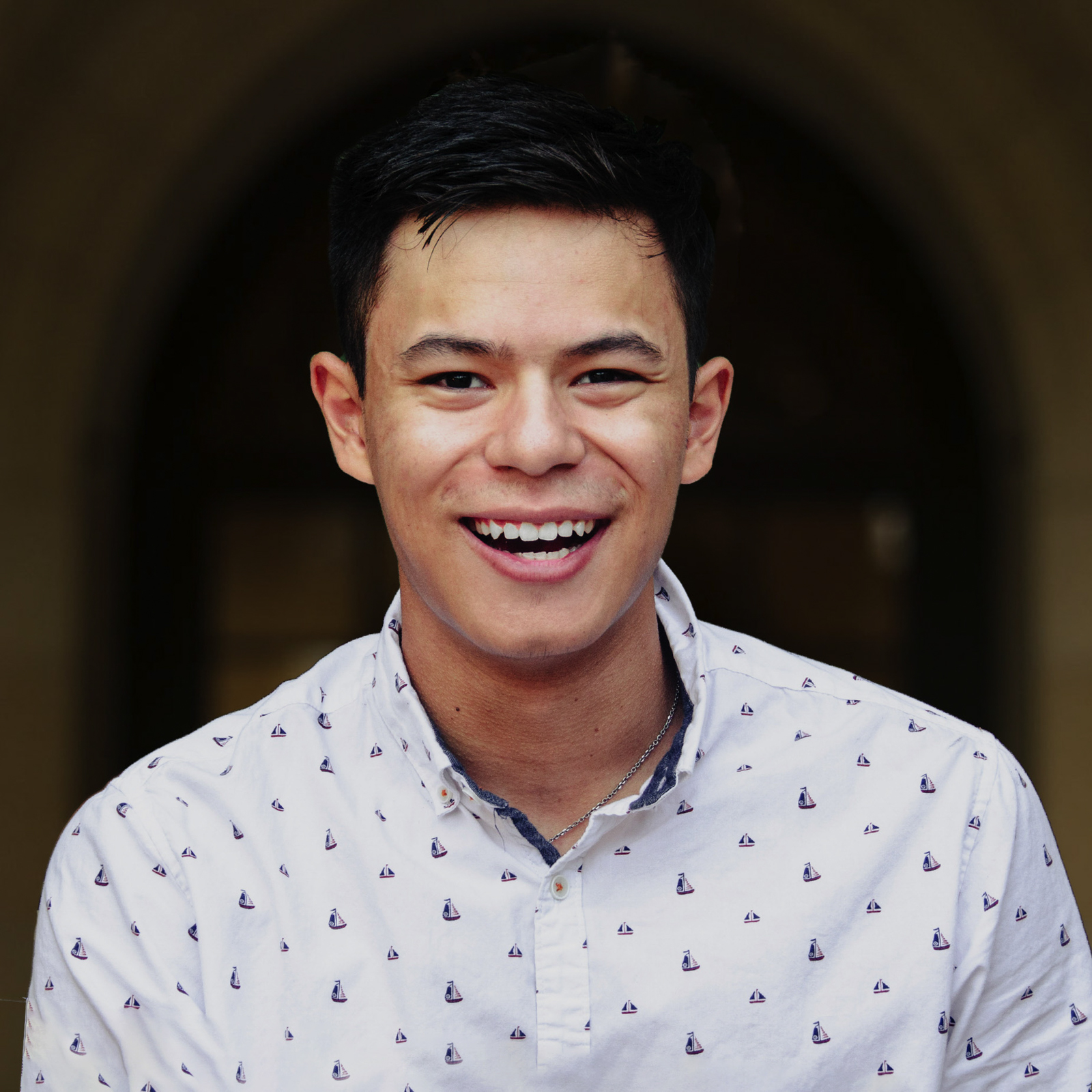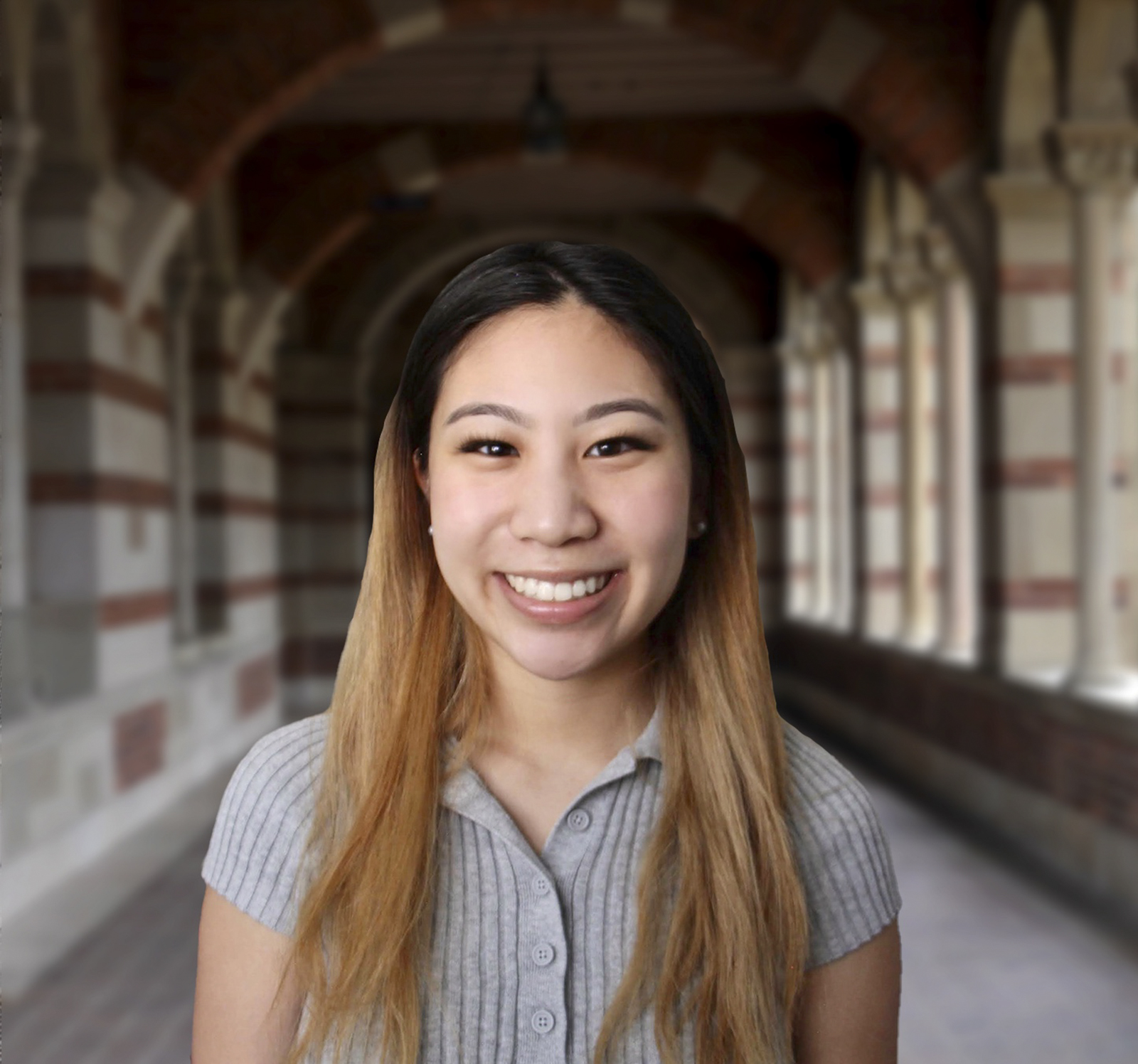 Correction: The original version of this article incorrectly stated Quinn Campbell is a history and psychobiology student. In fact, he is a music history and industry and psychology student.

This post was updated Jan. 16 at 5:52 p.m.
The general representative 1 resigned at the Undergraduate Students Association Council meeting. USAC discussed procedures on how to fill the seat's vacancy. The council also discussed how to distribute the USAC surplus fund. The council also approved changes to the elections code.
Public Comment:
Hannah Regan, the Office Space Allocation Committee chair, said the committee wants to postpone allocating spaces in Kerckhoff Hall to the 2021-2022 school year because Kerckhoff remains closed and because it wants to keep students safe. She added that OSAC will focus on creating community development resources and establishing OSAC's online presence for the rest of the year.
Quinn Campbell, a second-year history and psychobiology student, asked USAC council members to return USAC's surplus budget to students directly.
Jong Hyeon Lee, the USAC general representative 1, resigned. He added that he will declare nonattendance at UCLA for spring quarter, which would make him ineligible for his elected position.
Special Presentations:
Sachi Cooper, the USAC Facilities commissioner, and Cheryl Ma, a member of The Green Initiative Fund undergraduate committee, introduced TGIF's Student Support Fund, which will fund students working on unpaid sustainability work at UCLA. Ma said TGIF, which is a committee that gives financial support to projects that promote sustainability on campus, needs a support fund because students working to improve sustainability deserve compensation. She added that she will release the applications for the fund's pilot program during week two.
Chathuri Gunasekera, Shanaya Sidhu, Mahika Nayak and Ozair Abid, co-founders of MannMukti at UCLA presented MannMukti, an organization that provides resources and raises awareness about mental health issues in South Asian culture. They asked council members to help advertise their resources and ensure representation for South Asians in campuswide committees. Aidan Arasasingham, the external vice president, said the EVP Bruin Advocacy Grant can provide MannMukti funding. Breeze Velazquez, Academic Affairs commissioner, said the Academic Success Referendum Fund and Travel Grant Mini Fund from her office allow MannMakti to apply for academic programming funding.
Roy Champawat, the Associated Students UCLA Student Union director, said the final surplus amount for the 2020-2021 year can't be calculated until the end of the year. He said $150,000 of the surplus fund is currently available to USAC and added that another unknown amount of money will be available later in the year. The council will also receive about $25,000 from the Payroll Protection Program grant the federal government gave to ASUCLA, Champawat added. Students who are asking the council to distribute surplus funding back to students should consider the fact that USAC inherits a certain amount of surplus funds and leaves one behind every year, Champawat said. Justin Rodriguez, general representative 2, said each student would only receive a few dollars if the council gave the surplus fund back to students. He said a more practical approach would be to create programs that would fund students' basic needs, such as rent, textbooks and food.
Allocation:
The council allocated $427.23 to the Bangali Student Association, an organization that educates students about Bangali culture, language and history.
The council allocated $321.40 to the Biochemistry Association for Student Enrichment.
The council allocated $554.57 Resonance A Cappella, an a cappella group at UCLA.
The council allocated $1,247.51 to the Vietanemese Student Union.
The council allocated $194 to Cadenza A Cappella, a female a cappella group.
Agenda
The council approved changes to the TGIF funding guidelines to establish continuous student positions that support outreach and publicity.
President Naomi Riley said she will nominate a candidate to fill the vacant general representative 1 position within 21 days, which is required by the USAC constitution. The candidate will then be brought to council and will receive a formal interview, she said.
The council approved changes to the election code that standardized wordings in the election code, classified violations of fairness as a sanctionable offense and created a transition director position on the board to help plan future elections.
Appointment
The council appointed Angus Wu, a second-year computational and systems biology and microbiology, immunology and molecular genetics student, to the Student Conduct Committee. Wu said that he will bring restorative justice and a new perspective to the Student Conduct Committee as a South Campus student and LGBTQ+ person.
The council appointed Bianca Dominique Barcelo, a third-year psychobiology student, to the Office Space Allocation Committee. Barcelo said she plans to allocate resources in an equitable way and create community among UCLA students.
The council appointed Neha Kulkarni, a first-year microbiology, immunology and molecular genetics student, to the Office Space Allocation Committee. Kulkarni said she will facilitate relationships with student organizations while maintaining public health guidelines.
The council appointed Jacob Keer, a first-year economics and pre-public affairs student, to the Office Space Allocation Committee. Keer said he wants to provide a safe space and be a voice that represents every student on campus.
Reports:
Riley said her office met with the Public Health Compliance Working Group to talk about the rollout of the COVID-19 vaccine at UCLA, rising COVID-19 cases and student compliance with symptom monitoring surveys. Vice Chancellor Monroe Gorden is also working with Student Affairs and the Department of Education to create a memorable graduation commencement online, she said.
Internal Vice President Emily Luong said her office will release a student worker guide and a housing relief guide. Luong added that her office will also release an advocacy resource guide for student organizations. She also said that the UC Police Department will discuss the Public Safety Ambassadors program at the Campus Safety Alliance meeting Thursday at 4 p.m.
Arasasingham said his office met with University of California President Michael Drake to discuss the University's plan for vaccine distribution, the federal stimulus package and the UC Campus Safety Symposium. He added that he will continue to push for key programs, such as digital equity and emergency financial aid in Gov. Gavin Newsom's budget proposal.
Rodriguez said in a written statement that his office plans to release an updated version of the Student Worker Resource Guide within two weeks. He added that Buy Your Values UCLA, a campus movement supporting worker democracy and ethical values at UCLA's bookstore, will host its first meeting to plan its winter advocacy program next week.
Cooper said in a written statement that her office is accepting clothing donations for an online Bruin Bazaar clothing swap on social media. She added that the UCLA Committee on Disability hosted a MetaMap presentation to the committee to fund an accessible interactive map on UCLA's mapping interface.
Transfer Representative Zuleika Bravo said that CalFresh, a federal supplemental nutrition assistance program, is currently accepting students in need and has extended its waiver of the interview requirement to February. She added that her office has been researching transfer-specific bills and policies for Transfer Lobby Day, and students can contact her office to get involved.
Student Wellness Commissioner Christina Read said in a written statement that Sexperts, an organization that aims to increase sexual health awareness and education, released a podcast that is now available every Tuesday on Spotify.
Velazquez said the Books for Bruins application closed Wednesday at 5 p.m. She added that her office is planning a program in which students could exchange textbooks with each other.
Cultural Affairs Commissioner Promise Ogunleye said her office hosted a mental health talk and that hip-hop appreciation month will occur in February.
The Undergraduate Students Association Council is the official student government representing the undergraduate student body at UCLA. Council meetings take place every other Tuesday at 7 p.m. during winter quarter and are open to all students. Winter quarter meetings will take place virtually on Zoom; links for the meetings can be found on the internal vice president's Facebook page. Watch a livestream of the meetings on the USAC Live! channel on YouTube.