Some criticize city budget's adequacy, lack of transparency during NWWNC town hall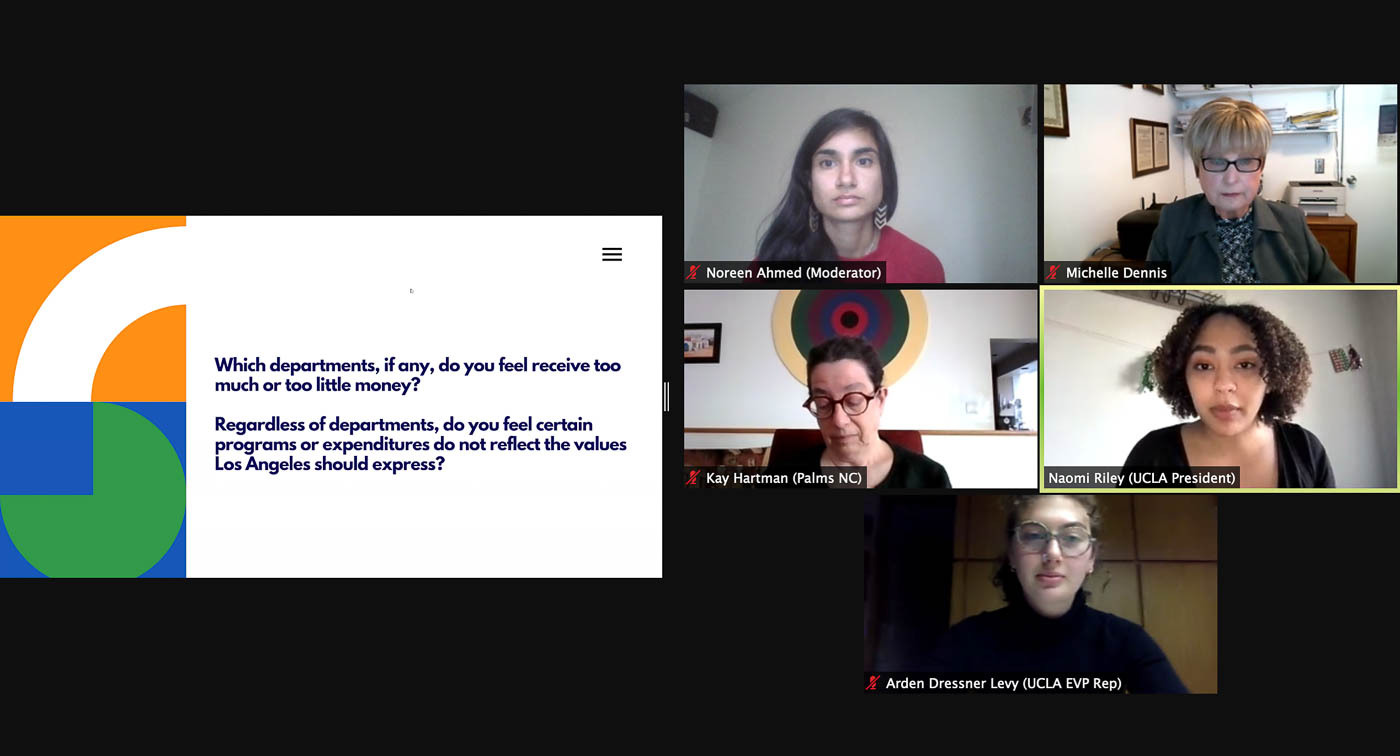 Members of local neighborhood councils hosted a town hall Saturday in an effort to increase resident participation in LA city's budgeting process. (Screen capture by Sakshi Joglekar/Daily Bruin staff)
A local neighborhood council held a budget town hall Saturday to discuss the city of Los Angeles' budget and encourage LA residents to get involved in the city's budgeting process.
Some members of the North Westwood Neighborhood Council at the budget town hall said Mayor Eric Garcetti's proposed budget did not adequately represent the needs of the people.
Andrew Lewis, a NWWNC councilmember, said LA's budget was not transparent enough, adding that most Angelenos do not know how the process works.
During the town hall Jacob Wexler, a city administrative officer of finance, said public comments to the city council and the mayor can help bring in public opinion, but many of the panelists and council members said this was not nearly enough.
Michelle Dennis, a public affairs lecturer, said in the budget town hall that citizens should be aware of and take an active role in city budget decisions for any significant change to be made.
"Transparency cannot occur unless those who are looking know what they're looking at, … it's incumbent on the city, in my opinion, to provide expertise and training to the neighborhood association members," she said.
Attendees also discussed the People's Budget LA, a proposed LA city budget made by Black Lives Matter activists and other community organizations during the summer, which calls on Garcetti and the LA City Council to divest from the police and instead focus on public housing and health care. LA's budget allots the majority of its $5.4 billion in unappropriated revenue to law enforcement.
[Related link: Neighborhood councils across LA endorse cuts to LAPD's budget, including NWWNC]
The proposed People's Budget dedicates around a quarter of the city budget to "Reimagined Community Safety," an alternative program to policing that focuses on harm reduction and prevention. It also allocates only around 5% of its budget to law enforcement, which is one-tenth of the amount given to law enforcement in the 2021 LA budget.
Naomi Riley, the Undergraduate Students Association Council president and a fourth-year political science student, said the current LA budget does not reflect the values of the people of LA, adding that she supports the People's Budget.
Dennis said neighborhood associations are an important but underutilized mechanism, and suggested they should be given more money to give them more freedom to make local choices, instead of delegating important decisions to the city.
Lewis said that the best way to combat a lack of transparency is by getting involved in one's local neighborhood community. Local neighborhood councils have budget committees, which send a budget advocate directly to the city government, Lewis said. This gives local representatives a more direct line of communication to the city, he said.
"The local neighborhood councils are relatively new on the spectrum of LA history, … they were created in the '80s as a city charter amendment," Lewis said. "If more folks got involved in their neighborhoods, with their neighborhood council, it would definitely start to pull back the curtain on a lot of these … secretive and complex processes of the city."