Women's basketball players defeat Utah, supporting each other through challenges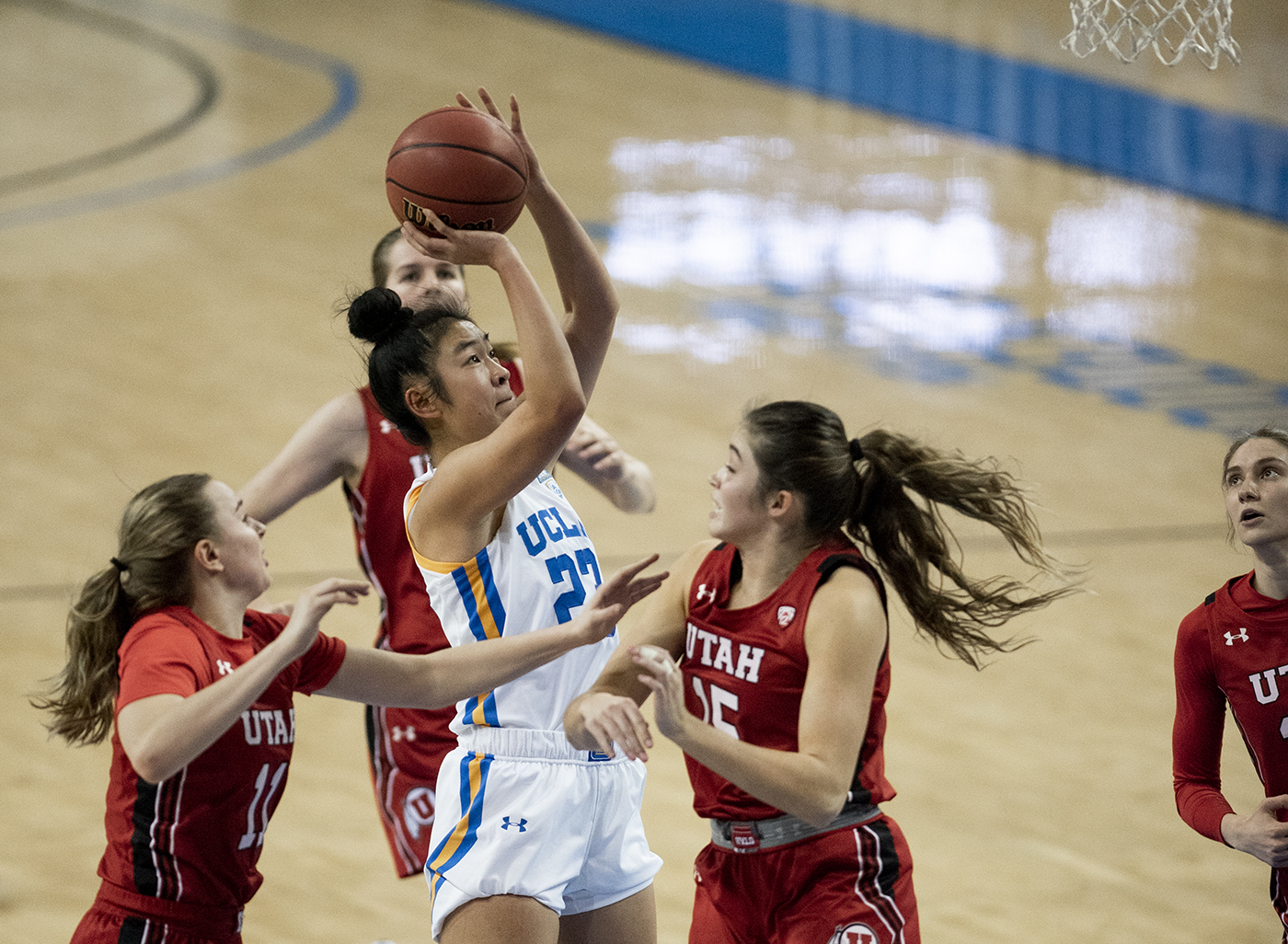 Redshirt senior guard Natalie Chou scored a career-high 28 points in UCLA women's basketball's victory against Utah. Chou also had career highs in made field goals and made 3-pointers, with 11 and five, respectively. (Jason Zhu/Daily Bruin staff)
Despite not having enough players for their game earlier this week, the Bruins made up for lost time in their victory Sunday afternoon.
Scoring 36 points and hitting eight 3-pointers in the first quarter alone, No. 9 UCLA women's basketball (7-2, 5-2 Pac-12) defeated Utah (3-7, 2-7) 92-67 at Pauley Pavilion. With redshirt junior guards Lindsey Corsaro and Chantel Horvat sidelined, the Bruins were right at the seven scholarship player minimum for the contest.
Redshirt senior guard Natalie Chou delivered a career performance against the Utes, as she scored a career-high 28 points. Shooting 11-of-14 from the field and 5-of-7 from the 3-point range, Chou was the leading scorer for UCLA after scoring only 2 points in the previous game against Oregon.
Chou said she attributed her high-scoring performance to her trust in finding the right looks and her teammates' ability to properly feed her the basketball.
"Coach (Cori) Close said if we get a good look, we have the green light," Chou said. "I definitely tried to stay aggressive on that end. My teammates found me, and I am really grateful for that."
Sophomore guard Charisma Osborne – who was the team's second-leading scorer with 22 points – said it was exciting to see Chou's aggressive performances in practice translate over to the game.
Osborne added she – along with senior forwards Michaela Onyenwere and Lauryn Miller and sophomore guard Camryn Brown – reached out to Chou to help her play like she does in practice.
"It was really cool to see her play freely," Osborne said. "Me, Michaela, Lauryn and Cam actually had a talk with her about her just playing freely. She is killing us in practice, and sometimes we feel that she is hesitant in the games."
Dominique Darius, a 2021 recruiting class recruit who enrolled early at UCLA, played 20 minutes for the Bruins in her second collegiate outing. She scored 8 points, including a buzzer-beating 3-pointer at the end of the first quarter.
"(Darius) has only been here for two or three weeks, and to come out here and do what she's been doing has been amazing," Osborne said. "All of us are so proud of her, and she has definitely been a great addition, especially because we don't have many players."
The Bruins shot 57% from the field and 52% from the 3-point line. Close said that she is proud of her team for creating easier shots for each other.
However, just like her players, Close said she has also dealt with challenges as a leader, especially this past week with having only four players available to practice at times because of injuries. Despite these challenges, she said she remains focused on building the team's mental toughness to persevere through circumstances like these.
"It's such a fine line for me as a leader right now," Close said. "I really feel for all that they are having to work through, and at the same time, I want to focus on what they can do anyway. They are not as tired as they think they are."
Coming off a week that handed the team many challenges, Close said this coming week is going to come down to "toughness, togetherness and focus."
UCLA is scheduled to take on Washington State in its next game at 11 a.m. on Sunday after its Friday matchup with Washington was postponed because of COVID-19 impacts within the Washington program.