UCLA women's basketball to play Utah in 1st home game of new year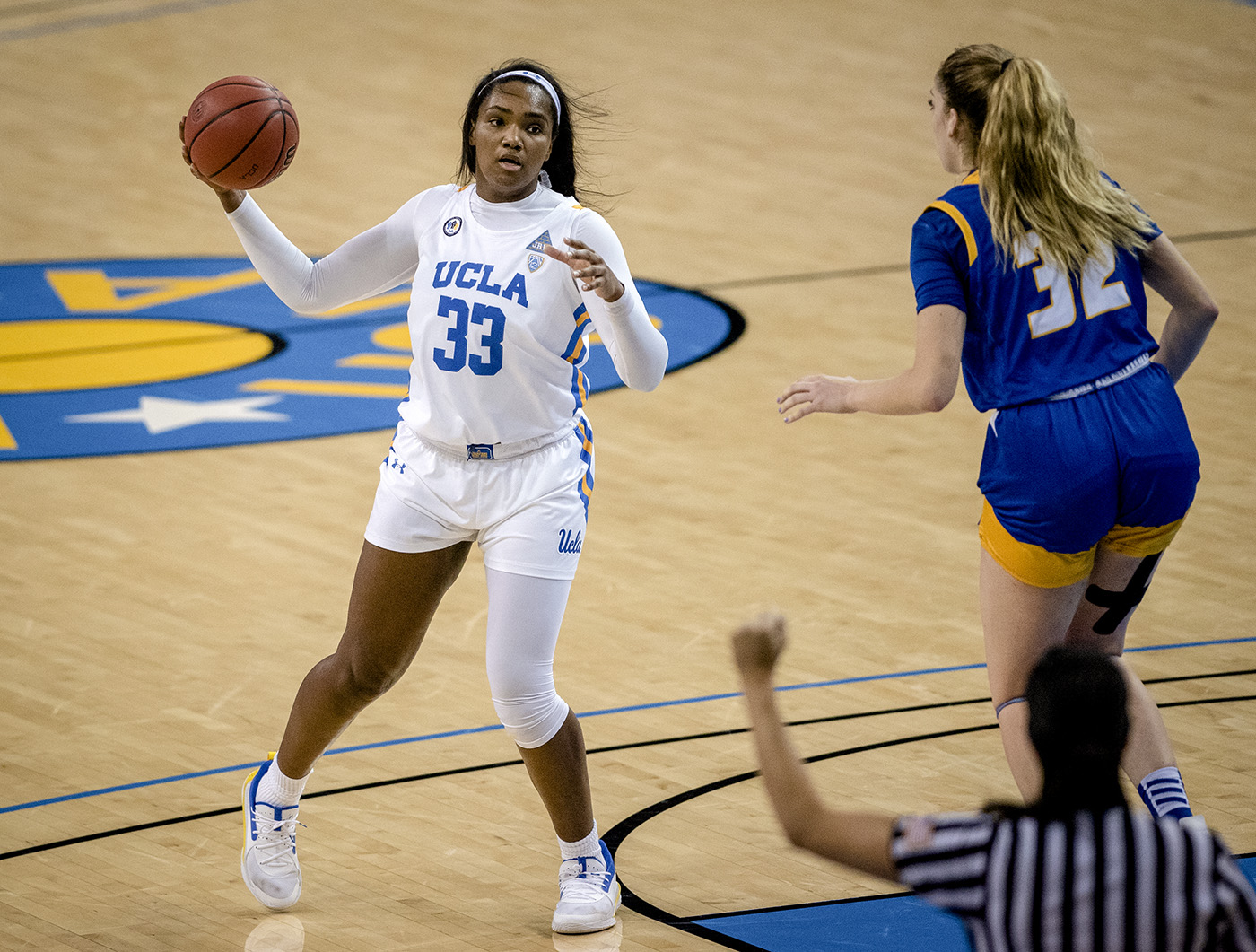 Senior forward Lauryn Miller made the game-winning defensive stop in UCLA women's basketball's victory a week ago. For the season, Miller is averaging 7.9 points per game to go along with 5.3 rebounds per game. (Anika Chakrabarti/Daily Bruin staff)
Women's Basketball
---
Utah
Sunday, 1 p.m.
Pauley Pavilion
Pac-12 Networks
While the calendar has flipped to a new year, the unorthodox nature of the Bruins' season has continued.
No. 9 UCLA women's basketball (6-2, 4-2 Pac-12) is scheduled to host Utah (3-6, 2-6) on Sunday for its first home game of 2021. UCLA was also scheduled to host Colorado on Friday, but the game was postponed because of injury concerns within the Bruin program.
Two out of the three scheduled games in the new year have now been postponed, and "further evaluation from medical personnel" will determine whether Sunday's matchup will have the same fate, according to UCLA Athletics.
The game that was played as scheduled resulted in a road victory over then-No. 8 Oregon earlier this week – the first victory against a top-10 opponent for UCLA this season. Senior forward Michaela Onyenwere and sophomore guard Charisma Osborne accounted for 55 of the team's 73 points in the game, while the rest of the team combined to shoot 7-of-25 from the field.
Coach Cori Close said the unbalanced scoring effort didn't bother her and instead emphasized how important it is for her players to execute their roles even when shots are not falling.
"There's moments in the game where we need to get a quality scoring touch for (Onyenwere and Osborne), but for the entirety of a whole game, I don't really care (who scores)," Close said. "You always have to ask yourself, 'What does the team need from me right now?' It's a matter of everyone understanding that and willing to execute that no matter what the answer to that is."
Senior forward Lauryn Miller – who sealed the victory with a defensive play at the end of the game – emphasized that the team has to remain focused after a big win.
"Emotionally, it's about, yes, celebrating what we did but not letting it take us super high (and) being able to keep a balance there because there's so much more we want," Miller said. "Obviously we're going to see them again, we're going to see Stanford again, Arizona again. We want to be ready for those games and not let Sunday be the end-all, be-all."
UCLA has won its last 16 matchups against Utah, with its last loss coming back in 2001. The most recent matchup resulted in a 23-point victory for the Bruins in their last game of the 2019-20 regular season. However, Close acknowledged the Bruins will have their work cut out for them against an improved Utes team.
"I think this is their most talented team since I've been coaching here," Close said. "They're just a few possessions away from clicking and getting their confidence back. It goes back to relying on our systematic approach and preparation so that really doesn't become a factor, but they really are a sleeping giant."
Guard Brynna Maxwell leads the Utes with 14.7 points per game, while guard Dru Gylten ties for first in the Pac-12 with 5.0 assists per game. The team's scoring output steadily increased in four straight games, starting with scoring 48 points in its Dec. 18 loss to Arizona State before scoring 84 points three games later in its most recent win against Washington on Sunday. On Friday, the team lost to USC by one point while scoring 59 points.
Redshirt senior guard Natalie Chou reiterated the importance of continuing to maintain intensity and confidence, regardless of prior wins and losses.
"Even without fans, the atmosphere (against Oregon) was really intense, … but we prepared and went into the game expecting to win," Chou said. "Right now for our team, it's about fighting for the inches. Those little small details that we can improve on to keep getting better and keep growing."
Aside from experiencing the adversity concerning the COVID-19 pandemic and other injury-related issues, the Bruins joined the rest of the sports world in reacting to Wednesday's events at the nation's capital, as well as to reports Tuesday that Kenosha, Wisconsin, police officers wouldn't face charges in the shooting of Jacob Blake.
"Basketball's not that important compared to the turmoil our country's going through," Miller said. "I want to use my platform to help empower and encourage the Black youth, help them realize and actualize all their potential outside of sports and music and other things that society wants to put on them."
Close also noted how events in the past year have shown how important it is for her and the program to support the players in this regard.
"That's really the mission of our program: to be an elite basketball program that teaches mentors and equips young women for life, even beyond UCLA," Close said. "Honestly, that's the core of our mission."
Moon is currently a contributor on the women's tennis beat.
Moon is currently a contributor on the women's tennis beat.