USAC recap – Jan. 5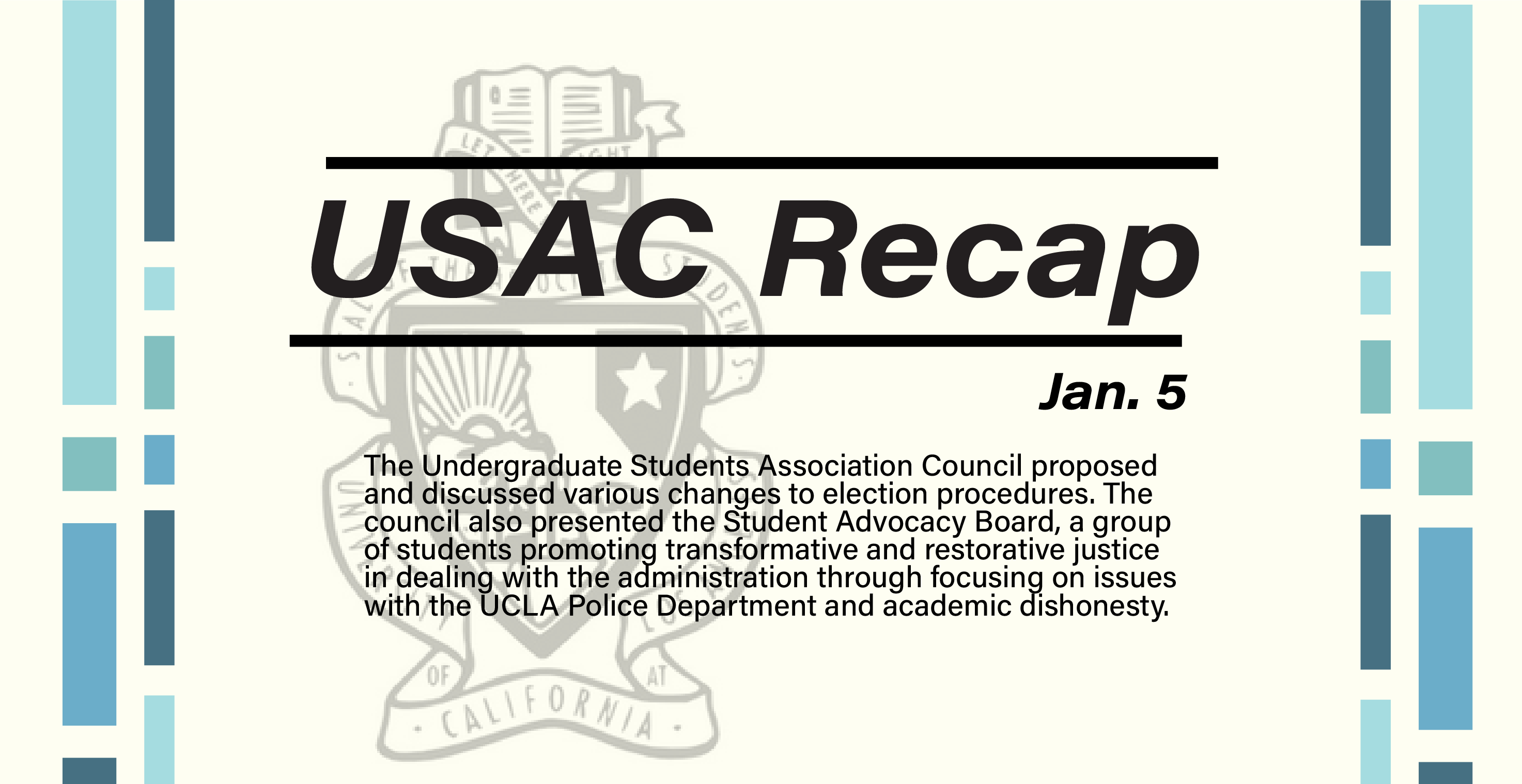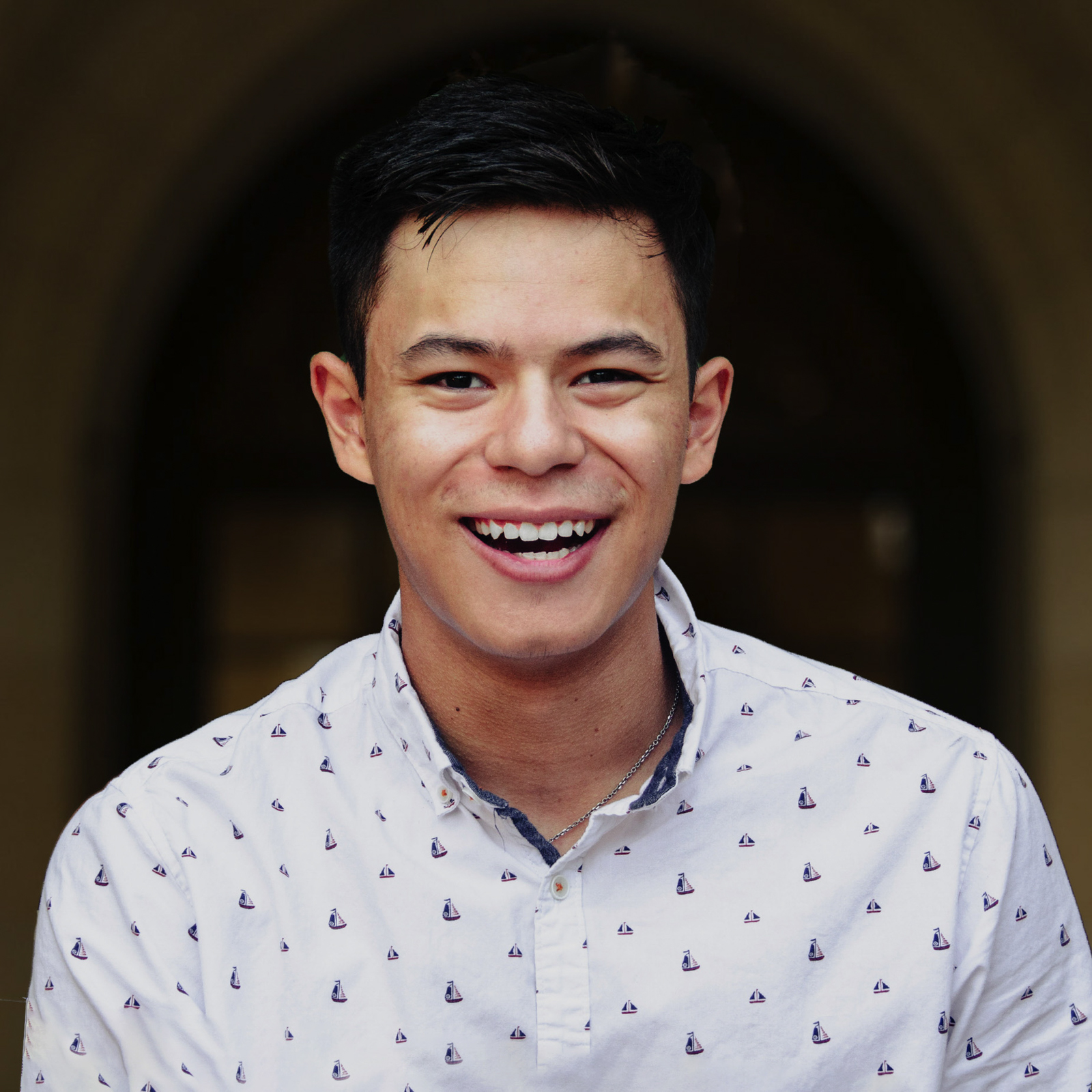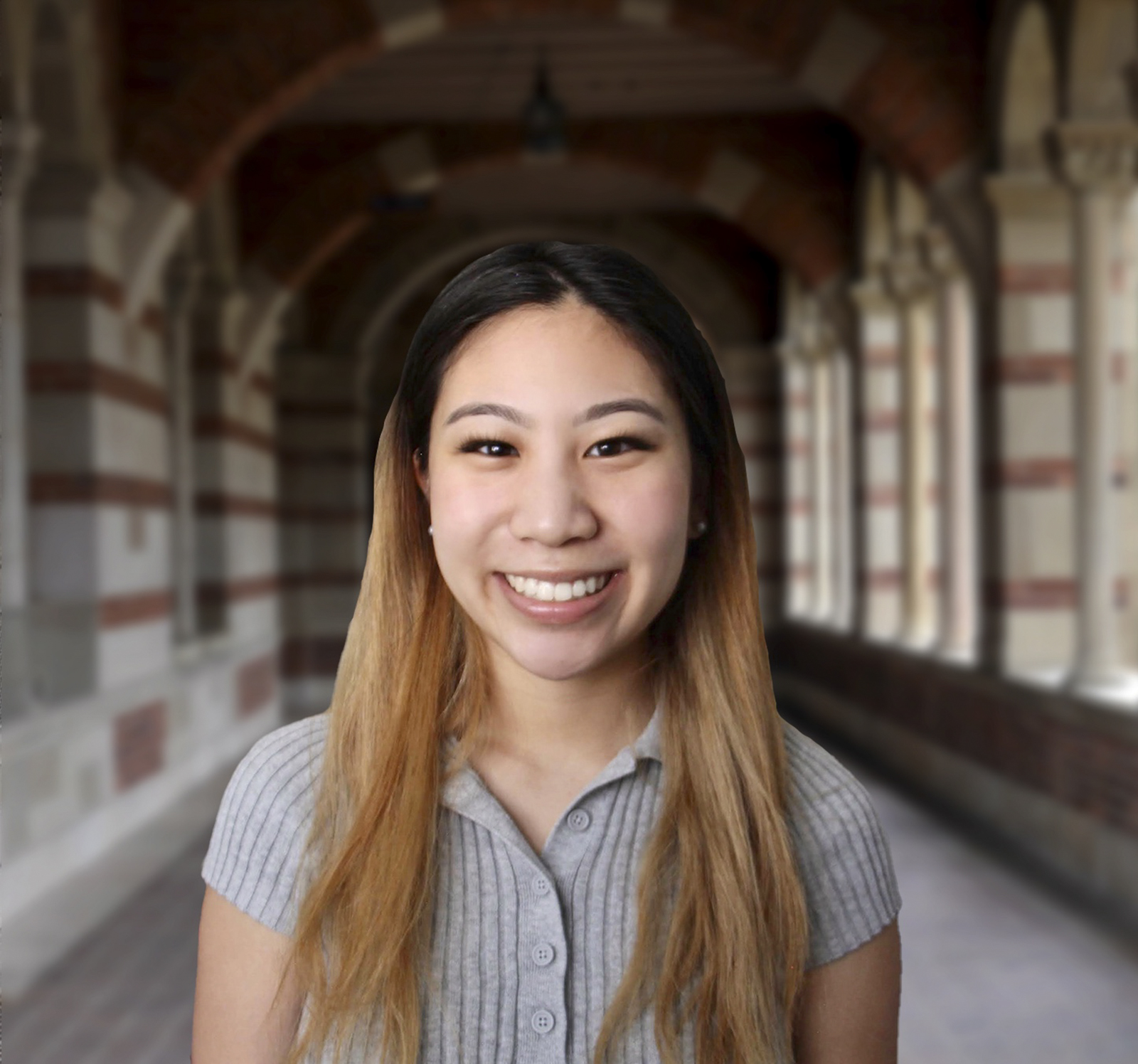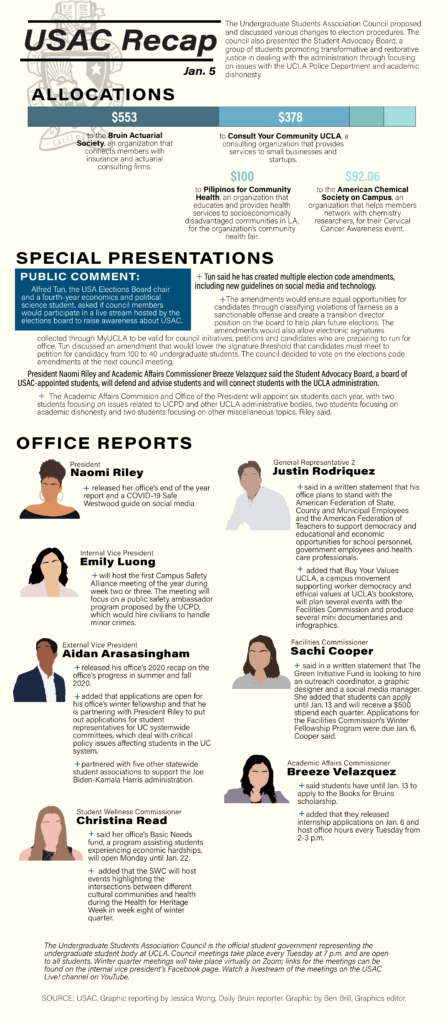 The Undergraduate Students Association Council proposed and discussed various changes to election procedures. The council also presented the Student Advocacy Board, a group of students promoting transformative and restorative justice in dealing with the administration through focusing on issues with the UCLA Police Department and academic dishonesty.
Public Comment:
Alfred Tun, the USA Elections Board chair and a fourth-year economics and political science student, asked if council members would participate in a live stream hosted by the elections board to raise awareness about USAC.
Special Presentations:
Tun said that he has created multiple election code amendments to include new guidelines on social media and technology. The amendments would ensure equal opportunities for candidates through classifying violations of fairness as a sanctionable offense and create a transition director position on the board to help plan future elections. The amendments would also allow electronic signatures collected through MyUCLA to be valid for council initiatives, petitions and candidates who are preparing to run for office. Tun discussed an amendment that would lower the signature threshold that candidates must meet to petition for candidacy from 100 to 40 undergraduate students. The council decided to vote on the elections code amendments at the next council meeting.
President Naomi Riley and Academic Affairs Commissioner Breeze Velazquez said the Student Advocacy Board, a board of USAC-appointed students, will defend and advise students and will connect students with the UCLA administration. The Academic Affairs Commision and Office of the President will appoint six students each year, with two students focusing on issues related to UCPD and other UCLA administrative bodies, two students focusing on academic dishonesty and two students focusing on other miscellaneous topics, Riley said.
Allocation:
The council allocated $100 to Pilipinos for Community Health, an organization that educates and provides health services to socioeconomically disadvantaged communities in LA, for the organization's community health fair.
The council allocated $553 to the Bruin Actuarial Society, an organization that connects members with insurance and actuarial consulting firms.
The council allocated $92.06 to the American Chemical Society on Campus, an organization that helps members network with chemistry researchers, for their Cervical Cancer Awareness event.
The council allocated $378 to Consult Your Community UCLA, a consulting organization that provides services to small businesses and startups.
Reports:
President Riley said her office has released their end of the year report and a COVID-19 Safe Westwood guide on social media.
Internal Vice President Emily Luong said her office will host the first Campus Safety Alliance meeting of the year during week two or three. The meeting will focus on a public safety ambassador program proposed by the UCPD, which would hire civilians to handle minor crimes.
External Vice President Aidan Arasasingham said his office released their 2020 recap on the office's progress in summer and fall 2020. He added that applications are open for his office's winter fellowship and that he is partnering with President Riley to put out applications for student representatives for UC systemwide committees, which deal with critical policy issues affecting students in the UC system. He also said his office partnered with five other statewide student associations to support the Joe Biden-Kamala Harris administration.
General Representative 2 Justin Rodriguez said in a written statement that his office plans to stand with the American Federation of State, County and Municipal Employees and the American Federation of Teachers to support democracy and educational and economic opportunities for school personnel, government employees and health care professionals. He added that Buy Your Values UCLA, a campus movement supporting worker democracy and ethical values at UCLA's bookstore, will plan several events with the Facilities Commission and produce several mini documentaries and infographics.
Facilities Commissioner Sachi Cooper said in a written statement that The Green Initiative Fund is looking to hire an outreach coordinator, a graphic designer and a social media manager. She added that students can apply until Jan. 13 and will receive a $500 stipend each quarter. Applications for the Facilities Commission's Winter Fellowship Program were due Jan. 6, Cooper said.
Student Wellness Commissioner Christina Read said her office's Basic Needs fund, a program assisting students experiencing economic hardships, will open Monday until Jan. 22. She added that the SWC will host events highlighting the intersections between different cultural communities and health during the Health for Heritage Week in week eight of winter quarter.
Velazquez said students have until Jan. 13 to apply to the Books for Bruins scholarship. She added that they released internship applications on Jan. 6 and host office hours every Tuesday from 2-3 p.m.
Cultural Affairs Commissioner Promise Ogunleye said the deadline to apply to her office's internship is Jan. 23. She added that Hip Hop Explosion, an annual event celebrating Black History Month with hip hop, is scheduled to occur this quarter.
The Undergraduate Students Association Council is the official student government representing the undergraduate student body at UCLA. Council meetings take place every other Tuesday at 7 p.m. during winter quarter and are open to all students. Winter quarter meetings will take place virtually on Zoom; links for the meetings can be found on the internal vice president's Facebook page. Watch a livestream of the meetings on the USAC Live! channel on YouTube.