Editorial: Riots at US Capitol inexcusably threaten the democracy that defines America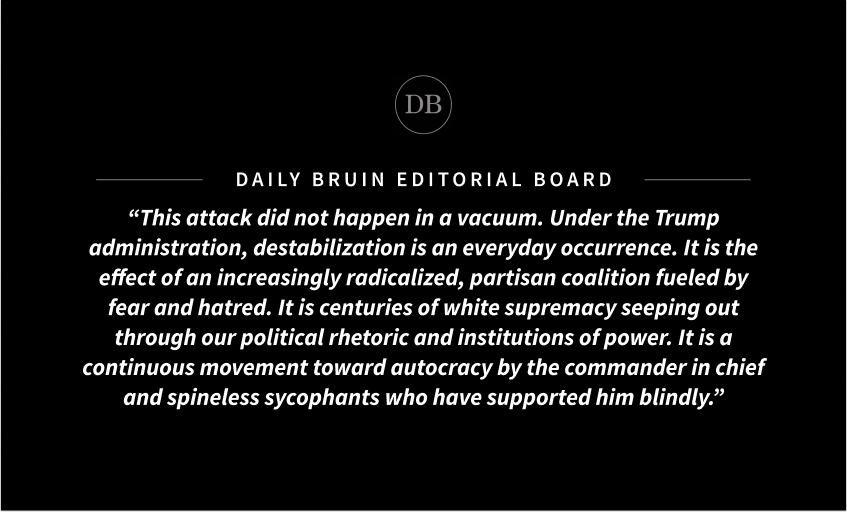 The fate of democracy in the United States falls well outside the bounds of our normal coverage.
But these aren't normal times.
The editorial board writes today in response to an egregious assault on the country's foundations and its future livelihood.
An armed pro-President Donald Trump mob stormed the U.S. Capitol on Wednesday morning in an attempt to stop Congress from certifying President-elect Joe Biden's Electoral College victory. At least five people died during the siege. The rioters demanded that Congress "stop the steal," an allusion to the baseless conspiracy that voter fraud cost President Trump reelection – a theory the president and his allies continued to push even as the Capitol was under siege.
This board recognizes that it is wildly unlikely to influence the massive problems on display in Washington, D.C. We are almost certainly repeating denunciations already circulating in major news outlets and on social media.
But the desecration of our most sacred national values warrants saying something, no matter how insignificant your words or ours may feel. To stay silent is to normalize these intolerable actions.
The U.S. Capitol was last breached by British forces in 1814, and not even during the Civil War did a Confederate flag enter its premises until today. Today's catastrophic event is beyond D.C. politics and speaks to a rampant trend of close-minded nationalism.
Democracy relies on parsing through the marketplace of ideas, but today's attack is a reminder that democracy can quickly destabilize when left unattended. It does so even faster when the person in charge actively provokes their most devout followers to attack.
This attack did not happen in a vacuum. Under the Trump administration, destabilization is an everyday occurrence. It is the effect of an increasingly radicalized, partisan coalition fueled by fear and hatred. It is centuries of white supremacy seeping out through our political rhetoric and institutions of power. It is a continuous movement toward autocracy by the commander in chief and spineless sycophants who have supported him blindly.
One need only look back a few months to see the atrocious hypocrisy of white supremacy in action. When Black Lives Matter supporters protested peacefully in Lafayette Square in June 2020, they were tear-gassed by police for impeding a callous photo opportunity. When armed white militants drove Congress into a shelter-in-place order, they kicked back with their feet up on Speaker of the House Nancy Pelosi's desk.
What happened Wednesday is bigger than Trump. Any politician who has yet to denounce this behavior is not just blindly partisan – they are inherently un-American. Senators like recently ousted Sen. Kelly Loeffler, who decided against challenging the election results only after today's attack, are no exception. It should not take violence and casualties to persuade elected officials to uphold their constitutional duty.
Surely, the president could not have been elected without exploiting the deepest divisions in the fabric of our nation. Today, however, he was almost successful in tearing that fabric completely.
Our democratic institutions are battered but still standing. We are entering a new year with a new president who will look optimistically to the country's future and a one-day-old Congressional majority that will back his vision.
But the factors which culminated in the anti-democratic atrocities we witnessed today will not disappear on Inauguration Day, and we must remain vigilant about preserving the integrity of our core institutions.
It is every American's civic duty to name and denounce hatred when we see it.
We see it.