Op-ed: School of Education must involve all students in training on race and racism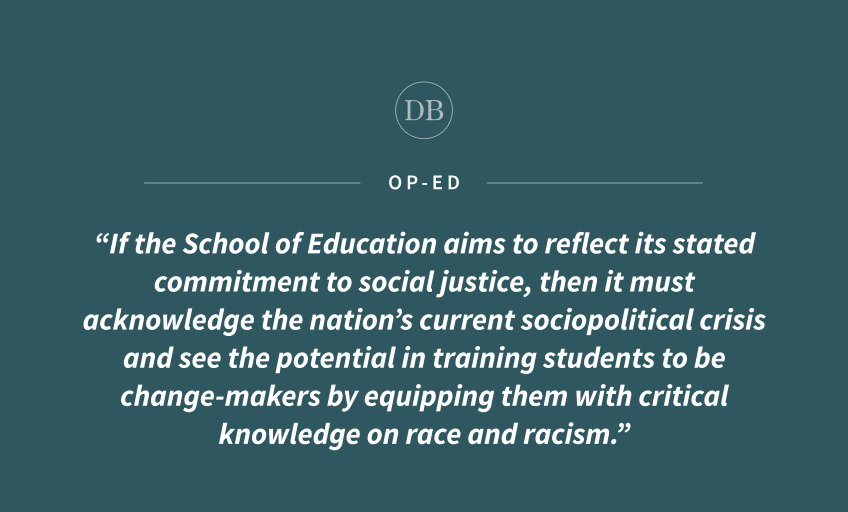 Dec. 7, 2020, marked the last synchronous class meeting for Tyrone Howard's Education 275: "Race and Education" class, a graduate-level seminar in the Urban Schooling division of the UCLA Graduate School of Education and Information Studies. In the closing minutes of this class, as I listened to my peers reaffirm the need to combat racism in American society and the country's education system, it once again became painstakingly apparent to me that this class did not have any self-identifying white males present.
To some, this lack of engagement in a course on race may be more suggestive of the gender breakdown in the education department. And when I consider the gender breakdown of my three other education classes this term, the absence of white males in those courses would support this point, too.
However, I argue this lack of engagement is also reflective of the extent to which white allyship for communities of color is manifested in the academy. To quote American singer-songwriter Lizzo's song "Truth Hurts," I contend that this lack of representation and participation in difficult and uncomfortable racial discourse is indicative of the question "Why men great 'til they gotta be great?" Here, I would edit the lyric and assert white "men great 'til they gotta be great." Indeed, as critical race theory and interest convergence propose, white allies will only act when the cause benefits them and retract their support when their privilege is at stake. Therefore, enrolling in a course on race and racism in America could not only reveal their privilege but also create discomfort for white males, especially knowing Howard champions Black excellence and advocates for racial equity in the education system.
Despite recognizing that allyship is tricky when it comes to race, I cannot shake why it bothers me so much that there were no white males in Howard's Education 275 class. After being racially tokenized in undergraduate classes over and over again, I should have been content with being a member of a space where students of color were the majority. And to be clear, I initially was. For the first time since I graduated from my Native Hawaiian-serving secondary institution, my identity and experiences navigating an assimilationist and hegemonic western education system were validated. Yet, as we dissected Isabel Wilkerson's book "Caste: The Origins of our Discontents" and her assertion that America's caste system could be worse than the system created under Nazi Germany, I could not help but feel perturbed that more of America's privileged members were not present to hear the conclusions that students and Howard drew.
My concern over this missing population only magnified after the 2020 U.S. presidential election. In a class aimed at questioning the existence of racism in America, it did not go unnoticed that exit polls estimated more than half of the country's white voting population supported the re-election of a deeply xenophobic leader whose policies and practices threaten the well-being of communities of color. Ultimately, the combination of the election results and my observation of the absence of white males in Education 275 made Wilkerson's conclusion – which is that America's system can be dismantled by top-down change generated by a radical awakening of dominant caste members to the oppressive experiences of subordinate caste members – a utopian vision in my eyes.
How can this deconstruction occur when white males are not present in the spaces that could produce such an awakening?
Throughout the term, my second- and third-year peers from the School of Education's Social Research Methodology and the Human Development & Psychology programs shared their frustration with the lack of attention their professors gave to the racial impact on methods, research and development. Many students conveyed a desire for a required course on race and racism in their respective programs and divisions. I agree. If the School of Education aims to reflect its stated commitment to social justice, then it must acknowledge the nation's current sociopolitical crisis and see the potential in training students to be change-makers by equipping them with critical knowledge on race and racism. With such a requirement, perhaps more dominant caste members can indeed experience an awakening.
Before the class logged off Zoom for the last time this quarter, Howard repeated his mantra, "You are more than enough," which exemplifies his outlook on remembering that students are human beings first. To students of color conducting transformative research for your communities, I echo Howard's sentiment and say, "You are more than enough." To my white peers considering courses for the winter 2021 term and beyond, I say, "You are more than enough." But I urge you specifically to reflect on the privileges that helped you get where you are today. Take a class on race and racism. Or multiple classes for that matter, since there is so much to learn and a 10-week term is certainly not sufficient. Take a class with Howard. Read about America's caste system, anti-Blackness, critical race theory and racial microaggressions.
Be open to an awakening. And perhaps, you can truly be great.
Kawano is a Native Hawaiian graduate student of the UCLA Graduate School of Education and Information Studies in the Social Sciences and Comparative Education program.