11-year-old men's volleyball recruit relies on music, teammates amid health treatments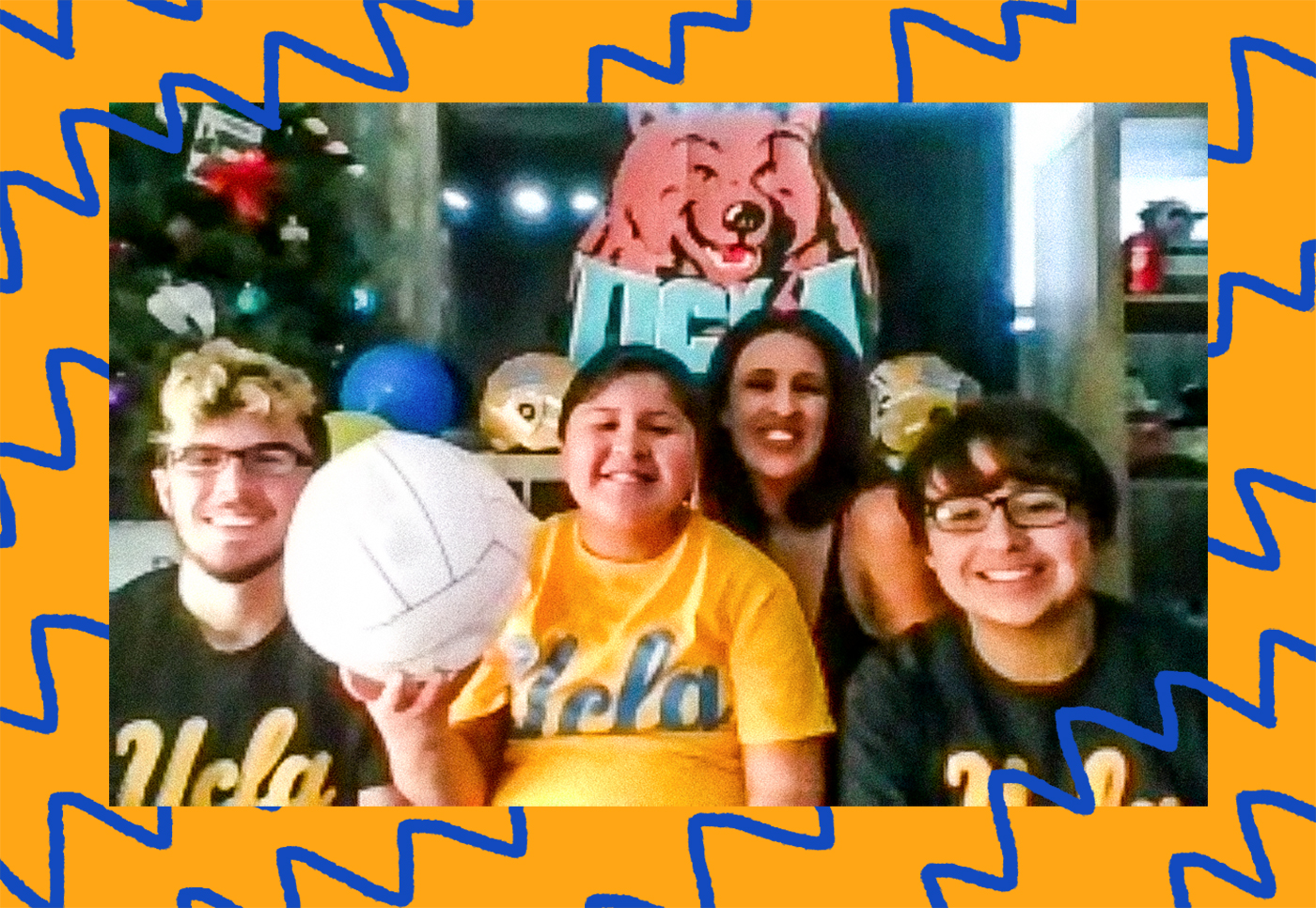 (From left to right) Grayson Quintero, Matthew Ignacio, Melina Quintero and Mikey Ignacio spend time together in their Pico Rivera, California, home. Eleven-year-old Matthew signed with UCLA men's volleyball in November through Team Impact, an organization that connects children with chronic illnesses with college teams. (Photo illustration by Jeremy Chen/Daily Bruin & Kanishka Mehra/Photo editor)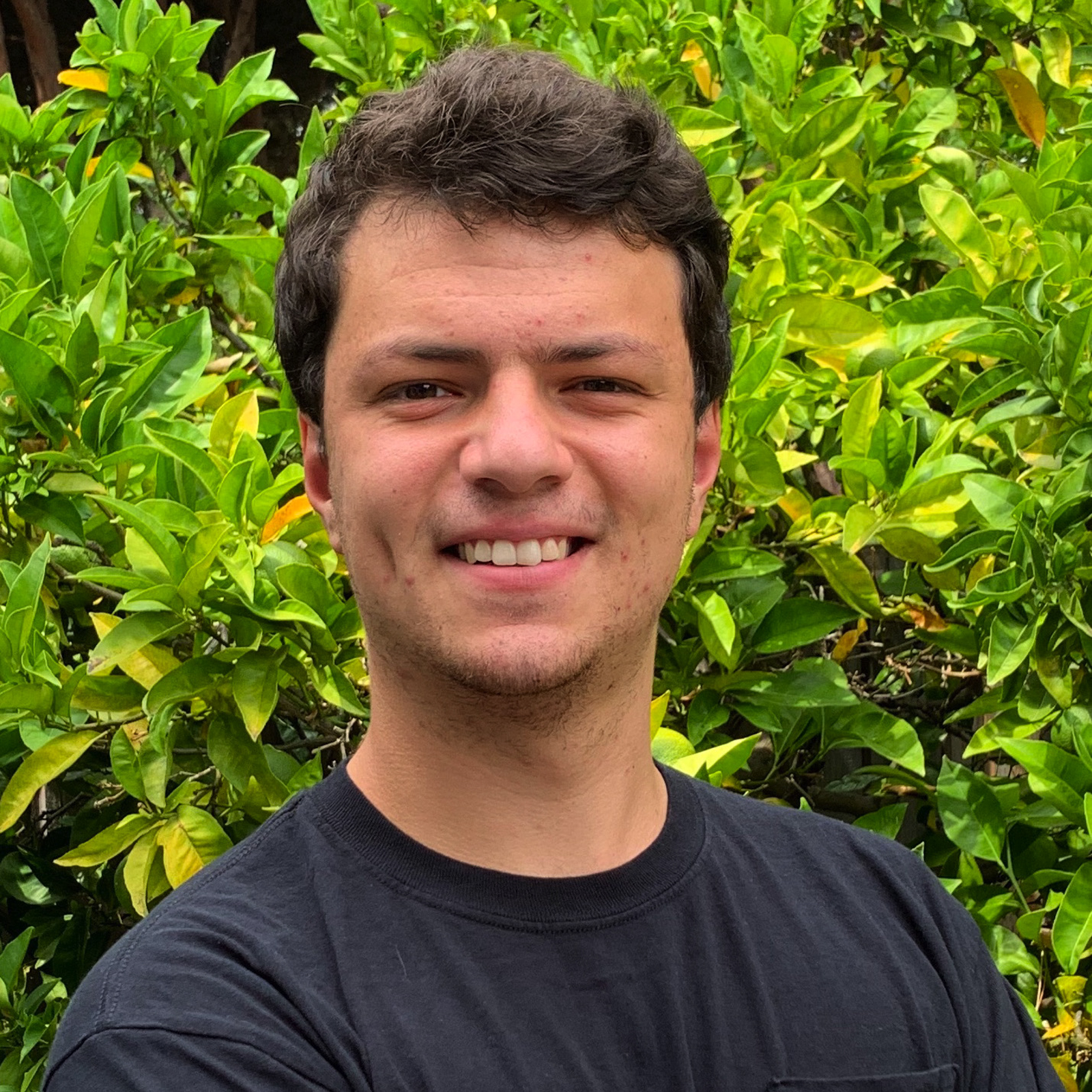 After signing a national letter of intent with UCLA men's volleyball on Nov. 11, Matthew Ignacio's teammates sent him a playlist of songs they listen to before games.
Matthew's mother Melina Quintero said the players may have tailored their song selections in an attempt to stay age-appropriate – they didn't know her preteen son listens to Biggie Smalls and 2Pac.
But the more one learns about Matthew, his unexpected music taste starts to make sense, because according to his mother, his attitude and resilience through medical challenges are anything but expected for somebody who has faced what he has.
Matthew is an 11-year-old from Pico Rivera, California – 20 miles from campus – who signed with the Bruins with the help of Team Impact, an organization working to build relationships between children with serious and chronic illnesses and collegiate athletics teams.
Welcome to the Bruin family, Matthew! 🐻🏐💙💛 https://t.co/BW9lx9tCyB

— UCLA M. Volleyball (@UCLAMVB) November 11, 2020
Matthew has also developed a recurring, rare type of brain tumor known as craniopharyngioma, which his mother said impacts the function of his pituitary gland, his gastrointestinal system and his adrenal gland. Melina said her son gets shots and takes more than 40 pills daily.
Despite the impact the treatment has on his daily life, Melina said Matthew takes the required care in stride.
"He is one of those positive, positive kids, and everybody (tells me) he's always smiling," Melina said. "He always sees everything in a positive way. He is never the type to not want to take his meds, I never have to fight about that. When he has to get MRIs, he thinks it's the coolest thing ever, and he gets them done about (every three to six months)."
Melina said one of Matthew's hospital stays after a surgery was supposed to be only three days, but extended to two months. She also said Matthew can pass out at any time, day or night, and she has to always carry a revival shot with her which needs to be administered within five minutes of his passing out.
But Melina said any fear on Matthew's end isn't expressed toward her, as her son often reassures his mother.
"(Matthew) sometimes calms me down," Melina said. "Because sometimes I see him and I get overwhelmed, and he'll be like, 'Mom, there is a reason why this is happening. God didn't make me like this just for a reason, he didn't make a mistake and there's a reason why I'm like this and it's OK.'"
Melina can rely on Matthew's two brothers – Grayson Quintero and Mikey Ignacio – to act as a support system for her son, but that doesn't mean the brothers always take it easy on him.
"(They) try to treat him like a normal kid even though they know everything wrong with him," Melina said. "(They) mess with him the way they would every other kid. (But when) this is serious, they will stop anything to see what he needs."
The trio of boys spend a lot of time together, from playing video games to playing volleyball in the pool at night, sometimes until as late as 2 or 3 in the morning, according to Melina.
While Matthew spends plenty of time with his brothers, he said he was happy to get a break from them when UCLA men's volleyball came calling, asking the 11-year-old to join the Bruins.
"I was happy to do it because I was glad that I can play games with them because (my brothers) annoy me a lot," Matthew said.
According to Melina, the opportunity for Matthew to sign a national letter of intent with UCLA was set up through their hospital, and the interest in bringing Matthew to the blue and gold was mutual.
Assistant coach Spencer McLachlin, who was tasked by coach John Speraw to find ways for the team to give back, said he was put in touch with Team Impact, which eventually set up Zoom meetings between Matthew and the team.
Since then, the team has played introductory bingo games and Among Us with Matthew over video calls, and Matthew has bonded over his interests in cars with redshirt sophomore outside hitter Ian Eschenberg, who McLachlin said fixed up a car during quarantine.
Matthew has also shared his particular interest in monkeys – he owns over 400 stuffed animals and every type of monkey, according to Melina – and said he hopes to study them in the future as a veterinarian.
As for his Among Us game, Matthew said the jury is still out on if he or his fellow Bruins have the edge.
"Most of them are new at (Among Us), so I don't really know (who is trying to trick me) yet," Matthew said. "(I haven't) fully worked out the mechanics yet."
While Matthew said it is really fun to do activities with the team, McLachlin said the team has also benefited from the relationship.
"It's mutually beneficial. He and his situation provide us with motivation and gratitude for what we have," McLachlin said. "And then we try to provide him with some inspiration – we're playing for him."
McLachlin said he hopes the playlist the team made, which includes songs players listen to before games, can support Matthew before any potential surgeries or hospital stays.
Matthew said he wanted to surprise the team with a playlist of his own, and after working on it with his family, came up with 12 songs for the team.
If he could select one song to play as he's introduced on the volleyball court, he said it would be "We Belong" by Dove Cameron.
When practices are open and games with spectators return, Matthew said he plans on watching drills and matches, and will use one of his monkey stuffed animals as motivation for the players, displaying an angry face with the monkey when his teammates mess up, and more mild faces as they improve.
Grayson and Melina said they hope Matthew's positive self-esteem, which they said was damaged as a result of the isolation of the pandemic, can be restored through this relationship with the Bruins.
"My biggest thing is for him, he's always been a very confident person," Melina said. "I just want (him) to get that self-esteem boost again. I want him to be very positive about himself the way he used to."
Once it is safe to do so, Matthew said he wants to invite his teammates over to his house for some video games and his mother's cooking.
But until that happens, the brothers will play games on the Nintendo Switch, listen to Kendrick Lamar and Eminem and play volleyball in the pool until the witching hour.
"Yeah, this house is never quiet," Melina said.
Waldman is currently an assistant Sports editor for the men's volleyball, women's volleyball, track and field, beach volleyball and men's soccer beats. He was previously a reporter on the women's basketball and beach volleyball beats. Waldman is a second-year political science major at UCLA from Alameda, CA.
Waldman is currently an assistant Sports editor for the men's volleyball, women's volleyball, track and field, beach volleyball and men's soccer beats. He was previously a reporter on the women's basketball and beach volleyball beats. Waldman is a second-year political science major at UCLA from Alameda, CA.