USAC recap – Dec. 8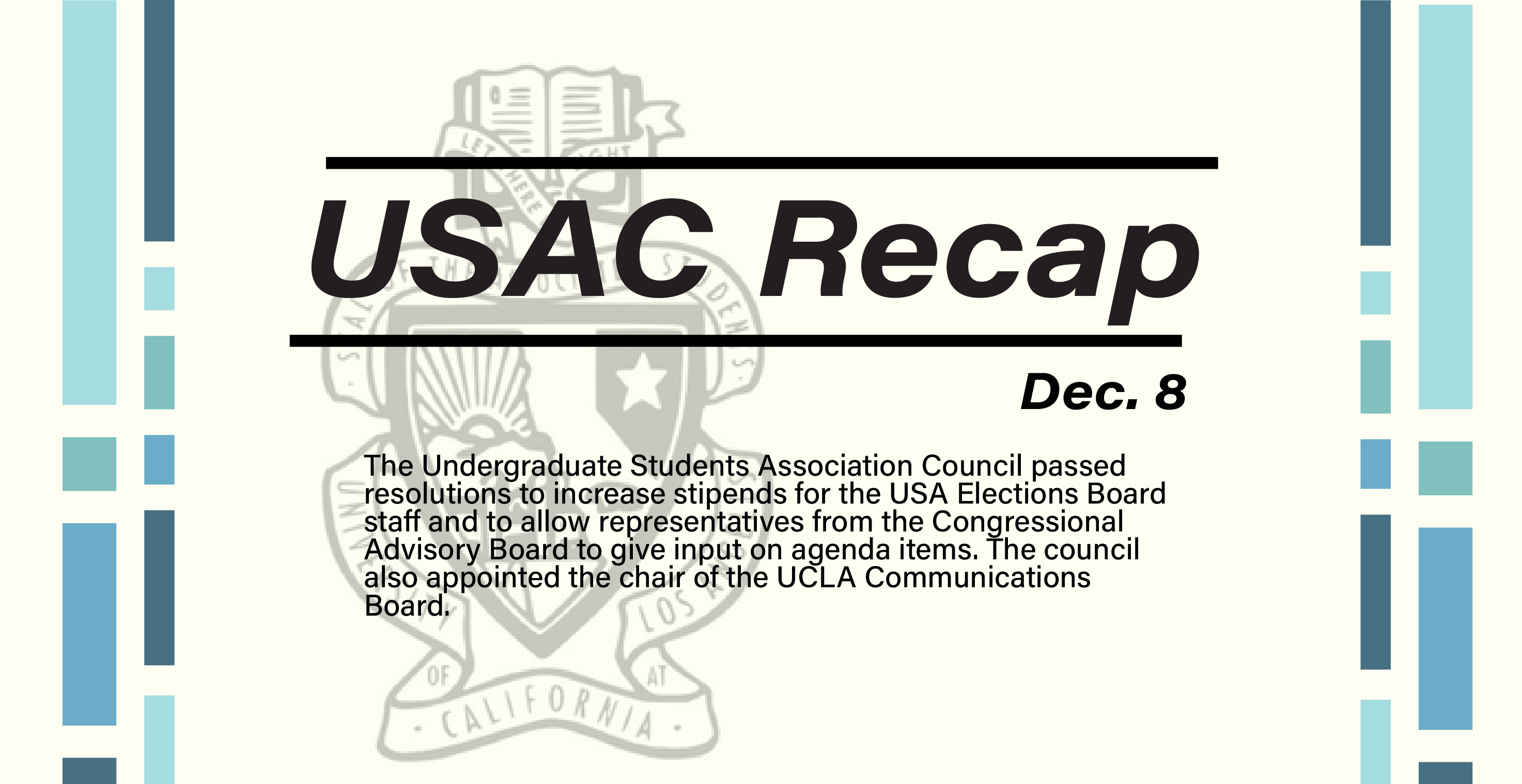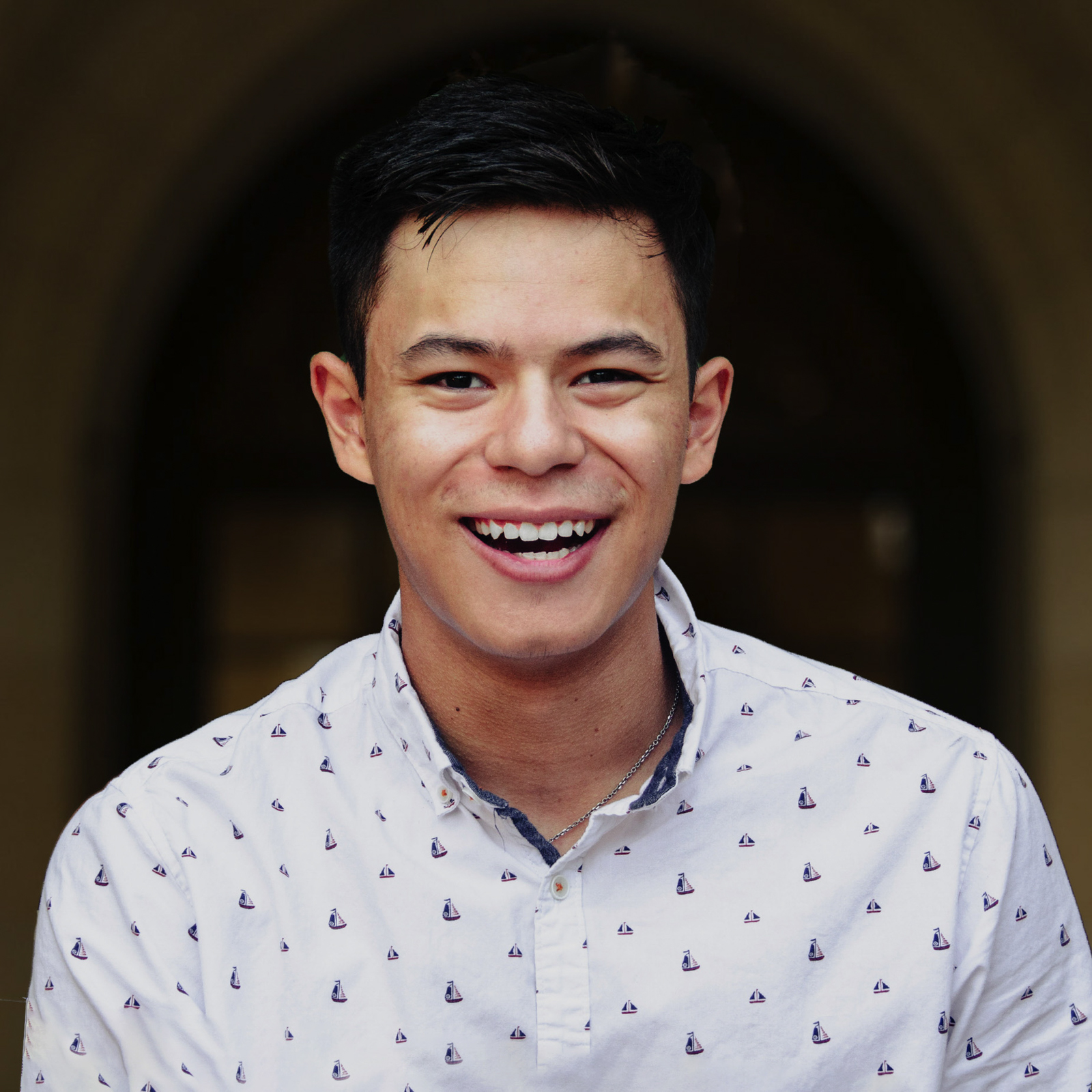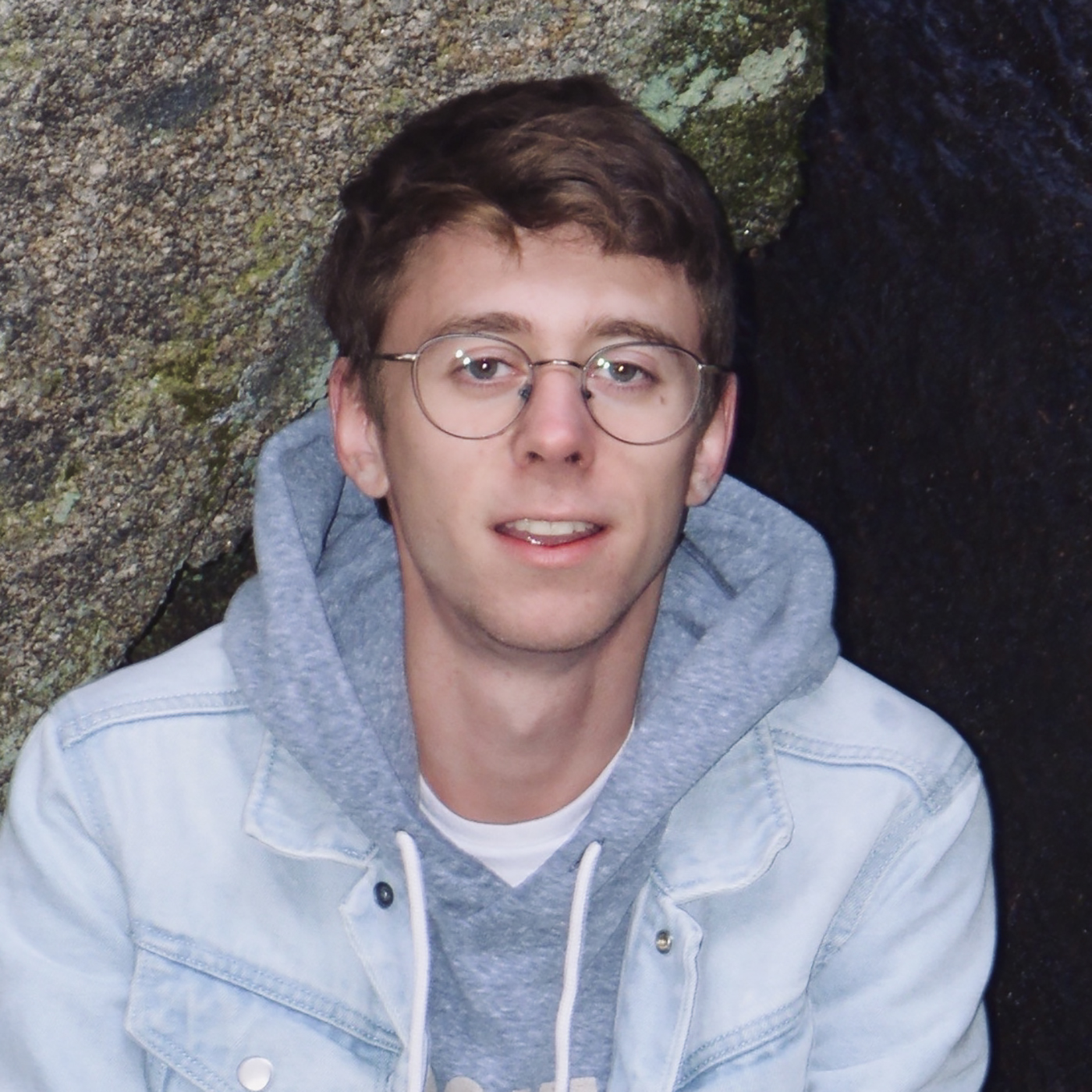 The Undergraduate Students Association Council passed resolutions to increase stipends for the USA Elections Board staff and to allow representatives from the Congressional Advisory Board to give input on agenda items. The council also appointed the chair of the UCLA Communications Board.
Public Comment:
Kristi Mai, the external vice president of the Vietnamese Student Union and the community advocacy coordinator for the Asian Pacific Coalition, said she supports the CAB resolution because it would increase student access to student government and allow students to address their concerns directly to USAC and administrators.
Angela Li, director of the Asian Pacific Coalition, said she also supports CAB because she thinks it's important that USAC uplifts and amplifies the voices of student leaders.
Special Presentations:
Schuyler Poh, director of university relations for the Pediatric AIDS Coalition at UCLA, presented on PAC, which aims to battle stigmas surrounding HIV and AIDS and to raise money to make existing treatments available to mothers with HIV.
Prabhdeep Rai, chair of the UCLA chapter of California Public Interest Research Group, said CALPIRG will prioritize their New Voters Project this quarter to increase registered voters among students in the United States. CALPIRG raised awareness about basic needs via social media during National Hunger and Homelessness Awareness Week, Rai said. The organization supported a COVID-19 relief bill by calling and sending letters to Senator Dianne Feinstein's office, Rai added. The organization has also been working to get the state of California to speed up its commitment to 100% clean energy, she added.
Alfred Tun, the Undergraduate Students Association Elections Board chair, said USAC should repurpose unused funds in the elections board budget to increase staff stipends. Tun said the elections board merged two committees with overlapping work and saved $4,236 in surplus funds. If approved, the increase would raise directors' weekly stipends from $86 to $112 and increase the chair's weekly stipend from $126 to $142. Tun said staff of the elections board should be compensated for their hard work, especially in the context of a fully online election that requires extra effort to manage.
Graduate Student Association President JP Santos and Vice President of Academic Affairs Letty Treviño said graduate student services are underfunded and understaffed compared to undergraduate student services. Graduate students represent 28% of students at UCLA, but still do not have adequate services, Santos added.
Allocations:
The council allocated $709.18 to the Expressive Movement Initiative for their weekly dance classes.
The council allocated $381.48 to UCLA MoneyThink for their financial literacy mentoring.
The council allocated $850 to Bruin Republicans for their student action summit.
The council allocated $800 to the USAC Financial Supports Commission to reimburse it for the purchase of iClickers.
The council allocated $200 to the Icarus Contemporary Dance Company for their all-team welcome night.
The council allocated $269.90 to Students for Community Outreach, Promotion, and Education, Patient Health Advocates for their patient health advocates website.
The council allocated $15 to the American Cancer Society on Campus for their Relay For Life program hospital visits.
The council allocated $216 to the Los Angeles Human Rights Initiative for their online news magazine on human rights and immigration law.
Resolutions:
The council approved a resolution by a vote of 12-0-0 to increase stipends of elections board staff with repurposed funds from the board. The increase will be implemented January 2021.
The council approved a resolution by a vote of 12-0-0 for graduate and professional equity at UCLA. The resolution stated that UCLA must increase staffing and resources to graduate career services to be on the same level, in proportion to the graduate student population, as undergraduate career services. The resolution also urged UCLA to create a permanent task force to better assist graduate students.
The council approved a resolution in support of academic accommodations for international students by a vote of 11-0-0. The resolution hopes to address the difficulties that international students face by asking the university to implement accommodations for students in different time zones and provide in-person classes to allow foreign students to enter the U.S.
The council passed a resolution by a vote of 11-0-0 that adopted a special rule of order to allow a representative of CAB to give input on agenda items upon the invitation of council members. CAB representatives can influence USAC's work and provide input on council resolutions to represent more students' interests, CAB Director Alexander Berry said. The special rule went into effect after the resolution was passed and will expire when the 2021-2022 USAC is installed.
The council passed a resolution by a vote of 10-0-0 to provide additional guidelines on how CAB representatives can give input at council. The resolution allows representatives to participate in debate around the agenda item they were invited for and gives precise guidelines and procedures. Representatives will only be able to give a statement at the beginning of the discussion for the agenda item they were invited for, Berry said.
Appointment:
The council appointed Ye Jin Kwon, a third-year cognitive science student, as the UCLA Communications Board chair. Kwon said she plans to increase transparency, visibility of student magazines and diversity within the Daily Bruin and student magazines. Kwon was The Bruin's assistant Graphics editor for 2019-2020.
Reports:
President Naomi Riley said her office has been working with the Campus Honorary Naming Advisory Committee. Riley added that although committee discussions are not public, UCLA will send a campuswide email and an FAQ to update students on the committee's agenda. She discussed concerns with transfer students who considered deferring because of the COVID-19 pandemic and the rise in cases of COVID-19 at a town hall, she added. She also said her office has worked closely with the No UCPD Coalition about policing.
Student Wellness Commissioner Christina Read said UCLA has maintained a lower rate of positive COVID-19 cases compared to the general Los Angeles population. While there is no current timeline to vaccinate students, students should not expect to receive vaccination until at least April, she said. Vaccinations will likely be voluntary, she added.
Internal Vice President Emily Hong Van Luong said her office is holding a Pets and Prep event on Dec. 12 at 7 p.m. to help students de-stress. She also said UCLA will continue to acknowledge students who help others in crisis through the True Bruin RAISE award.
External Vice President Aidan Arasasingham said his office hosted a Double the Pell Panel to talk about expanding federal financial aid. He also said that his office will start crowdfunding for the Bruin Advocacy Grant, which gives financial support for students to advocate and organize in institutions. Arasasingham added he was grateful to be appointed to serve on Governor Gavin Newsom's selection advisory committee, which is tasked to fill two vacancies on the UC Board of Regents. The committee met Monday to advise the governor on the regent appointments, Arasasingham said. He added that the UC Student Association board approved its annual budget. Arasasingham said UCSA will prioritize funding for recruitment and retention, funding for preventative mental health services and financial aid for undocumented students who are ineligible for federal financial aid.
The Undergraduate Students Association Council is the official student government representing the undergraduate student body at UCLA. Council meetings take place every other Tuesday at 7 p.m. during fall quarter and are open to all students. Fall quarter meetings will take place virtually on Zoom; links for the meetings can be found on the Internal Vice President's Facebook page. Watch a livestream of the meetings on the USAC Live! channel on YouTube.