Editorial: Greater transparency is needed in Books for Bruins scholarship selection process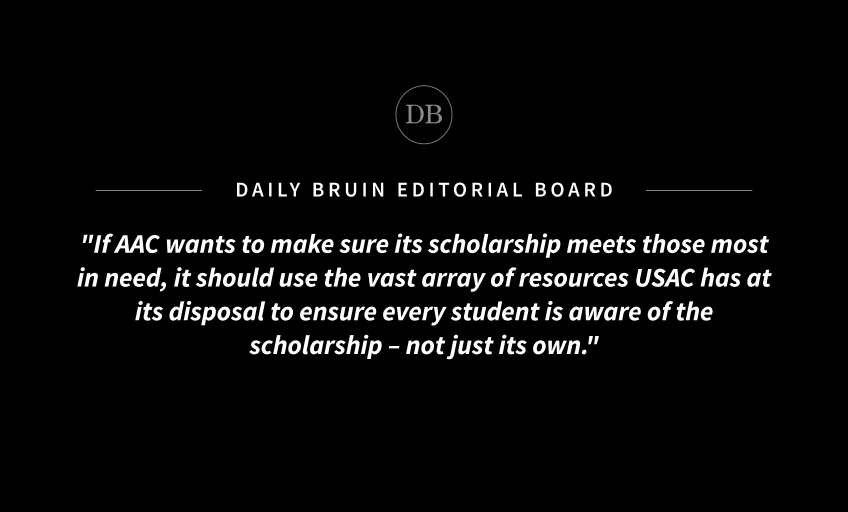 Transparency is key when it comes to financial matters.
The Undergraduate Students Association Council Academic Affairs Commission will give out nearly $35,000 in Books for Bruins scholarships for course materials this quarter. Students who wanted awards were required to submit a Google form that asked them for the amount they needed and how the money would help them.
A committee of eight AAC staffers reviewed the applications and selected all eligible applicants, 515 in total, for awards ranging from $25 to $150 apiece. Fifteen of those recipients work for AAC on its executive staff. Four declined to receive the scholarship because they no longer needed it. Three recipients are staffers on the selection committee.
Students should not have to dig through records or tweets to find out that about 40% of the office's executive staff received grant funding when less than 2% of the undergraduate student body can say the same.
That communication must be offered freely by the commission itself.
This board does not argue that students in AAC, along with anyone else in student government, should be ineligible for Books for Bruins grants. The Books for Bruins scholarship fills a critical gap in resources for students in need, and those in student government deserve an equal opportunity at seeking such assistance.
Rather, it is the radio silence from AAC during the application and selection phase that is cause for concern.
Lysol Patino, an AAC staff member on the selection task force and recipient of a Books for Bruins scholarship, said employment and living status could affect students' awards. The application, however, does not ask students to specifically disclose this information.
AAC Commissioner Breeze Velazquez said the grant selection process was name-blind and later tweeted that none of the 15 staff members who were initially granted the scholarship read their own application.
But other than this, details on the inner workings of the grant selection are sparse. The problem isn't necessarily with the application or fund itself; it's that no one outside AAC knew anything about its selection process until the decisions were all said and done.
With virtually no publicized guidelines on the selection and distribution of awards worth tens of thousands of dollars, this opacity is worrying.
To bridge the communication divide, AAC can better publicize the Books for Bruins scholarship to the general student population.
Information about applying to the scholarship is barely mentioned on AAC's website and was the subject of a single Instagram post on its account, posted one week before the application due date. If AAC wants to make sure its scholarship meets those most in need, it should use the vast array of resources USAC has at its disposal to ensure every student is aware of the scholarship – not just its own.
AAC has a duty to students to iron out the scholarship's wrinkles, and luckily for the office, winter quarter presents the perfect opportunity to return to the drawing board.
The commission shouldn't waste it.