USAC recap – Dec. 1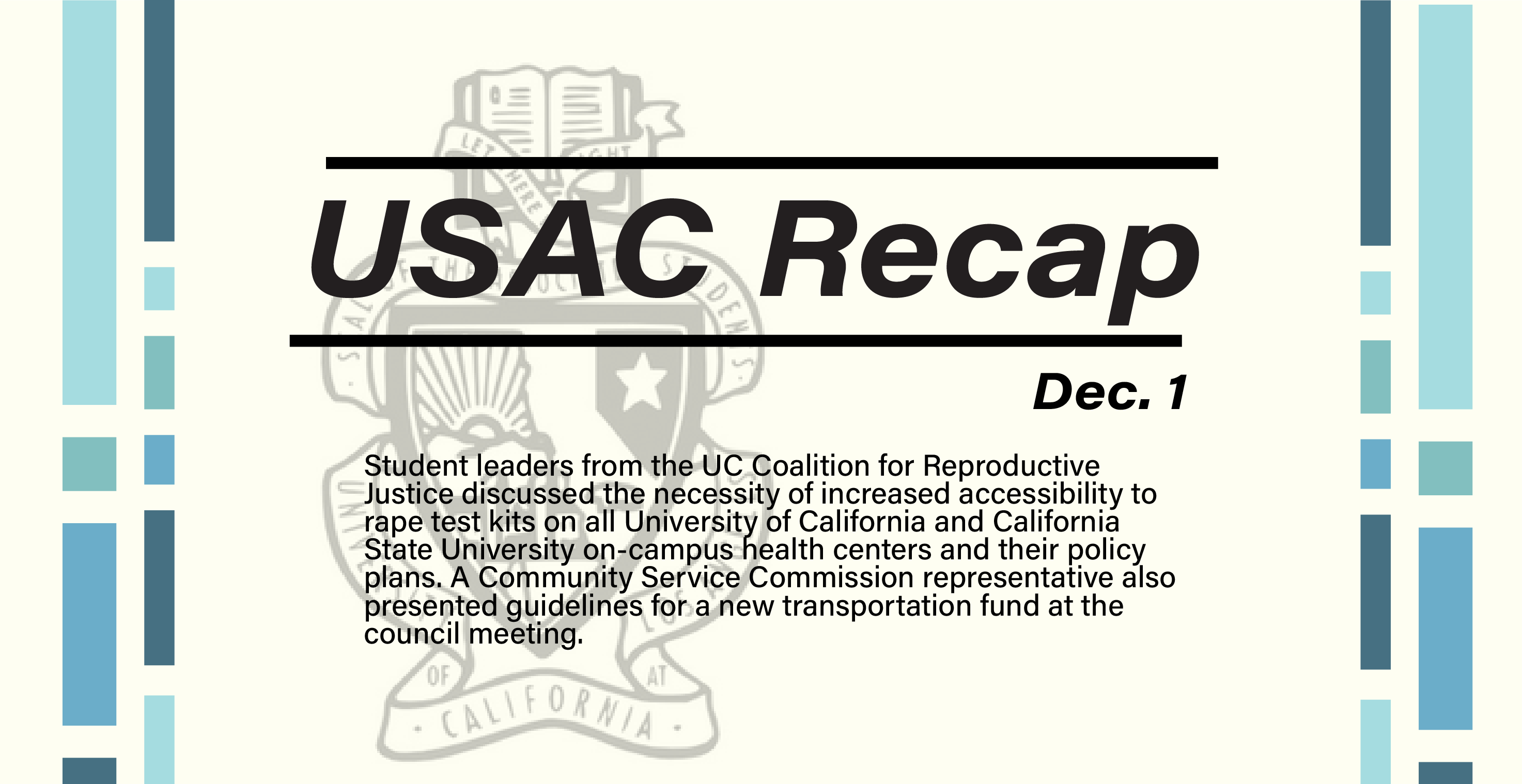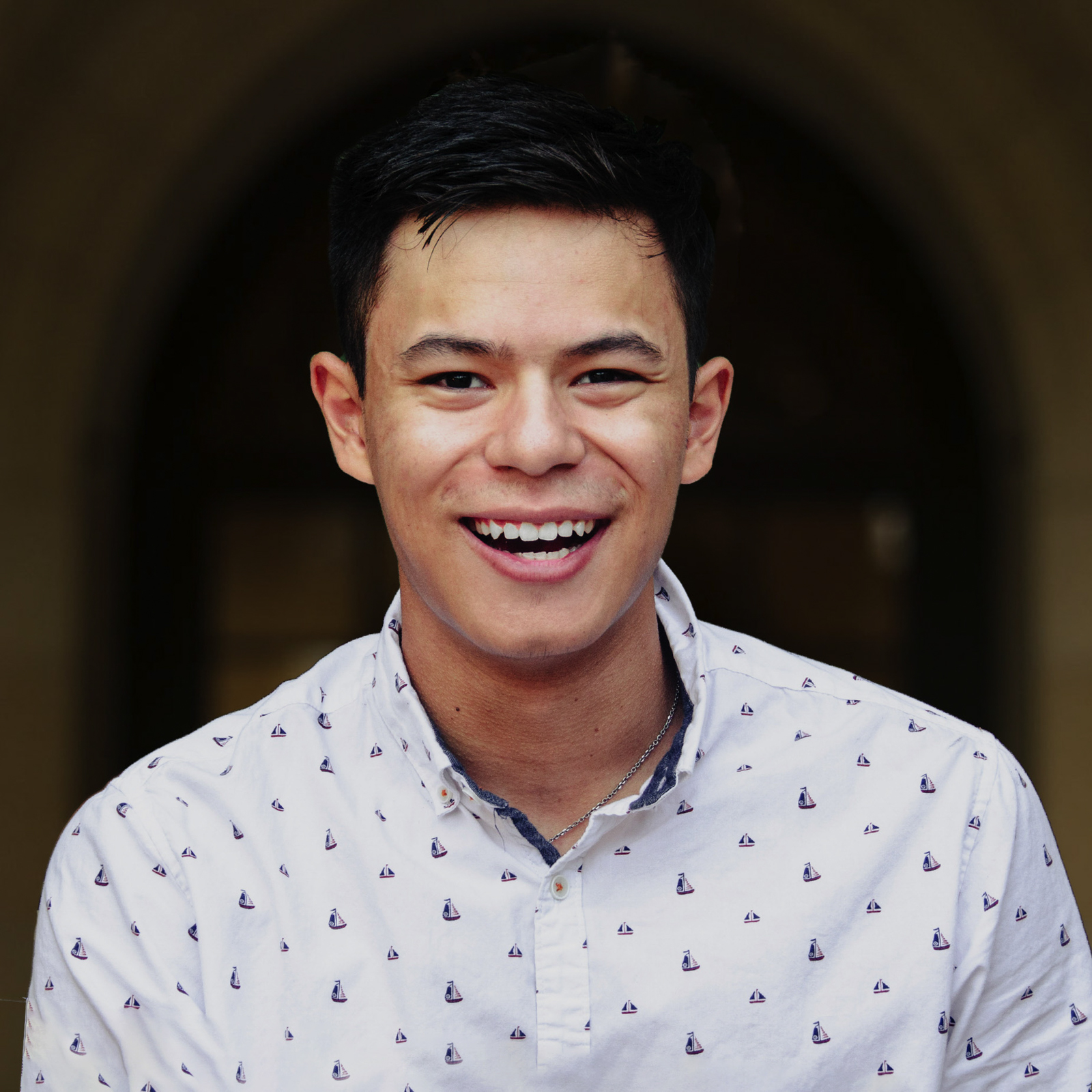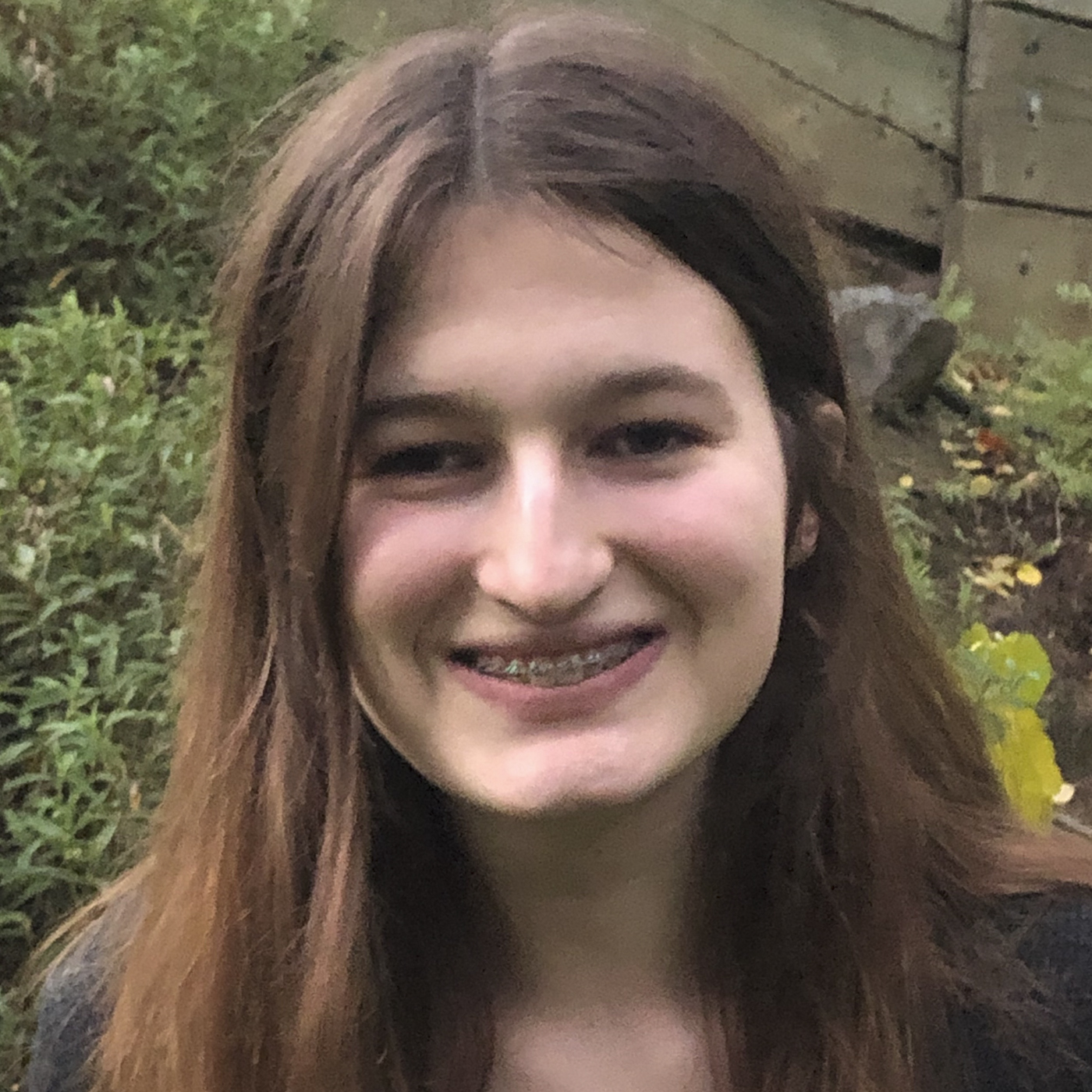 Correction: The original version of this graphic misspelled Justin Rodriguez's name.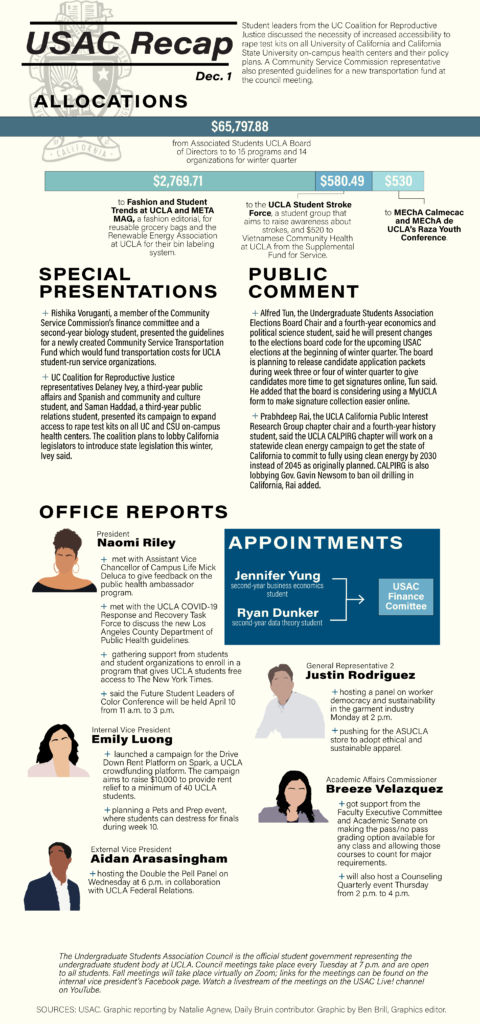 This post was updated Dec. 11 at 12:05 a.m.
Student leaders from the UC Coalition for Reproductive Justice discussed the necessity of increased accessibility to rape test kits on all University of California and California State University on-campus health centers and their policy plans. A Community Service Commission representative also presented guidelines for a new transportation fund at the council meeting.
Public Comment:
Alfred Tun, the Undergraduate Students Association Elections Board Chair and a fourth-year economics and political science student, said he will present changes to the elections board code for the upcoming USAC elections at the beginning of winter quarter. The board is planning to release candidate application packets during week three or four of winter quarter to give candidates more time to get signatures online, Tun said. He added that the board is considering using a MyUCLA form to make signature collection easier online.
Prabhdeep Rai, the UCLA California Public Interest Research Group chapter chair and a fourth-year history student, said the UCLA CALPIRG chapter will work on a statewide clean energy campaign to get the state of California to commit to fully using clean energy by 2030 instead of 2045 as originally planned. CALPIRG is also lobbying Gov. Gavin Newsom to ban oil drilling in California, Rai added.
Special Presentations:
Rishika Voruganti, a member of the Community Service Commission's finance committee and a second-year biology student, presented the guidelines for a newly created Community Service Transportation Fund which would fund transportation costs for UCLA student-run service organizations.
UC Coalition for Reproductive Justice representatives Delaney Ivey, a third-year public affairs and Spanish and community and culture student, and Saman Haddad, a third-year public relations student, presented its campaign to expand access to rape test kits on all UC and CSU on-campus health centers. The coalition plans to lobby California legislators to introduce state legislation this winter, Ivey said.
Allocations:
Community Service Commissioner Jonathan Wisner allocated $580.49 to the UCLA Student Stroke Force, a student group that aims to raise awareness about strokes, and $520 to Vietnamese Community Health at UCLA from the Supplemental Fund for Service.
Student Wellness Commissioner Christina Read allocated $530 from the Student Wellness Programming Fund to MEChA Calmecac and MEChA de UCLA's Raza Youth Conference.
Facilities Commissioner Sachi Cooper allocated $2,769.71 total from the The Green Initiative Fund to Fashion and Student Trends at UCLA and META MAG, a fashion editorial, for reusable grocery bags and the Renewable Energy Association at UCLA for their Bin Labeling System.
The Associated Students UCLA Board of Directors allocated $65,797.88 in funding for the winter quarter to 15 programs and 14 organizations, said Kayla Rafanan, the Finance Committee's budget review director. Each organization received about $4,386 on average, Rafanan added.
Appointment:
The council appointed Jennifer Yung, a second-year business economics student, to the Finance Committee. Yung said she is an active member of various student business organizations and is excited to apply this knowledge to serving the UCLA community.
The council appointed Ryan Dunker, a second-year data theory student, to the Finance Committee. Dunker said he would like to know how the funding process works.
Reports:
President Naomi Riley said her office met with Assistant Vice Chancellor of Campus Life Mick Deluca to give feedback on the public health ambassador program. She added her office also met with the UCLA COVID-19 Response and Recovery Task Force to discuss the new Los Angeles County Department of Public Health guidelines. Riley said that her office is gathering support from students and student organizations to enroll in a program that gives UCLA students free access to The New York Times. The Future Student Leaders of Color Conference will be held April 10 from 11 a.m. to 3 p.m., Riley said.
Internal Vice President Emily Hong Van Luong said her office launched a campaign for the Drive Down Rent Platform on Spark, a UCLA crowdfunding platform. The campaign aims to raise $10,000 to provide rent relief to a minimum of 40 UCLA students. She also said her office is planning a Pets and Prep event, where students can destress for finals during week 10.
Lauren Valles, who delivered the External Vice President officer report on behalf of EVP Aidan Arasasingham, said her office is hosting the Double the Pell Panel on Wednesday at 6 p.m. in collaboration with UCLA Federal Relations.
General Representative 2 Justin Rodriguez said his office is hosting a panel on worker democracy and sustainability in the garment industry Monday at 2 p.m. Rodriguez added that his office is pushing for the ASUCLA store to adopt ethical and sustainable apparel.
Academic Affairs Commissioner Breeze Velazquez said her office got support from the Faculty Executive Committee and Academic Senate on making the pass/no pass grading option available for any class and allowing those courses to count for major requirements. The commission will also host a Counseling Quarterly event Thursday from 2 p.m. to 4 p.m., she added.
The Undergraduate Students Association Council is the official student government representing the undergraduate student body at UCLA. Council meetings take place every other Tuesday at 7 p.m. during fall quarter and are open to all students. Fall quarter meetings will take place virtually on Zoom; links for the meetings can be found on the Internal Vice President's Facebook page. Watch a livestream of the meetings on the USAC Live! channel on YouTube.