USAC recap – Nov. 24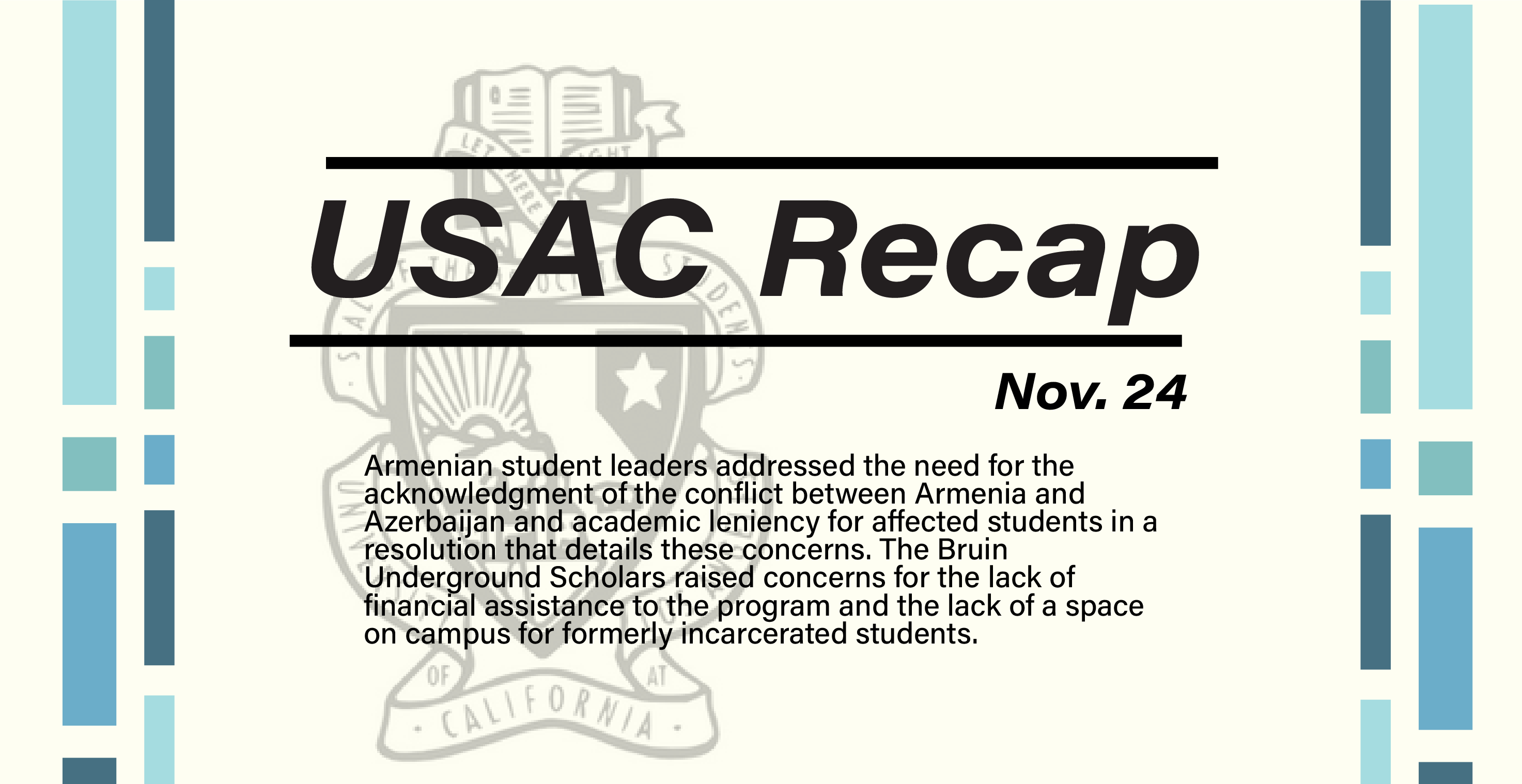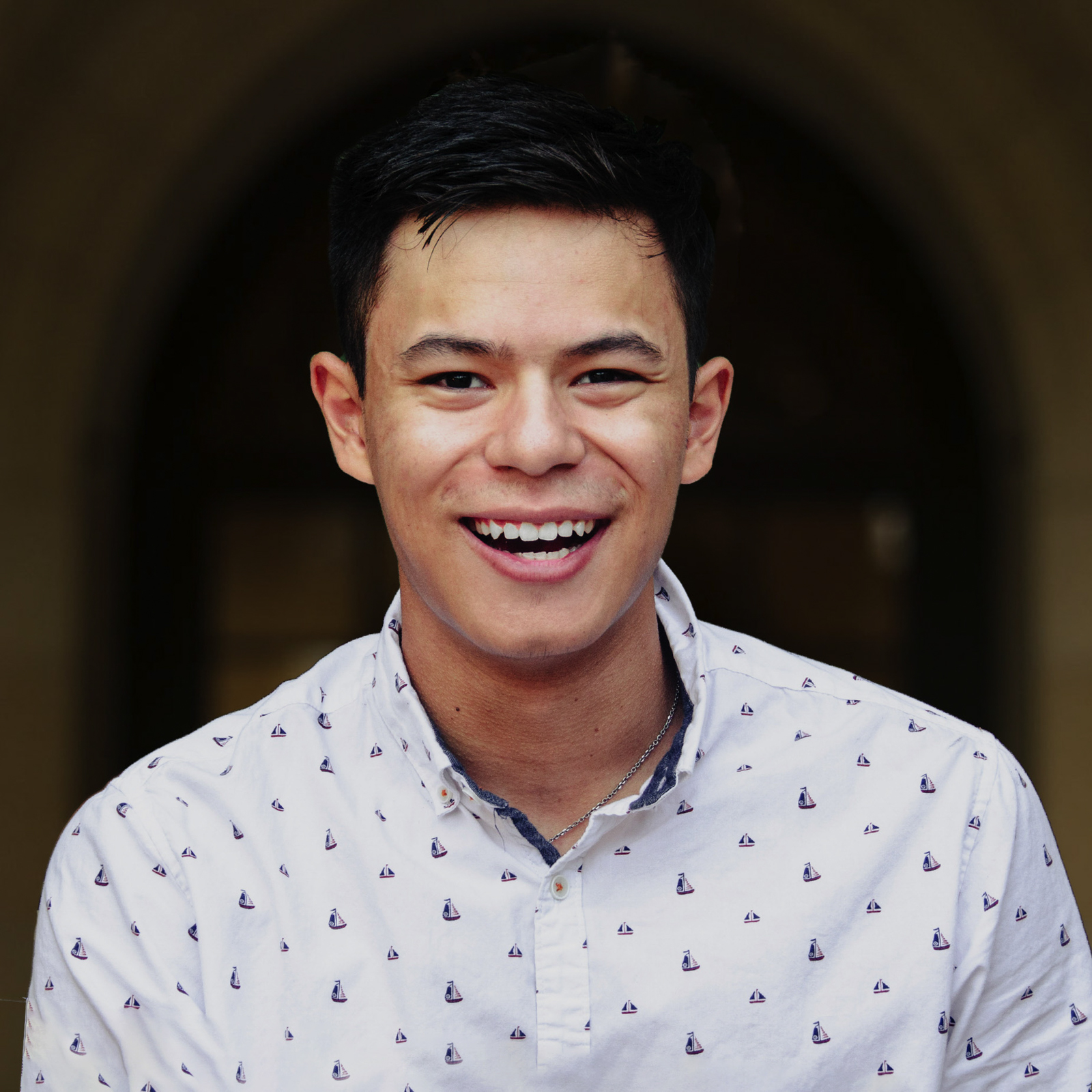 Armenian student leaders addressed the need for the acknowledgment of the conflict between Armenia and Azerbaijan and academic leniency for affected students in a resolution that details these concerns. The Bruin Underground Scholars raised concerns for the lack of financial assistance to the program and the lack of a space on campus for formerly incarcerated students.
Public Comment:
Arsh Gupta, a third-year applied mathematics and economics student and an undergraduate representative for the Associated Students UCLA Board of Directors, said the UCLA Store is operating from 9 a.m to 5 p.m. on weekdays. He added the UCLA Store Catalog launched Nov. 17, and includes free shipping on orders of $75 or more. He said ASUCLA partnered with the Basic Needs Committee to provide support for food insecurity. ASUCLA and BNC awarded $75,000, a value equivalent to almost 15,000 meals, to reduce food insecurity, Gupta said. ASUCLA partnered with Sustainable Economic Enterprises of Los Angeles to create a food assistance program that supports low and middle-income communities affected by the pandemic, Gupta said. ASUCLA also launched a 0% technology loan in partnership with Wescom Credit Union to allow students and faculty to purchase computer equipment at a low cost, Gupta said. He also said Wescom processed $140,000 of loans, and a new version of the loan program is set to launch in the winter quarter. Gupta also said ASUCLA is launching an electric scooter in partnership with Pico Electric Vehicles that is sustainable and affordable.

Grace Leary, a second-year political science student, said the California Public Interest Research Group's Hunger and Homelessness Week raised over $2,000 for food banks across California. She added that CALPIRG leaders met with 60 elected officials and reached 43,000 accounts over social media to support the program. A panel discussion is set for Dec. 1 at 5 p.m. to raise awareness for hunger and homeless, Leary said.

Prabhdeep Rai, a fourth-year history student and the coordinator for CALPIRG at UCLA's Make Textbooks Affordable campaign, said the group hosted an event Nov. 25 to promote textbook affordability. She added that Open Textbooks, an open educational resource commons, uses an open license to offer affordable textbook alternatives to students. Rai also said the campaign is asking the University of California Board of Regents to adopt Open Textbooks systemwide.

Alfred Tun, the Undergraduate Students Association Elections Board Chair and a fourth-year political science and economics student, said highlights of the 12 Undergraduate Students Association Council offices will be available on Instagram after the Thanksgiving break. He added that the council members should post on their individual Instagram stories, and share the Elections Board posts to have a successful social media campaign.The What About USAC event is scheduled for Dec. 1 at 6:15 p.m., Tun said.

Isaac Zamora, a fourth-year psychology student, and Zara Ahmed, a fourth-year political science student, voiced their support for the Underground Scholars Initiative resolution.
Allocation:
The council allocated $183.33 to the Shenanigans Comedy Club for its BruinFEST event.

The council allocated $90 to the Taiwanese American Student Association.

The council allocated $500 to SKY Campus Happiness Club, an organization that hosts events to explore happiness and leadership at UCLA.

The council allocated $256 to the Bruin Film Society for its screening of the movie "Shiva Baby."

The council allocated $216 to the Association of Indonesian Americans.

The council allocated $250 to the Finance Committee for their Ficom New Member Retreat.
Special Presentations:
Aaron Ahdoot, undergraduate representative on the Student Health Advisory Committee, presented the California COVID Notify app, a pilot program that notifies users if they come in contact with other users infected with COVID-19. The program was released in partnership with Google and Apple, Ahdoot said. He added the program preserves privacy and only includes voluntarily provided information. Ahdoot said he hopes USAC can endorse the program through social media.

Brooke Fields, a third-year microbiology, immunology and molecular genetics student and Tofunmi Baruwa, a first-year neuroscience student, presented Melanin & Medicine at UCLA, a new Black pre-med organization. Melanin & Medicine offers Black students research opportunities, provides resources for medical school and helps them explore different areas of medicine, Fields said.
Reports:
President Naomi Riley said she held a Congressional Advisory Board meeting, where the board discussed the possibility of recommending students to serve as senators on the Academic Senate. Organizations discussed potential support for the California COVID Notify app, she added. Riley said her office met with Vice Chancellor of Student Affairs Monroe Gordon to discuss the hiring of a new Center for Accessible Education director without student approval. She added her office held a COVID-19 town hall to hear student concerns and prepare a transparency letter to Executive Vice Chancellor and Provost Emily Carter. Riley said her office met to discuss the possibility of including campus organizations in the USAC Slack workspace. She added her office is planning to submit a Semel Healthy Campus Initiative grant to highlight the resources Counseling and Psychological Services provides for underrepresented students. Riley also said her office is promoting Bruin Voices, a series that aims to share student voices, and is seeking to feature more male students.

Cassandra Gatica, the USAC assistant internal vice president, delivered a report on behalf of Internal Vice President Emily Luong. Gatica said several professors joined the Workers and Learners Summit to learn how they can support working students. Gatica said the internal vice president's office held an event with the Transfer Student Representative's office to give students interview tips from the UCLA Career Center. Luong was appointed to the subcommittee for Student Services at the COVID-19 Response and Recovery Task Force, Gatica said. She added the internal vice president's office is asking council members to send resource guides to update the Student Affairs Guidebook. The #AskAdmin event, which featured Gordon, Dean of Students Maria Blandizzi and Dean of Undergraduate Education Adriana Galván, gave students a space to ask administrative officials about basic needs, Gatica said.

External Vice President Aidan Arasasingham said in a written report the UC Student Association partnered with the UC Advocacy Network to host a #Thankful4Pell event. The event urged federal authorities to double the amount of money offered in the Pell Grant, a federal financial aid program for undergraduate students, he added. He also said Lauren Valles, the external vice president's internal chief of staff, attended an event with NextGen Policy, a nonprofit organization supporting progressive policies, to advocate for an increase in the Pell Grant. The external vice president will host a Double the Pell panel event with Executive Director of the California Student Aid Commission Marlene Garcia and Vice Provost of Enrollment Youlonda Copeland-Morgan, Arasasingham said.

Academic Affairs Commissioner Breeze Velazquez said the Academic Senate is debating whether to post a course's requirements before the second pass enrollment period opens up for students. She added that the Academic Affairs Commission is proposing to introduce an icon feature on MyUCLA that displays textbook costs for students before they enroll in the courses. Velazquez also said she held meetings with the Academic Senate Undergraduate Council and the Faculty Executive Committee to discuss pass/no pass grading.

Facilities Commissioner Sachi Cooper said in a written report that she discussed concerns with the hiring process of the new CAE director with Gordon. Gordon and Student Affairs pledged to ensure transparency in the future by surveying student concerns regarding accessibility on campus, she added. Cooper said she also met with the new CAE Director, Norma Kehdi, who seeks to increase transparency and build a strong relationship with the disabled community.
Resolutions:
The council unanimously approved a resolution that recognized the ongoing conflict between Armenia and Azerbaijan and asked UCLA to provide academic leniency for students affected by this issue. Armen Antonyan, the president of the Armenian Students' Association, said the conflict takes a toll on Armenian students because many know people who live in the region. He called on the council members to seek accommodations for students directly affected by this issue.

The council unanimously approved a resolution to support formerly incarcerated students and called on UCLA to create a prison-to-school pipeline. The resolution also called on UCLA to support the Bruin Underground Scholars, a program academically supporting formerly incarcerated students, by creating spaces and appointing a case management team. Zamora and Ahmed said the UCLA administration has not provided enough financial support to formerly incarcerated students. They added that formerly incarcerated students need a space on campus and additional financial support from the administration.
The Undergraduate Students Association Council is the official student government representing the undergraduate student body at UCLA. Council meetings take place every other Tuesday at 7 p.m. during fall quarter and are open to all students. Fall quarter meetings will take place virtually on Zoom; links for the meetings can be found on the Internal Vice President's Facebook page. Watch a livestream of the meetings on the USAC Live! channel on YouTube.