UC Regents recap – Nov. 18-19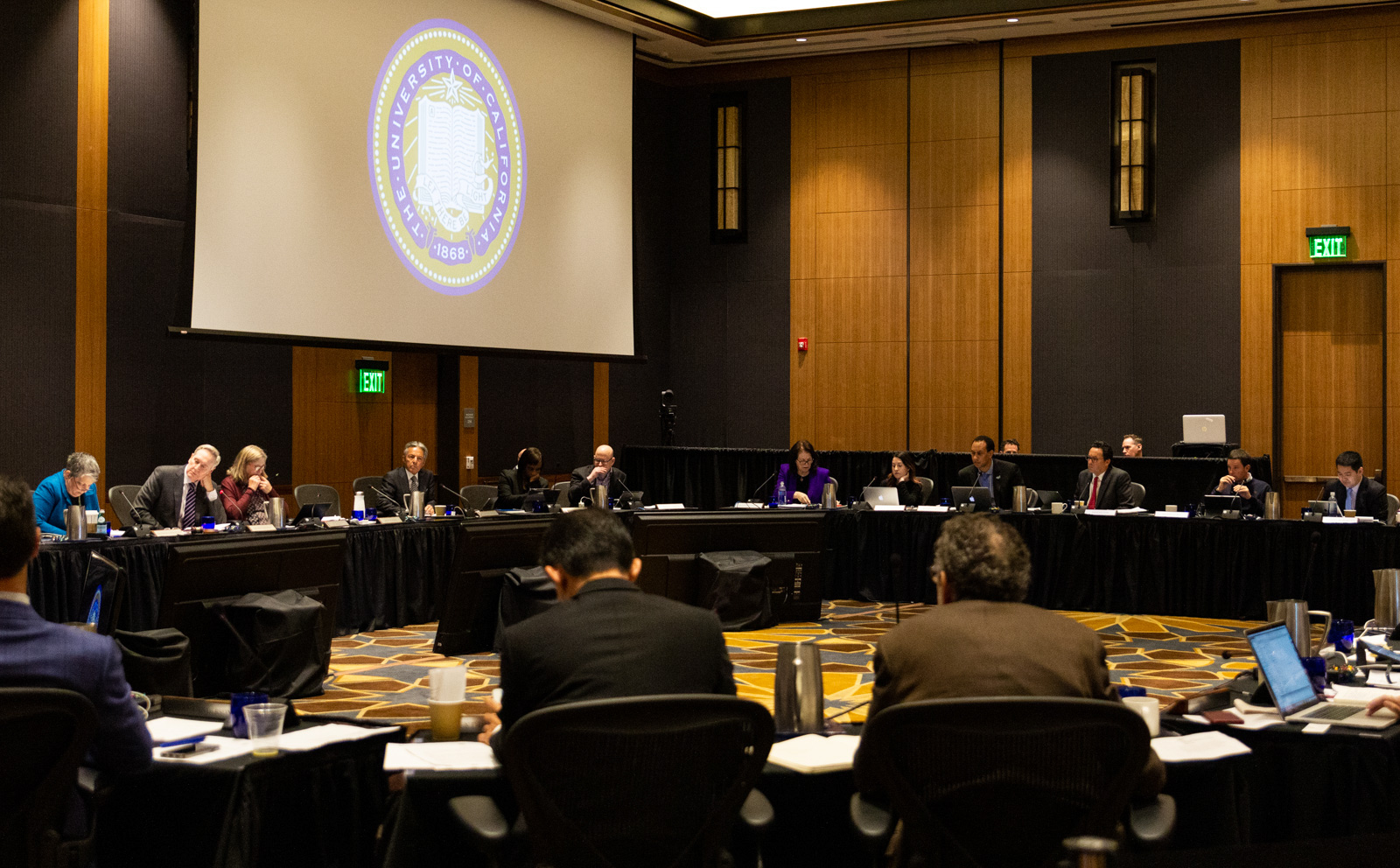 The UC Board of Regents met for its bimonthly meeting from Wednesday to Thursday. It discussed transfer students, basic needs and students with disabilities. (Ashley Kenney/Assistant Photo editor)
The University of California Board of Regents, the governing body of the UC, met for its bimonthly meeting Wednesday and Thursday via teleconference. The board discussed transfer students, students with disabilities and basic needs.
Wednesday
Board of Regents:
Steve Hill, a member of Service Employees International Union Local 1000, said Aggie Square, a planned development for UC Davis' Sacramento campus, would displace the square's current residents, who are mostly renters and people of color. Karl Pineo, a business manager at Iron Workers Local 118, said he supports the Aggie Square project because it would employ many Sacramento residents.
Jessica Bushman, a third-year political science student at UCLA, said students have lost their jobs or some of their income because of the COVID-19 pandemic, making it difficult to pay for essentials, such as food and housing. Bushman added some students do not have access to proper technology for remote learning. The UC has to improve its response to the pandemic and its resources to help students, Bushman said.
UC President Michael Drake said the UC campuses are working on addressing policing practices. Drake said the campuses will provide an update at the January regents meeting and will hold a symposium to obtain input to create long-term change.
Public Engagement and Development Committee:
The committee endorsed UC Davis' fundraising campaign which aims to raise $2 billion for projects, like Aggie Square and a new veterinary medical center. The campaign has raised $1.2 billion as of Nov. 2, the committee said.
Michele Siqueiros, president of the Campaign for College Opportunity, said she supported increasing the number of transfer students at the UC campuses because there are more prospective transfers attending community college because of the ongoing pandemic. Siqueiros also said the UC should help community colleges fund transfer outreach programs.
Valerie Johnson, a fourth-year political science student from UC Berkeley and member of the UC-CCC Transfer Task Force, said the UC Regents should create a committee focused on transfer students. Student Regent Jamaal Muwwakkil, said there are barriers within the transfer application process, such as the cost of transcripts, which are exacerbated for students who attend multiple community colleges before transferring.
Compliance and Audit Committee:
The state auditor released a report in late September which found that 64 admissions decisions from UC Berkeley, UCLA, UC Santa Barbara and UC San Diego were improperly influenced. The state auditor recommended to require all staff to report any attempts to improperly influence admissions decisions.
To rectify these issues, Matthew Hicks, systemwide deputy audit officer,
said the UC is required to report its progress implementing the 12 recommendations the state auditor provided as part of the state audit follow-up process. The first 60-day update is due Nov. 21.
Michael Brown, provost and executive vice president for academic affairs, said the UC formed a work group in response to the audit report. The group has met weekly to discuss how to implement the state auditor's recommendations, he added.
Brown said the UC audit response workgroup is analyzing the auditor's recommendation to oversee UC Berkeley's admissions process, remove potentially biased information from the application that campuses can access and begin conducting regular audits of admissions processes at each undergraduate campus. He added that some recommendations were far-reaching and the workgroup wanted to better understand them. For example, the recommendation to have an entity oversee UC Berkeley admissions could lead to an increase in employees and disconnect the admissions from the campus itself, Brown said.
Brown said the UC campuses have been trying to improve the reader training process. Drake sent a letter to all the UC chancellors requiring each UC campus to specify, document and monitor the consistency of their reader training processes. Han Mi Yoon-Wu, the UC systemwide executive director of undergraduate admissions, added that these changes have been completed for this cycle and any further improvements to reader training will be pushed to the next admissions cycle.
Health and Services Committee:
The committee approved Ashish Atreja's appointment as the chief information officer/chief digital chief health officer at UC Davis Health and approved his $560,000 base salary.
Finance and Capital Strategies Committee:
The committee approved preliminary plans funding for a data hub building on the UC Berkeley campus. The building will be used for the university's Division of Computing, Data Science, and Society.
Peggy Arrivas, associate vice president and systemwide controller for the UC, said the UC's revenue increased by $1.7 billion for 2020. The impacts of COVID-19 were balanced out by the Coronavirus Aid, Relief, and Economic Security Act funding and the UC medical centers continued to grow but pensions and retiree benefits declined, Arrivas said. The committee approved the financial report.
The committee approved the budget, scope and financing for UCSD's Theatre District Living and Learning Neighborhood.
Meghan Gutekunst, the director of capital markets finance, said the UC has about $25.4 billion in total debt. The committee discussed changes to the regents' debt policy, such as making the ratios of debt service coverage more flexible, which would allow for the construction of student housing projects.
Academic and Student Affairs Committee:
Brown presented alternatives to the UC's current financial aid policy, focusing on a new option to help students graduate without debt. This option would increase students' expected self-help contribution through work with subsidized student wages or additional support through grants, said Shawn Brick, executive director of student financial support.
Charles Nies, UC Merced vice chancellor for student affairs, said the UC Education Financing Model Steering Committee, which oversees the implementation of the UC's financial aid policy, was in favor of the new option but expressed concern that more funding is needed to close the gap between students' earnings from part-time work and the expected self-help contribution.
Brick said a reform to the Cal Grant and a potential expansion of Pell Grants under the incoming Biden administration will make the UC more affordable for low-income students.
Josh Gonzales, the director of Native American Student Programs at UC Riverside, said Native Americans face barriers to getting a UC education, such as historical trauma, UC eligibility, expenses and limited support. Gonzales recommended the UC invest in hiring and retaining Native American faculty, establishing tribal advisory counsel committees and liaisons and creating cultural centers for Native American students.
Cathryn Nation, vice president for academic health sciences, said a low number of Native American students are in the incoming cohort of UC medical students. Nation added that she and Carrie Byington, the executive vice president of UC Health, plan to extend an invitation to the Association of Native American Medical Students to discuss issues of Native American representation.
Brown said the transition to remote instruction has been challenging in how students with disabilities are accommodated. Brown added the transition has also created new opportunities to support students with disabilities, such as the incorporation of speech-to-text transcription to support note taking during online lectures.
Contributing reports from Saumya Gupta, national news and higher education editor, Loan-Anh Pham, Christine Tran and Eshan Uniyal, Daily Bruin contributors.
Thursday
Board of Regents:
During public comment, Lehuanani DeFranco, a Native Hawaiian protector with Uprooted & Rising, said she is disappointed the UC is trying to receive federal funding for the Thirty Meter Telescope at Mauna Kea.
The board discussed a potential dismissal of Ram Akella, a technology management professor at UC Santa Cruz. Susan Carlson, vice provost for academic personnel and programs, said Akella was made a divisional appointee in the Jack Baskin School of Engineering after UCSC got rid of his department, the Department of Technology Management. Akella said he refused to teach classes because the dean assigned him to teach courses, but per policy 245 of the Academic Personnel Manual, only the department chair makes teaching assignments. Akella said he did not have a department chair.
Governance Committee:
The committee approved an extension for Byington to submit her receipts and documents regarding the sale of her former residence in Texas. Under Regents Policy 7710, the receipts and documents have to be submitted within a year of an employee's start date, but due to the pandemic, Byington has been unable to sell her house.
The committee also discussed a report that a working group on committee structure released. Regent Laphonza Butler, the chair of the working group, said the group recommends forming another working group or subcommittee to examine the role of the Board of Regents and its strategic priorities.
Special Committee on Basic Needs:
The committee unanimously approved its final report, the University of California's Next Phase of Improving Student Basic Needs, which intended to inform policymakers and UC officials about basic needs insecurity among students and provided recommendations to address the issue.
Yvette Gullatt, vice president for graduate and undergraduate affairs, presented the report's five-year goals to manage students' housing and food insecurity. The goals aim to reduce the proportion of undergraduate students experiencing food or housing insecurity, and the proportion of graduate students experiencing food insecurity or homelessness, each by 50% by June 2025.
Brick said campuses have begun to implement a uniform letter which certifies work-study approval for CalFresh qualification under California Senate Bill 173.
Muwwakkil, the chair of the Special Committee on Basic Needs, said initial implementation of the report will likely use external fundraising primarily, but the board will advocate for increased funding from the state.
Board of Regents:
Byington discussed the impact of COVID-19 as the U.S. reaches its largest surge in cases since the start of the pandemic. There has been exponential growth in case counts and increased deaths, Byington said. Hospitals may be overwhelmed with cases as numbers continue to rise, she said.
Byington said she predicts COVID-19 cases will rise significantly in the coming months due to an increase of in-person gatherings. Almost all of California has returned to the purple tier.
The UC Health program has participated in all phase 3 trials of COVID-19 vaccines. The Pfizer Inc. and BioNTech vaccine was tested at UC Davis, and the Moderna vaccine was tested at UCLA and UCSD. Pfizer and BioNTech reported that their vaccine was 95% effective in preventing COVID-19 and the Moderna vaccine reported to be 94.5% effective, Byington said.
The regents approved an estimated $41.6 billion budget plan for the 2021-2022 academic year. Revenue from state general funds, UC general funds and student tuition and fees are estimated at $8.9 billion and make up 21% of the UC's operating budget.
Nathan Brostrom, chief financial officer for the UC, said that strategies to address the budget gap include cutting nonpersonnel budgets where the pandemic has reduced need, enacting a hiring freeze and laying off a limited number of permanent positions.
Contributing reports from Saumya Gupta, national news and higher education editor, Annika Sial and Olivia Tran, Daily Bruin contributors.