Opinion: UCLA needs strong plan for community as COVID-19 winter case surge begins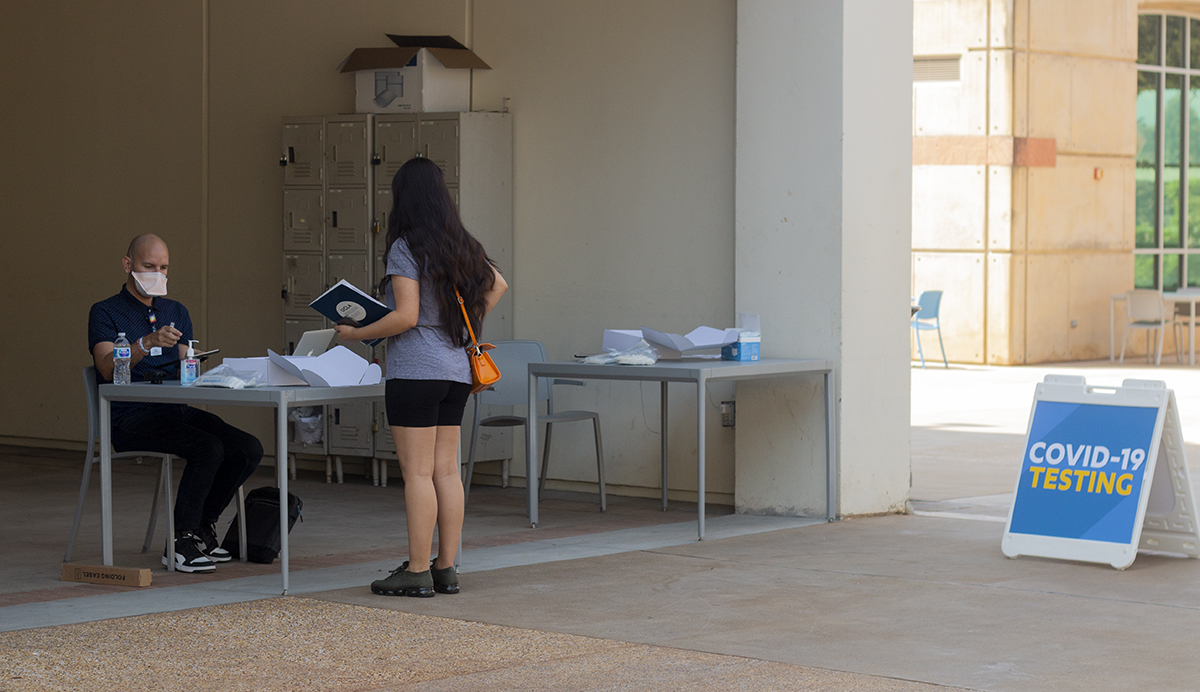 A sharp uptick in COVID-19 cases means the pandemic is far from over. As students and faculty return to campus after the holidays, it's imperative UCLA implements stringent testing and quarantine protocols. (Bernard Mendez/Daily Bruin senior staff)
This post was updated Nov. 29 at 3:10 p.m.
Winter is coming – and the surge of COVID-19 cases is a stark sign of what's to come.
On Nov. 20, the United States set a record high of 198,633 new cases per day. According to the Los Angeles Times, the U.S. has more new cases daily than China has had in total since the start of the pandemic.
And in line with record highs in the U.S., Westwood now has at least 95 active COVID-19 cases and a confirmed six accounts of deaths.
As the number of cases in Westwood continues to climb, it is critical that Bruins remain vigilant about following health guidelines. A surge in COVID-19 cases this winter seems inevitable, so it's only appropriate for UCLA to think ahead and formulate a plan to keep the campus community safe. This starts with forming and regularly updating a plan to keep Bruins safe by ramping up testing capabilities and more stringently enforcing social distancing and mask wearing, as mandated by the Los Angeles County Department of Public Health.
Because if the numbers tell us anything, it's that the pandemic is far from over.
Shira Shafir, an associate adjunct professor of community health sciences and epidemiology studying COVID-19 contact tracing, said that it is fairly clear the U.S. is witnessing an exponential rise in the number of cases.
"The current count is higher than it's ever been; we are breaking that record day after day," Shafir said. "It's entirely likely that if we do not do more to effectively control transmission, we are going to overwhelm our health care capacity."
And while UCLA has the responsibility to plan ahead, these plans cannot work without students doing their part. Shafir reminds Bruins that mask mandates aren't effective unless people wear coverings at all times when leaving the house.
Dong-Hyun Lee, a third-year psychobiology student living in Westwood, said it should be the norm for people who have gone home and returned to campus to get tested and quarantine themselves, especially if they believe they have been exposed or are feeling unwell.
"I'm putting my trust in people in Westwood to be cautious when heading home for the holidays and to avoid large unnecessary social gatherings to limit their contact with others," Lee said.
Lee's concerns about large holiday gatherings are valid. In late October, more than 20 students attended a Halloween gathering and subsequently tested positive for COVID-19.
UCLA has the opportunity to minimize the crisis at hand by implementing special holiday guidelines and encouraging students to flatten the curve. A campuswide email from Administrative Vice Chancellor Michael Beck reminded Bruins to remain COVID-19-conscious and stated that students returning to university housing will be required to get tested and sequester themselves for the week of Nov. 30, regardless of whether or not they traveled during the holidays.
Rightfully, UCLA has taken a well-informed and cautious approach to the pandemic during the holiday season, but its effectiveness is contingent upon its ability to vigilantly uphold public health guidelines.
UCLA also must keep in mind that most students do not live in university housing and that the majority of cases are in off-campus, non-university housing. While administrators can't enforce the same guidelines for students throughout Westwood, they can work to encourage Bruins to get tested, keep them up to date on the most recent guidelines and help put a stop to large gatherings off campus.
Despite the university's tenuous relationship with transparency, communication is also crucial. While UCLA has recently improved its COVID-19 tracker, some Bruins back in September took the initiative to communicate important news where UCLA had fallen short by creating @westwoodcovidstats, an Instagram account that gives updates on current COVID-19 statistics and promotes student safety.
While some Bruins, like Lee and the students behind @westwoodcovidstats, are taking COVID-19 seriously, it only takes a few to worsen this winter for everyone else. Julianne Cueto, a third-year psychology student, emphasized the necessity for Bruins to stop throwing parties.
To be fair, UCLA deserves credit for how it's handling the virus thus far. Cueto said she appreciates the free COVID-19 testing for all students, regardless of residence and insurance.
"We've experienced spring quarter, summer and now fall quarter with (COVID-19), so I think (UCLA) should be better prepared to handle winter," Cueto said.
That being said, UCLA lacks an excuse to be ill-prepared for the inevitable rise in cases.
Of course, there may be an end on the horizon. President-elect Joe Biden and his coronavirus task force will hopefully push politicians to act responsibly. And Pfizer's and Moderna's recent trials of their vaccines claiming to be 90% and 94.5%, respectively, effective against the virus is certainly promising.
However, both a widely distributed vaccine and Inauguration Day are months away.
In the meantime, UCLA needs an immediate plan as winter nears, especially to aid the students off campus. Their approach to mandatory testing and quarantine for on-campus students after the holiday break is warranted, but UCLA lacks guidance for students living in off-campus, non-university housing. They should aim to encourage all students to remain home between Thanksgiving and winter break to lessen travel.
UCLA has no time to spare devising a plan for a possible dark winter ahead.