USAC recap – Nov. 17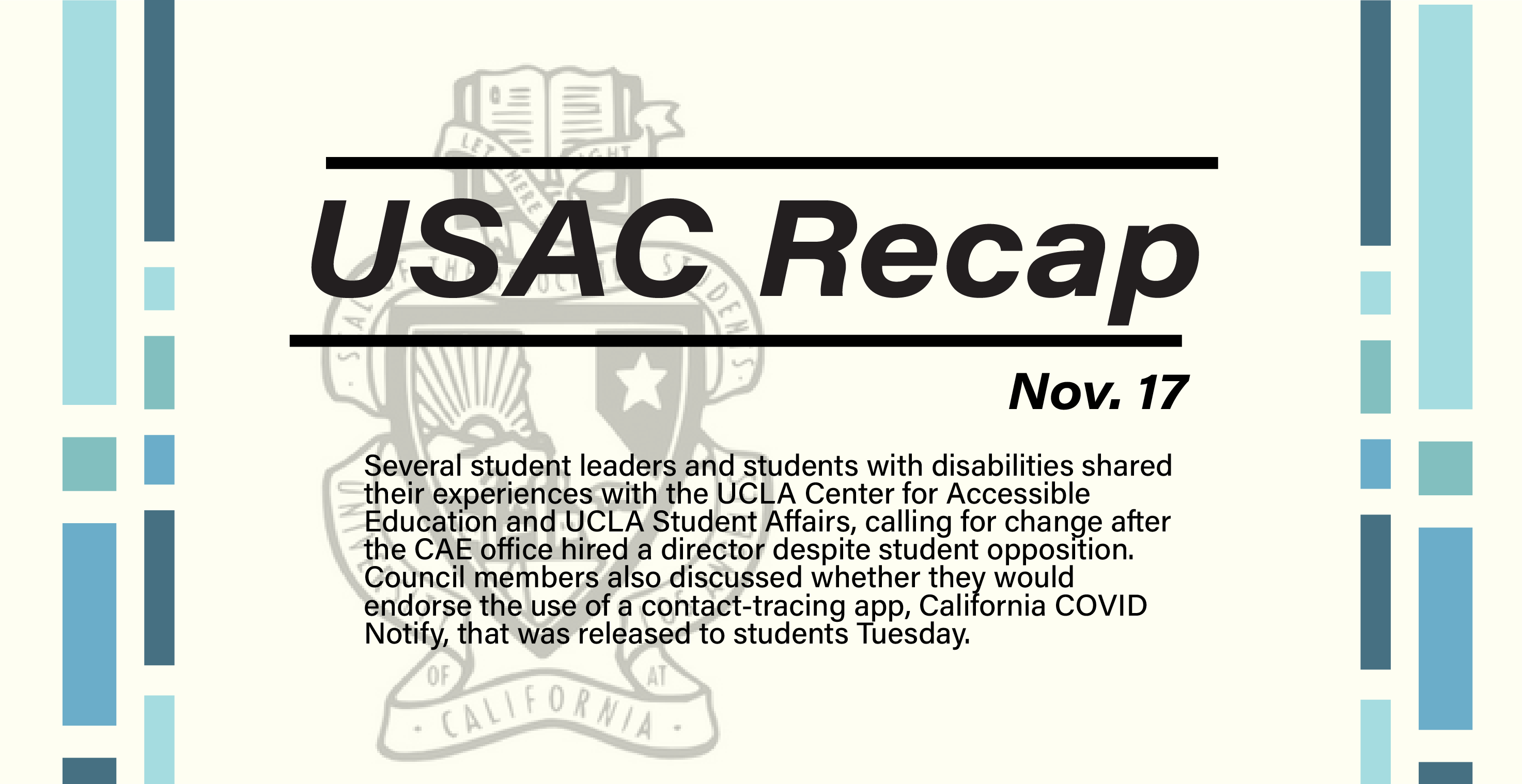 Several student leaders and students with disabilities shared their experiences with the UCLA Center for Accessible Education and UCLA Student Affairs, calling for change after the CAE office hired a director despite student opposition. Council members also discussed whether they would endorse the use of a contact-tracing app, California COVID Notify, that was released to students Tuesday.
Public Comment:
Kelsey Dempsey, a third-year sociology student, criticized CAE for not considering student voices while hiring the new CAE director. Dempsey said CAE leadership is often unapproachable and out of touch with students.
Quinn O'Connor, a third-year theater student and a USAC appointee to the UCLA Committee on Disability, said the disabled student leaders' inputs were disregarded in the hiring of the new CAE director. O'Connor said she and other students expressed concerns during the interview process over one candidate's history of negative experiences with students with disabilities and a lack of willingness to change the status quo. She added that CAE announced at the following Committee on Disability meeting that the candidate was hired. She called for Student Affairs to be held accountable for the harm they caused to the community of students with disabilities.
Nic Riani, California Public Interest Research Group Students state board chair, said the organization will raise more than $500 for the Los Angeles food bank as part of a campaign against homelessness and hunger. He added that they are calling Sen. Dianne Feinstein's office to advocate for a new COVID-19 relief bill that includes aid for students.
Kyle Radwanski-Ortega, a fourth-year history and Latin American studies student, said he is a student with a disability. Radwanski-Ortega added that his discrimination complaint was dismissed by UCLA because the Americans with Disabilities Act/504 Compliance Office, which is overseen by the Dean of Students Office, sent the complaint to the Staff Discrimination Office, despite his status as a student.
Internal Vice President Emily Luong read a public comment on behalf of Katie Bogue, a first-year chemical engineering student. Bogue said the CAE office denied her request for accommodations because they said her requests were unreasonable.
Special Presentations:
Lelia Kennedy, the Black Business Student Association president, presented on BBSA to expand their student outreach. Kennedy said she hopes to collaborate with USAC in the future.
Palmer Turnbull, the elections board director of external relations and Mariah Lima-Kuderer, the board's vice chair, presented a proposal for a virtual event where each USAC office would deliver a presentation to improve transparency and awareness.
Allocation:
The council allocated $650 to Consult Your Community, a consulting organization, for its Thanksgiving celebrations.
The council allocated $119.27 to E3: Ecology, Economy, Equity, an environmental organization at UCLA to fund it's Earth Month programming.
The council allocated $206.67 to Road to Damascus A Cappella.
The council allocated $23.85 to the Pre-Pharmacy Society at UCLA.
The council allocated $65 to the American Cancer Society on Campus, a UCLA organization that educates, advocates and fundraises for the treatment of cancer.
The council allocated $530 to Flying Samaritans at UCLA, a health services group, for the North American Primary Care Research Group annual conference.
The council allocated $200 to Cadenza A Cappella.
Cultural Affairs Commissioner Promise Ogunleye allocated $323.95 from the Arts Restorating Community Fund to Grupo Folklórico de UCLA, a Mexican heritage organization, for Día de los Muertos.
Facilities Commissioner Sachi Cooper allocated $436 from The Green Initiative Fund to the Renewable Energy Association for its energy networking fair.
Appointment
The council appointed Alyssa Moreno, a fourth-year human biology and society student, to the UCLA Sustainability Committee.
Reports:
President Naomi Riley discussed the launch of CA COVID Notify, the new contract tracing app, to gauge the council's perspective. Riley said she had problems downloading the app and questioned whether the program was fully ready for students. She added that she is cautious to endorse the new program. Riley also said because of high COVID-19 infection rates at UCLA, her office is looking into strategies to encourage students to stay indoors. She said her office met with the Office of the Vice Chancellor of Student Affairs and the Office of the Vice Chancellor of Equity, Diversity and Inclusion last week to talk about policing. Riley said she informed the administration that USAC will not meet with administrators again until UCLA commits to forming a divest/invest council. Riley said EDI Vice Chancellor Anna Spain Bradley said she was open to discussing the idea.
IVP Luong said her office is collaborating with the UCLA Labor Center and UCLA labor studies to host the 2020 Workers and Learners Summit at 5 p.m. on Wednesday. She added that the Drive Down Rent Committee in her office is preparing to launch a fundraising campaign in December. Luong also said her office is collaborating with the Transfer Student Representative Office for the "How to Ace Your Next Interview" event Thursday from 6 to 7 p.m.
External Vice President Aidan Arasasingham said his office will talk about financial aid reforms and students with disabilities at the University of California Board of Regents meeting Wednesday. The Regents will approve the Special Committee on Basic Needs report to expand basic needs beyond housing insecurity, to child care, transit access and broadband access, Arasasingham said.
General Representative 2 Justin Rodriguez said in a written report that his office is continuing to support the bargaining process of the University Council-American Federation of Teachers, the union representing nontenured faculty in the UC.
General Representative 3 Elijah Wade said his office met with directors and student leaders across the country to discuss efforts to create collaborative resource guides and networks. His office also met with executives within the athletics department to discuss how the department can support on-campus programs and increase athlete retention.
Facilities Commissioner Cooper said other offices should continue to support the Disabled Student Union. Cooper said in a written report that various administrative entities expressed support for the safe parking program and the hub concept at the first Commuter Committee meeting of the year.
Academic Affairs Commissioner Breeze Velazquez said her office hosted their career center workshop to help students to develop a four-year plan. She added her office will be hosting a sexual assault workshop Thursday.
The Undergraduate Students Association Council is the official student government representing the undergraduate student body at UCLA. Council meetings take place every other Tuesday at 7 p.m. during fall quarter and are open to all students. Fall quarter meetings take place virtually on Zoom; links for the meetings can be found on the internal vice president's Facebook page. Watch a livestream of the meetings on the USAC Live! channel on YouTube.