Gameday predictions: UCLA vs. Oregon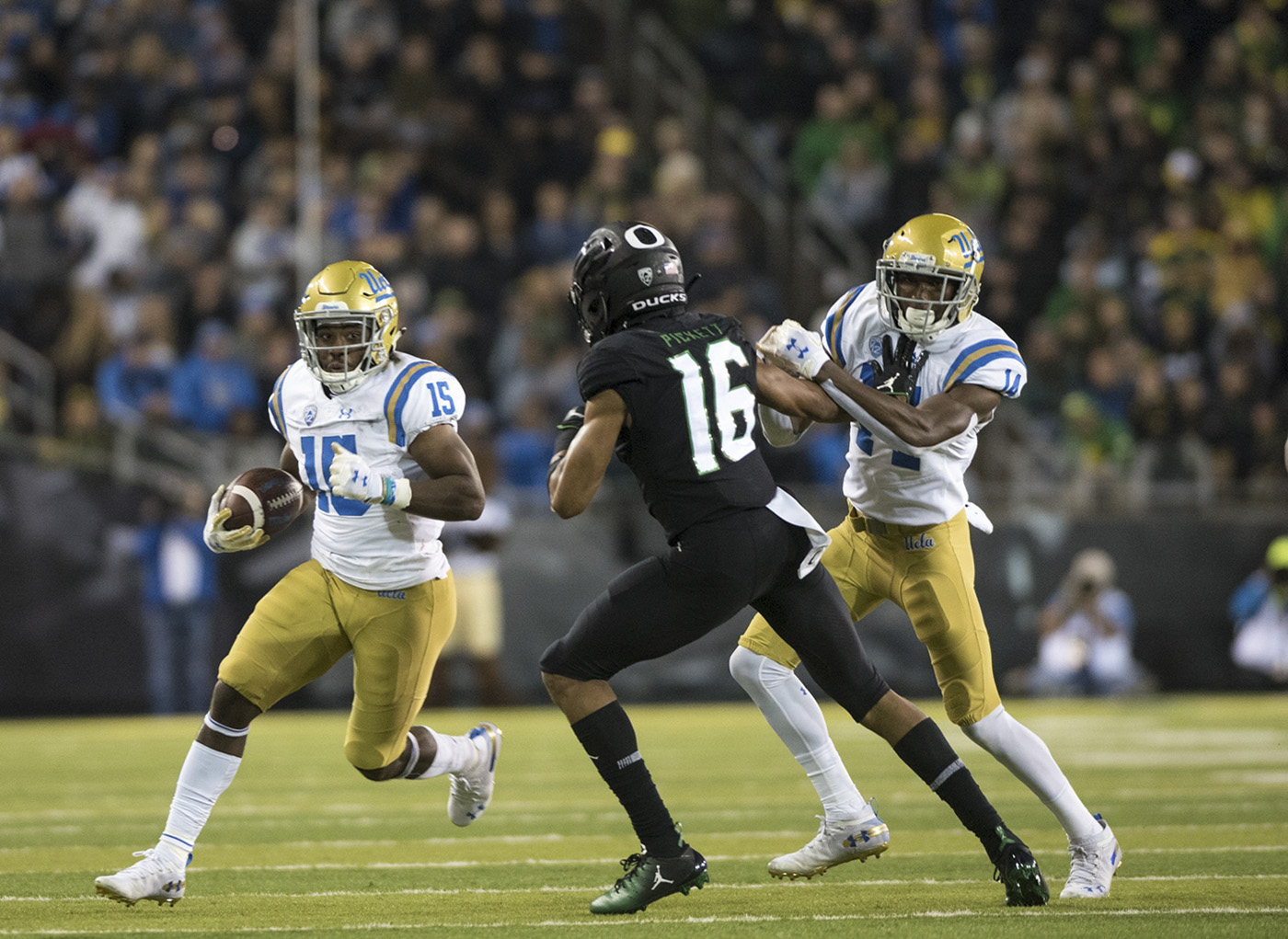 UCLA football has not faced Oregon since 2018, when the Ducks rolled past the Bruins in a 42-21 victory at Autzen Stadium. (Axel Lopez/Daily Bruin senior staff)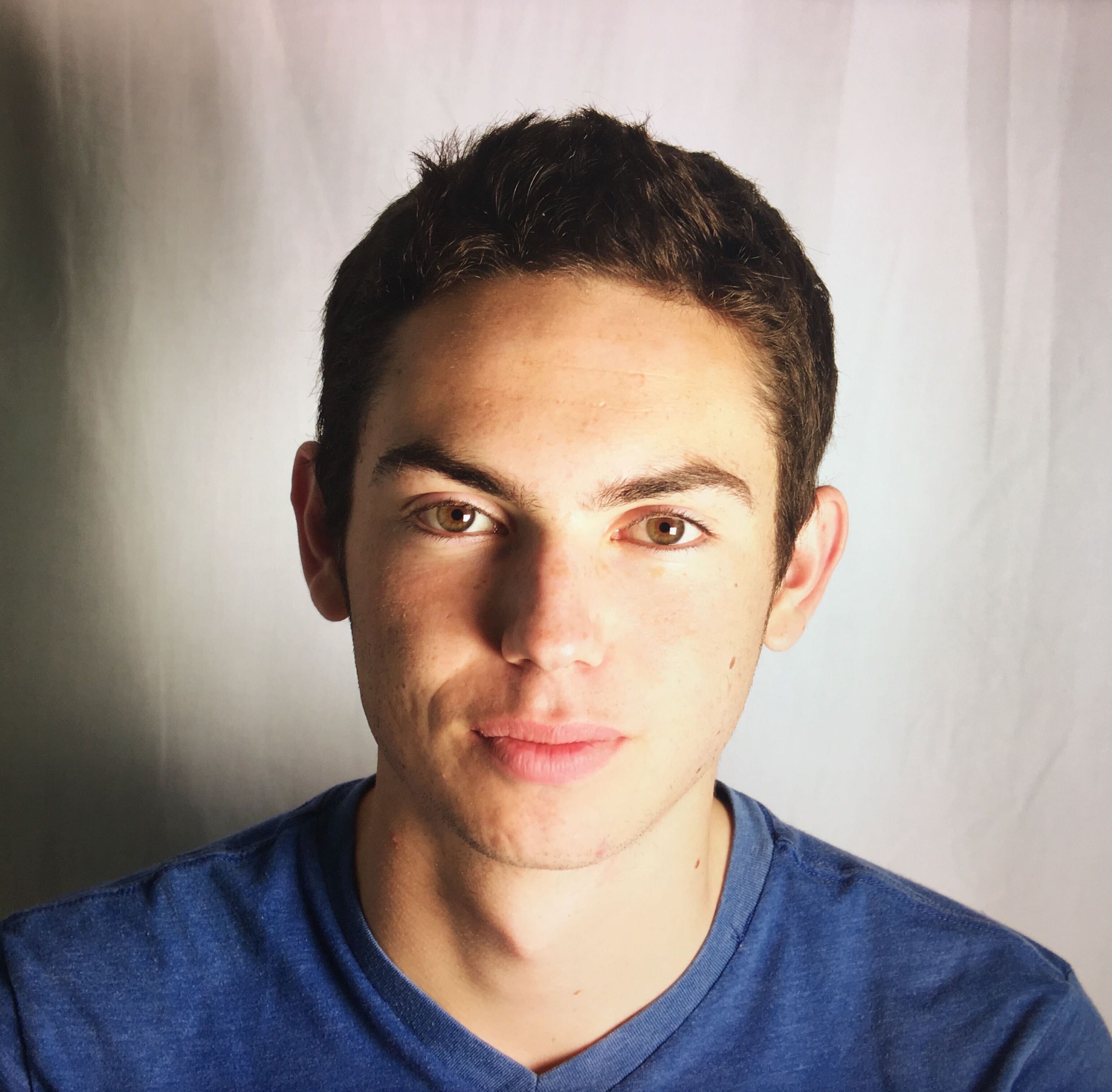 Jack Perez
Sports editor
Prediction: Oregon 31, UCLA 14
Coach Chip Kelly is heading back to his old school, where he had much more success than his current tenure.
Whether or not junior quarterback Dorian Thompson-Robinson can play is the major talking point for this matchup. Regardless of his status, this is going to be a tough day for UCLA football against the No. 11 team in the country.
The Ducks have beaten the Bruins in seven of the team's past eight games since 2008. The last time UCLA was able to win in Eugene came back in 2004 when Karl Dorrell – now at the helm at Colorado – was in the middle of a 6-6 campaign.
Even putting history aside for a second, the present does not look favorable for the Bruins either. While UCLA did dominate in a 34-10 win over California, Kelly's team is just two weeks removed from a 48-42 loss to the Buffaloes who were without their top running back, had a new head coach and were starting a converted safety at quarterback.
UCLA will have to rely on its defense, especially if Thompson-Robinson is out. If the unit plays the same way as this past Sunday, then it could hold the Ducks to a reasonable score. But if the Bruins come out flat and allow the Oregon offense to get comfortable, they could be in for a long afternoon.
The latter scenario has shown up more often in the Kelly era, and the Ducks will run out of this one with an easy victory.
Sam Connon
Football beat reporter
Prediction: Oregon 37, UCLA 17
If garbage time against the Golden Bears meant anything, Chase Griffin could very well be suiting up as the Bruins' starting quarterback this weekend.
The redshirt freshman was Texas' Gatorade Player of the Year back in high school, accounted for 59 total touchdowns his senior year and regularly appears on the Athletic Director's Honor Roll at UCLA.
That's all well and good, but it won't mean a thing against the Ducks in Eugene this weekend.
UCLA doesn't stand a chance against No. 11 Oregon without Thompson-Robinson. The Bruins barely stand a chance if he does end up playing, but there's at least a sliver of hope for a road upset if he's cleared before kickoff.
Now it looks like Tyler Shough will be the best quarterback to take the field Saturday, and he's played efficient, mistake-free football so far this season. He has tossed two picks, but his 171.0 passer rating is best in the Pac-12.
The Bruin secondary made a good quarterback look subpar when Chase Garbers came to town last week, so it isn't a guarantee that Shough puts in another great performance. Still, that was with Thompson-Robinson running things on the other side of the ball, so the entire game plan is subject to change.
Shough is better than Griffin, Mario Cristobal has had more success than Kelly in the past two-plus seasons and the Duck defense has legitimate NFL talent at all three levels.
UCLA is riding a high after beating Cal, but expect those good feelings to stop dead in their tracks in Eugene this weekend.
Taiyo Keilin
Assistant Sports editor
Prediction: Oregon 45, UCLA 13
To their credit, the Bruins looked very good in their second game of the season.
However, the resounding victory came against a California team playing in its first game of 2020, not knowing who or where it was playing until less than 48 hours before kickoff. Sure, both teams had the same amount of preparation time, but the Golden Bears had to catch a flight to LAX whereas the Bruins knew all along they would be playing at the Rose Bowl. Not quite the same.
Thompson-Robinson had a great game, throwing three touchdowns and adding one with his legs as well. After the possible scratch of its starting quarterback, UCLA can't like its chances, as Griffin will take the ball in the opening series for the first time in his collegiate career.
Thompson-Robinson versus Shough would be a good matchup to watch as the two are within 45 total yards of each other this season, but with the former possibly missing the contest, the latter will shine if up against the Bruins' second string.
The Ducks are also a much better team than the Bears and already have two games – and two wins – under their belt. Oregon sits comfortably in first place in the Pac-12 North after wins against Stanford and Washington State.
The last time UCLA boasted a winning record was in 2017 after it beat Oregon to improve to 4-3 on the season, but with a possible absence as big as Thompson-Robinson, the Ducks will swim circles around the Bruins, thwarting any chance of Kelly's team climbing above the .500 mark.
Zoe Willoughby
Copy chief
Prediction: Oregon 42, UCLA 35
It's been just over eight months since I last sat down to write about a UCLA-Oregon game.
Last time, it was to recap a UCLA beach volleyball sweep. This time, it's to predict a UCLA football loss.
The Bruins haven't faced off against the Ducks since Kelly and Thompson-Robinson's first season with the team, when UCLA was defeated by a double-digit margin. Two more seasons of experience may help but only to lessen the blow.
Oregon currently shares the top spot of the Pac-12 with Colorado, a team that dealt UCLA its first loss of the season two weeks ago, and I don't foresee the Bruins knocking the Ducks down from their No. 1 position.
Oregon's balanced offense is a force to be reckoned with, as it is the only Pac-12 team to both pass and run for over 500 yards this season. Now that Thompson-Robinson potentially won't be in the lineup come Saturday, the team may not have a fighting chance to bring 2018's margin down to single digits.
Each team has put up nearly the same number of points so far this season, which is no indication of the Bruins' being able to handily defeat the Ducks. However, this offers a glimmer of hope for UCLA to prove it can hold its own in a shootout at Kelly's old stomping grounds.
When I last made a football prediction, I gullibly put blind faith in a team that had yet to prove itself. If the year since then has taught me anything, I won't be getting my hopes up.