Editorial: UCLA must expand COVID-19 testing for university health care workers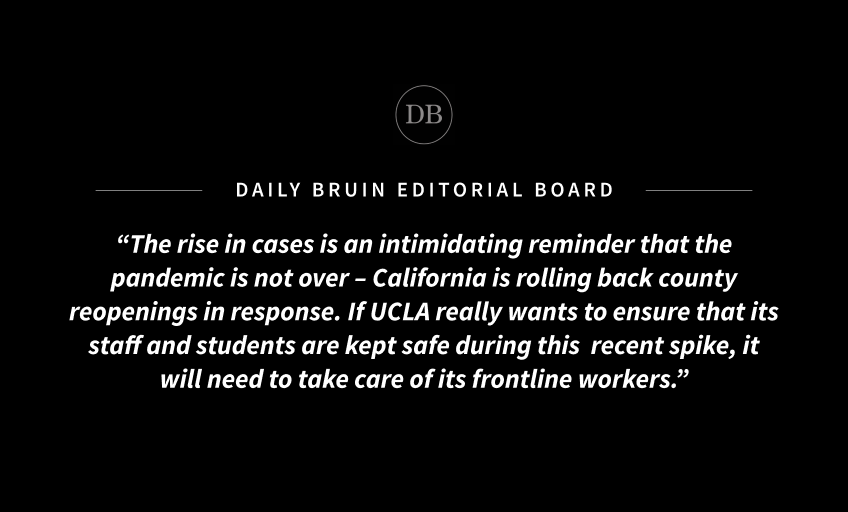 When it comes to COVID-19, UCLA is all about safety.
Unless, of course, you're a university health care worker.
UCLA Health nurses organized a demonstration outside of a Santa Monica COVID-19 testing site Nov. 10 in response to a university policy that grants students and faculty access to regular free testing, but not university health care workers.
In fact, for many groups who regularly visit campus, weekly testing is mandatory. UCLA also placed strict contact tracing protocols to prevent the spread of COVID-19 in on-campus housing.
This level of commitment to on-campus safety, while admirable, is a sharp contrast to administrators' relative neglect of frontline workers, who may experience long delays and a lack of accessible testing resources despite having to work around the clock with patients who have COVID-19.
UCLA has had months to provide these resources. Its failure to offer adequate testing for its health care workers is an embarrassing shortcoming for a university that prides itself on taking every precaution to keep its community safe – let alone one that boasts of a nationally ranked medical system. The university needs to step up and expand testing at UCLA Health facilities to afford health care workers the basic protections they need to continue fighting the pandemic.
These resources are especially needed right now.
The Los Angeles County Department of Public Health announced Nov. 6 that COVID-19 cases are spiking for the first time since mid-August, reaching as high as 2,100 cases in a single day. This matches a prediction by health experts that this winter will be worse than anything the U.S. has seen so far.
The rise in cases is an intimidating reminder that the pandemic is not over – California is rolling back county reopenings in response to rising cases. If UCLA really wants to ensure its staff and students are kept safe during this recent spike, it will need to take care of its frontline workers.
To the university's credit, the lengths it has gone to to protect the campus community are commendable; strict contact tracing measures and mandatory testing are all factors that will be vital in reducing the spread in the coming months.
But these measures just make the university's failure to protect health care workers all the more frustrating. There is little reason for UCLA not to extend these measures to its health facilities. These basic safeguards will provide more resources to those who are both most susceptible to infection and most vital to protecting UCLA's campus community.
At the end of the day, the issue itself shouldn't be that complicated. Health care workers have voiced their need for more support.
It's time for UCLA to listen to them.