Editorial: Support for marginalized groups still vital after proposition failure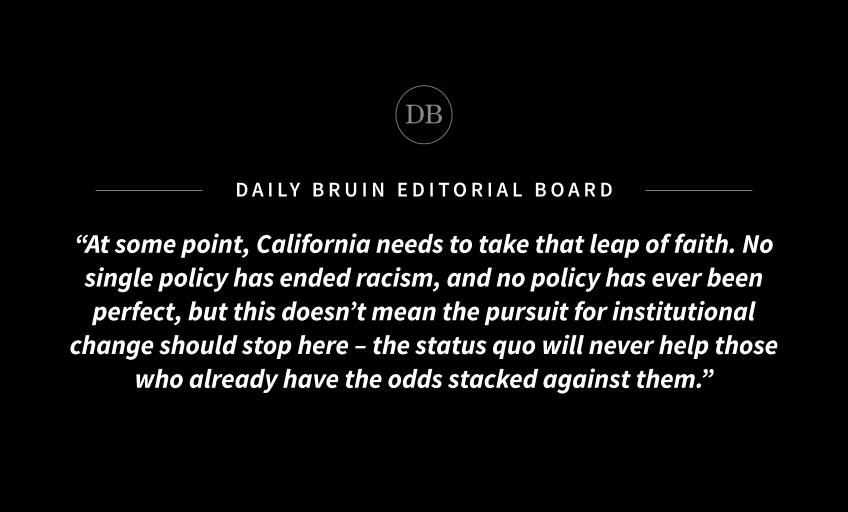 This post was updated Nov. 15 at 6:15 p.m.
Californians fumbled a chance to close the diversity gap in the state's higher education.
For a region known nationally for its progressive policies, voters' choice to keep the status quo in regards to racial equity is disheartening.
If it had passed, Proposition 16 would have repealed Proposition 209, which banned the consideration of race, ethnicity or gender in public education admissions, along with hiring or contracting in public institutions.
Proposition 209 left behind a troubling legacy. Enrollment rates of Black, Latino and Native American students in the University of California fell by at least 12% in the years following the measure's passage. Nearly two decades later, Black and Latino students still remain underrepresented in the UC system when compared to the state's high school population. The same narrative applies to the state's overall undergraduate system compared to its general population.
Affirmative action programs once gave students from underrepresented groups targeted scholarships and resources. Those programs were not allowed after the passing of Proposition 209.
Even a state as blue as California in the midst of a nationwide social justice movement couldn't support a proposition that had real potential to benefit marginalized groups. There are likely a plethora of solutions to educational barriers for these groups, and while affirmative action was never going to be the end-all-be-all of advocating for a level playing field, it was certainly a start.
At some point, California needs to take that leap of faith. No single policy has ended racism, and no policy has ever been perfect, but this doesn't mean the pursuit of institutional change should stop here – the status quo will never help those who already have the odds stacked against them.
The editorial board commends the work of student activists who pushed for Proposition 16 and have pledged to look for more ways to continue to support students of color. The board also calls on the UC, itself a proponent of Proposition 16, to make good on its promises to improve outreach and support to underserved groups. Empty words are no longer enough.
Unfortunately, Californians voted against more potential support for students from marginalized groups, but the fight will continue.
Because if one thing is clear from the results, it's that the work is far from over.