USAC recap – Nov. 10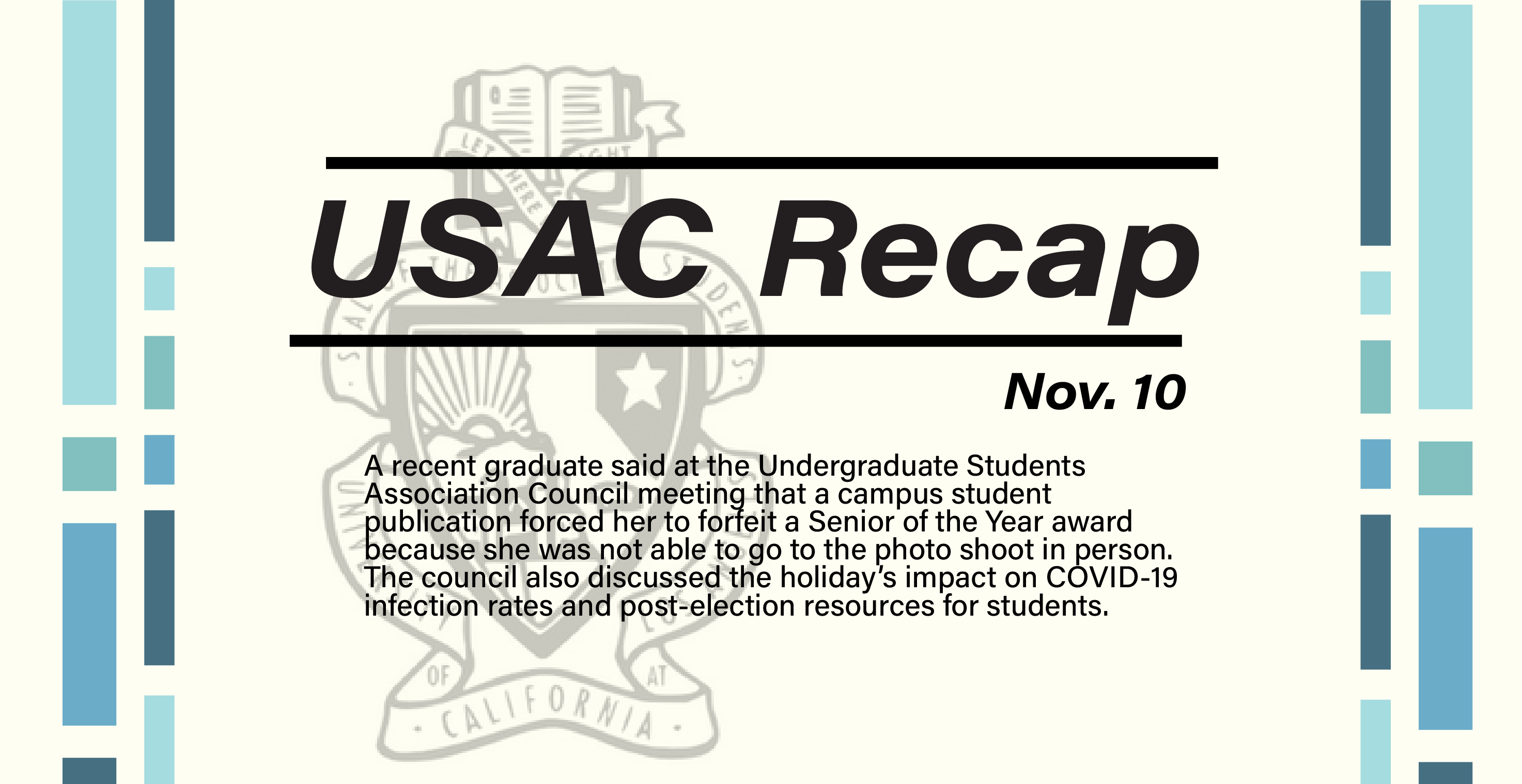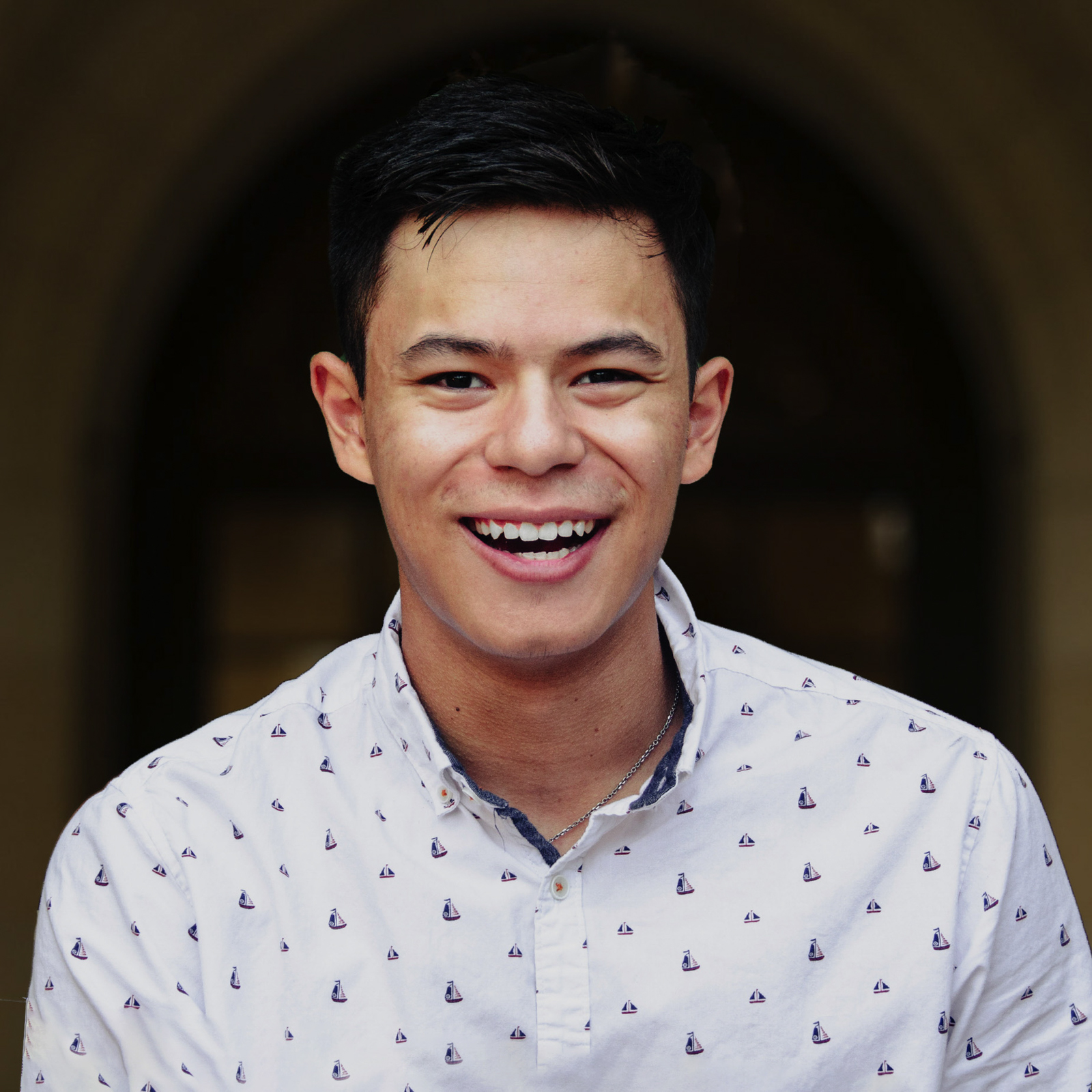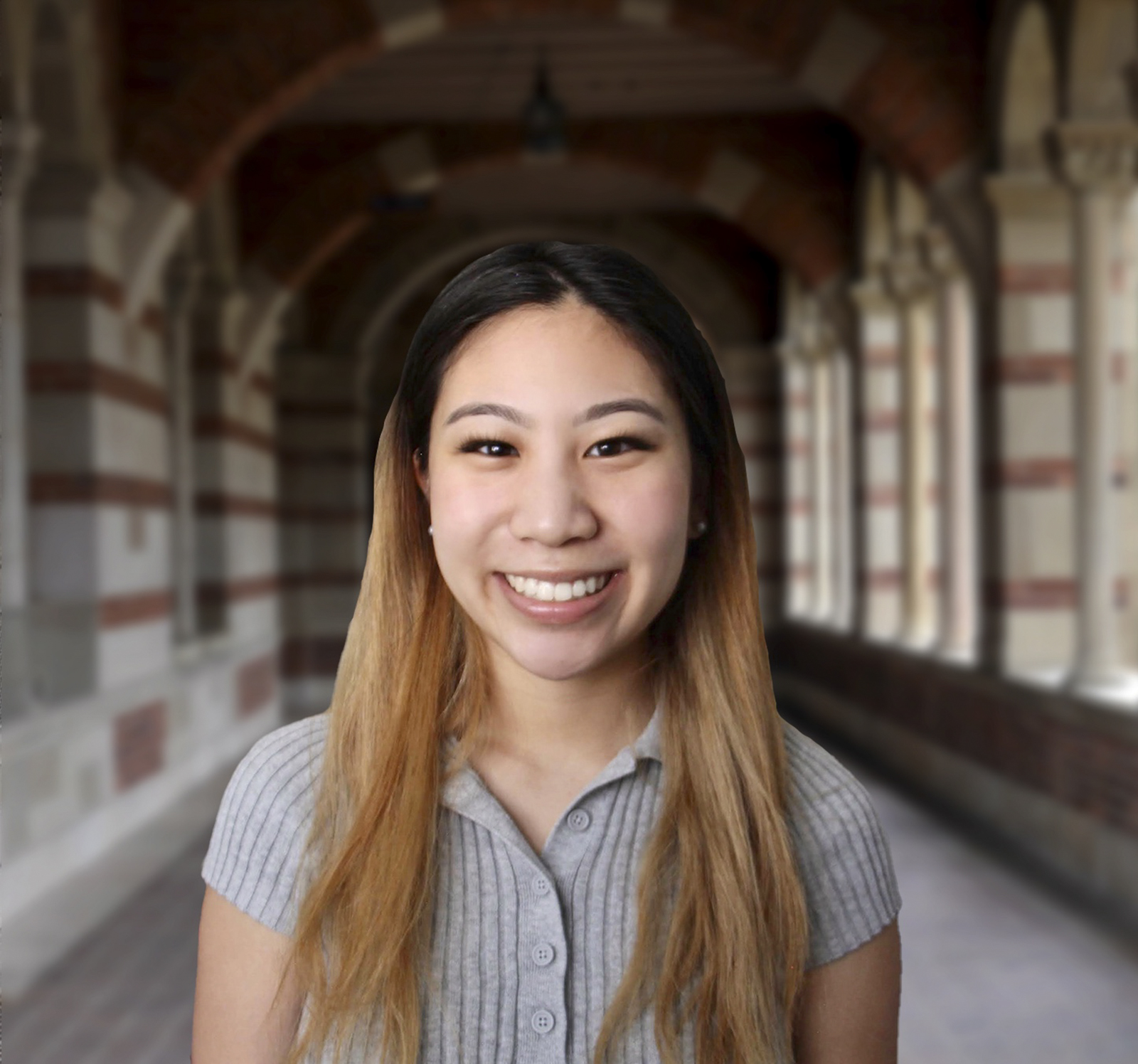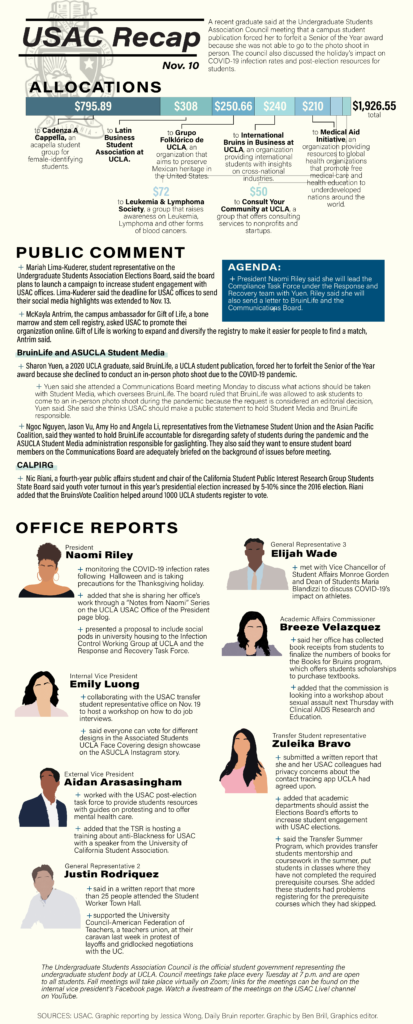 A recent graduate said at the Undergraduate Students Association Council meeting that a campus student publication forced her to forfeit a Senior of the Year award because she was not able to go to the photo shoot in person. The council also discussed the holiday's impact on COVID-19 infection rates and post-election resources for students.
Public Comment:
Mariah Lima-Kuderer, student representative on the Undergraduate Students Association Elections Board, said the board plans to launch a campaign to increase student engagement with USAC offices. Lima-Kuderer said the deadline for USAC offices to send their social media highlights was extended to Nov. 13.
Sharon Yuen, a 2020 UCLA graduate, said BruinLife, a UCLA student publication, forced her to forfeit the Senior of the Year award because she declined to conduct an in-person photo shoot due to the COVID-19 pandemic. Yuen said she attended a Communications Board meeting Monday to discuss what actions should be taken with Student Media, which oversees BruinLife. The board ruled that BruinLife was allowed to ask students to come to an in-person photo shoot during the pandemic because the request is considered an editorial decision, Yuen said. She said she thinks USAC should make a public statement to hold Student Media and BruinLife responsible.
Ngoc Nguyen, Jason Vu, Amy Ho and Angela Li, representatives from the Vietnamese Student Union and the Asian Pacific Coalition, said they wanted to hold BruinLife accountable for disregarding safety of students during the pandemic and the ASUCLA Student Media administration responsible for gaslighting. They also said they want to ensure student board members on the Communications Board are adequately briefed on the background of issues before meeting.
Nic Riani, a fourth-year public affairs student and chair of the California Student Public Interest Research Group Students State Board said youth voter turnout in this year's presidential election increased by 5-10% since the 2016 election. Riani added that the BruinsVote Coalition helped around 1000 UCLA students register to vote.
Dylan Thayer, the CALPIRG Students at UCLA Board vice chair, said 460 people have pledged to join CALPIRG this year. CALPIRG is launching three campaigns to promote 100% renewable energy, addressing hunger, homelessness, and COVID-relief, and offering affordable textbooks, Thayer said.
McKayla Antrim, the campus ambassador for Gift of Life, a bone marrow and stem cell registry, asked USAC to promote their organization online. The Gift of Life is working to expand and diversify the registry to make it easier for people to find a match, Antrim said.
Allocation:
The council allocated a total of $795.89 to Cadenza A Cappella, an acapella student group for female-identifying students.
The council allocated a total of $250.66 to Grupo Folklórico de UCLA, an organization that aims to preserve Mexican heritage in the United States.
The council allocated a total of $210.00 to Medical Aid Initiative, an organization providing resources to global health organizations that promote free medical care and health education to underdeveloped nations around the world.
The council allocated a total of $50.00 to Consult Your Community at UCLA, a group that offers consulting services to nonprofits and startups.
The council allocated a total of $72.00 to the Leukemia & Lymphoma Society, a group that raises awareness on Leukemia, Lymphoma and other forms of blood cancers.
The council allocated a total of $308.00 to Latin Business Student Association at UCLA.
The council allocated a total of $240.00 to International Bruins in Business at UCLA, an organization providing international students with insights on cross-national industries.
Agenda:
President Naomi Riley said she will lead the Compliance Task Force under the Response and Recovery team with Yuen. Riley said she will also send a letter to BruinLife and the Communications Board.
Reports:
Riley said her office has been monitoring the COVID-19 infection rates following Halloween and is taking precautions for the Thanksgiving holiday. She added that she is sharing her office's work through a "Notes from Naomi" Series on the UCLA USAC Office of the President page blog. Riley also said she presented a proposal to include social pods in university housing to the Infection Control Working Group at UCLA and the Response and Recovery Task Force.
Internal Vice President Emily Luong said her office is collaborating with the USAC transfer student representative office on Nov. 19 to host a workshop on how to do job interviews. Luong also said everyone can vote for different designs in the Associated Students UCLA Face Covering design showcase on the ASUCLA Instagram story.
External Vice President Aidan Arasasingham said his office worked with the USAC post-election task force to provide students resources with guides on protesting and to offer mental health care. He added that the TSR is hosting a training about anti-Blackness for USAC with a speaker from the University of California Student Association.
General Representative 2 Justin Rodriguez said in a written report that more than 25 people attended the Student Worker Town Hall. He added that his office supported the University Council-American Federation of Teachers, a teachers union, at their caravan last week in protest of layoffs and gridlocked negotiations with the UC.
General Representative 3 Elijah Wade said his office met with Vice Chancellor of Student Affairs Monroe Gorden and Dean of Students Maria Blandizzi to discuss COVID-19's impact on athletes.
Academic Affairs Commissioner Breeze Velazquez said her office has collected book receipts from students to finalize the numbers of books for the Books for Bruins program, which offers students scholarships to purchase textbooks. She added that the commission is looking into a workshop about sexual assault next Thursday with Clinical AIDS Research and Education.
Transfer Student Representative Zuleika Bravo submitted a written report that she and her USAC colleagues had privacy concerns about the contact tracing app UCLA had agreed upon. She added that academic departments should assist the Elections Board's efforts to increase student engagement with USAC elections. Bravo said the Transfer Summer Program, which provides transfer students mentorship and coursework in the summer, put students in classes where they have not completed the required prerequisite courses. She added these students had problems registering for the prerequisite courses which they had skipped.
The Undergraduate Students Association Council is the official student government representing the undergraduate student body at UCLA. Council meetings take place every other Tuesday at 7 p.m. during fall quarter and are open to all students. Fall quarter meetings will take place virtually on Zoom; links for the meetings can be found on the Internal Vice President's Facebook page. Watch a livestream of the meetings on the USAC Live! channel on YouTube.