Throwback Thursday: Taking a look at the Daily Bruin's interview with Joe Biden in 1987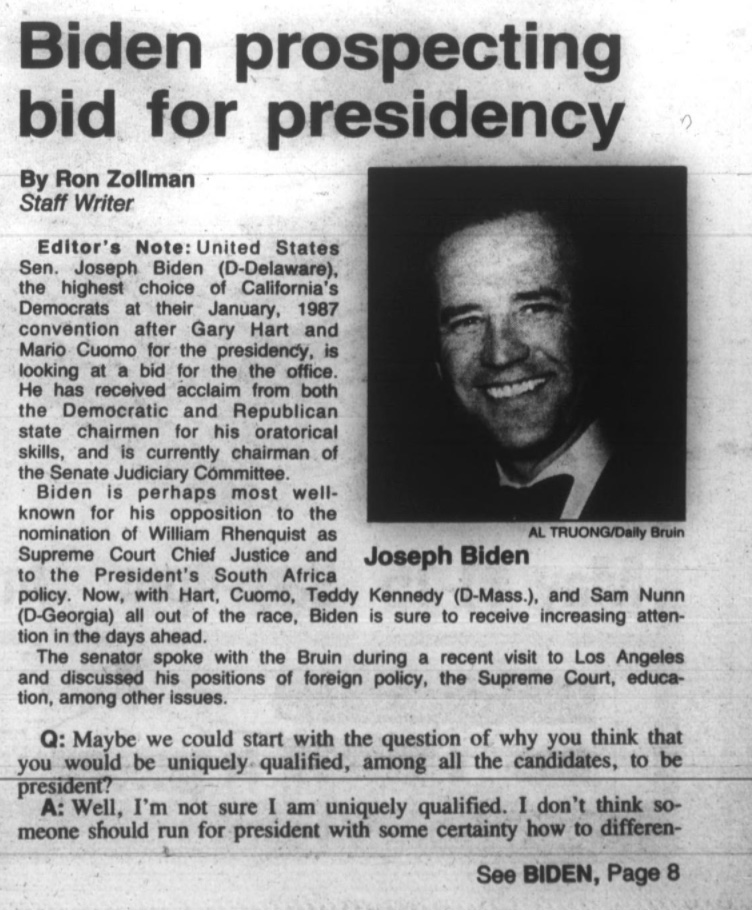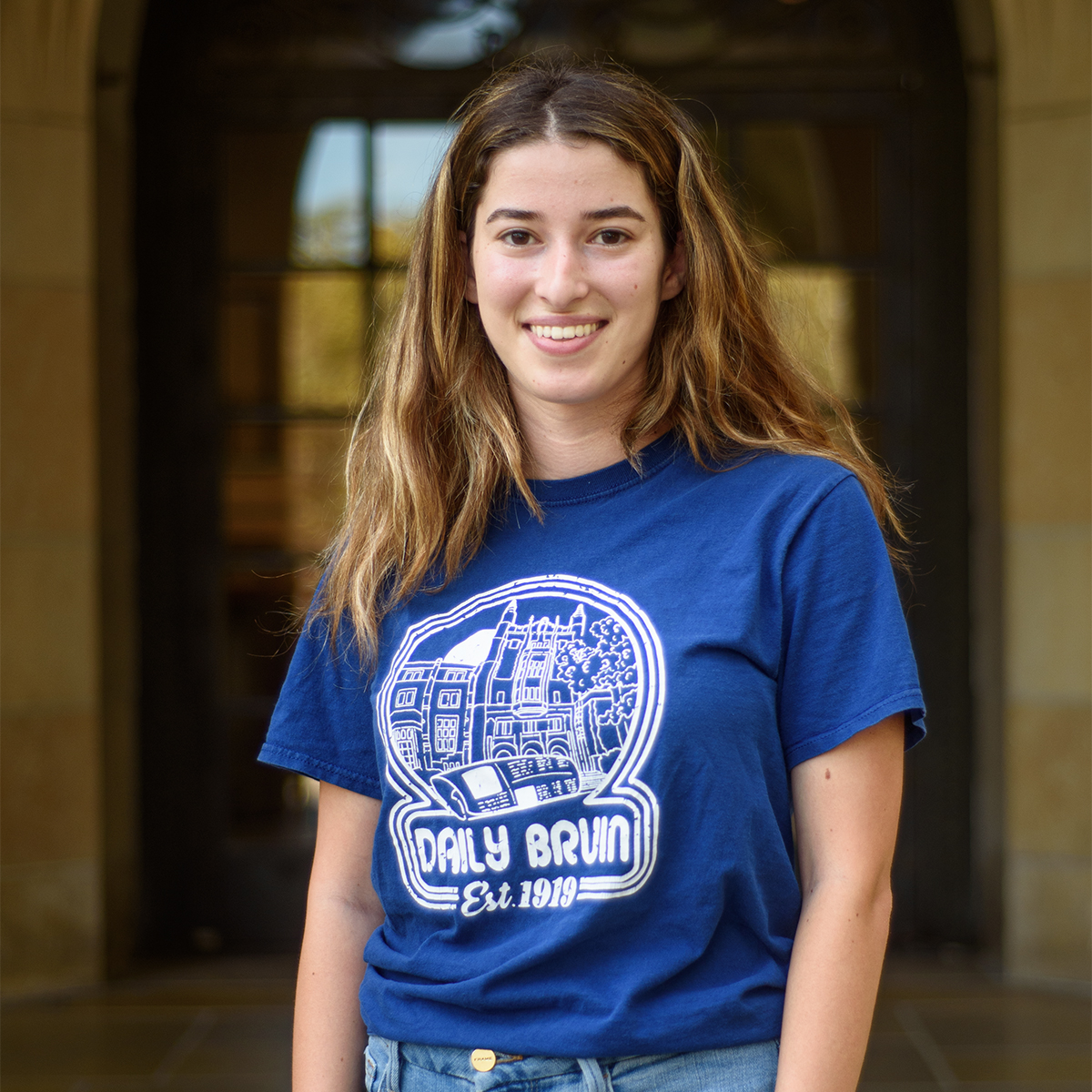 Joe Biden is a familiar name to many Bruins. We grew up watching him and then-President Barack Obama lead the country for eight years.
Though we may remember President-elect Biden for his famous friendship with the former president, there was a time when he was known in his own right for being a senator from Delaware – who happened to be running for president, too.
On May 11, 1987, Daily Bruin staff writer Ron Zollman interviewed Sen. Biden, who at the time was seeking the Democratic nomination for the 1988 presidential election. Though many things have changed in the 33 years since the interview, key similarities can be drawn between Biden's stance on social issues, health crises and taxes.
One of Biden's most defining features is the rhetoric he uses to address the American people, referring to them as a whole rather than catering to any one party. In his 1987 Q&A, Biden's language remained largely nonpartisan.
"My approach (to the presidency) is whether or not I think I could make a contribution to the country," Biden said in the interview.
Biden spread a similar message in a recent drive-in rally in his hometown of Wilmington, Delaware, after being declared victor of the 2020 presidential election earlier the same day.
"I pledge to be a president who does not seek to divide but unify; who doesn't see red states and blue states, but only sees the United States," Biden said at the rally.
Following this discussion, Zollman asked the then-senator about more partisan issues, such as religion and abortion. Biden called for a tight separation between church and state and shared his stance on abortion.
The abortion-rights debate has recently been at the forefront of politics since conservative Justice Amy Coney Barrett's confirmation to the Supreme Court in late October. Though Barrett has not ruled on abortion specifically before, it turns out Biden has been a staunch pro-abortion-rights advocate for decades.
"I think a woman should have the right to choose whether or not she wishes to give birth," Biden said to Zollman. "That's a decision between she and her doctor."
Nearing the end of the Q&A, Zollman asked Biden what the government could do to better treat the millions of people who are carriers of the AIDS virus. Though different in manifold ways, the context of a national health crisis involving the AIDS virus is comparable to the current COVID-19 pandemic in the United States, as was Biden's call to action.
"I think the federal government … has to increase its commitment to find a cure to AIDS, now," Biden said in the 1987 interview.
Biden's 1987 plea resembles his recent approach to managing the COVID-19 pandemic.
"We cannot forego the important work that needs to be done between now and (a COVID-19 vaccine) to get our country through the worst wave yet of this pandemic," Biden said at a press conference Monday.
Biden's criticism of ideological differences has also stayed unwavering throughout the years. During the AIDS epidemic, some religious groups saw the virus as divine judgment against homosexuality.
"I think the administration has to be willing to face up to the fact that this is not God's revenge or some moral issue," Biden said to Zollman. "It's a health issue, which means we should be talking about educating our children and adults as to the dangers relating to AIDS."
Now, in 2020, Biden is expressing the same desire to cast away prejudices in the name of health and safety.
"It doesn't matter who you voted for, where you stood before Election Day – it doesn't matter your party or your point of view," Biden said at the same press conference. "We can save tens of thousands of lives if everyone would just wear a mask for the next few months."
Though Biden's serious approach to the COVID-19 pandemic may have attracted voters, his tax plan also made headlines this year.
Some Americans are worried to see their taxes increase during the COVID-19 pandemic, but Biden has remained consistent since his 1987 interview that tax money should be used efficiently.
"The American people are not opposed to taxes, they are opposed to waste," Biden said in the 1987 interview. "They're opposed to the notion that the money they pay doesn't get to fund what we tell them is going to be funded."
Currently, Biden's website contains a statement guaranteeing not to raise taxes for those earning less than $400,000 a year.
Since Biden's 1987 Q&A with the Daily Bruin, a lot has changed in the world around us. However, from senator to vice president and now president-elect, many of the core issues that Biden faced years ago remain comparable.
Azad is a part of the Daily Bruin's senior staff. She previously served as a contributor, then as the 2020-2021 assistant editor for the Quad. She is a fourth-year student studying psychology and communication.
Azad is a part of the Daily Bruin's senior staff. She previously served as a contributor, then as the 2020-2021 assistant editor for the Quad. She is a fourth-year student studying psychology and communication.