UCLA quarterback walks the line between YouTube monetization and NCAA regulations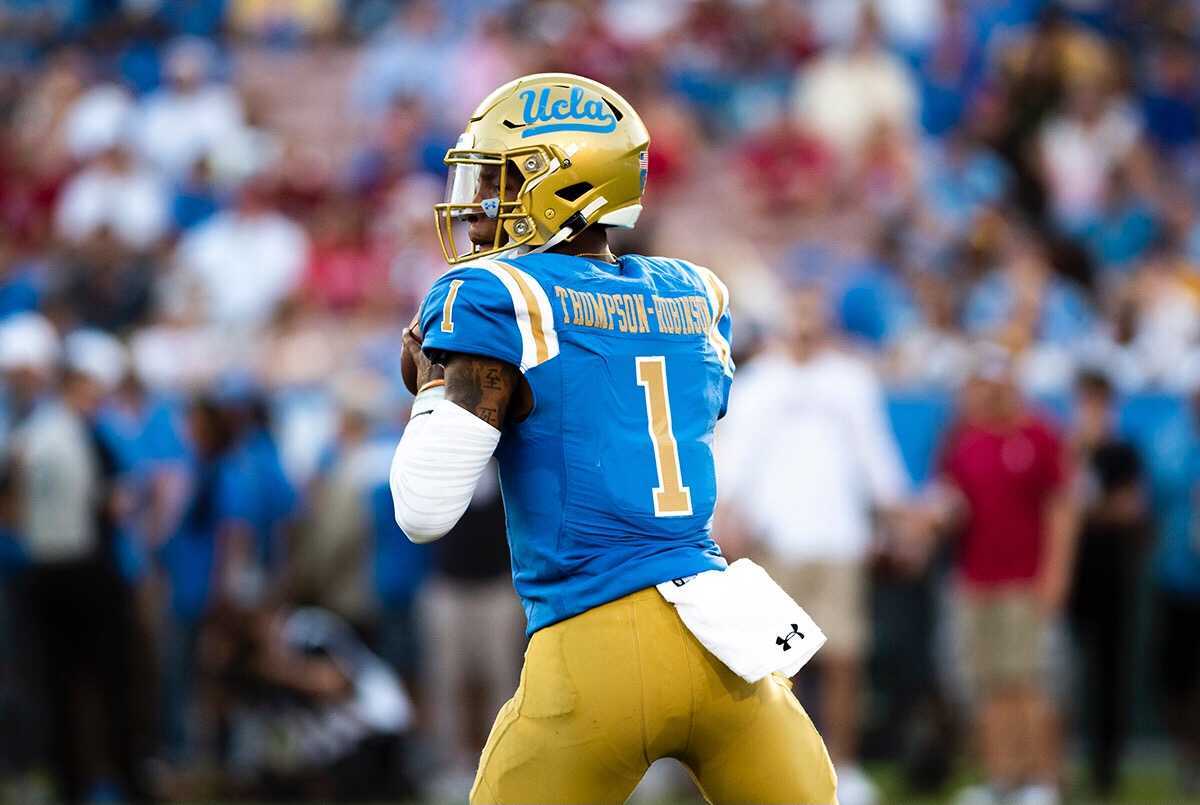 Junior quarterback Dorian Thompson-Robinson performs on and off the field, posting vlogs and other behind-the-scenes videos on YouTube while starting for UCLA football. (Liz Ketcham/Daily Bruin senior staff)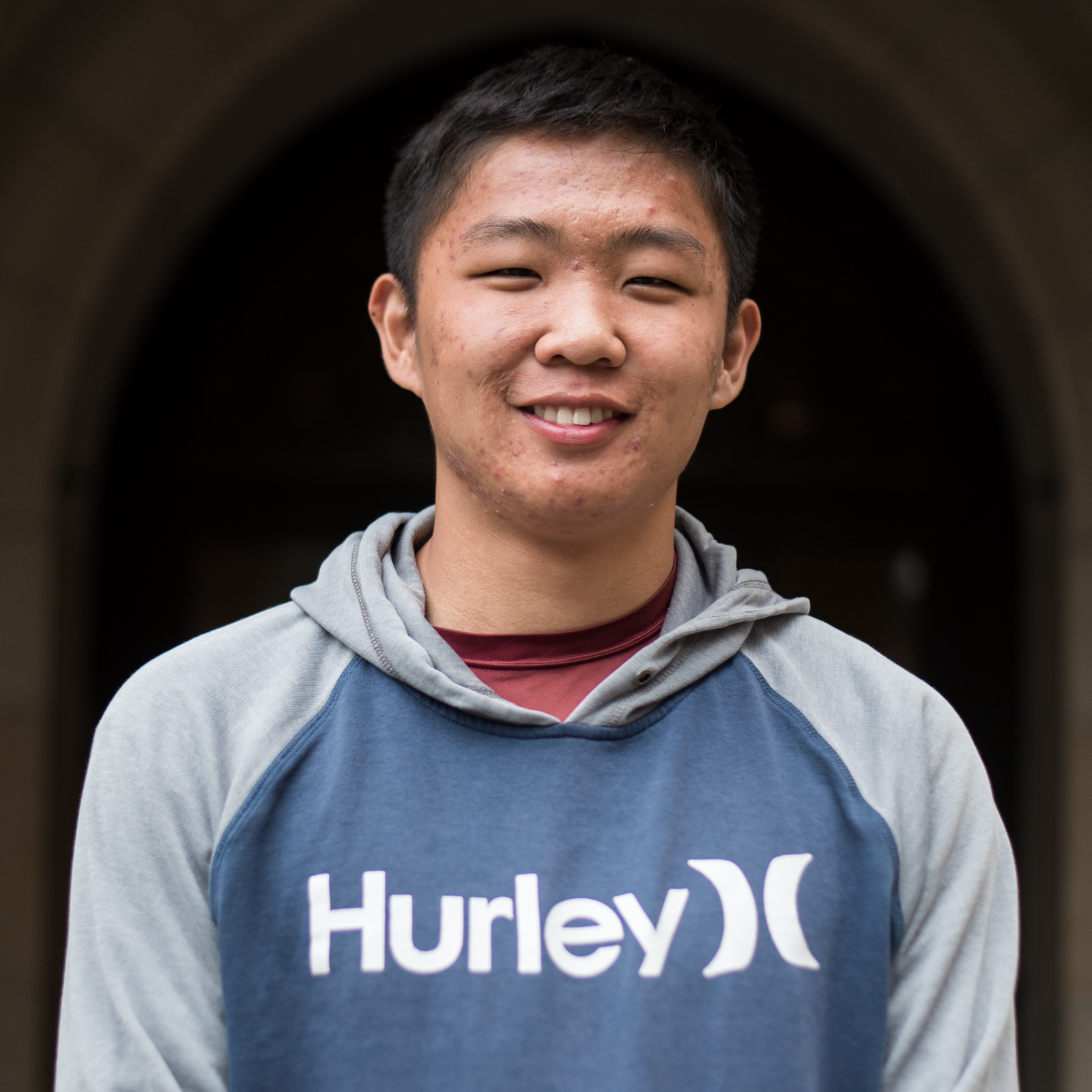 #AthletesArePeopleToo.
This hashtag is found at the end of all of Dorian Thompson-Robinson's vlog titles on his YouTube channel.
The junior UCLA quarterback uploaded the first episode of his latest vlog series Aug. 12. Since then, he's published five more videos that include clips of him eating at Chick-Fil-A, going to a golf range and playing chess.
Yet despite Thompson-Robinson's efforts to show how an athlete can live a normal life, he hasn't done something most people of his stature have – make money off his YouTube channel.
The People Behind the Channel
The former Bishop Gorman High School quarterback uploaded his first video June 21, 2019. He has gained more than 22,000 subscribers and amassed more than 900,000 views in the time since.
This initial video was filmed and edited by a former peer from his time in high school, Kylar Combs. Combs works as a freelance videographer and usually charges his clients based on the length of the final video. However, with Thompson-Robinson, he said he's given the quarterback a discount.
"I always take care of (Thompson-Robinson)," Combs said. "My average video price is $600 and those (videos) typically last two to three minutes. As for (Thompson-Robinson's videos), I'm (not) going to disclose (the price) because I give him a price that I wouldn't give many people just because … we have a good time working for each other, and he helps me grow as well."
Combs said he's had more video opportunities made available to him because of his relationship with Thompson-Robinson.
"A lot more athletes contact me for videos," Combs said. "But the thing that (Thompson-Robinson) really did for me is he allowed me to work on something else, besides restaurants and companies, which is what I normally film."
One of the quarterback's other editors also said that Thompson-Robinson has opened doors for him. Kyu Edminster is a Los Angeles-based videographer who had followed Thompson-Robinson since the quarterback was in high school.
One day, Edminster sent Thompson-Robinson a direct message on Instagram asking if he could work for the quarterback, leading to the beginning of their professional relationship. Edminster said his new connection with Thompson-Robinson has allowed him to gain more high-profile clients.
"Before (Thompson-Robinson), I'd be working with high school kids, little college kids or JUCO schools," Edminster said. "But once I started working with (Thompson-Robinson), the connections that he has came to me, like his quarterback coaches or some of his teammates."
Among his top clients is Steve Clarkson, a quarterback coach who has worked with the likes of Pittsburgh Steelers quarterback Ben Roethlisberger and Chicago Bears quarterback Nick Foles.
However, unlike Combs, Edminster is not paid. He charges his usual clients $150 for every two hours of work needed to produce a video. But for the Bruin quarterback, he asks for nothing.
Edminster initially offered to work for Thompson-Robinson for free and has continued to work for him pro bono. The video producer didn't know that the quarterback had not monetized his channel, but said even if his client were making money off his videos, he would not charge Thompson-Robinson for his services.
"I personally would not want to get paid by (Thompson-Robinson) because of all the other doors he's opened up for me since I've worked for him," Edminster said. "I would not want him at all to pay me for this relationship. I wouldn't even care (if he were making money off his YouTube channel)."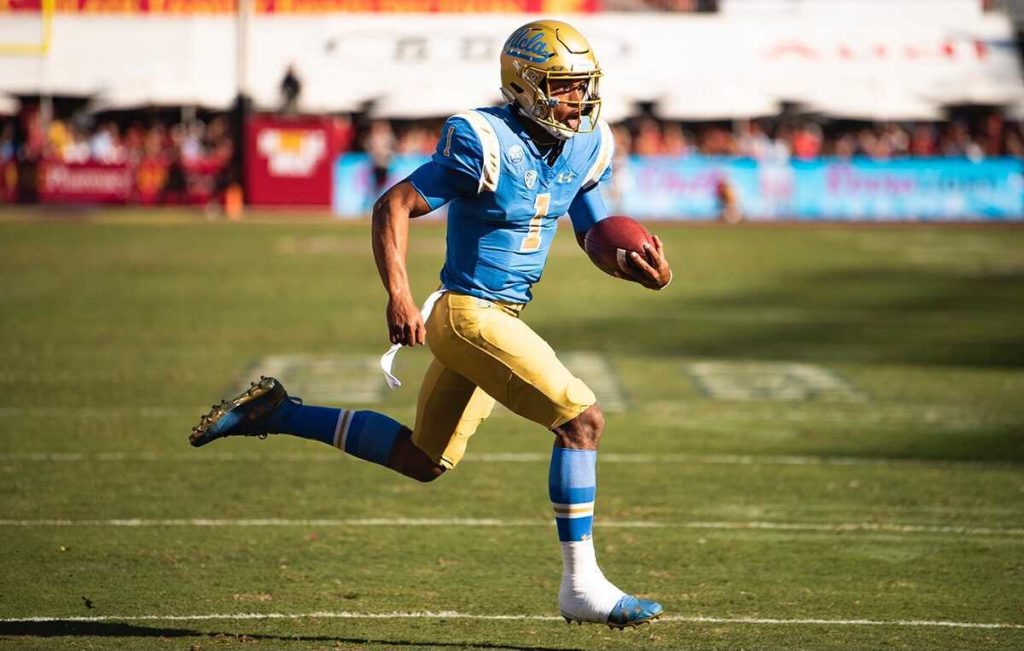 Not the First
This isn't the first time the NCAA has made YouTube a difficult scene to navigate for college athletes.
Back in 2017, UCF kicker Donald De La Haye had more than 91,000 subscribers on his channel "Deestroying" and was monetizing his videos when the NCAA decided to step in.
"Basically, I'm not allowed to make any money off my YouTube videos," De La Haye said at the time. "I'm working hard basically like a job. Filming, editing, creating ideas, doing things of that sort, and I'm not allowed to make any money. If I do, then bad things happen."
The rule in question was NCAA bylaw 12.4.4 which says, "A student-athlete may establish his or her own business, provided the student-athlete's name, photograph, appearance or athletics reputation is not used to promote the business."
De La Haye had previously made videos offering a behind-the-scenes look at the UCF football program and some of his workouts on campus.
The NCAA released a statement at the time explaining its decision.
"Although (De La Haye) has chosen not to compete any longer as a UCF student-athlete, he could have continued playing football for the university and earn money from non-athletic YouTube videos, based on a waiver the NCAA granted July 14," the NCAA's statement read.
The kicker ended up leaving the team in pursuit of growing his YouTube channel. He now has more than 3 million subscribers and has produced videos with the likes of Kansas City Chiefs wide receiver Tyreek Hill and Tampa Bay Buccaneers wide receiver Antonio Brown.
The Future and the Present
De La Haye made an appearance on Thompson-Robinson's YouTube channel Aug. 25 in a vlog where the two competed one-on-one, running routes and covering each other. Thompson-Robinson said the former kicker has mentored him in the past couple months.
"(De La Haye) is one of my good friends now," Thompson-Robinson said. "We've grown a lot together throughout this whole quarantine. He's taught me a lot about both the NCAA and the YouTube side. In terms of advice, he's done a great job with that … treating me as a younger brother."
NCAA bylaw 12.4.4 is still in practice today, so for now, Thompson-Robinson said he hasn't monetized his channel.
"My YouTube channel is not monetized at all," Thompson-Robinson said. "I do not make any money off of YouTube. I just do that for fun and (to) grow my personal brand."
The quarterback said he's been able to make the videos he wants, but there are rules he has to follow.
"I've been as creative as I want to be," Thompson-Robinson said. "As soon as I made the channel my freshman year, (UCLA's) compliance office sent me a big old list of guidelines and stuff to follow so I had already known about all the rules."
However, Combs said despite the rules, Thompson-Robinson has set himself up for success in the future by continuing his channel.
"What (Thompson-Robinson's) done by (making YouTube videos) anyways without making any money, (is) he's put himself in a position to be a lot bigger if (the NCAA) were to ever change the rules," Combs said.
The rules will change soon.
California Senate Bill 206, also known as the Fair Pay to Play Act, will go into effect at the beginning of 2023. The bill will enable student-athletes at California schools to profit off of activities related to their athletic skills. This will allow future athletes to not have to choose between making money on YouTube and being a college athlete.
However, Thompson-Robinson might not be around at UCLA to witness this change. His senior season ends in 2022. Unless he redshirts, he won't be playing football for the Bruins when the bill comes into effect.
The UCLA quarterback isn't the first college athlete to make a YouTube channel and he won't be the last, but he might be one of the final few to do so without making a single buck.
Yet, in the present, Thompson-Robinson said his stance on YouTube monetization is clear.
"If there were no guidelines or regulations, I would be monetized," he said.
In is currently a senior staff videographer and sports writer. He was previously an Assistant Video producer and a contributor on the men's volleyball and women's soccer beats. He is a fourth-year communications major.
In is currently a senior staff videographer and sports writer. He was previously an Assistant Video producer and a contributor on the men's volleyball and women's soccer beats. He is a fourth-year communications major.