Editorial: This election week, exercise your civic duty and your right to vote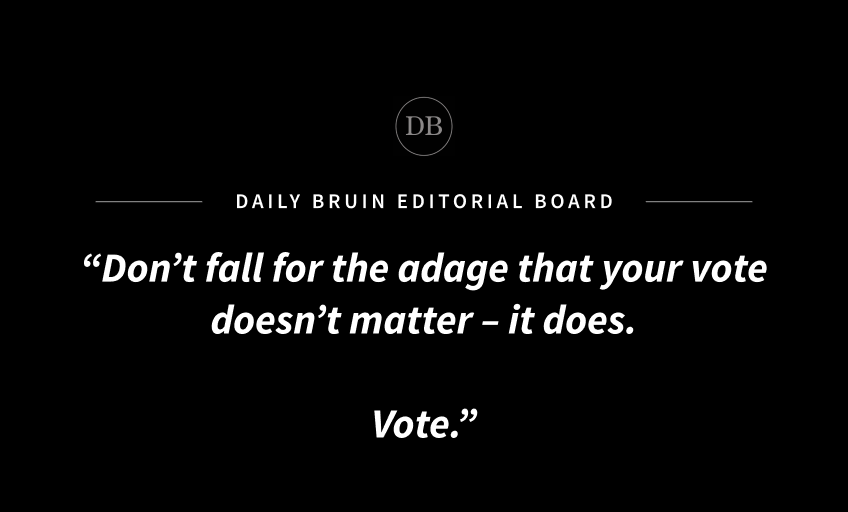 Go vote.
If you already have, great. But if you haven't, keep reading.
Election week is here. Please exercise your civic duty and your right to vote.
If you have received your mail-in ballot and are still stumped on the long list of candidates and propositions, refer to our endorsements for most of what's on the line in Los Angeles County.
There are more than 400 ballot drop boxes across LA County that are accepting ballots until 8 p.m. on Nov. 3. There is a UCLA drop box in Westwood Plaza next to the Transportation Office.
There are multiple in-person voting locations around UCLA if you aren't voting by mail. Vote centers in California offer same-day voter registration, which can accommodate out-of-state students living in Westwood who aren't able to vote in their home state. Ballots will still be counted after the county elections office completes the verification process for same-day voters. Ackerman Union, Bradley International Hall and the Hammer Museum are all open Nov. 2 until 7 p.m. and Nov. 3 between 7 a.m. and 8 p.m.
Registered California voters can still mail their ballots to their county offices as long as the ballots are postmarked by Nov. 3 and received no later than 17 days after Election Day. However, considering the current administration's consistent attempts to obstruct the efficiency of the United States Postal Service and President Donald Trump's continual attacks on mail-in voting, we urge you to consider the above options to ensure your vote is counted.
If you have already voted, we urge you to take the extra – but very easy – step of tracking your ballot to ensure it is accepted and counted. If you are a California voter, you can do so here. Other states use different mechanisms for vote tracking, but as a rule of thumb, you can track your ballot through the Secretary of State or Department of State's website.
To be clear, no voter should doubt whether their votes are counted. Nevertheless, the California Republican party has openly admitted to placing unauthorized ballot boxes in multiple counties. In the face of such blatant disregard of democratic norms, it has become clear that tracking your ballot is now a critical step in the voting process.
Don't fall for the adage that your vote doesn't matter – it does.
Vote.