The Quad: Reviewing 3 anti-racist reading recommendations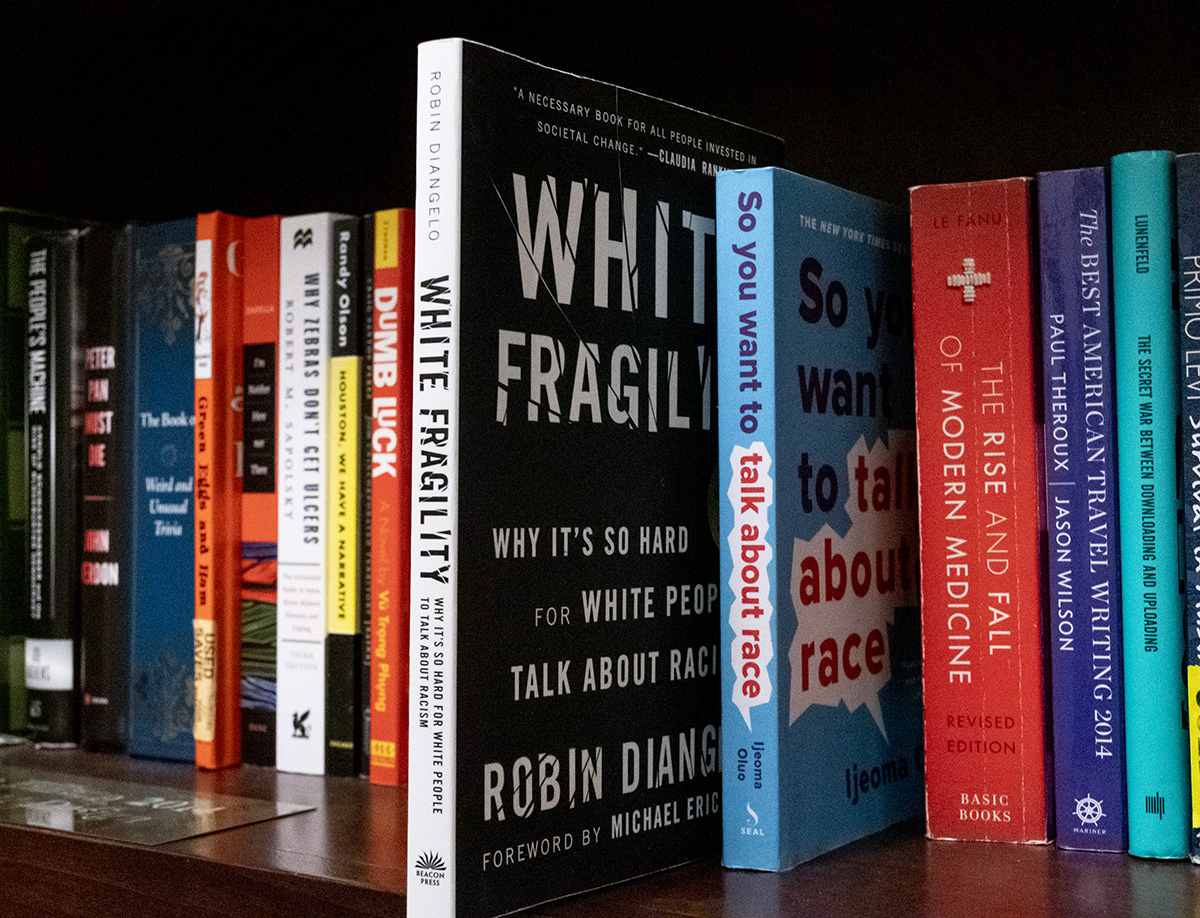 "How to Be an Antiracist," "So You Want to Talk about Race" and "White Fragility" are all bestselling books on racism that have become increasingly popular with the continuance of the racial justice movement. (Alex Driscoll/Daily Bruin staff)
In step with the burgeoning racial justice movement in the United States, activists have advocated engaging in conversations about racism as an ongoing, everyday process, and thankfully, many authors have provided foundations for these conversations.
Today, The Quad is looking into three bestselling books about racism – "How to Be an Antiracist," "So You Want to Talk About Race" and "White Fragility" – to explain some of their core tenets and synthesize them with the thoughts of a few professors.
Book 1: "How to Be an Antiracist"
Ibram X. Kendi's book "How to Be an Antiracist" explains the mechanisms of systemic racism, from mass incarceration to restrictive voting policies, while simultaneously grounding readers in his own experience as both the subject and perpetrator of racism.
From this framework, Kendi stresses that dismantling racism requires more than separating oneself from active participation in it, which he writes may allow individuals to passively remain part of a racist system without recognizing how it benefits them.
Additionally, Kendi uses the lens of his own identity as a Black American man to examine how the racialization of different ethnic groups complicates Black identities.
For example, he mentions a 1996 article in The Economist that tried to explain the socioeconomic gap between Black immigrants and Black people born in the U.S. by framing Black immigrants as "more entrepreneurial" than their American counterparts. Kendi points out that the article racializes these groups rather than looking at the situational differences that may have created this inequity, such as the fact that individuals who migrate tend to have greater resources or drive for material success.
Nicole Jenkins, a sociology and criminology lecturer at Howard University, said ethnic identity was highlighted over Black identity in her ethnographic research conducted in an African braiding and weaving salon in Las Vegas.
Given that the client base was primarily Black women, she said that other aspects of identity, such as nationality, were emphasized to a greater extent than in contexts in which these individuals' Blackness would be the primary focus.
"When you have women from South African countries and then you have American women, that (difference) was the new emphasis," Jenkins said.
Overall, Kendi's book provides a thorough dive into the historical and political underpinnings of racism and ties his experiences to a greater social context.
Book 2: "So You Want to Talk About Race"
Ijeoma Oluo's "So You Want to Talk About Race" weaves Oluo's personal experiences as a queer, biracial woman of color into a greater sociological and political context, all while providing direct and practical advice for having conversations about racism in real life.
One example she details is the existence of certain beauty standards that often exclude nonwhite individuals. In particular, Oluo discusses her own attempts to straighten and style her hair to fit Eurocentric images of beauty. She writes that by the time she was 30, she had forgotten what her natural hair looked like after years of modifications in order to fit the Western beauty standards she had consumed through the media.
Jenkins said she was similarly interested in the topic of beauty standards for Black women while conducting her research.
"The Eurocentric standard of beauty is still highlighted within the U.S., but Black women are really setting themselves apart and creating their own standard of beauty," she said.
The Creating a Respectful and Open World for Natural Hair Act of 2020, which Congress passed in September, prohibits discrimination against hairstyles and textures that are commonly associated with nonwhite races. Jenkins said this is another step forward in normalizing natural hair that falls outside conceptions of what is appropriate for professional settings.
Oluo also highlights the double standards placed on children of color in schools. She writes that educational institutions see Black and brown students as "future criminals," a perspective that erodes students' trust in educational institutions and damages their self-esteem.
Natalee Kehaulani Bauer, an assistant adjunct professor of race, gender and sexuality studies at Mills College, said she observed this pattern in suspension data during her time as an elementary and middle school teacher in the Bay Area.
"83% of the kids we suspended each year were Black boys, but they only made up around 20% of our student population," Bauer said.
Oluo ends her book by stressing the importance of talking about issues of racism while also acting to ameliorate them and remaining open to learning from mistakes.
Book 3: "White Fragility"
Robin DiAngelo's "White Fragility" uses her perspective as a white woman to present the reader with an overview of white fragility, which she defines as responses to racial stress that allow white individuals to remain in their racial comfort zones while maintaining their privileged racial positions.
One point that DiAngelo stresses is the danger of white individuals who consider themselves to be nonracist progressives and therefore dismiss the idea that they may be perpetrators of a racist system.
Bauer said she had seen this among colleagues in her own Bay Area community while working as a teacher. During staff meetings at elementary and middle schools, people were eager to talk about racism until it came to observing how they were involved in it.
"Once it became, 'Look at yourself,' it was silence," Bauer said.
Bauer said that the majority of elementary and secondary school teachers in the U.S. are white women. She said this is problematic considering historical narratives that portray Black masculinity as a danger to white femininity.
"You have a world where the majority of the folks in charge are white women and the majority of the folks being punished are Black boys," she said.
An article in The Atlantic criticized "White Fragility" for both its descriptions of Black individuals and DiAngelo's position as a white woman speaking to a white audience.
Bauer said she thinks DiAngelo and her book are in some ways reflective of the racist dynamics it attempts to address.
"That's one of those books where it's going to be really well accepted by white audiences," she said. "People are willing to listen to her because she's a white woman, but you have this whole history of Black feminism, Black intellectual thought, where people are saying this."
Off the Paper: Going Forward
Bauer said that learning about racism from books needs to be combined with actual behavioral changes in real life.

Bauer added that she questions whether the popularity of Kendi's book actually reflected people's will to make a change.
"Everybody's posting pictures of themselves reading it, and now a few months later and it's died down, have any of those people done anything different or learned anything?" she said. "It's going to take a whole lifetime of people. It took their whole lifetime to learn to be this way."
For Eddie Cole, an associate professor of higher education and organizational change at UCLA, universities are key to galvanizing substantial shifts in race relations. Cole said he believes UCLA is currently in a position to create change.
"As we're dealing with the national racial reckoning, as well as the global pandemic that has significant racial implications, UCLA right now has the opportunity to truly step forward and take advantage of this moment to truly address racial issues," he said.
Regardless of steps taken by UCLA as an institution, individual members of the UCLA community can also act independently to make a change. Reading these books is a small way to become more knowledgeable and aware of racial issues, but it is only the start.