Opinion: Zoom classes pose unique challenges for students who are deaf or hard of hearing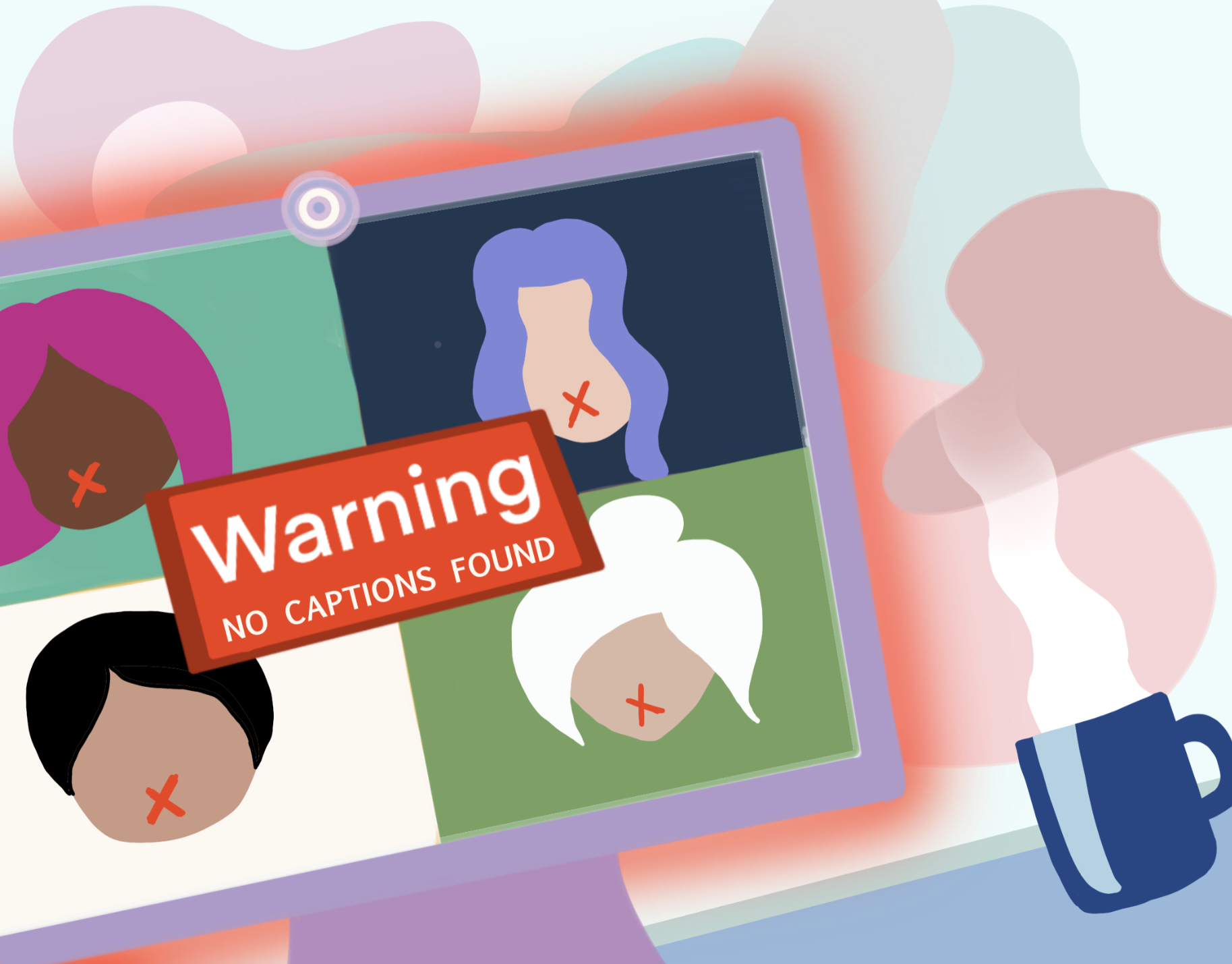 (Catherine Xie/Daily Bruin)
Welcome to the new era of classes: open your laptop, plug in your headphones and hope the Wi-Fi in your apartment building is strong enough to support the hundreds of classes happening all at once.
Remote learning has been hard enough on everyone, but for students who are deaf or hard of hearing, the Zoom routine poses more concerns than unreliable technology.
Online classes exacerbate difficulties for deaf and hard of hearing students. And it's a heavy burden to bear.
Students with hearing impairments must now find new strategies to take in every word of course material, while also managing factors like sound quality, internet connection and accommodations such as captioners or note-takers.
The lack of accessible tools for these students is unacceptable and wildly unfair. Though there are some accommodations from UCLA, they don't function adequately for Bruins with hearing impairments to keep up with remote learning. Professors must make the effort to support deaf and hard of hearing students to create a more equitable learning community.
Otherwise, an online education will be nothing more than a sham.
Mark-Anthony Valentín, a second-year human biology and society student, said while he is not registered with the Center for Accessible Education, he still struggles with significant hearing loss that makes online classes especially hard.
"In in-person classes, one thing I would always do is sit in the front of lecture halls, because if I sit anywhere else, I can't understand," he said. "You don't really have that with Zoom classes, because there are so many other factors that are harder to control like internet quality or the connectivity of the speakers you have."
Valentín said he had to purchase expensive headphones just to keep up – meaning the burden placed on students with hearing impairments not only involves extra time and effort, but money as well.
Sound issues aren't the only factor that makes virtual learning harder.
Monique Sims, a second-year psychobiology student who is deaf, said she still faces obstacles with Zoom despite her CAE accommodations.
"Sometimes my professors and TAs forget to let my captioners in (to the Zoom meeting), so I try to spam them through the Zoom chat setting or emails, but they just won't look until the end of class," Sims said.
Additionally, she said if her captioner is eventually admitted, virtual captions lag behind the professor's pace.
"It makes asking questions embarrassing," she said.
Sims also said that in normal times, she has access to note-takers in her lectures, where fellow students share their notes from the class. However, she said this service isn't as accessible to her now that classes are virtual.
So, for many lectures, even though Sims is present and attentive, she still misses a lot of the material presented. The lack of support for students like her is even more disheartening considering UCLA is gearing up for a third quarter of mostly remote learning.
Fourth-year financial actuarial mathematics student Ellery Wilkie, who is hearing impaired, said that when she misses something said in an online lecture, she checks the transcript CCLE automatically produces. But she said they're usually inaccurate, especially if the professor has an accent or uses field-specific jargon.
The exaggerated difficulties on Zoom for deaf and hard of hearing students pose a novel struggle that, right now, falls almost entirely on their shoulders. Not only are they juggling a full class load and living through a pandemic, but they're also being asked to carry on as usual, even when their abilities to take in course materials are hindered by factors beyond their control.
To be fair, professors are also navigating remote learning, and the CAE is grappling with unprecedented circumstances.
Norma Kehdi, the associate director of the CAE, said they have more students who are deaf or hard of hearing this year than they've had in recent years, and that the amount of help each student receives in the accommodation process is specific to their individual needs. She added that professors have generally been helpful, but some are hesitant in connecting personally.
"There is also value in faculty reaching out to students when they receive an accommodation letter to open the door and show students they feel comfortable supporting them in their class," Kehdi said.
The failure on the part of many professors to create an environment that is welcoming to deaf and hard of hearing students leaves many with the insurmountable task of solving these problems on their own.
Valentín said he just wishes his professors would touch base a little more and that although he understands his responsibility as a student to reach out and ask for help, he feels his professors often don't reciprocate his efforts.
It's unfair and inconsiderate to leave students who are deaf or hard of hearing feeling like they're entirely in charge of these issues. Bruins of all identities deserve a fair shot at success – but right now, students with hearing impairments don't feel like they're being given one.
UCLA must revise the Zoom routine. Though we only see each other through a screen nowadays, it's important to remember there are people behind the pixels.
Weinerth is an Opinion columnist.
Weinerth is an Opinion columnist.