Remote classes blur line between school, parenthood for students with children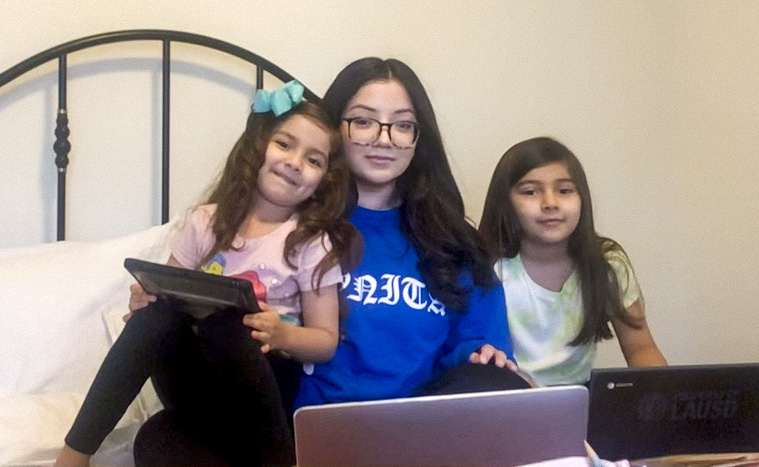 Alicia Inés López, a mother of two and a third-year student, said it has been tough integrating her parenting life and student life. Amid virtual instruction, several parent students have experienced difficulty combining their parenting and student lives in one space: their homes. (Ashley Kenney/Assistant Photo editor)
Community college gave Alicia Inés López the opportunity to step outside of her role as a single mother of two.
But when López transferred to UCLA, which is mostly remote this fall, she lost access to a space where she was not just a parent.
"I had been a mother for x-amount of years, and that's all I was," said López, a third-year Chicano and Chicana studies and sociology student. "And then when school came into the picture, … I did so well, and I excelled, and it was my space."
As the COVID-19 pandemic forced schools across the nation to start virtual instruction, some parenting students at UCLA said they have had to adjust to their student lives and parenting lives intersecting at home.
López has to balance three school schedules: her own and those of her two daughters, who are in elementary school. López said that even if she wanted to place her kids in one of UCLA's childcare centers, she would be put on the waitlist.
When Precious Ivy Molina found out that fall quarter was mostly online, she became happy that she could spend more time with her daughter, she said. Molina, a fourth-year American Indian studies student, now takes walks with her daughter at their local park, which she said aids her well-being.
The transition to virtual learning has also been tough for Molina and her daughter's learning – the two don't learn as well by sitting in one place and listening to lectures, she said.
Gisselle Bonilla, a mother and a fifth-year political science student, said she benefitted from virtual instruction – she didn't have to wake up early to commute to campus. However, she added, it has been difficult for her to find space apart from being a mother.
During spring quarter, Bonilla broke her right arm, which she said was another hardship on top of caring for her son and completing her schoolwork. So Bonilla reached out to her teaching assistants to ask for assignment deadline extensions and extra time to finish exams, she said.
Bonilla said that at times, she felt she had to beg her instructors for accommodations and explain her limitations as a student, mother and someone with an injured arm.
Although several parenting students said some instructors have been accommodating, some cited a lack of support from UCLA, both during and before remote learning.
Even though UCLA offers resources to students with dependents, such as daycare services, those resources are difficult to access, Molina said.
"You have to contact one person and then that person will refer you to three (others)," she said."By the time you realize that there's all these hoops and loops you got to get through, you're kind of like, 'I'd rather figure out another way,' and you stop going to UCLA for support."
López said she wishes UCLA would offer free childcare and more financial support for parenting students. UC Berkeley has a Student Parent Center that gives students with dependents grants and other financial resources, she added.
"I think parenting students should be (financially) supported," López said. "It's not just one person that's depending on it, it's multiple. In my situation, it's three of us."
Molina said student organizations, like the Underground Scholars Initiative, gave her emotional support and referred her to various resources over this past year.
"Even if the university doesn't see us or recognize us and the multiple roles that we're trying to juggle, it helps to have those peers who are in similar shoes to encourage you along the way," Molina said.
Students with dependents also have access to various grants and financial aid counselors, among other financial resources, according to a parenting guide made by the Students with Dependents Program at UCLA.
Bonilla said she is grateful her family helps take care of her son while she works.
López said she wished UCLA let her defer enrollment for a year. She added she would have liked to focus on taking care of her children during the COVID-19 pandemic.
UCLA rarely allows transfer students to defer their admission, according to the university's undergraduate admissions page. Students, however, can submit a request for deferment under certain circumstances, like active military service.
"Although I am grateful that I'm at UCLA, and I'm really happy, I still wish that I would have maybe started when things weren't as crazy," López said. "I definitely wish that this pandemic would not happen."