Online discussion sections miss the mark when it comes to community, collaboration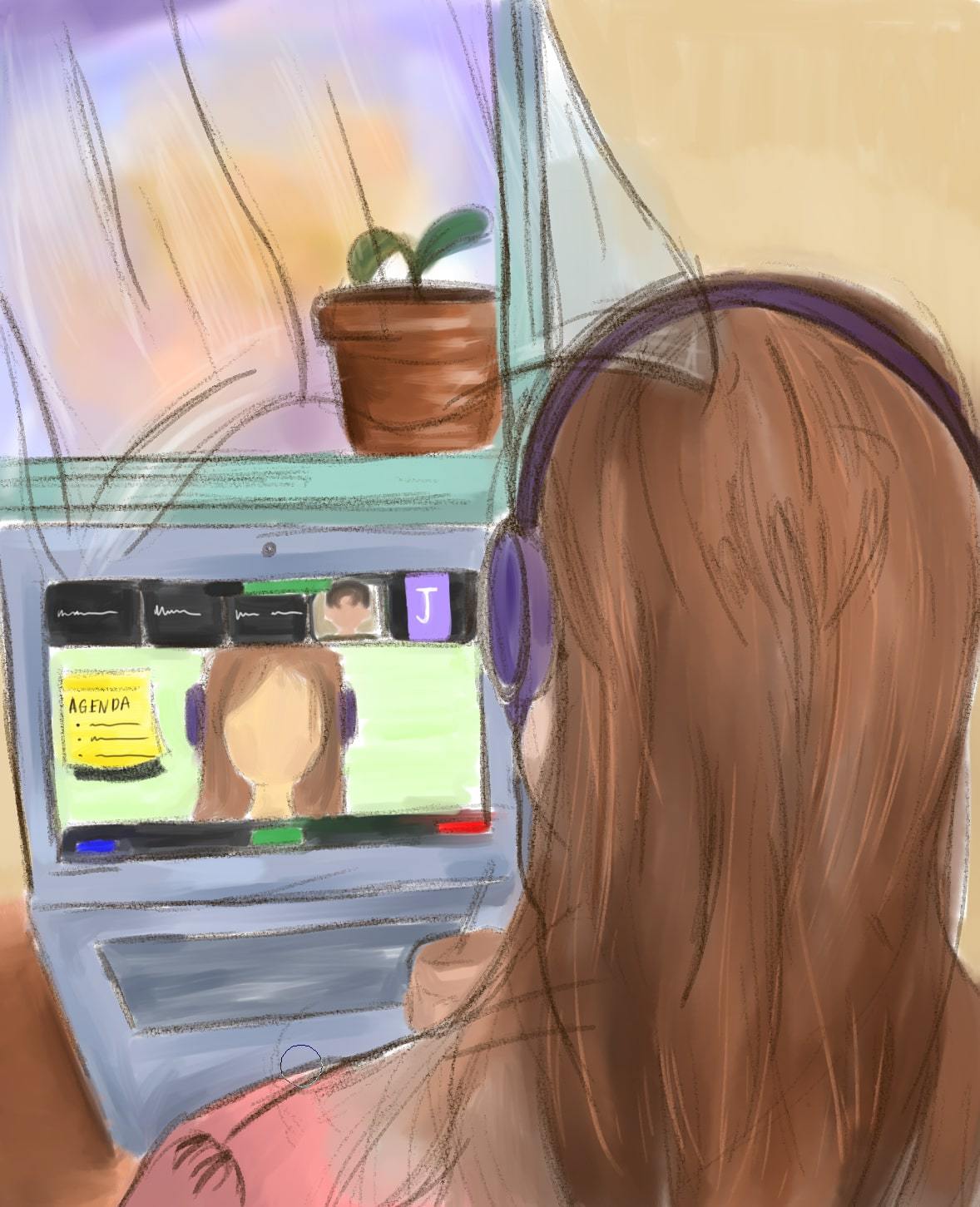 (Vaibhavi Patankar/Daily Bruin)
This post was updated Oct. 25 at 7:59 p.m.
When Stephen Cucharo taught a political science seminar over Zoom, he struggled to read the room – an issue he has had since the transition to remote learning.
It's hard to see the students' reactions online, said Cucharo, a political science graduate student. He added that when classes were in person, he could read the room by seeing students' visible reactions to the discussion's content.
"Normal rhythms of a lecture or discussion are lost," Cucharo said. "It's a difficult experience to speak into a laptop and stare into a screen when traditionally, teaching is highly interactive, very personal and very physical experience."
Some instructors who teach discussion-based classes, like discussion sections and seminars, said they noticed a drop in engagement from students and a rise in impersonality in their classes with virtual learning.
UCLA first transitioned to remote learning in March for the final two weeks of winter quarter because of the COVID-19 pandemic. The university adopted a mostly remote learning system for spring quarter, which has lasted through summer sessions and fall quarter.
Maintaining the personal aspect of discussions is difficult in a virtual environment, said Hung Pham, an organic chemistry professor who holds discussions for the class Chemistry 14D: "Organic Reactions and Pharmaceuticals."
"The process and use of technology is fine but it's the feeling of community that gets watered down because of the virtual format," he said.
Dayna Pham, a third-year human biology and society student, said remote learning is difficult for her because it doesn't allow her to form personal connections with her teaching assistants. Before the COVID-19 pandemic, she typically formed relationships with her TAs during her discussions and in office hours, she said.
"Although such relationships can still take place online, most students do not care as much to do so," she said.
Dayna Pham said TAs would walk around the classroom and check on individual students during in-person discussions. However, TAs are not able to walk around in a virtual format, leading to less one-on-one interactions, she added.
"It's just TAs speaking into a void," Dayna Pham said. "Discussion sections have become more teaching-based and less comprehension-based."
Despite the loss of personal and interactive aspects, virtual discussion sections can benefit students who live in different time zones, Cucharo said. These students can watch his discussion sections on their own time, Cucharo added.
Some instructors grade attendance for their discussion sections to encourage students to come to class and ease the weight off assessments.
Hung Pham uses poll questions and clicker questions as extra credit to make sure students are paying attention. He also created a Zoom lounge that is open all the time for students to join and work through problems collaboratively.
Cucharo said in-person instruction is still better than its virtual counterpart.
Germaine Baltazar, a fourth-year sociology student, said most students leave their cameras off in her classes.
"Most of us let the professor or TA do all the talking," she said. "I don't see students engaging that much."
But, Baltazar said, having at least one student engaging with their professors can encourage other students to do the same.
At one point, a student in her sociology course turned her camera on and engaged with the professor, which led other classmates to turn their cameras on, she said.
"The student was very enthusiastic, and the professor reciprocated her energy," Baltazar said. "I immediately saw so many cameras turn on because people were enjoying the conversation."
Discussion sections are meant to cultivate community between classmates and to supplement students' learning through collaboration, said Elizabeth Mills, a physics lecturer. Discussions give students a unique opportunity to ask their peers questions and get responses in real time, she added.
Mills said discussions are a safe place to make mistakes. She encourages her students to adopt this mindset by having teaching and learning assistants cycle through the breakout rooms to foster collaboration, she said.
However, Mills said she understands it can be difficult for students to turn on their videos and engage with the class over Zoom.
"As groups become more solidified and connection is established, there will be a pattern that comes more naturally," she said. "But (instructors and TAs) need to be the example right now in order to create this safe space."