Opinion: Students responsible for limiting COVID-19 spread, even with holiday travel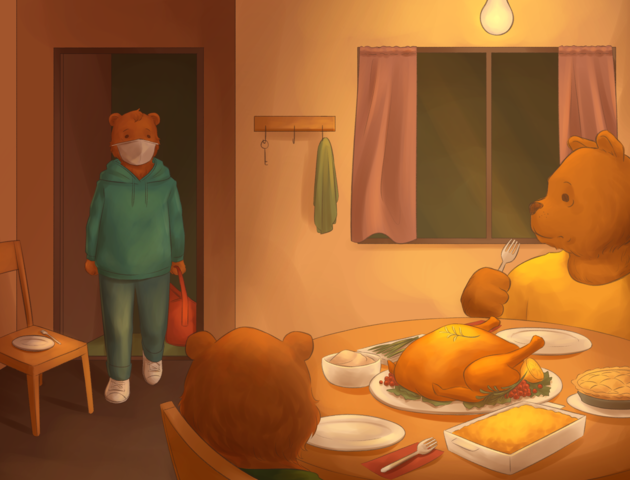 Thanksgiving is usually a time for celebration, but students should be thinking about more than just turkey and stuffing.
It's impossible to ignore the dangers of COVID-19 this holiday season. While some colleges will end their semesters before Thanksgiving to avoid a surge in COVID-19 cases from returning students, UCLA will still have two weeks of classes and one week of finals in December.
For students like me who live in Westwood and are traveling home this Thanksgiving break, we must consider the ramifications of returning home for Thanksgiving and coming back to campus a few days later. The rapid flurry of movement over such a short period could endanger the health of the Westwood community and expose family members back home. Thinking about travel plans now as opposed to next month is crucial for safeguarding public health.
But the burden of keeping the campus community safe shouldn't fall solely on the shoulders of students. UCLA should examine and implement the best practices for keeping students healthy, such as updating the student body regularly about the dangers of traveling and safety precautions to take for those who do travel, as well as advertise free testing on campus.
While colder weather does not increase the risks of a COVID-19 outbreak, behavior during the colder months could be problematic, said Shira Shafir, a UCLA Fielding School of Public Health adjunct associate professor of epidemiology.
"It will be more difficult for people to socialize outdoors which may lead people to want to gather inside, which provides a better opportunity for the virus to spread," Shafir said.
The immediate danger to Bruins is obvious; students in Westwood could potentially contract the virus from their housing, which in turn affects the entire UCLA community.
But Thanksgiving is a family holiday, meaning it's not just our own health we're worried about – it's our families' as well.
Allison Robinson, a fourth-year physiological science student who is currently quarantining with her family in the Sacramento area, said she is more worried about students bringing the virus home to their families.
"When you're coming back to the Westwood area, you're coming back to students around the same age," Robinson said. "Our age is much less affected than our grandparents, so the bigger concern is bringing (COVID-19) from Westwood to families."
Traveling for Thanksgiving is problematic for both the student and the student's family, Shafir said.
"First, a student who is infected with the virus (but may not know it because they have no symptoms) could bring the virus back to their hometown and their family", Shafir said. "Second, a student who gets infected at home could end up bringing the virus back to Westwood."
Amanda Chan, a fourth-year bioengineering student currently living in Westwood said she will most likely stay home in Cupertino, CA after Thanksgiving to avoid putting her family's health at risk.
"I interact with more people (in Westwood) than my family interacts with back home," Chan said. "Traveling back and forth and having different social spheres interact isn't the best thing right now."
With symptoms of COVID-19 sometimes not appearing for two-14 days, it's imperative for students to take extra precautions such as quarantining before returning and limiting in-person interaction as much as possible, especially if they plan on returning to Westwood after the break.
Every student will have to make their own holiday travel decisions since each student's situation is different, said Mandri Randeniya, a fourth-year English and history student. As a result, students must be cognizant of what they're doing and how their actions may affect others.
Randeniya, who is currently with her family in Arizona but will be returning to Westwood before the holiday, said that she and her roommates have taken extra safety precautions to make sure no one gets sick, such as requiring every roommate to test negative before moving in.
She said that she thinks UCLA can take similar measures during the holiday season to ensure student's safety.
To be fair, UCLA has already taken the important first step of canceling all in-person classes after Thanksgiving. But this isn't enough, considering some students may return to Westwood. Instead of waiting until the last minute, UCLA must start taking steps now to educate Bruins in order to protect its students.
Now that UCLA is offering free testing for students, it can encourage returning students to get tested. However, students who live off-campus are not required to get tested. While UCLA can't force these students to receive tests, UCLA can be proactive about advertising its free testing services and working to get the word out about the ways students can stay safe.
It's the responsibility of each individual to keep not only themselves but also those around them safe.
That way, the only thing on our minds this Thanksgiving is who will get the last slice of pumpkin pie.