New Nick the Greek restaurant brings gyros, souvlaki, more to Westwood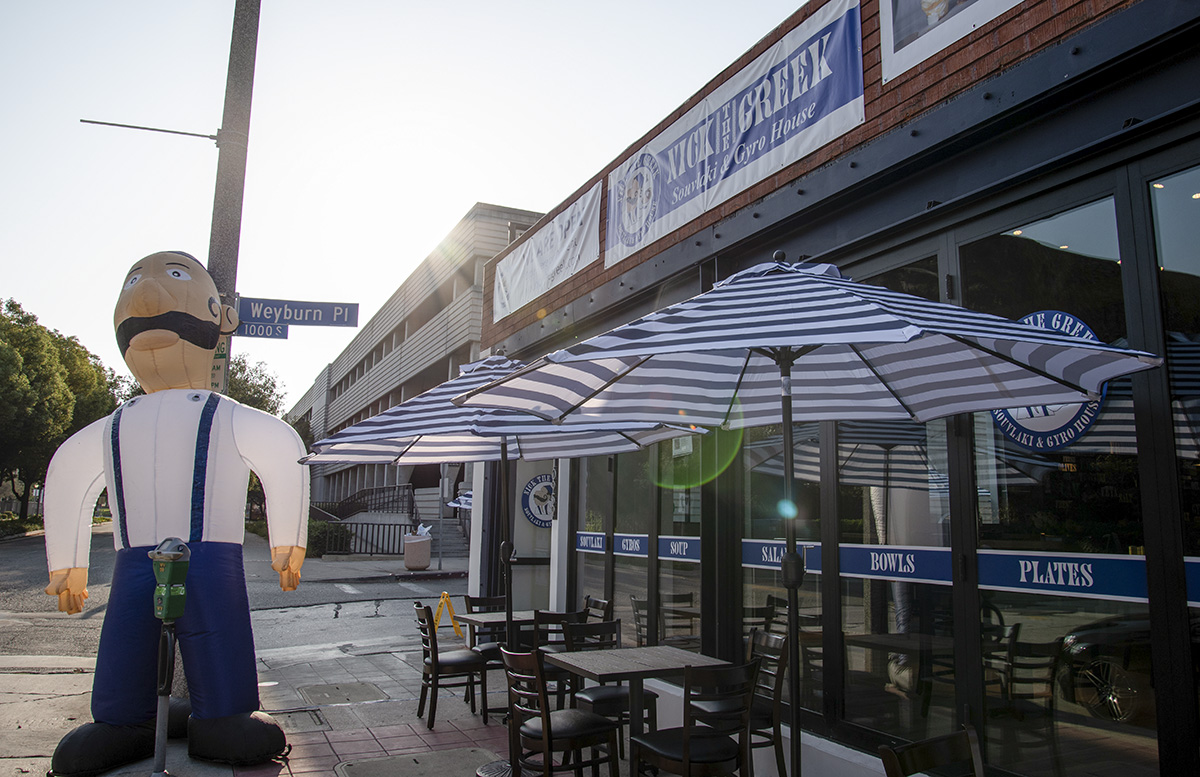 The Nick the Greek franchise has come to Westwood. The restaurant, located on Kinross Avenue, handed out free food to more than 400 people on its first day open. (Anika Chakrabarti/Daily Bruin)
A new Greek-inspired restaurant opened its doors in Westwood on Oct 8 by serving a lunch crowd lined up down the block.
Nick the Greek held a free lunch event to kick off its opening in Westwood Village. The queue wrapped around two blocks, and the location served close to 400 customers, franchisee Anton Van Happen said.
"People love our food because our food is very fresh," Van Happen said. "We're very traditional to how Greek gyro houses and souvlaki houses are. So basically, whatever you get here is exactly what you would get in Greece."
Nick the Greek, a souvlaki and gyro house on Kinross Avenue, is the newest addition to the San Jose-based franchise. Nick the Greek has 15 other locations statewide and is looking to further expand its operations into Southern California.
Van Happen said he is developing locations in areas between Santa Barbara and Los Angeles, opening two locations so far in Ventura and Westwood Village.
Van Happen said he chose to develop a location in Westwood Village in order to cater to UCLA students, residents and office workers.
During the time leading up to Nick the Greek's Westwood opening, Van Happen said he and his team marketed on social media and posted thousands of flyers around the Village.
As customers came to visit the restaurant on opening day, Van Happen recommended customers try the beef lamb gyro and chicken souvlaki plate. The gyros are carved out of a rotisserie and the souvlaki is grilled on a skewer.
Second-year astrophysics student Amelia Konomos visited Nick the Greek last week and appreciated the authenticity of the restaurant's food and atmosphere.
"The gyro wrap tasted exactly like something I would get in Greece," Konomos said. "I also appreciate when a Greek restaurant is playing Greek music in the background because it makes me feel at home."
Nick Tsigaris, one of the three franchise founders, said he replicated the dishes and concepts he learned from his family in Greece. Nick the Greek sources its fresh produce from California and procures most of its meat from a trusted Greek manufacturer in the United States, Tsigaris said.
Foot traffic in the village is still below pre-COVID-19 pandemic levels but outdoor dining is becoming more popular, said Andrew Thomas, the Westwood Village Improvement Association executive director, in an emailed statement.
"The more (businesses) that open in our district, the more people view our district as a place with great options, the better business can be for all of our merchants," Thomas said.
The WVIA has continued to aid the Village's merchants by advocating for beneficial city policies and building awareness of the Village's businesses on social media, Thomas said.
Nick the Greek has shut down self-serving stations and only offers outdoor dining to abide by public health guidelines. The COVID-19 pandemic has not affected the franchise's business as much as sit-in restaurants, which had to close, Van Happen said.
"Gyro houses or souvlaki houses in Greece are really a place for you to go in and out really quick," Van Happen said. "If you look at any quick-service restaurant during the (COVID-19) pandemic, they have actually done very well because they're all already geared to a lot of takeout and delivery food."
Van Happen said he has owned other businesses before but admires Nick the Greek for the work that its founders put in.
"It's very important that the founders are fully involved," Van Happen said. "That's what's driving this whole concept forward, people with the same vision trying to build out as many stores as quickly as possible while still serving great food and having great customer service."