The Quad: Students across time zones struggle with deadlines, unrecorded lectures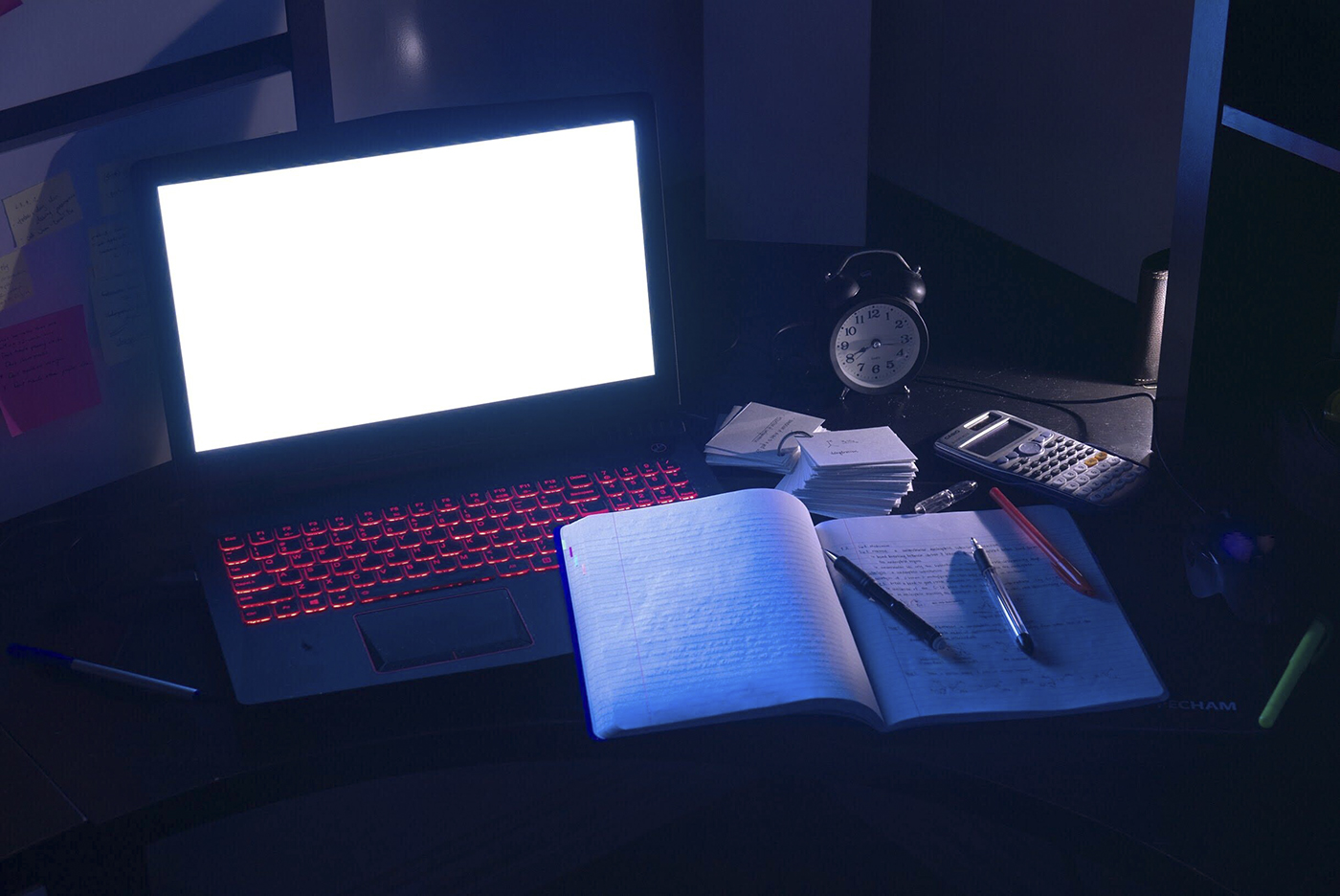 International students and students living in different time zones have been experiencing less than ideal classroom times – including midterms at 1 a.m. (Jason Zhu/Daily Bruin staff)
You think taking a midterm at 8 a.m. is bad? Try 4 a.m.
Many international students and other students living in different time zones have been struggling to adapt to synchronous, nonrecorded classes that schedule lectures, discussions, office hours and exams in the middle of the day Pacific Standard Time, which for them could be in the middle of the night or extremely early in the morning.
UCLA spokesperson Bill Kisliuk said in an emailed statement that professors have been strongly encouraged to accommodate students and to be flexible with scheduling and recording where possible. But despite suggestions from the university, it is ultimately left up to the professor to decide how they will administer their course, Kisliuk said in the statement.
"It is the university's view that individual instructors are in the best position to adapt their courses to the needs of their students, while also addressing issues such as the benefits of real-time engagement, careful dissemination of proprietary research, hosting robust discussion sessions and best utilizing the availability of teaching assistants," Kisliuk said.
However, some professors' policies have caused problems for students.
Third-year computer science student Kedaar Sridhar said being back in his home country of Oman means he has had to become largely nocturnal to meet attendance requirements. Currently, one of his classes and learning assistant seminars have mandatory live attendance on Zoom late at night in his local time zone.
"I would say it's a manageable sleep schedule, but not ideal," Sridhar said. "It's unhealthy to live nocturnally."
Sridhar added he believes UCLA should have made an effort to mandate recording lectures.
"They knew for a fact that it was going to be online for the entire quarter, and they had time to prepare for it (during) spring and summer, " Sridhar said. "So, I think it would have been good to just have made it mandatory recorded (and) to give extra time for assignments and things for people in different time zones and make it more accessible."
[ICYMI: International students speak on how they are impacted by COVID-19]
Christine Ow, a third-year political science student from Singapore, said although her professor has been informed about the time difference issue, her professor said she is not willing to make accommodations for the exams.
So, for Ow, the midterms for her Korean class will be administered at 1 a.m. in her local timezone.
Sridhar faced a similar situation. During spring quarter, he ended up with midterms back-to-back from 1 a.m. to 4 a.m. in his physics and computer science classes.
Yolanda Chen, a second-year electrical engineering student, said the professor of her summer session C class was initially willing to accommodate international students by scheduling the exam during two time periods, but changed the policy a few days before the midterm because of instances of academic dishonesty.
As a result, Chen was required to take the midterm at the originally scheduled time, which was in the middle of the night for her.
Nonetheless, for some nonrecorded classes, there are still professors willing to make accommodations for students in special circumstances.
Lernik Hovsepyan, a teaching assistant, is currently teaching French 4: "Intermediate French," which follows a hybrid model of synchronous and asynchronous learning.
Hovsepyan said the resources and half of the instruction materials are posted to CCLE in advance. Then, during the actual class time, Hovsepyan serves as a moderator rather than an instructor, allowing students to interact and practice their language. This part of the class is not recorded.
Although exams are also expected to be taken during class time, accommodations can be made if enough students express the need for an alternate time, Hovsepyan said. Hovsepyan also said since in-class attendance accounts for a portion of the grade, extra credit opportunities and office hours are offered to alleviate some pressure.
The time zone issue not only affects students' concentration and overall performance in classes, but can also have an impact on their emotional state, some said.
Ow said she almost missed an exam during the summer because of a mix-up with dates, an experience that has left her shaken going into fall quarter, she added.
Chen said the lack of consistent sleep negatively affected her mood spring quarter.
"You're always tired, you always want to sleep and you're always not happy about this schedule," Chen said.
Although I am not an international student, I am currently in Singapore and therefore am also dealing with timezone issues.
Knowing that I am capable of performing better at times other than 4 a.m. for an exam, and yet not having any choice in this situation, has led to many negative emotions. It has led to disappointment with my performance and general mental fatigue from having to balance all the deadlines on top of calculating the time difference.
Fortunately, there are students trying to make change.
Sridhar is an ambassador in the UCLA International Student Ambassadors program at the UCLA Dashew Center for International Students. He is working with the Undergraduate Students Association Council and other groups and talking to the Academic Senate to advocate for better accommodations for students struggling with time zones.
"Unfortunately there's nothing that can be done right now and it will take further conversation, but hopefully in the future we will get to see some change," Sridhar said.