Editorial: UCLA students, make your voices heard and turn out to vote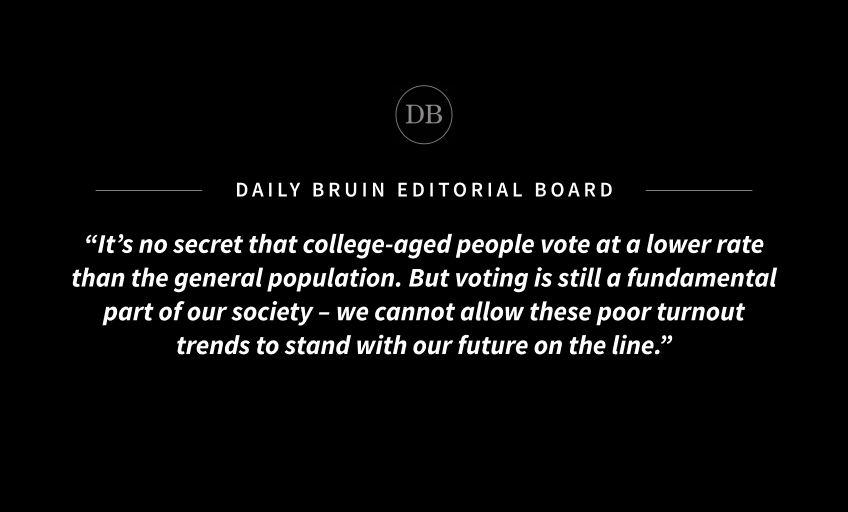 Vote.
But before you vote, register to vote.
California's Oct. 19 deadline to register to vote by mail is quickly approaching. And during this year's monumental elections, a student's vote is more important than ever. There's the presidential election, of course, but the numerous propositions and candidates on the local ballot deserve your attention, too.
These state and local elections will likely have just as much, if not more, of an impact on your daily life than whichever candidate takes the Oval Office.
Proposition 16 will determine whether colleges can use race as a factor in college admissions, which will invariably change how UCLA and the University of California accepts students.
Proposition 14 will decide whether California should pour more money into stem cell research – the UC is one of the major stem cell research centers in California.
Criminal justice reform is on the ballot with Propositions 17, 20 and 25.
And if you care about worker's rights or if you regularly use ride-sharing apps, Proposition 22 will dictate how Uber, Lyft and the other large ride-sharing corporations treat their workers.
It's no secret that college-aged people vote at a lower rate than the general population. But voting is still a fundamental part of our society – we cannot allow these poor turnout trends to stand with our future on the line. If you leave UCLA with anything, it should be the knowledge of how to be an active participant in civic society.
It's one thing to care about issues in private or even to post about them on social media. It's another to take active steps to initiate the changes you'd like to see. We urge the student population to make that next leap to make their voices heard outside the UCLA bubble.
California residents can visit the California Secretary of State website to find details about voting.
There is a drop-off ballot station in Westwood Plaza, near the parking station, which is open all day. But if you want the experience of voting in person, here are the voting locations on campus:
Ackerman Union, open Oct. 30 to Nov. 2 between 10 a.m. and 7 p.m. and Nov. 3 between 7 a.m. and 8 p.m.
Bradley International Hall, open Oct. 30 to Nov. 2 between 10 a.m. and 7 p.m. and Nov. 3 between 7 a.m. and 8 p.m.
Hammer Museum, open Oct. 24 to Nov. 2 between 10 a.m. to 7 p.m. and Nov. 3 between 7 a.m. and 8 p.m.
Apathy cannot get us anywhere new. Please vote.