Transitioning to a senate-style system could increase representation in USAC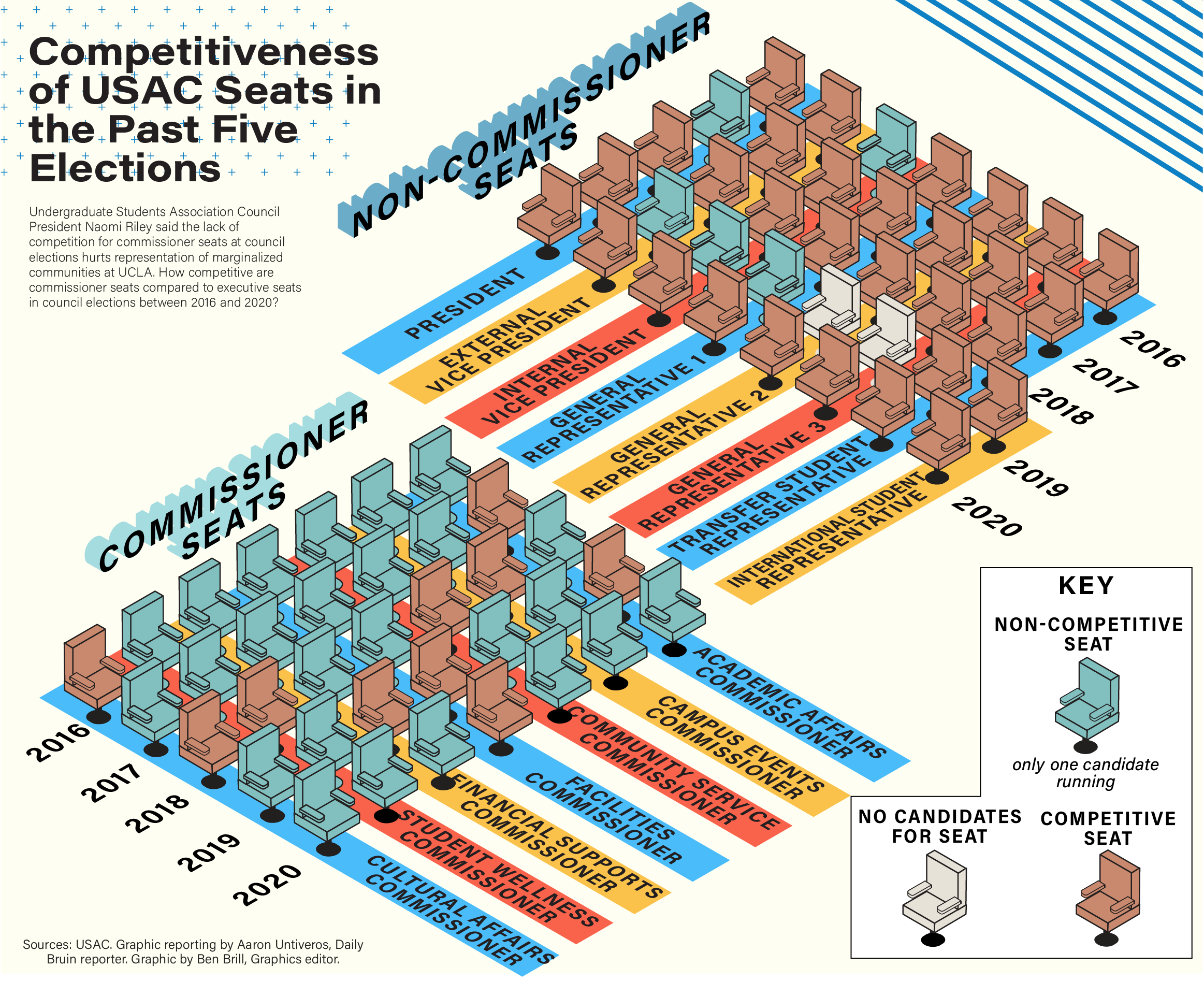 Undergraduate student government leaders look toward a senate model to increase advocacy positions on the council.
The Undergraduate Students Association Council's current model of governance — a commissioner system that tasks commissioners with specific missions and administrative functions — was not created to advocate for students, said Alexander Berry, a staff member at the USAC Office of the President. Berry is also the director of the Congressional Advisory Board, a newly formed board of student organization leaders that will advise USAC on its policies.
USAC has 15 elected voting representatives that are split into seven commissioners and eight officers. Commissioners have specific institutional missions, such as academic affairs, campus events and student wellness. The eight other student officers bring in their own projects and priorities each year.
A student government senate, however, would emphasize student advocacy and representation for student communities, Berry said.
USAC could look toward the UC Berkeley Associated Students of the University of California Senate as an example of potential reform, Berry said.
Student government senates at some University of California campuses — including UC Berkeley, UC Santa Cruz and UC San Diego — are made up of executive officers, who lead senate functions and committees, and senators, who represent select communities on campus, such as students at academic colleges or racial-ethnic student populations.
The 20 senators and one transfer student representative at the ASUC Senate are expected to engage with the communities they represent and to represent their communities at the highest levels of university governance, said Melvin Tangonan, the executive vice president at ASUC who is in charge of the internal operations of the association.
"It's usually senators who have done community work or have been part of many community programming who usually run for senate, and they usually get endorsed," Tangonan said.
However, reforming USAC's structure would be difficult, said USAC President Naomi Riley.
The Office of the President created the CAB to work around the administrative challenges, Riley said. CAB was created without a constitutional amendment, meaning the CAB chairperson, who represents the board on USAC, has no voting power in the council.
In the last USAC election during spring 2020, six of the seven commissioners ran unopposed. In the 2019 election, no candidates ran to lead the Financial Supports Commission, leaving USAC to fill the seat through a special election in fall quarter.
The lack of competitive executive seats at the USAC limits historically underrepresented groups at UCLA from participating in student government, Riley said. USAC is evaluating the feasibility of a senate model, in which each senator represents different parts of the student population, such as underrepresented communities, she added.
"There's just still not enough student voices that are engaging in these important topics of discussion, and there are communities that are historically and consistently left out," Riley said.
However, a senate system could increase competition and improve representation in USAC offices, said Breeze Valazquez, USAC's Academic Affairs commissioner.
"The commissions are so centered on one issue," she said. "That's why I felt like I would be interested in what a senator system might look like (for UCLA)."
Commissions still fulfill effective roles at ASUC, Tangonan said.
The seven commissioners appointed by senate committees focus on specific issues such as housing, sexual violence and finances, Tangonan said. However, the ASUC senate has historically struggled to include commissions in the advocacy work of senators, he added.
Commissioners can tackle their specific fields of expertise better than a senator could, Riley said. Commissioners also help to manage community service projects and fund events, she added.
Bradley Alvarado, a co-chair of the Transfer Leadership Coalition, hopes that historically marginalized communities will gain more sustainable and structured representation in USAC. He added that marginalized communities have traditionally not been able to access council seats in elections.
Berry said despite CAB's lack of voting power, community representatives on the board can influence USAC decisions and keep council members accountable.
"I don't know if it's going to go far enough in all respects," Berry said. "But I think as it stands, (CAB) and my team's work can go a long way towards rectifying some of these issues."
Students have the ability to change the USAC system to adapt to the needs and interests of the student body, said Debra Geller, the administrative representative at USAC and the associate dean of students at UCLA. The recent creation of transfer and international student representatives demonstrate that flexibility, she added.
Riley said she hopes to increase representation and engagement with students through CAB. However, she said she is still considering reforms to USAC to make it more like a senate system.
"Even if we have like the most capable leaders, we want to make sure that those leaders are always in tune with the communities that they're serving," Riley said. "We want to make sure that communities always feel that they are represented."