Pandemic's economic effects could shape student job prospects for years to come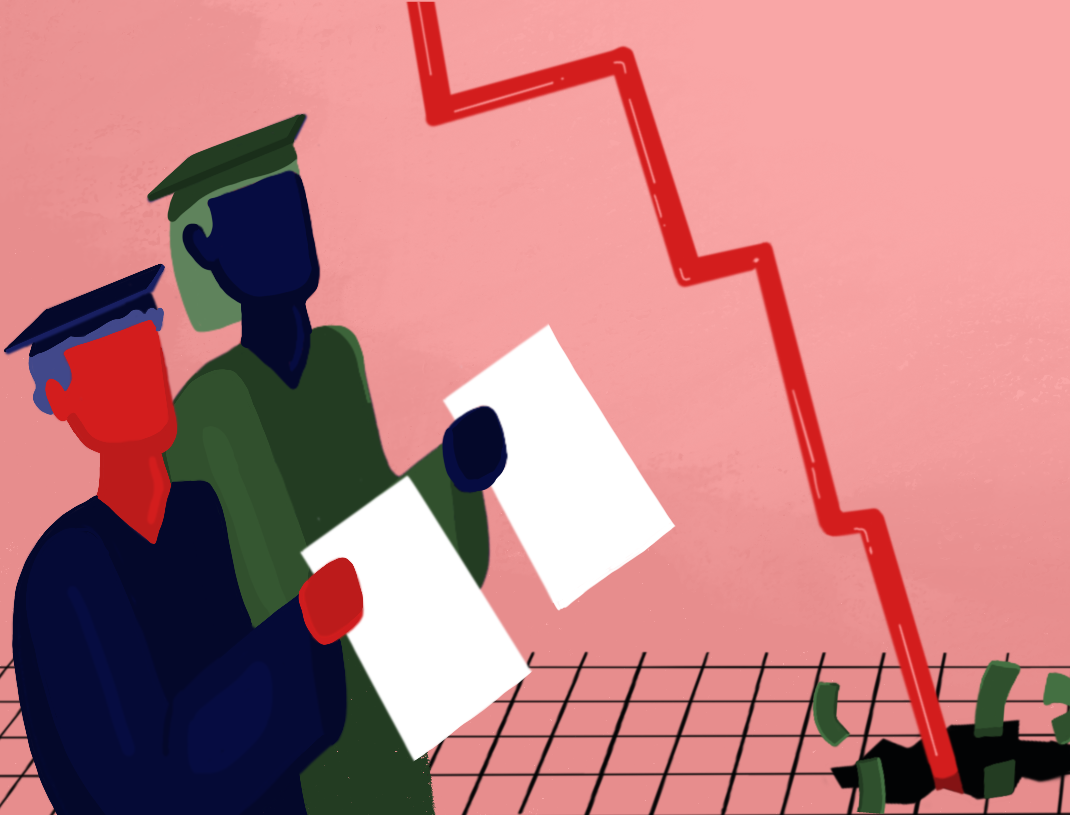 (Emily Dembinski/Illustrations director)
A struggling economy during COVID-19 could affect college students until at least 2024, according to a UCLA economic forecast.
The UCLA Anderson School of Management releases economic forecasts and outlooks that detail predictions for California and the country's economies every few months. Jerry Nickelsburg, director of the forecast, said workers might have to anticipate a tighter labor market for years to come.
"We are in the middle of a pandemic, and we expect it not to abate certainly through the balance of the year," Nickelsburg said. "What happens with this pandemic and the public health response in 2021 and 2022 will have a significant impact on economic growth in those coming years."
The economic fallout will not only be felt by 2020 graduates but also potentially by those currently in the classroom: The September report projected that employment rates will not return to pre-pandemic levels until at least 2024.
This means all current undergraduate students will face a labor market negatively impacted by the coronavirus upon graduation.
Before the pandemic, the nation's unemployment rate stood at 3.5%, but it has since risen to 7.9%, according to the October Department of Labor national employment report.
The economic downturn has created a need for professional advisors like M'Chelle Ryan, an administrator at the UCLA Career Center, to help students find jobs. The shift to virtual recruitment and the jump in unemployment rates has complicated life for Bruins, she said.
"We haven't seen this scenario where we had so many students who were in a position to be unexpectedly, spontaneously told, 'Hey, you interviewed for this position in October and it's April now and now we're telling you we can't honor the offer we provided to you,'" Ryan said.
The state of the economy also forced companies to reexamine their business models and terminate roles, particularly jobs that cannot be transferred to virtual platforms, Ryan said.
"We're going to see some positions where they might be cut completely or they might be downsized," Ryan said. "There's whole areas of business units that are going to get cut."
The shift in workforce composition may temporarily decrease the number of job opportunities available, Ryan said, but there could still be an expansion of roles pertaining to other skill sets, specifically technical ones. Students have to explore a wider array of internships to determine the skill sets they will need in an evolving job market, she said.
Chris Dang, a third-year economics student, is one of many students whose internship was canceled because of the pandemic. The cancellation of his market analytics internship at Disney will likely prevent him from working there after he graduates, he said.
However, instead of interning at Disney, Dang worked at a friend's Cleveland-based startup. He said the virtual workspace opened up a very rewarding opportunity.
Dang said he would not have normally agreed to work on the startup since his friend is on the other side of the country, but because everything was remote, he went for it.
"I probably had one of the best experiences I've ever had in college," Dang said. "If I had to pick, I would probably pick that experience over Disney."
Given his aspirations in data analytics, Dang said the shift in the labor market will not change his career path very much but that he knows many people who took it upon themselves to learn new skills during the pandemic.
"(My friend) taught herself to code this summer," Dang said. "When you're in quarantine, and you're unemployed and you don't have a lot of things to do, people start to get really creative."
Although in-person recruiting has been indefinitely suspended, Ryan said that virtual recruiting still has benefits.
"Our employers are able to be at more places," Ryan said. "Because we're remote, they can get off of an info session with UCLA and get onto one with another school. Or if our fair is bumping up against another institution's event, they can still come and represent at UCLA."
A slew of canceled internships led the Career Center to advertise improvised resources, Ryan said.
For example, Parker Dewey, a resource frequently utilized by the Career Center, allows students to complete "micro-internships," or small assignments for reputable companies.
"Let's say a student wasn't able to do an internship this summer," Ryan said. "We were hoping to show them, 'Hey, you can take this Deloitte project. It might take you a couple weeks. … It's a great thing to add to your resume. Even though their summer didn't look how they expected it to, we were hoping they were able to get some new skills and add some great content to their resume, even if it wasn't that dream internship they wanted."
Despite the long-term economic implications for UCLA students, there is still hope in a post-pandemic world, Ryan said.
"I'm not necessarily worried about our students," Ryan said. "Bruins rise to the top. You guys are extremely competitive and at the top of everybody's pile. UCLA students are a hot commodity."
Papoutsis is currently a Sports reporter on the men's tennis beat. He was previously a contributor on the women's tennis beat.
Papoutsis is currently a Sports reporter on the men's tennis beat. He was previously a contributor on the women's tennis beat.