Bruin Public Health Ambassadors to provide COVID-19 safety guidance on campus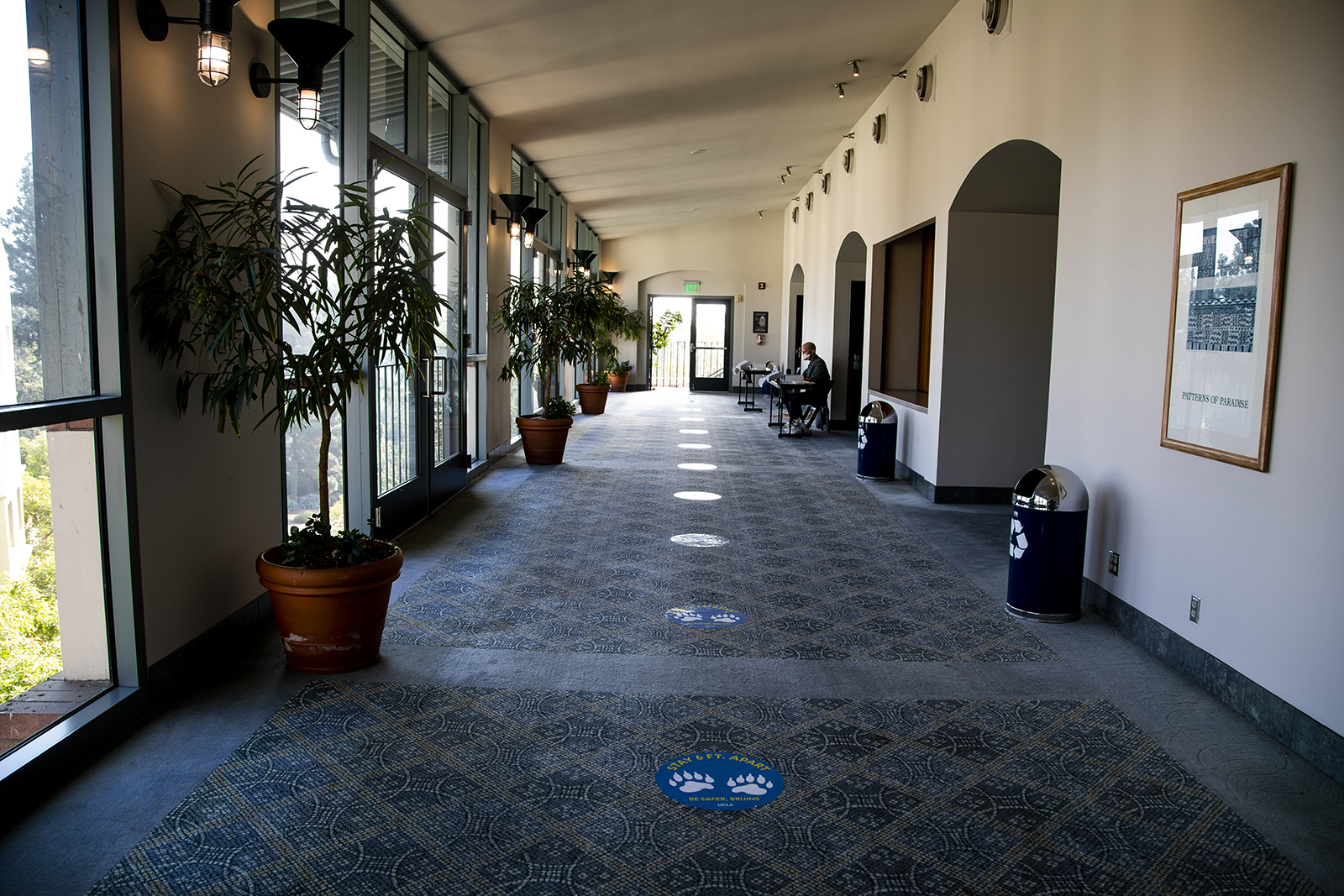 UCLA will instate public health ambassadors to regulate health protocols around campus. (Justin Jung/Daily Bruin senior staff)
This post was updated Oct. 5 at 12:46 a.m.
A new UCLA program will station student workers around campus to inform students on COVID-19-related public health measures.
Bruin Public Health Ambassadors will direct students toward hand sanitizer stations, break up social gatherings and advise student groups on how to reduce the spread of COVID-19. Ambassadors will also check that students have clearance certificates, which students will receive after completing daily symptom surveys.
The COVID-19 Future Planning Task Force, a committee of administrators and student leaders in charge of UCLA's response to COVID-19, approved plans in late August to implement the Bruin Public Health Ambassadors program on campus.
The plan will station ambassadors around busy outdoor areas, pedestrian walkways and buildings with in-person classes to make sure people comply with COVID-19 public health measures.
Students could be suspended, dismissed or excluded from on-campus housing if they violate UCLA COVID-19 guidelines. Public health ambassadors will not punish students for these violations but they will tell students about the consequences of violating guidelines.
Ambassadors can consult university police if a "situation escalates and a presence is needed," according to UCLA guidelines for COVID-19 enforcement.
The program recruited students from UCLA Recreation, Residential Life and student leaders at public-health-related organizations, such as Public Health Initiative: Leaders of Tomorrow, to serve as public health ambassadors. The program anticipates that around 80 to 100 students will become ambassadors in the fall, said UCLA spokesperson Ricardo Vazquez in an emailed statement.
Ambassadors will cover two- to three-hour shifts and will receive $15 per hour, Vazquez said. They will be seen on campus wearing blue vests and white t-shirts, both with the Bruin Public Health Ambassadors logo.
The ambassador program will also use social media outlets to promote the campus messaging campaign "Bruin for Bruin" in order to establish a community of care, Vazquez added.
"There is a need to educate the campus community on public health mitigations, and for the community to understand the expectations and accountability responsibilities," said Vazquez in the emailed statement.
Undergraduate Students Association Council Internal Vice President Emily Luong, who sits on the student life/student services subcommittee of the Future Planning Task Force, said in an emailed statement that the program's peer-to-peer approach will ensure students learn about COVID-19 safety measures from their peers rather than law enforcement.
"An approach that focuses on information, education and providing resources like disposable masks to folks who may have forgotten or don't have access to one is an important aspect of building a community of care, which is in my opinion more effective than a more carceral or draconian response," Luong said.
Tyler Angtuaco, a second-year biology student, said he thinks the program will deepen a sense of community but was concerned students may be threatened by its scrutiny.
"I think the public health ambassadors should be careful in making sure they aren't (administering health regulations) in a manner that seems threatening," Angtuaco said. "Although this may be a thin line that is easy to cross, they should do their best to retain a positive presence on campus."
Angtuaco said he hopes the implementation of the Bruin Public Health Ambassadors program will bring back extracurricular activities in limited capacity. Large student gatherings are still not permitted under Los Angeles County Health Guidelines and UCLA's preventative measures.
The public health ambassadors program could bring the campus closer to reopening, Luong said.
"Ambassadors will hopefully be decreasing the amount of large groups hanging out on campus," Luong said. "This obviously affects social life and extracurriculars in the meantime, but I believe that this is necessary for a period of time so that we can return back to our regular social/extracurricular life."