Women's basketball returns to practice for the upcoming season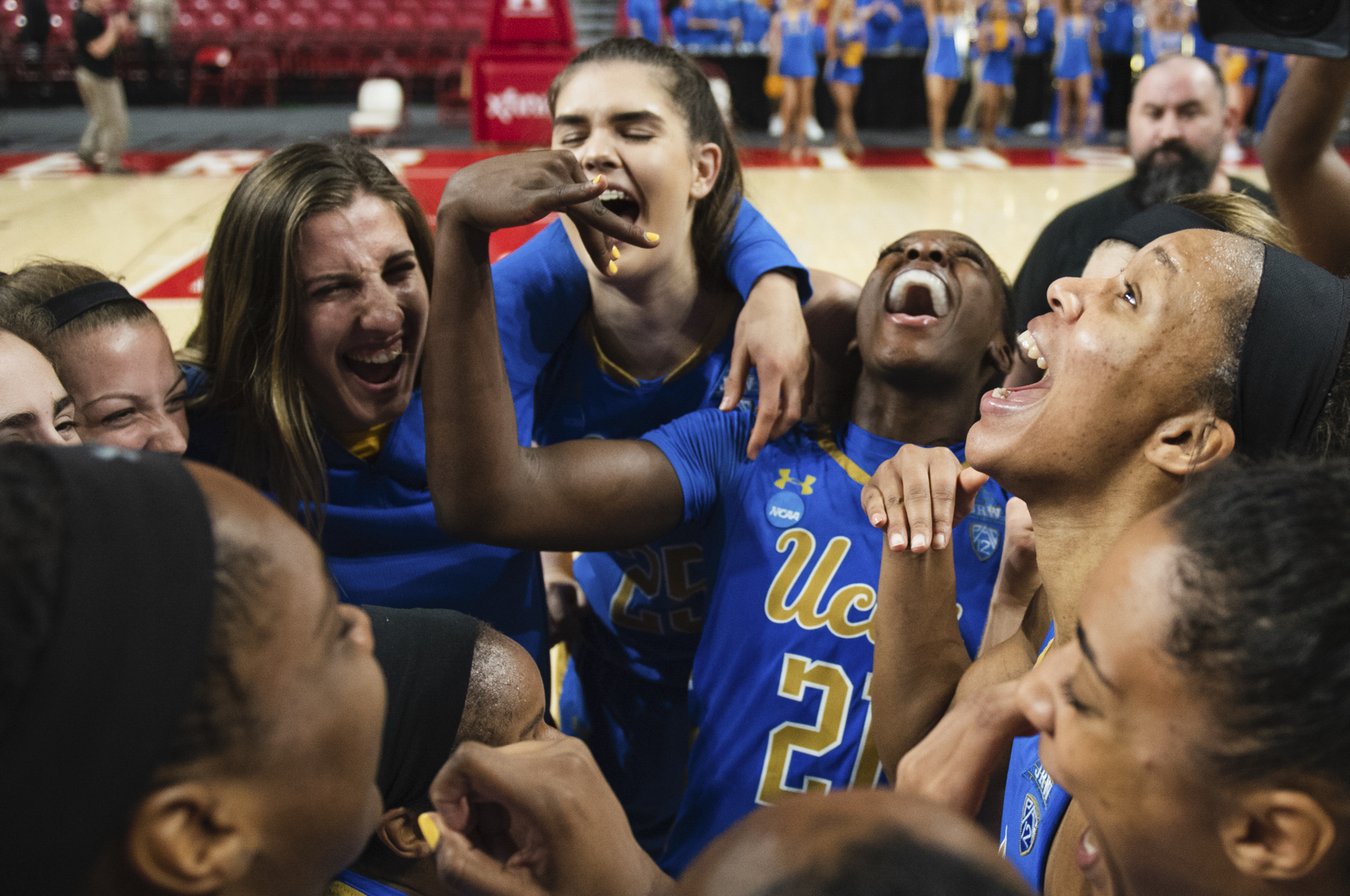 UCLA women's basketball took the court Wednesday for the first time in over six months after the 2019-2020 season ended prematurely. (Daily Bruin file photo)
The last time members of UCLA women's basketball saw each other in person, it was under somber circumstances – the NCAA tournament had just been canceled and all classes had been moved online.
Everyone returned to their homes not knowing the next time they would see their teammates and coaches.
For seniors like forward Michaela Onyenwere, it meant not knowing how their collegiate careers would end.
"As a senior, I was a little worried about what the season may entail," Onyenwere said. "I have been here for three years and I have had some of the three best years of my life and for that to be potentially … compromised was a little worrying for me."
Now after six long months, the team is finally together again, as it held its first practice since the 2019-2020 season ended.
The Pac-12 recently announced that the men's and women's basketball seasons could begin Nov. 25, meaning UCLA is preparing for its first game action since March.
"I am just so grateful just to be able to be with them again," said coach Cori Close. "It was just really good to see them face-to-face, to be with them, and I am really proud of this group of young women. (I'm) really excited to get back at it this year and it was good to see their faces and be able to connect in person."
While this was the first time the Bruins had been together physically, the team never lost touch with one another in the offseason, according to Close.
The players and coaches eventually returned to their usual duties after the initial shock of the cancellation had worn off, albeit in a virtual setting.
Zoom team meetings still occurred twice a week even though the players could only practice at an individual level.
Players rehabbed injuries from the previous season as well. Strength and conditioning coaches and athletic trainers devised workout regimens for the players to do in their own living rooms involving household items like milk jugs.
Close said she was intrigued with the level of play during the first practice and cited the student-athletes' efforts in the offseason that allowed the team to get where they are today.
"One of the things that I was really pleased with is that you can tell they've been putting in work," Close said. "From what I saw today, they actually had a better foundation than I thought they were going to have. They have obviously been putting in work, so I'm thankful for that. It hasn't been easy."
The players and coaches agree that the offseason wasn't smooth, ranging from the pandemic itself to the racial and social unrest in the country.
Close mentioned the team's togetherness in getting through the tumultuous offseason, and redshirt senior guard Natalie Chou said being flexible was the key to the offseason and will be critical for the uncertain season ahead.
"One of our words from leadership right now is adaptability, and just taking things as they are and being able to adapt along the way," Chou said. "We've been doing that for six months so it just continues on."
Though the offseason is officially over and players and coaches are back on campus, it is still not business as normal. COVID-19 safety protocols limit the amount of physical contact between teammates and coaches.
The team itself isn't whole either. Players are still arriving and are subject to varying levels of quarantine based on where they are coming from and won't be officially with the team for a couple of days.
Multiple players are also considering opting out of the season, according to Close, which would grant them another year of eligibility but would mean they miss the entire 2020-2021 season.
Regardless of the circumstances, Onyenwere said being in Westwood at all for her fourth and final year is reward enough after the difficult offseason.
"Just to be back has completely solidified why I love being here so much," Onyenwere said. "We know this season is going to be really weird and has been really weird and so just continuing to be adaptable, and just being there for each other is really really important for us this year."
Christon is currently an assistant Sports editor on the women's basketball, softball, men's tennis and women's tennis beats. He was previously a reporter on the women's basketball and softball beats.
Christon is currently an assistant Sports editor on the women's basketball, softball, men's tennis and women's tennis beats. He was previously a reporter on the women's basketball and softball beats.