Opinion: UCLA diversity requirement courses must prioritize intersectionality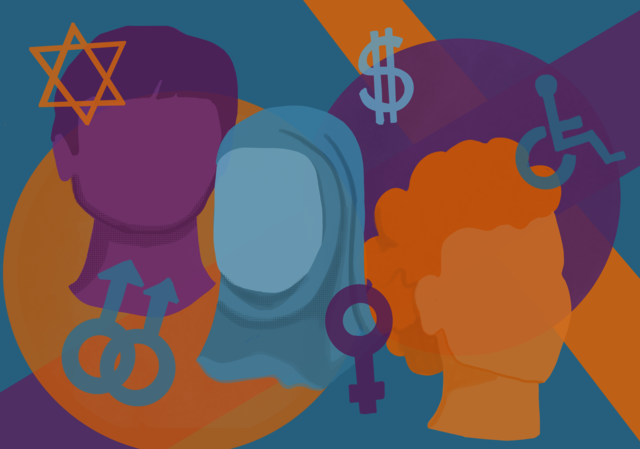 (Emily Dembinski/Daily Bruin)
UCLA may be the nation's No. 1 public school, but the university is far from perfect – especially when it comes to its diversity requirement.
The diversity requirement obligates students to pass at least one course during their time at UCLA that focuses on diversity in race, religion, culture, sexuality, gender or ability. According to the Registrar's Office, the requirement aims to educate Bruins about the diversity of the world that awaits them after graduation.
A vast number of UCLA classes fulfill this requirement, such as African American Studies M137: "Nonviolence and Social Movements," Education M136: "Working Families and Educational Inequalities in Urban Schools" and English 163C: "Jane Austen and Her Peers."
Learning about the diverse experiences of those around us is an essential part of an enriched education. But many of UCLA's diversity courses miss the mark in educating students about intersectionality – the idea that multiple social identities simultaneously shape one's experience with privilege and discrimination.
UCLA's diversity courses must emphasize intersectionality at the forefront to accomplish their educational goal of improving students' social consciousness. Amid continued racial unrest, there is no excuse for the university to shirk its duty of teaching a deeper understanding of the increasingly diverse society we live in. The Committee on Diversity, Equity and Inclusion must reevaluate these classes to prioritize topics of intersectionality and sufficiently educate students on the interrelatedness of different social categories.
Diversity courses are supposed to prepare students to be socially conscious critical thinkers, said Daria Bahtina, a linguistics lecturer who has taught two diversity courses at UCLA.
"The goal of such a course is always raising awareness, on one hand, and equipping students with tools to become more competent consumers of knowledge," Bahtina said.
But at the moment, not all diversity courses fit the bill.
For instance, there is a diversity course on author Jane Austen, even though she was anti-Black, said Breeze Velazquez, the Undergraduate Students Association Council's commissioner of academic affairs.
"There's a lot of issues with that," said Velazquez, a third-year public affairs and Chicano studies student. "Why would we be teaching about her in a diversity class?"
Though classes like that may teach valuable lessons in women's studies, they do not reflect the level of diversity this requirement aims to illuminate.
"That's just a continuation of what my elementary and high school education was," said Kate McInerny, a USAC representative on the Undergraduate Council in the UCLA Academic Senate.
Diversity classes centered on women's experiences must include women of all races, sexualities and abilities in order to explore how the intersections of these identities help shape people's experiences. Otherwise, they fail to educate students about the realities of a world defined by arbitrary social categories.
Other courses also misrepresent the concept of diversity. Classes like Theater 10: "Introduction to Theater" and History 1C: "Introduction to Western Civilization: Circa 1715 to Present" are other examples of current diversity courses that may not teach students any more about diversity than their previous classes.
"A lot of students might come from a very homogenous community, (and) they aren't really exposed to any other ethnicities," Velazquez said. "And then they go to UCLA and it's (a continuation) of that."
Because of this, courses that do not accomplish a level of intersectional representation do not properly educate students on the principles of diversity that UCLA totes. Identities like race, gender and sexuality do not exist in a vacuum. Learning about one identity independently from any other is a two-dimensional approach to a three-dimensional subject.
"We know from biology that greater species diversity ensures natural sustainability for all life forms," Bahtina said. "We're not an isolated system, so promoting one group's rights will build a stronger community in general."
Incorporating intersectionality into the diversity requirement not only teaches students about other perspectives – it also provides them a better grasp of their own life experiences and how those are shaped by multiple identities.
"Students actually gain knowledge about their own membership in these communities," Bahtina said. "Sometimes this also gives them the voice to stand up for what they believe in, for their values."
And with renewed calls for social change, now is more important than ever to have this awareness, said McInerny. Learning from an intersectional approach allows students to better understand how existing injustices affect multiple groups in various ways.
Diversity is a broad term – and courses that aim to educate students about the topic must be equally as interdisciplinary.
To be fair, it is impossible to represent all aspects of diversity that exist in society within a single course, let alone within all that fulfill the university's requirement.
But these classes should, at the very least, make it clear that social categories – genders, sexualities, abilities, cultures and races – constantly overlap with each other.
UCLA's mission statement underscores the importance of diverse perspectives in furthering student knowledge and awareness.
Those ideas should translate into the classroom too.