Op-ed: Bruin Republicans think UCLA should teach more about 9/11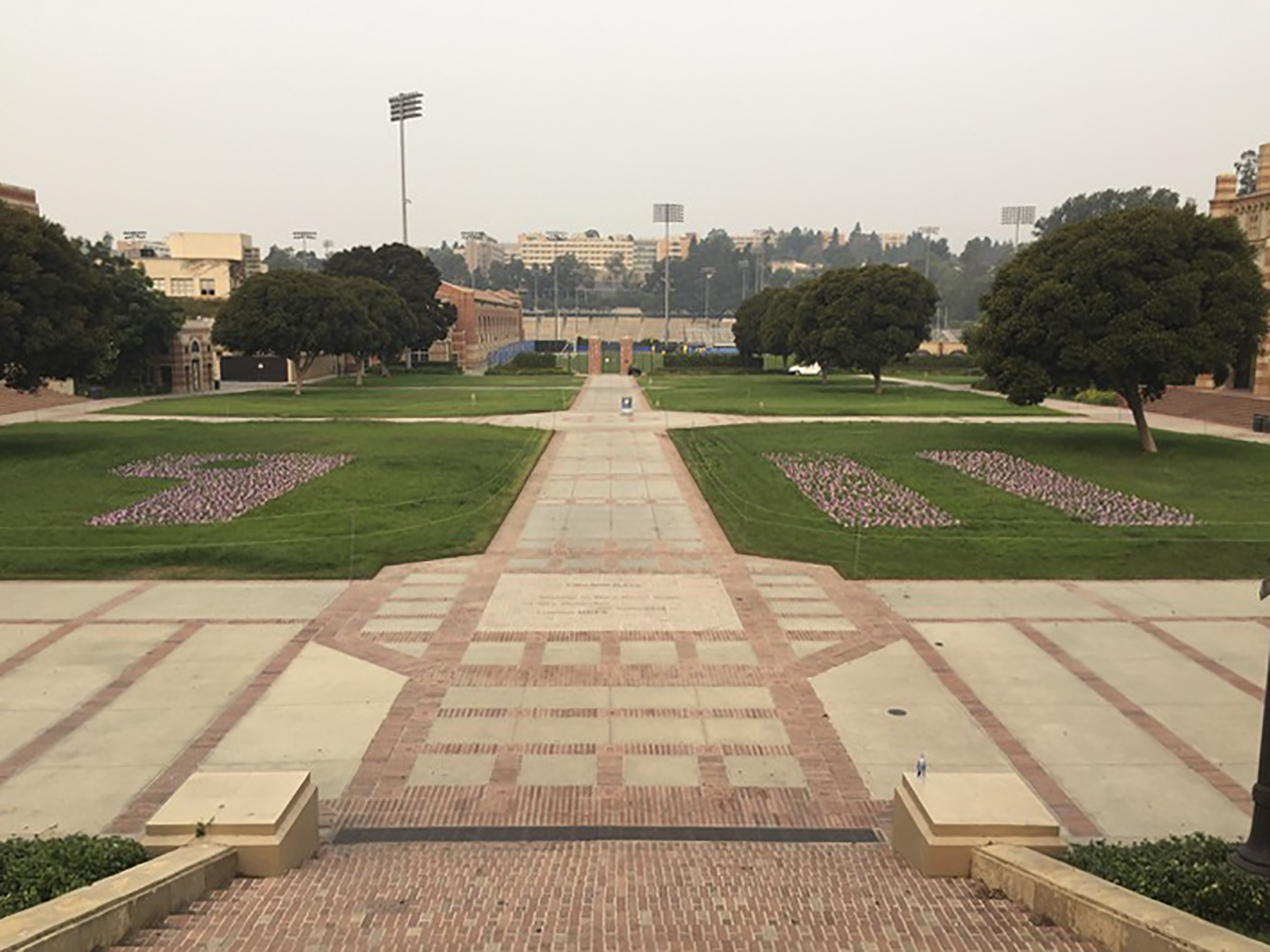 UCLA could do more for its students to commemorate and remember the events of 9/11. (Courtesy of Bruin Republicans)
Sept. 24, 2020 12:20 p.m.
On the morning of Sept. 11, 2020, the Bruin Republicans gathered below UCLA's grand staircase to create a memorial to the victims of the 9/11 terror attacks and pay homage to the firefighters, police and first responders who risked their lives in an effort to courageously serve the great state of New York in that terrifyingly trying time.
The board of Bruin Republicans sought to make a 9/11 memorial an annual tradition of our organization as we believe that UCLA and its students should cast aside any differences in order to mourn America's victims and fallen heroes.
UCLA should do more to commemorate, educate and remind students of this great tragedy in American history. It is crucial to honor the history of our great nation while teaching our young students how dedicated servicemen and united citizenry can persevere during tribulations by utilizing togetherness and human good when it is most needed.
To shed light on the historical impact of 9/11 on our government, it is imperative to state the full extent of the damages. Wreckage from the airline collisions and collapse of the World Trade Center resulted in the deaths of 2,977 innocent Americans. The attack, orchestrated by al Qaeda leader Osama bin Laden, caused substantial damage and intense suffering of victims which prompted worldwide shock and commiseration for the United States. The Bush administration, horrified that such an attack took place under its purview, sought to take the necessary precautions and defensive measures required to ensure safety for Americans.
A year later, the Department of Homeland Security was founded in 2002 along with its other agencies such as Customs and Border Protection, ICE and Immigration and Naturalization Services for immigration. In this time of fear, our country established several agencies to restore physical safety and a sense of security for its citizens, therefore, it is important for students to understand the historical reasoning for the formation of agencies that have become relevant topics in political discussions and current events.
Although Sept. 11 mostly occurs during summer session, when most students are not on campus, there are steps that UCLA could take to ensure that the memory of 9/11 is not forgotten by creating an atmosphere of remembrance for those who will be on campus. For instance, our call to action begins with UCLA's administration. The university should make an effort to promote awareness by sending out newsletters, posting remembrances on social media and hosting virtual events for commemoration because of the COVID-19 pandemic.
For those off-campus, it is important to remind our communities of what Americans have endured as a nation. Too often, we have noticed that some had forgotten to keep the date and did not acknowledge that day of great tragedy as a result. This is particularly saddening as one of the vows our citizens made was to #NeverForget.
To ensure we do not forget, Chancellor Gene Block should release an annual email regarding the 9/11 terror attacks. Since his emails have been used to address similar events and issues in our society, it is fitting that 9/11 is also given coverage on his platform to reach all of our students. Additionally, student-led organizations should be more interested in networking with one another to foster unity among our student body by hosting joint events, virtual meetings or activities to encourage togetherness during this time of mourning.
In conclusion, the call to action is simple yet so important, UCLA must do more for the commemoration of 9/11 on the micro and macro levels, whether it be addressing our chancellor's silence on the matter, or the student-led initiative on campus.
Ohanian is a fourth-year history student and vice president of Bruin Republicans.