The Quad: A Bruin's guide to getting around LA during the COVID-19 pandemic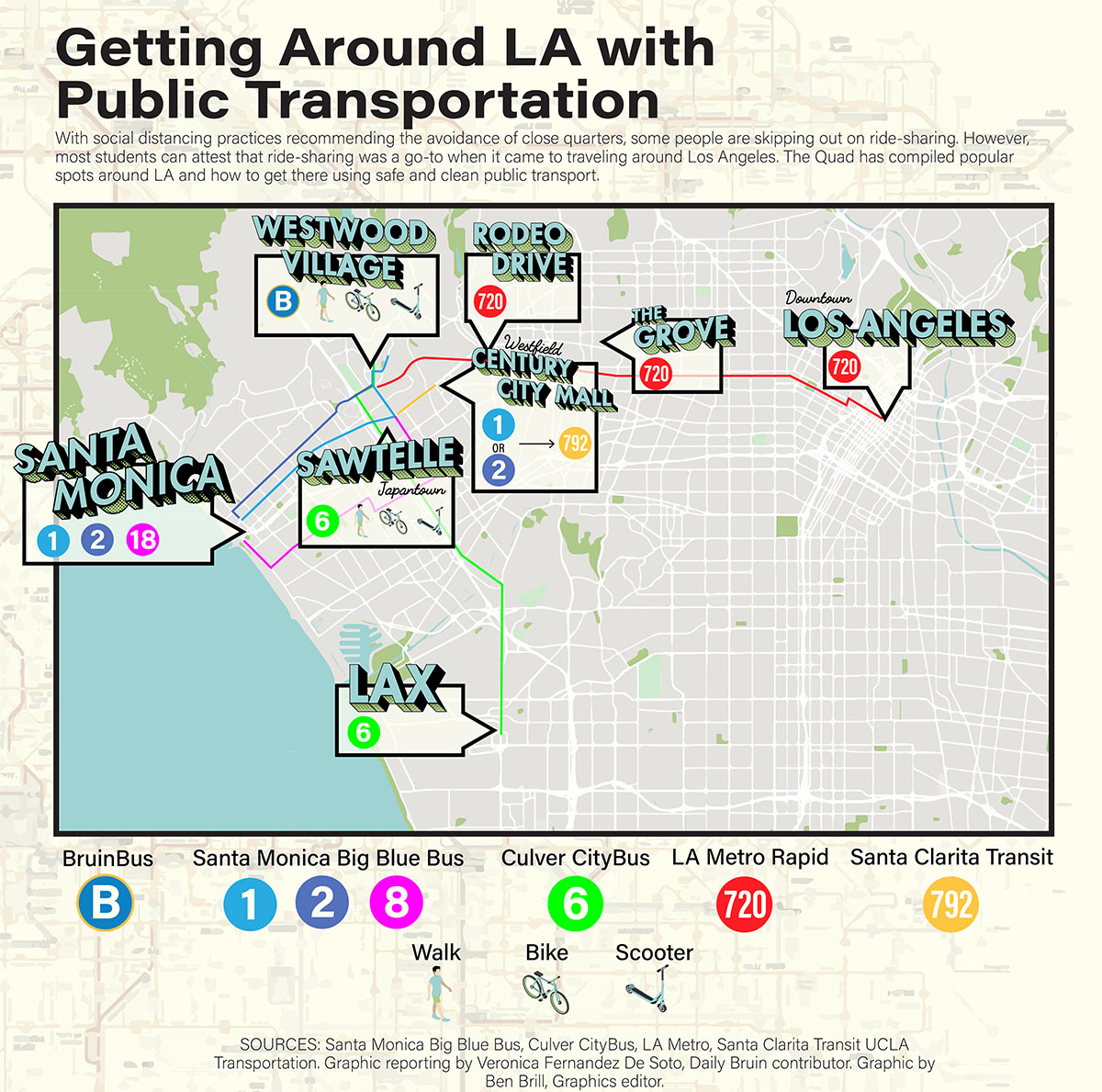 (Ben Brill/Graphics editor)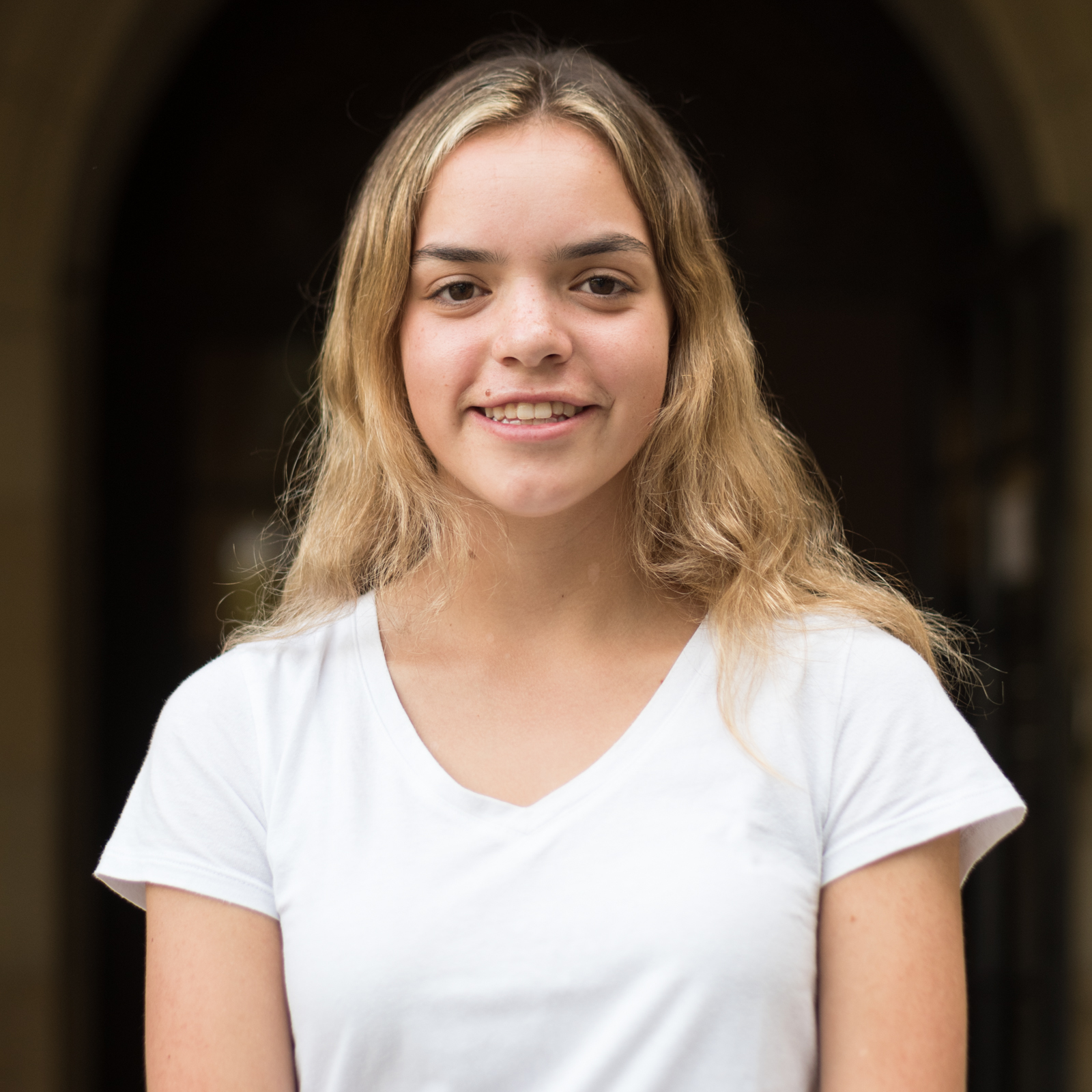 Sept. 22, 2020 11:14 a.m.
Ask any returning Bruin, and they will likely admit that getting around Los Angeles is hard. And just when we thought we had figured it out, COVID-19 came to town.
Social distancing measures, public health concerns and service closures can make getting around campus, Westwood Village and the greater LA area an intimidating experience. For that reason, The Quad has consolidated LA public health recommendations, county service updates and COVID-19 ride-hailing policies to bring you a guide to traveling around LA during this unconventional time.
Traveling with Personal Equipment
Since UCLA has shifted to almost fully remote instruction for fall quarter, it will be a while before we traverse a crowded Westwood Village Block Party or visit a packed In-N-Out Burger at midnight. However, having to move around Westwood Village – from finding study spots to visiting the grocery store – will still be a reality for some Bruins.
The safest way to get around campus and Westwood Village is to walk or ride a personal form of transportation such as a bicycle, electric scooter or skateboard. However, these rides might not be viable for all students.
Before COVID-19, it was not rare to see UCLA students using a shared electric scooter for quick, cheap and short-distance trips – think 7:58 a.m. on the way to an 8 a.m. mandatory-attendance lecture.
But today, the thought of sharing a scooter with strangers might make some uncomfortable. In fact, a New York Times study showed that spending on Bird and Lime scooters and bike rentals had fallen the most out of any other transportation form in the week ending April 1, compared to last year's data.
Isabel Roig, a fourth-year statistics student, said she has continued to use scooter sharing apps during the pandemic, but has modified how she uses them.
"I feel comfortable riding a shared scooter mainly because I use it for short distances, and I always carry antibacterial soap with me, so whenever I am done riding the scooter, I quickly clean my hands," Roig said.
While making sure to sanitize your hands after using a shared e-scooter is good practice, Bird, Lime and Lyft have also all released statements about the changes they are implementing in the face of COVID-19. These new policies include increasing the frequency of cleaning the vehicles, distributing gloves and hand sanitizer to all of their employees and requiring masks from riders.
Traveling with Ride-hailing
Though quick scooter rides, walks and bicycle trips can be trusty allies during the COVID-19 pandemic, they may not be sufficient for Bruins living south of Wilshire Boulevard and beyond. For some, ride-hailing apps like Uber and Lyft may be necessary.
Lyft's health and safety protocol requires drivers to always wear face coverings, reduces the number of riders allowed, asks riders to sit in the back seat and suspends shared rides. Under this protocol, riders must also wear masks and have been instructed to open the windows for increased ventilation.
Along with similar safety protocols to Lyft, Uber implemented new technology which requires the driver to take a selfie to ensure that they are wearing a mask. If a mask is detected, the app lets the rider know that the driver is safely covering their face.
But for some, these safety precautions are still not enough to ease the fear of being in close proximity with a stranger.
Anika Tonnesen, a fourth-year biology student, said she doesn't feel as comfortable using ride-hailing apps, but will use them if there is no other option.
"On the occasions that I have used Uber, I roll down the windows, make sure to have a mask and sit the furthest away from the driver," Tonnesen said.
Tonnesen might not be the only one who feels uncomfortable using these ride-hailing apps, either. According to the Washington Post, Uber's gross bookings were down 75% during April, May and June. The Post stated in an Aug. 10 article that ridership on the West Coast had not recovered because of the re-tightening of stay-at-home orders in July.
Traveling with Public Transportation
If you're a fan of public transportation, it may be helpful to know that eligible students and employees can acquire transit passes at special discounted rates for many public transit services across LA: the LA Metro, Santa Monica Big Blue Bus, Culver CityBus, Long Beach Transit, City of Santa Clarita Transit, Antelope Valley Transit Authority and our very own BruinBus. You can use these buses to reach popular spots like Santa Monica, Sawtelle, Century City, Downtown LA and even LAX.
UCLA Transportation said in an emailed statement that students should consult the UCLA Transportation website for the latest information on the best and safest ways for getting to UCLA or getting around campus.
UCLA's BruinBus continues to operate around Westwood and the campus area and will resume regular, nonsummer service starting Thursday. BruinBus cleans and sanitizes its buses midday and at the end of the day when service has concluded. It also also placed hand sanitizer dispensers on the buses.
When using LA Metro buses to get around the greater LA area, riders must exit and enter through the rear doors unless they need a boarding ramp. LA Metro has rolled out new policies and cleaning protocols, and has introduced a new digital fare card and TAP app which lets riders buy Metro passes from their Apple devices.
For any Bruins wanting to travel westward, the Santa Monica Big Blue Bus continues to operate. Big Blue Bus is utilizing hospital-grade solutions to disinfect high-touch areas on its buses. Like LA Metro, riders not requiring a ramp must use the rear doors only.
The Culver CityBus, Long Beach Transit, Santa Clarita Transit and Antelope Valley Transit Authority have also upgraded their cleaning procedures to ensure riders' safety. Their protocols are laid out on their respective websites.
All services require riders to wear masks or face coverings at all times except for those with medical disabilities or trouble breathing.
According to National Public Radio, mass public transport is in the riskiest tier of motorized transit options, behind both a personal form of transportation and ride-hailing. Nonetheless, there are some important Centers for Disease Control and Prevention recommendations to keep in mind if you decide to use public transit: wear a mask with multiple layers, avoid touching your cell phone and face, social distance within the bus, wash your hands before and after you ride and travel at nonpeak times.
Of course, the safest option is to stay home as much as possible, but when Bruins need to get around, we hope they do so with safety in mind.