Op-ed: New federal Title IX regulations will not reduce support for students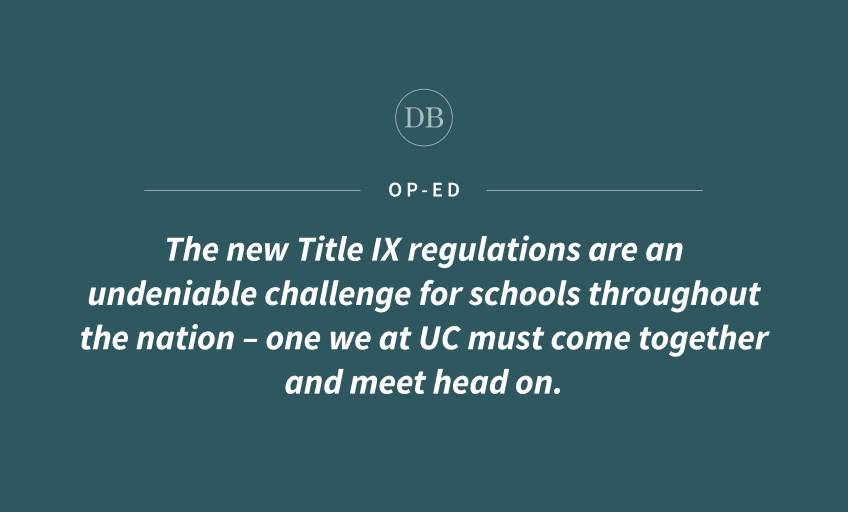 Sept. 22, 2020 10:44 a.m.
New federal Title IX regulations mandating how schools nationwide respond to some complaints of sexual harassment went into effect Aug. 14. The University of California recognizes these rules have been a source of concern for many in our community at a time of high anxiety and suffering across the country.
UC leadership wants to assure our community of our unwavering commitment to advancing critical sexual harassment prevention and response efforts and to provide some clarity to a very nuanced process.
UC expressed serious concerns about the rules after the U.S. Department of Education first proposed them in 2018. Our advocacy included submitting a comprehensive comment letter, meeting with federal officials, including members of Congress and outlining UC's deep concerns in an op-ed for the Washington Post. Despite our unwavering efforts, the final rules retain some troubling provisions.
Compliance with the new rules is not optional for UC, given our reliance on federal funding. So, in the short time DOE gave schools to comply, UC's Systemwide Title IX Office, the office of Graduate, Undergraduate and Equity Affairs and our legal partners undertook an expedited but thoughtful process resulting in revised policies and procedures. A diverse systemwide workgroup that included students, faculty and staff representatives aided our work. We carefully considered how to implement the regulations while still providing a process that treats all parties with respect and kindness, and ensures just and reliable outcomes.
It's important to be clear on a few matters. First, the University continues to prohibit all forms of misconduct previously prohibited by our Sexual Violence and Sexual Harassment Policy and to treat allegations with the same seriousness.
Some have the mistaken notion that the University will no longer respond to conduct that occurs off-campus or abroad. It is true that the federal Title IX regulations do not cover conduct occurring outside the U.S. – in education abroad programs, for example – and some off-campus conduct. While the regulations do not require us to respond to such conduct, they do allow us to act – and we will continue to do so because it's the right thing to do.
That said, the University must respond to complaints covered by the new regulations using a specific grievance process. Our existing process already included many required components such as the right to an advisor and the opportunity to present witnesses and evidence. However, the new rules also require components that we believe do not represent best practices. Notably, this includes allowing parties to question each other through their advisors at a hearing. This is a worrisome prospect and therefore we put careful thought into ensuring courteous hearings.
For example, we developed new standards that govern conduct during the process and made clear that advisors who do not comply may be removed. These standards prohibit abusive conduct, empower the hearing officer to manage the proceeding and conduct of participants and ensure respectful treatment such as the use of lived names and pronouns.
Hearings will be held virtually to make them less intimidating, parties will continue to have access to both an advisor and support person and will be able to identify other measures for their well-being. We will continue to apply our existing resolution processes – which do not include direct questioning by advisors – for allegations that the regulations do not cover, such as conduct occurring outside a UC program or activity, outside the U.S. or before Aug. 14.
We also want to dispel the misconception that UC employees no longer need to report misconduct to the Title IX office. While the new federal regulations obligate very few administrators to report, UC employees' responsibilities are established by UC's SVSH Policy and apply to all staff not specifically designated as confidential. These policy obligations are important because they help enable the Title IX officers to respond appropriately to possible misconduct and are unchanged by the regulations.
On a positive note, the regulations now cover sex-based conduct, even if not sexual in nature. While other University policies already prohibited such conduct, we are pleased to expand the SVSH Policy to specifically prohibit harassment based on sexual orientation and gender identity, expression and stereotyping.
Finally, please know that Title IX and Student Conduct professionals care deeply about the UCLA community and will implement these changes fairly and compassionately. Your CARE office provides critical support to those who experience sexual misconduct, as Respondent Services does for respondents. These offices stand ready to help explain the new policies. Additional informational resources are available on the Systemwide Title IX Office's website.
The new Title IX regulations are an undeniable challenge for schools throughout the nation – one we at UC must come together and meet head-on. In this era of great uncertainty, we are guided by our shared commitment to justice and our empathy for one another.
We will stay true to UC's values and strong in our belief that the scourge of sexual harassment can be overcome. Our resolve is steadfast and our commitment unfaltering.
Suzanne Taylor is the Systemwide Title IX director for the University of California.